Virtual Travel Assistant: A Comprehensive Guide For 2023
Nobody else could benefit from planned work trips more than an entrepreneur. With a gazillion things to set in order; hotel reservations, cab bookings, and itineraries sink to the bottom of your to-do list. With a Virtual Travel Assistant, you can focus only on the job at hand. Here's how.

Making a single trip requires much preparation. Traveling is not simple, from booking the flight tickets to finding the perfect hotel. For example, a business leader travels more frequently. This means much work goes into designing the ideal itinerary.
If you are an entrepreneur who values your time and comfort, get a virtual travel assistant. These virtual assistants will find the best flight and accommodation deals for you. They plan your itinerary after thorough research so that you can have a great trip.

When meeting an important client, you need to be at your best. A travel assistant takes full responsibility for your journey and stay. Now keep your client happy and close that deal without worrying about the traveling logistics.
This blog is a comprehensive guide to virtual travel assistants. Learn why you should hire one and why Wishup is the best place to look.
Who is a Virtual Travel Assistant?
A travel assistant is one of the many different types of virtual assistants. They work remotely, making travel arrangements for you. This includes your entire itinerary – from flight tickets to dinner reservations with clients.
The role of a virtual assistant is not limited to this. While you are busy in meetings or events, your assistant responds to the emails, phone calls, and messages sent your way. They also schedule the meetings and book the dates on your calendar.
You can put your faith in the virtual assistant. They take the administrative tasks away from you, allowing you to work stress-free.
What does a Virtual Travel Assistant do?
A virtual assistant specializing in travel has many responsibilities. This is how a day in the life of such an assistant looks:
Booking tickets for flights
Rescheduling flights or canceling them
Performing web check-ins for you
Finding and booking the suitable hotel rooms
Making the best travel and accommodation deals
Planning and preparing your itinerary
Researching currency exchange rates and sharing them with you
Managing your emails
Responding to phone calls
Coordinating with the client's side to schedule meetings
Making cab or taxi arrangements
Handling travel insurance
Sending travel plan reminders on time
Planning and tracking travel budget and expenses
A professional who performs these tasks can be expensive. However, if you are a small business owner, you can still enjoy these services by hiring a virtual assistant.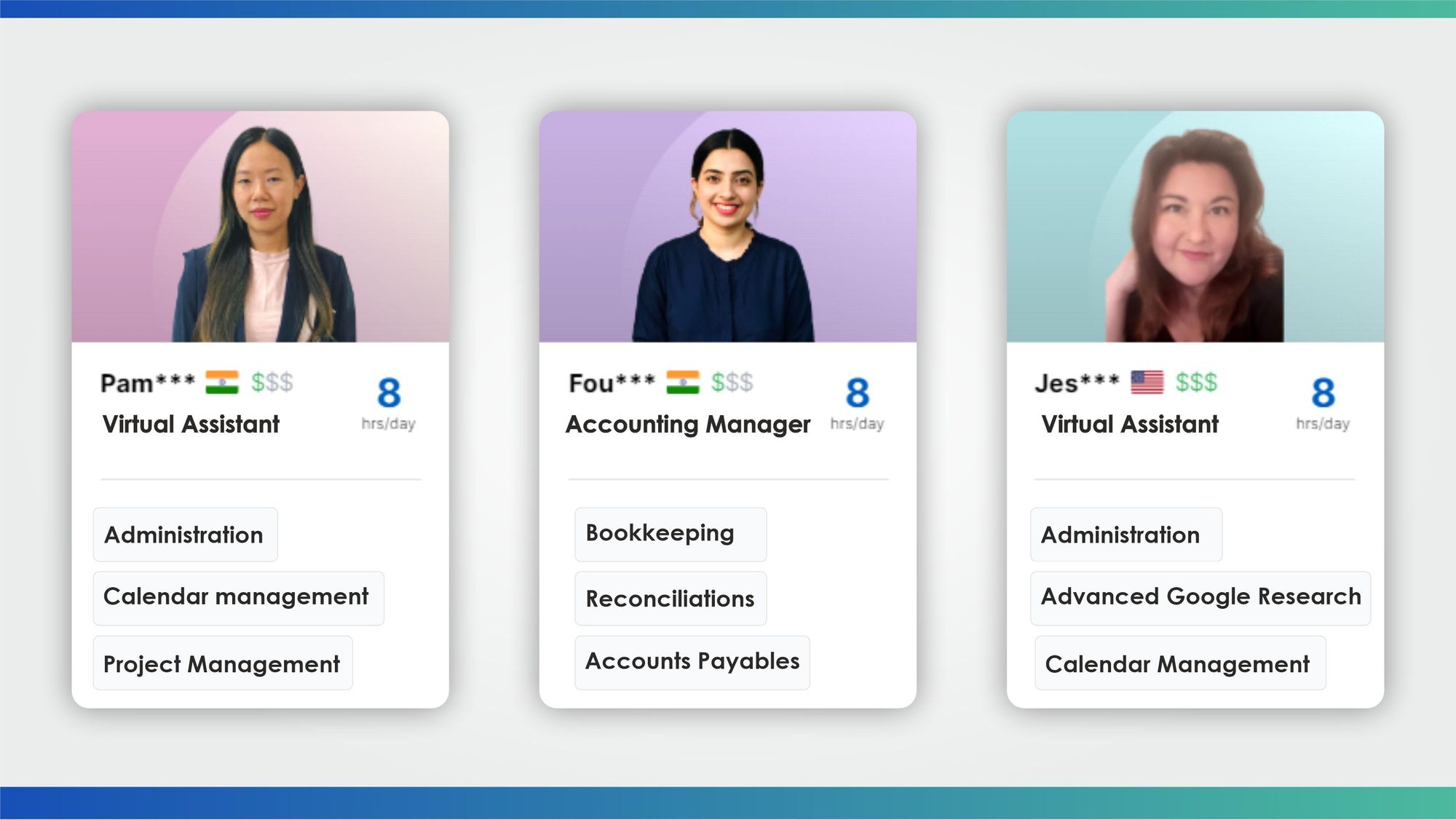 How can a Virtual Travel Assistant Help with Travel Planning?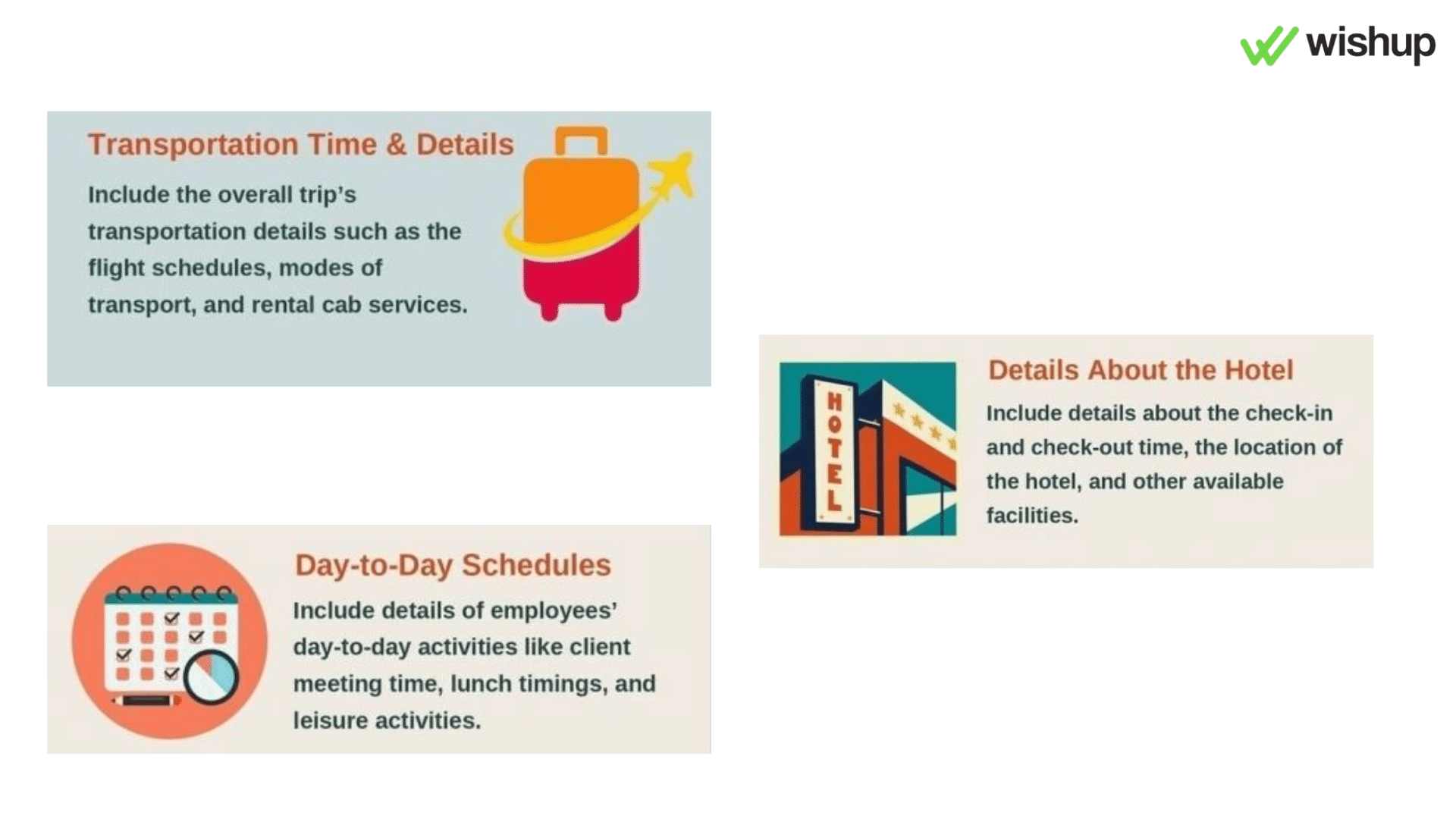 When you go on an important business trip, your entire focus should be on the upcoming meeting. You shouldn't worry about where you'll stay and how to get there. That will distract you from your agenda.
Leave such jobs to the virtual assistant. They will handle your entire itinerary. After scheduling and confirming your meeting, the virtual assistant will book your flight tickets. They will reserve the seat of your choice – aisle or window. The assistant will also web check-in for you when you reach the airport.
After you land, the assistant will arrange a cab or taxi to take you to the hotel. Based on your needs, the assistant would have already booked a hotel room in your name. Want a sea-facing room? Your travel virtual assistant will find one and book it.
Similarly, the virtual assistant will make dinner reservations or book the meeting venue.
What are the Tasks of a Virtual Travel Assistant?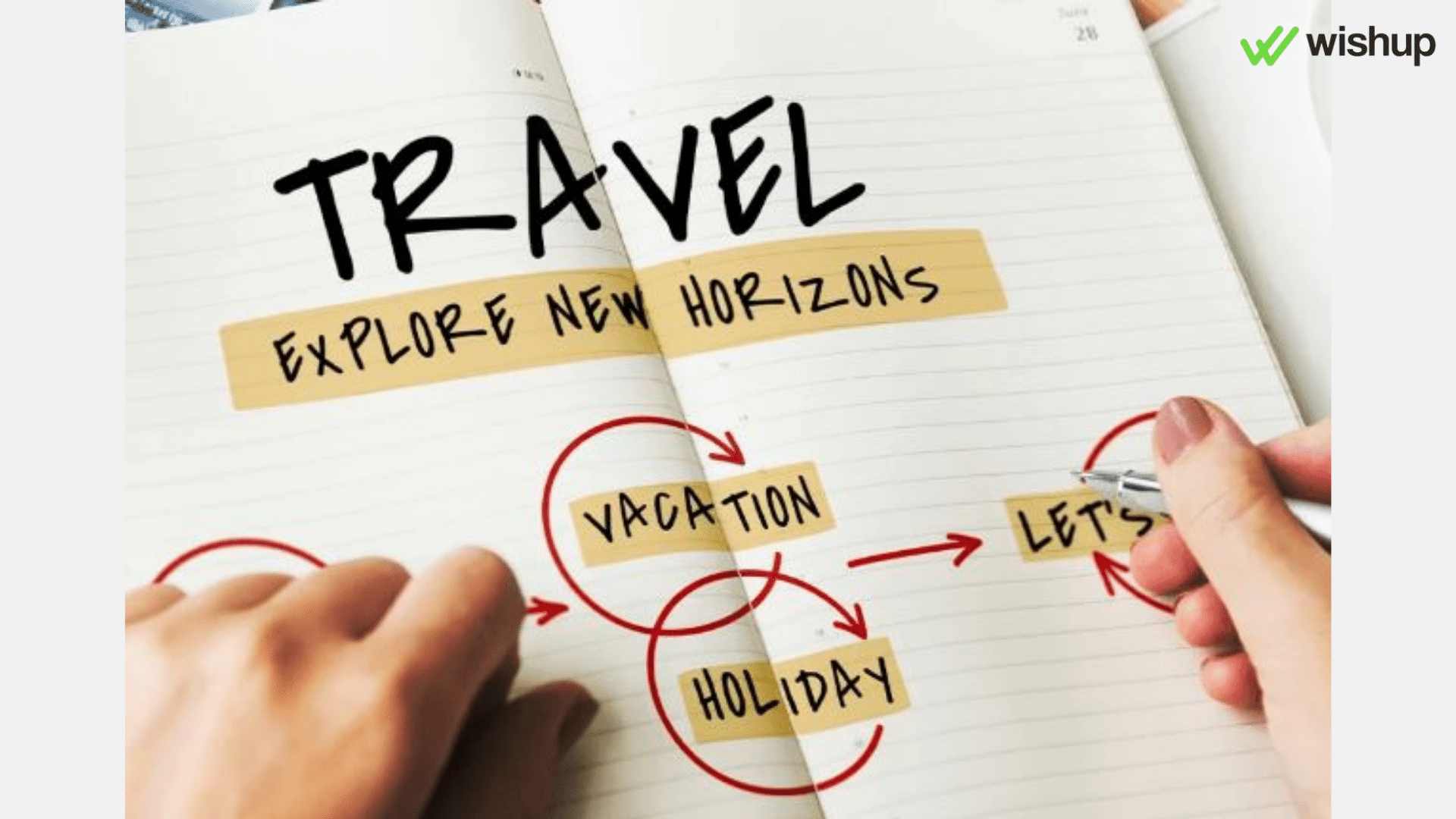 The primary responsibility of a travel assistant is to prepare your itinerary. They will offer everything you need to make a successful and comfortable trip.
Of course, before proceeding with the plan, your assistant will discuss your likes and dislikes. For example, do you prefer a particular cuisine? Do you prefer one airline to another? The assistant will note this to give you the best possible experience.
Here are the crucial tasks of a travel virtual assistant:
Booking flights
The virtual assistant will book your flight tickets. They will pick the ideal time that suits you unless it clashes with the meeting. The assistant also picks the airline and the seat as per your liking.
Rescheduling/canceling flights
If your meeting is canceled or rescheduled, your travel assistant can cancel flight tickets.
Web check-ins
Your assistant will perform web check-ins and print the boarding pass for you before the flight.
Booking hotels
Depending on your choice and the distance from the client, your assistant will book an ideal hotel for you.
Getting the most incredible deals on flights and hotels
Virtual travel assistants are good researchers. They will scan many travel sites for the best hotel and flight deals.
Planning your itinerary
From booking your hotel room to finding the best venue for a meeting, virtual travel assistants will take charge of your entire itinerary.
Sharing currency exchange rates
Your assistant will share the latest exchange rates in whichever country you visit.
Answering phone calls
In your absence, our virtual assistant phone answering services will communicate on your behalf and share important messages with you.
Email management
Virtual travel assistants will manage your inbox and respond to important emails.
Scheduling business meetings
Your assistant will call the client's team to book appointments and meetings.
Arranging for taxis and ride-sharing services
Your assistant will make all travel arrangements from the airport to the hotel to the meeting venue.
Travel Insurance
Virtual assistants will simplify insurance operations so that you can travel safely.
Sending timely travel plan reminders
Your assistant will regularly inform you about your upcoming meetings and commitments.
Planning a travel budget
Your assistant will ensure you don't go overboard regarding travel expenses and budget.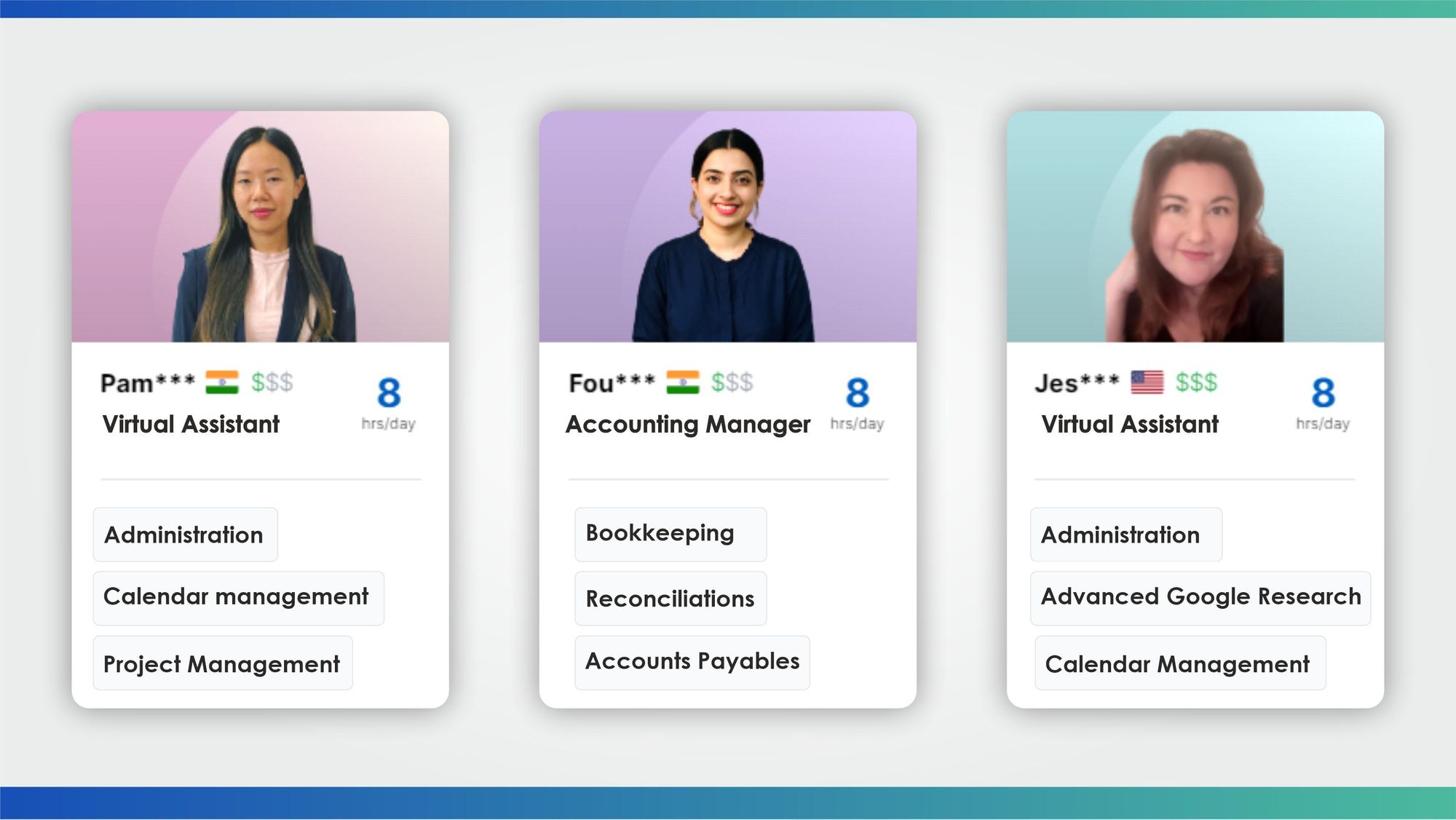 The advantages of hiring a Virtual Travel Assistant
As you know, virtual travel assistants take care of all your travel arrangements. But their work is not limited to making itineraries alone.
By hiring a VA
, you enjoy many benefits. These perks make you more productive and create more free time in your schedule.
Here is how a virtual travel assistant benefits you and your company:
More hours to your day
By making travel arrangements, travel assistants give you more time to spend on other essential tasks.
Reservations on time
Virtual travel assistants will book all your flights, hotel rooms, and venues on time so your work does not suffer.
Travel easy
You can travel without stress when a virtual assistant manages your traveling variables.
Be on time
Whether it is a pickup from the airport or the hotel, your assistant ensures you always arrive at your destination on time.
Unexpected changes? No problem
Virtual travel assistants are organized and can accommodate new appointments or meetings.
Round-the-clock support
Virtual assistants are always available to assist you, even when you need a flight ticket at night.
Transit arrangements
With a virtual assistant working for you, you don't have to worry about booking a cab or finding the shortest route. Instead, they will do it for you.
Emergency support
If you need an immediate fund transfer or digital ID proof, your assistant will provide them.
Get the best deals
The virtual assistant will search the internet for the best deals on hotels and flights.
Timely bookings
To prevent any delays, your assistant will To ensure timely bookings, your virtual assistant will check for flight and taxi companies that utiltize efficient taxi dispatch software to streamline their operational and minimise delays.make the bookings on time.
Suitable accommodation
Your virtual assistant will book the fitting hotel room for you based on your liking.
Pay per use
Virtual assistants are paid for the hours of service they provide. So you don't have to spend a single penny extra on them.
Quality at lower costs
Virtual assistants are cheaper but have the necessary clerical and administrative skills to book your travels.
Save on office costs
Since they work remotely, you don't have to spend office resources on virtual travel assistants.
Virtual assistants can be hired from across the globe. You will be amazed at the quality of candidates you can find who work remotely.
Flexible subscription plans
You can hire virtual employees for a particular number of hours based on your budget.
Handle paperwork
Virtual assistants will look after your paperwork and documentation tasks.
Craft a personalized itinerary
When you wish to go on vacation, your assistant can plan a relaxing trip.
Focus on your work
You will have more time to do your work since your assistant will oversee the administrative tasks.
How to Choose the Right Virtual Travel Assistant?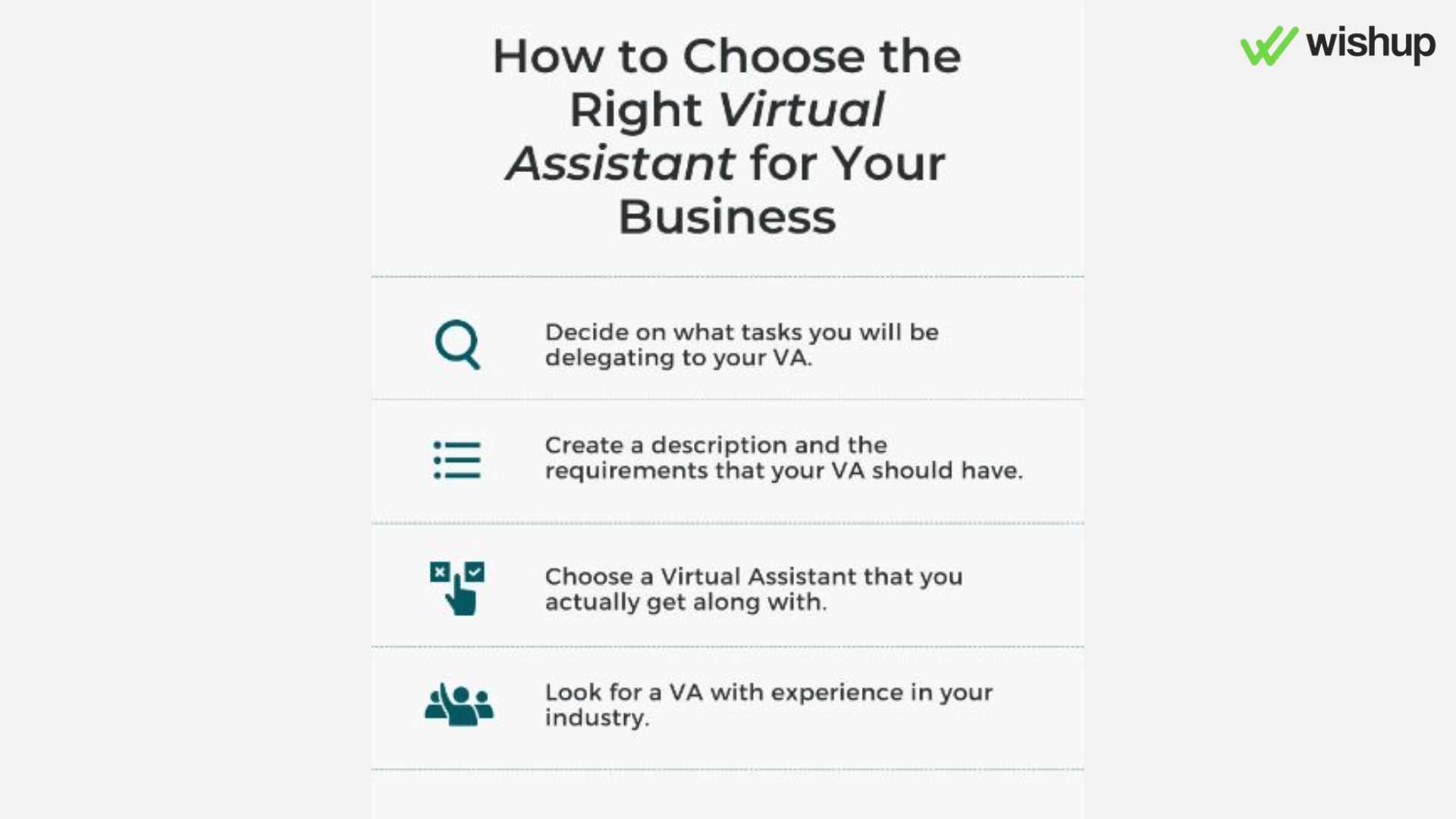 Finding a suitable travel virtual assistant is not rocket science. Still, you should consider some factors while looking for an assistant.
They should have the specific skills and experience necessary for the role. Also, look for platforms that provide qualified candidates.
Experience
Your assistant should at least have a high school diploma. College graduates are better.
Affordable option
Your assistant should not be expensive since they will work remotely and flexibly.
Talented professionals
Make sure your assistants have the necessary skills.
Testimonials
Always ask around and see what their previous employers have to say.
Where can you Hire a Virtual Travel Assistant?
Many platforms provide suitable virtual assistants. However, some are better than others. There is an old-school way of using recommendations to find a candidate, but that can take a long time. Luckily, there are faster ways of finding a virtual travel assistant. Here are some of your best options:
Freelancer platform
These platforms host many skilled assistants. You can browse them and pick your favorite.
Virtual Assistant agency
This is a better option. They provide suitable assistants and also take responsibility for their work and quality.
Wishup: The Perfect Partner for All Your Travel Requirements

With many leading entrepreneurs and startups as clients, Wishup is a great platform to build your remote team. They aim to help companies grow by promoting partnerships between global talent and leaders.
To achieve this, Wishup offers many skilled and reliable virtual assistants to meet your organizational requirements. Travel assistants are just the tip of the iceberg. The platform also assists with SEO, E-commerce, Bookkeeping, Data Entry, and more.
Wishup is the ideal site to find good virtual travel assistants. Here's why:
Cost-effective
By paying as little as $999 a month, you can get your VA onboard from Wishup. The average salary of an executive assistant in the US is $4,384, just at the entry level. At Wishup, you can get a qualified, intelligent, and hardworking assistant for much less.
Hassle-free onboarding
Once you sign up with Wishup, you can consult an account manager for free. They will make a note of your requirements and assign the best-matched virtual candidate to you. From there, you can contact the assistant and brief them about their job. The virtual assistant can join your team in 24 hours.
Personalized itinerary
Virtual travel assistants have all the skills necessary to support your vacation or business trip. From researching the most affordable deals to applying for a visa, Wishup assistants can perform multiple tasks. They ensure you travel safely, comfortably and reach your destination on time.
Proficient
Wishup has assistants from the US and India on its team. Every candidate is proficient in both written and spoken English. They can write compelling emails, create content, conduct online research, and more.
Experienced individuals
The remote assistants at Wishup are experienced in various areas. They are qualified to write content, generate leads, carry out administrative tasks, perform data entry, and more.
Customer satisfaction
Wishup offers instant replacement of the assistant if you are unhappy with them. No questions asked, no justifications needed. The team at Wishup makes sure that your workflow is not disturbed.
Data Confidentiality
The team at Wishup strongly believes in confidentiality. They take many necessary precautions to make sure your data remains safe with them. To make you feel safer, Wishup also makes their virtual assistants sign an NDA so that you feel safer working with them.
Recommended partner
You can trust the services of Wishup. They have more than 500 satisfied entrepreneurs and business owners, with a 4.8 rating on their services. Wishup works with clients all over the globe. Some of their notable partners include Mentors, Authority Magazine, and Website Planet.
Immediate replacement policy
If you don't like working with your virtual assistant, Wishup will replace them immediately. The new assistant will join your team soon. Your work will not suffer from the absence of a virtual assistant.
7-Day free trial with a money-back guarantee
Sign up and try a Wishup Virtual Assistant outsourcing for a week. In case you don't like their work, the money will be returned to you. This is an excellent opportunity to test the virtual assistants without risking your resources.
Hire from Wishup in Three Easy Steps

Follow these three easy steps to start hiring from Wishup:
Set up a free consultation here.
Fill out the form and apply.
Share your task list.
Our client manager will make a note of your requirements.
Pick the candidate best suited to your business requirements.
You will be assigned the most-suited virtual assistant based on your needs.
That's it! A Wishup assistant will join your team in 24 hours.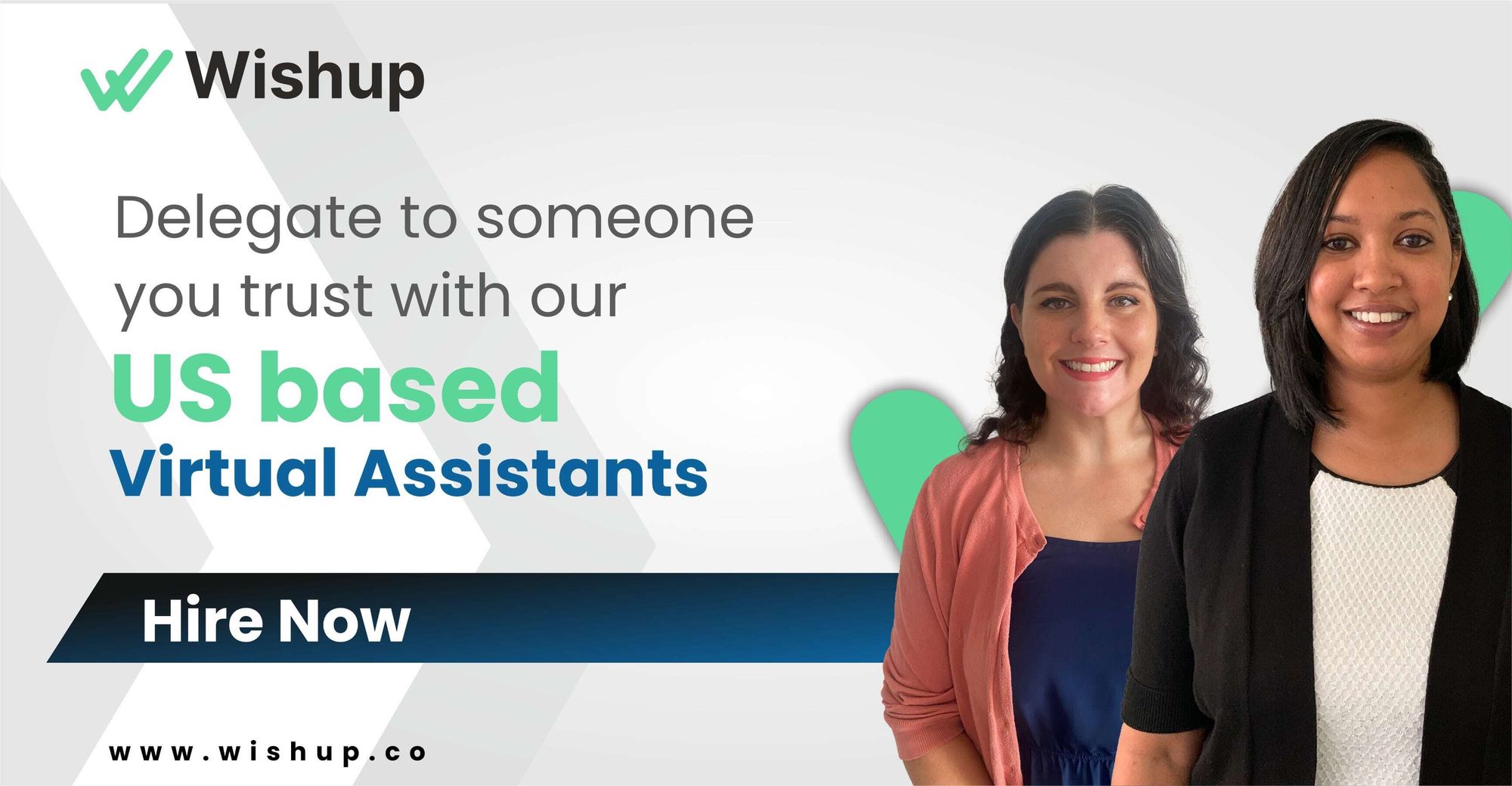 Conclusion
A virtual travel assistant allows you to go on well-planned, stress-free trips. Be it for business or personal work, your assistant will look after the entire itinerary. You don't have to worry about travel, boarding, or lodging.
Virtual travel assistants also communicate with you through emails, phone calls, and messages. They schedule your meetings and appointments and also send you timely reminders.
To find a qualified, skilled, and affordable assistant, look no further than Wishup. The platform hosts some of the best candidates in the industry. Don't wait! Schedule a free consultation with Wishup or mail them at [email protected] today.
Virtual Travel Assistant Frequently Asked Questions
What is a virtual travel assistant?
Virtual travel assistants plan and manage the itinerary of their boss' travel.
What does a travel assistant do?
Some of a travel assistant's tasks include booking flight tickets and hotel rooms and scheduling meetings.
What does a virtual travel agent do?
A virtual travel agent provides customer support by creating itineraries. They book flight tickets and make hotel accommodations.