Job Description For Real Estate Assistant: A Comprehensive Guide
A realtor's life might look easy. But a lot of work is involved in helping people find their dream homes. You can focus on doing the things about being a realtor that excite you and delegate the administrative backend tasks to a real estate virtual assistant. Learn how.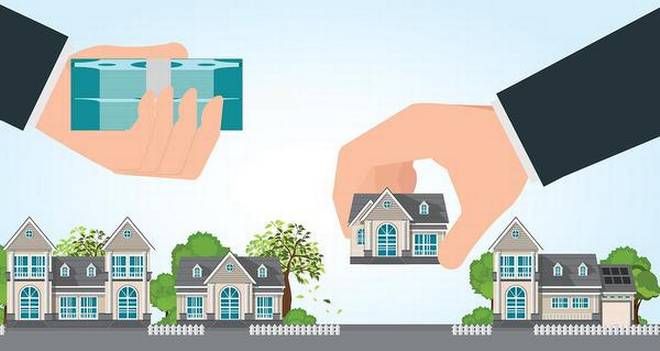 A real estate administrative assistant supports real estate brokers or agents while managing all the administrative tasks in real estate firms. The job description for real estate assistant includes essential tasks like greeting clients, taking calls, following up with clients, preparing travel arrangements, conducting correspondence, and scheduling meetings.

In addition, they also help real estate brokerage firms plan and organize events, create, deliver, and collect necessary documents, and photograph properties before and after repairs.

A real estate virtual assistant also performs tasks that help grow the business, like conducting market research, comparing pricing based on market trends, designing marketing campaigns, and developing exceptional proposals that will help the business gain more clients.

Real estate virtual assistants are all-rounders who help in the activities of almost every department in a real estate firm, like marketing, customer service, finance, and sales. This makes them an indispensable part of the workforce in every real estate brokerage.

What is a Real Estate Assistant?

A real estate assistant is an individual who helps real estate brokers or agents. In addition, real estate assistants are responsible for handling several clerical and administrative duties that reduce the workload of real estate agents.

Real estate assistants handle one or more clients at a time, depending on the business needs. They assist real estate brokers with site visits, book appointments, collaborate with other team members to plan promotional events and marketing campaigns, create proposals, and follow up on closing formalities.

Why do realtors require Real Estate Assistants?

Real estate assistants essentially function as logistical support to senior personnel or brokers in real estate companies. Unfortunately, most in-demand realtors are too busy working more than 60 hours weekly.

These agents may not find enough time to focus on important administrative and marketing tasks that are significant in the growth of the business.

Real estate assistants can share the workload of realtors by assisting in completing administrative, marketing, bookkeeping, and sales tasks. Some of the important realtor assistant job duties include:

Research
A real estate assistant can conduct research relevant to your firm, like collecting information on properties, including their location, the best characteristics, and amenities, and assessing pricing and market patterns in various locations. Real estate assistants can also keep track of global industry-related events as well as the business strategies of your competitors.

Scheduling appointments
It is easy for realtors to forget about appointments due to their busy schedules. However, real estate assistants can book appointments with prospective clients and follow up with them after meetings.

Calendar management
Real estate assistants can handle tasks like modifying calendars, managing social media for real estate , and reminding clients and managers of upcoming meetings.

Marketing requirements
Studies have shown that around 41% of people preparing to buy homes look for properties online. Also, 10% of homebuyers consulted online websites to learn more about the home-buying. These statistics highlight the importance of marketing in the real estate industry.

A real estate assistant can help your firm by keeping your website up-to-date with new pictures of properties. They can also help launch marketing campaigns, develop promotional events, and perform tasks that keep the business in the loop.

Handling social media
Social media is expected to have around 6 billion users by 2027. This makes it the perfect platform to advertise your real estate business.

Your real estate assistant can maintain your online presence by making relevant posts, engaging with clients, and responding swiftly to comments across all social media platforms.

Checking for potential buyers
Real estate assistants can manage and update CRM and identify potential buyers. They can also do cold calling and pick out clients interested in making deals.

Analyzing data
Data analysis has become necessary in the real estate business. Analyzing data will help realtors get information about property valuation, buyer behavior, inventory, expenditures, growth patterns, and identifying the right customers.

Real estate assistants can perform this task for realtors, thereby contributing to the growth of the business.

Email management
According to statistics, a typical office worker gets 121 emails every day. This can create a disorganized inbox and lead to losing crucial data and prospective customers.
Real estate businesses can delete unnecessary and out-of-date emails and divide important ones into different folders. They can also interact easily and efficiently with potential clients via email.

Real estate assistants can create and schedule the sending of email newsletters and launch email marketing campaigns.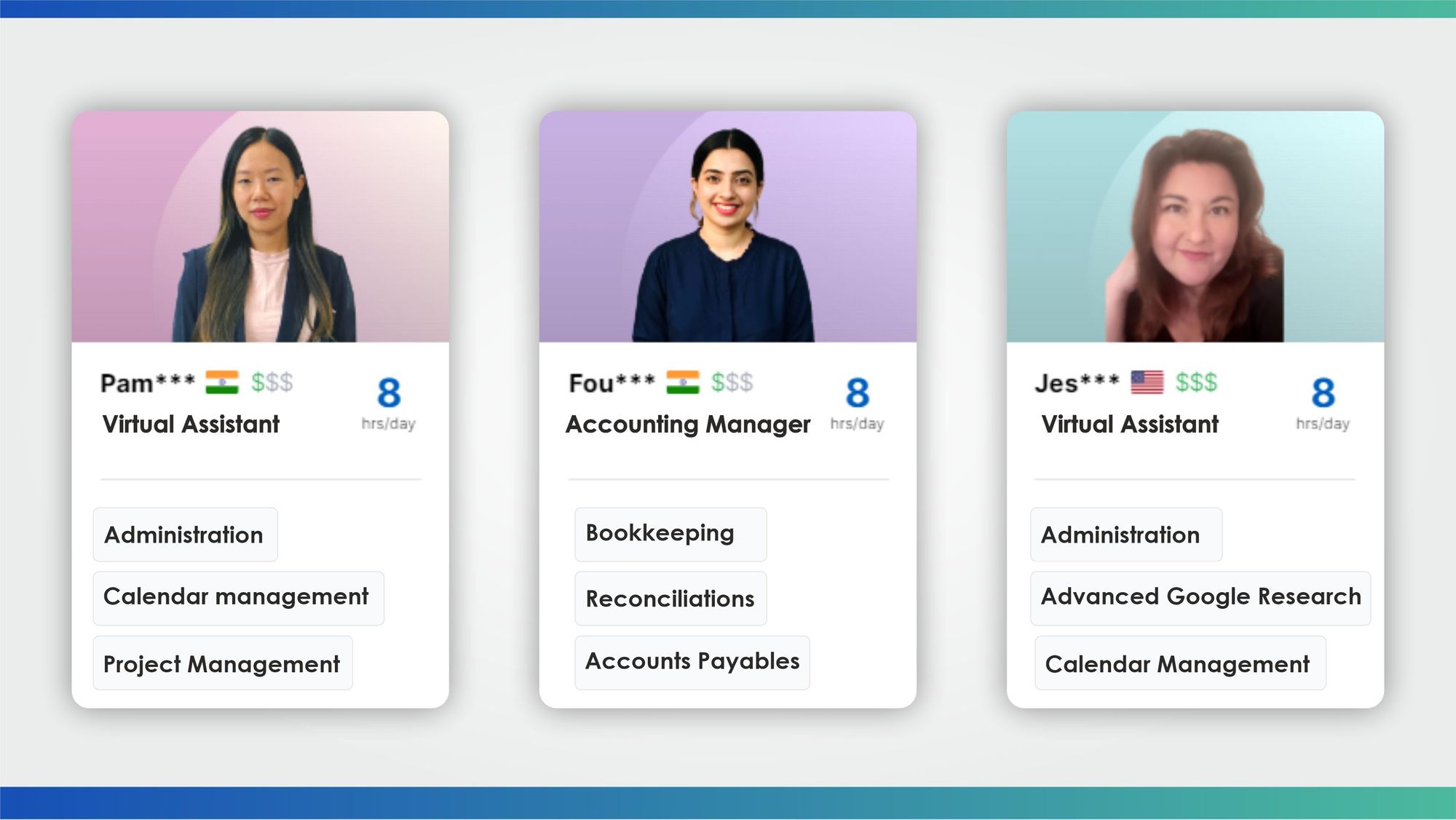 How realtors can improve the hiring process of a Real Estate Assistant

Hiring a real estate assistant is an important decision that will affect the future of your real estate firm. You should hire someone who fits your job criteria and the budget limit. This makes the entire process a daunting one, especially for budding realtors. But you can make the hiring process simpler and find the right candidate by using some simple tricks.

Clarification on the job position
Be clear of the educational qualification and the technical skills the position needs in the job description for real estate assistant. Clearly define the scope of the position, daily tasks, and other special requirements that might be encountered during the job.

Using social media to get potential candidates
Use social media platforms like LinkedIn, Indeed, and Facebook to find suitable candidates. Then, connect with your friend circle on these platforms and implore them to suggest candidates.

Encourage referrals within the organization
Encourage people within your organization to refer qualified individuals by incentivizing them with rewards and perks. You can also make it more engaging by turning it into contests and acknowledging every referral you get during the process.

Develop a hiring process, including stages of the interview
Your hiring process should be fool-proof to help you get the right candidate. Design different interview stages so you can test all the required skills of the candidates.
Include behavioral and open-ended questions to assess their aptitude. You should also conduct background checks since real estate assistants handle confidential and sensitive data.

Perform assessments
Assess the applicants in different areas, including software skills like Microsoft Office, G Suite, project management tools, time management, communication, marketing, and organizational skills.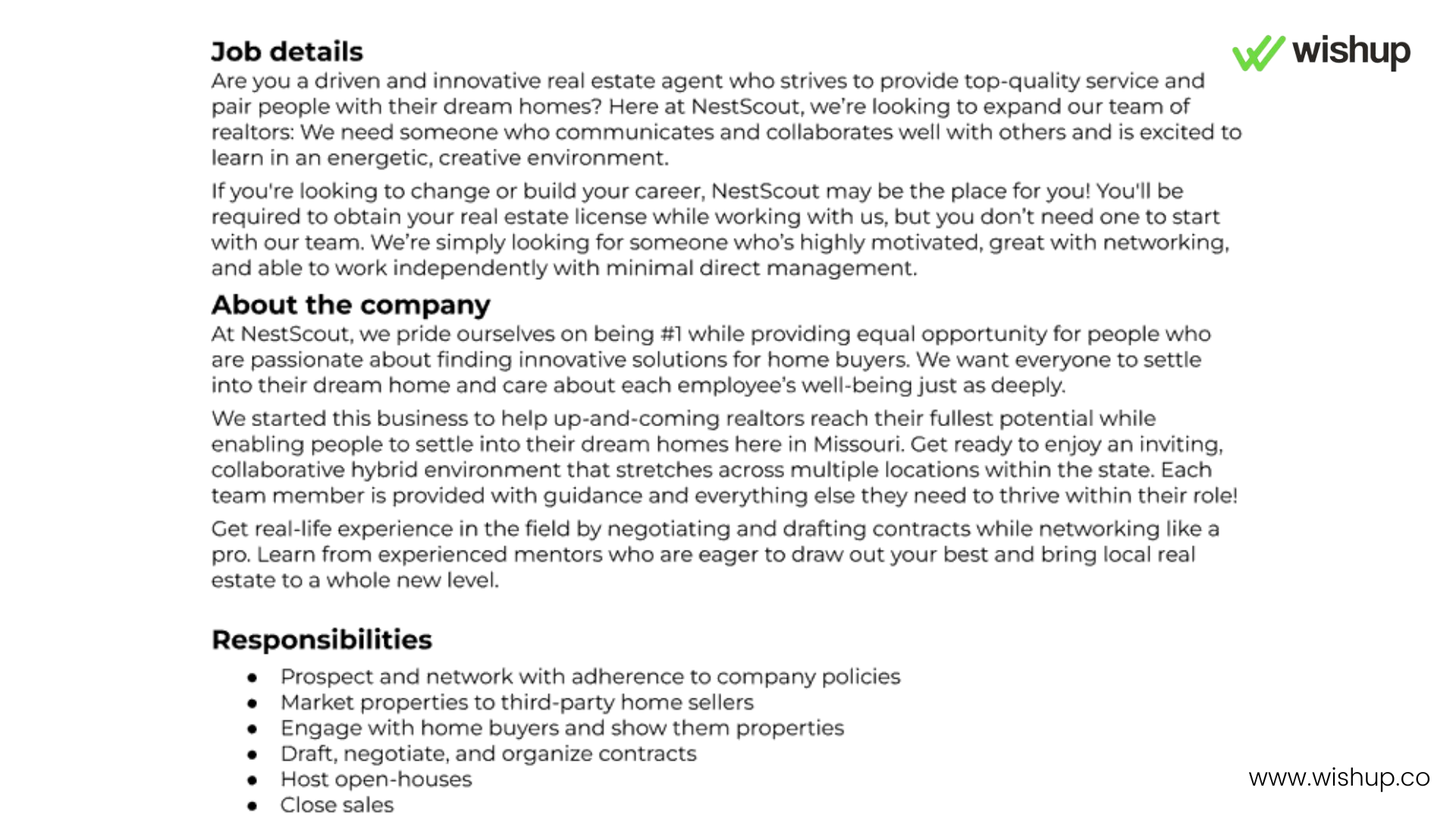 Real Estate Assistant Job Description Template 1
Real estate assistants can help firms grow their businesses by managing clients effectively, generating new leads, and overseeing marketing campaigns.

Real Estate Assistant Job Summary

We are looking for a dedicated and driven real estate assistant to complete and deliver relevant documents, remind clients of upcoming appointments, coordinate gatherings, and provide excellent customer service.

Qualifications required for a Real Estate Assistant
High school diploma or GED
Preferably experienced in the real estate industry
Excellent written and verbal communication skills
Proficient in G Suite, Microsoft Office, etc.
Organizational and time management skills
Problem solver and attention to detail

Responsibilities of a Real Estate Assistant
Welcoming customers, taking calls, and following up with them
Drafting correspondence, planning meetings, and arranging trips
Preparing documents and forms
Coordinating showings and collecting feedback
Maintaining filing systems
Helping with the closing procedures
Creating reports and maintaining a customer database
Preparing and posting real estate listings

Real Estate Assistant Job Description Template 2

Real estate assistants can assist business managers in preparing relevant documents, updating property listings, answering client queries, and spearheading marketing campaigns.

Real Estate Assistant Job Summary

We're looking for a well-organized and energetic real estate assistant to assist our team in carrying out daily duties. The duties of the assistant include answering the phone, procuring supplies, and creating and sending marketing materials, paperwork, and reports.

Qualifications required for a Real Estate Assistant
Degree in any subject or diploma
1-2 years of industry experience
Understanding of best practices and trends in the real estate business
Familiar with real estate laws
Excellent negotiation and communication skills
Good research and analytical skills
Detail-oriented and customer-centric
Should be able to work individually and with a team

Responsibilities of a Real Estate Assistant
Answering customer questions and making appointments
Arrange meetings between sellers and buyers
Coordinate open houses and showings
Prepare, post, and update property listings
Maintain and manage client database
Perform clerical tasks
Assist with negotiations as well as closing processes
Create and distribute marketing materials

Real Estate Assistant Job Description Template 3

Real estate assistants help realtors manage financial transactions, set appointments, and act as a point of contact with clients and lenders. They also manage marketing tasks to improve online presence and grow the business.

Real Estate Assistant Job Summary

We're seeking a real estate assistant to provide top-notch marketing and administrative assistance for expanding our business. The duties also involve managing complex transactions and setting priorities to meet deadlines in a team-oriented, fast-paced workplace. Also, this position serves as a point of contact for customers, lenders, salespeople, title companies, service providers, and others.

Qualifications required for a Real Estate Assistant

GED/ High School Diploma; degree is preferable
Prior industry experience is preferable
Experience in marketing, administration, and accounting is advantageous
Strong communication skills
Excellent problem-solving and critical-thinking abilities
Solid numeracy skills
Must be detail-oriented, highly organized, and committed to providing excellent customer service
Competent with applications like Microsoft Office
Time-management skills
Capable of working both independently and in a group

Responsibilities of a Real Estate Assistant

Organize travel arrangements, schedule meetings, and prepares correspondence. Help agents in planning and organizing open houses.
Create and deliver marketing materials.
Prepare reports and manage the client database
Perform administrative tasks
Document properties the property before and post repairs

Wishup: The ideal solution for a Real Estate Assistant

Wishup is one of the best virtual assistant companies offering qualified real estate assistants to hundreds of clients suited for their needs. Our professionals at Wishup will assess your needs and connect you with the VA who is best trained to handle the responsibilities at your organization. That, too, at a minimal cost.

Cost-Efficient
The services offered by Wishup are budget-friendly, and you can fulfill all your requirements without breaking the bank.

Easy onboarding
Our professional VAs can be onboarded within 24 hours of connecting with them. This easy onboarding will save both your money and time that would otherwise be spent on lengthy hiring procedures.

Confidentiality
We give the confidentiality and security of our clients the highest importance. All passwords, financial details, and other sensitive data shared with us are protected using impeccable security features.

Regain time for your personal life
Hiring a real estate VA from Wishup can decrease your workload and give you some much-needed free time to tend to your personal life.

Find time for more critical tasks
Without VAs, many realtors find it challenging to handle all their important daily tasks. By delegating work to a skilled virtual assistant outsourcing from Wishup, you can concentrate on more important tasks like closing deals and expanding your business.

Upscale and downscale with ease
You can always hire and relinquish the VAs you recruit from Wishup based on your business needs, no questions asked. This ease of operation will save you a lot of money.

Customized plans
We offer customized plans depending on the needs of our clients. This makes it simpler for you to choose one solely based on your present needs.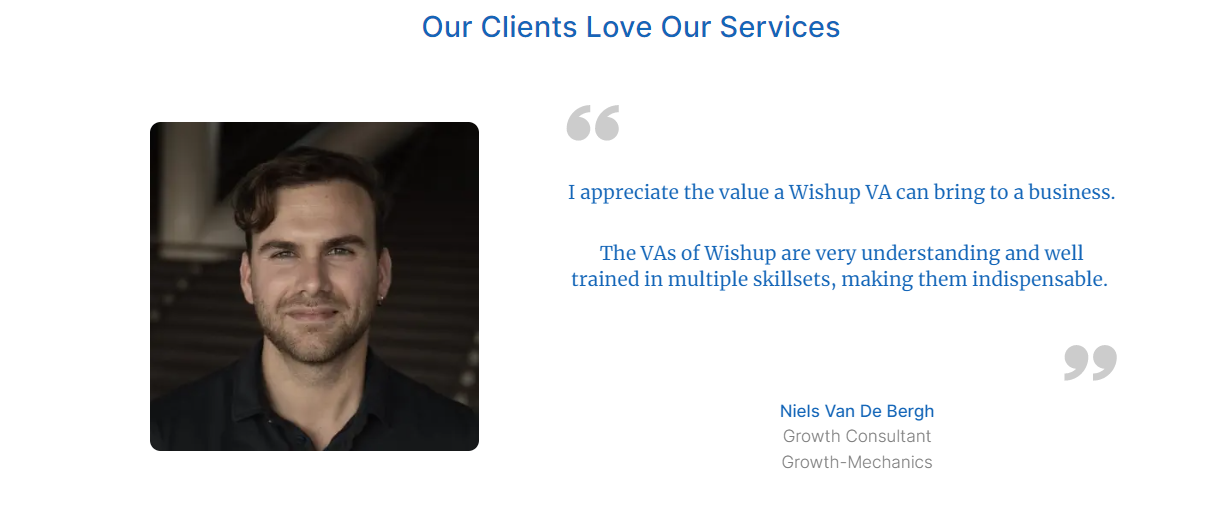 Loyal and dependable employees
Our employees are not only skilled and experienced, but they are loyal and dependable as well. They will handle all your sensitive data confidentially and never disclose any information after the employment term ends.

Perfect for short-term employment
You can easily hire a VA for short-term projects from Wishup without any hurdles. You can also easily relinquish them after the project is completed.

No tax complications
The VAs on Wishup file their own taxes. So, you need not worry about tax complications when needing a real estate assistant.

7-Day free trial with a money-back guarantee
We have a 7-day free trial that you can try out before deciding on a long-term commitment. If you are unhappy with our services, you will be instantly refunded, no questions asked!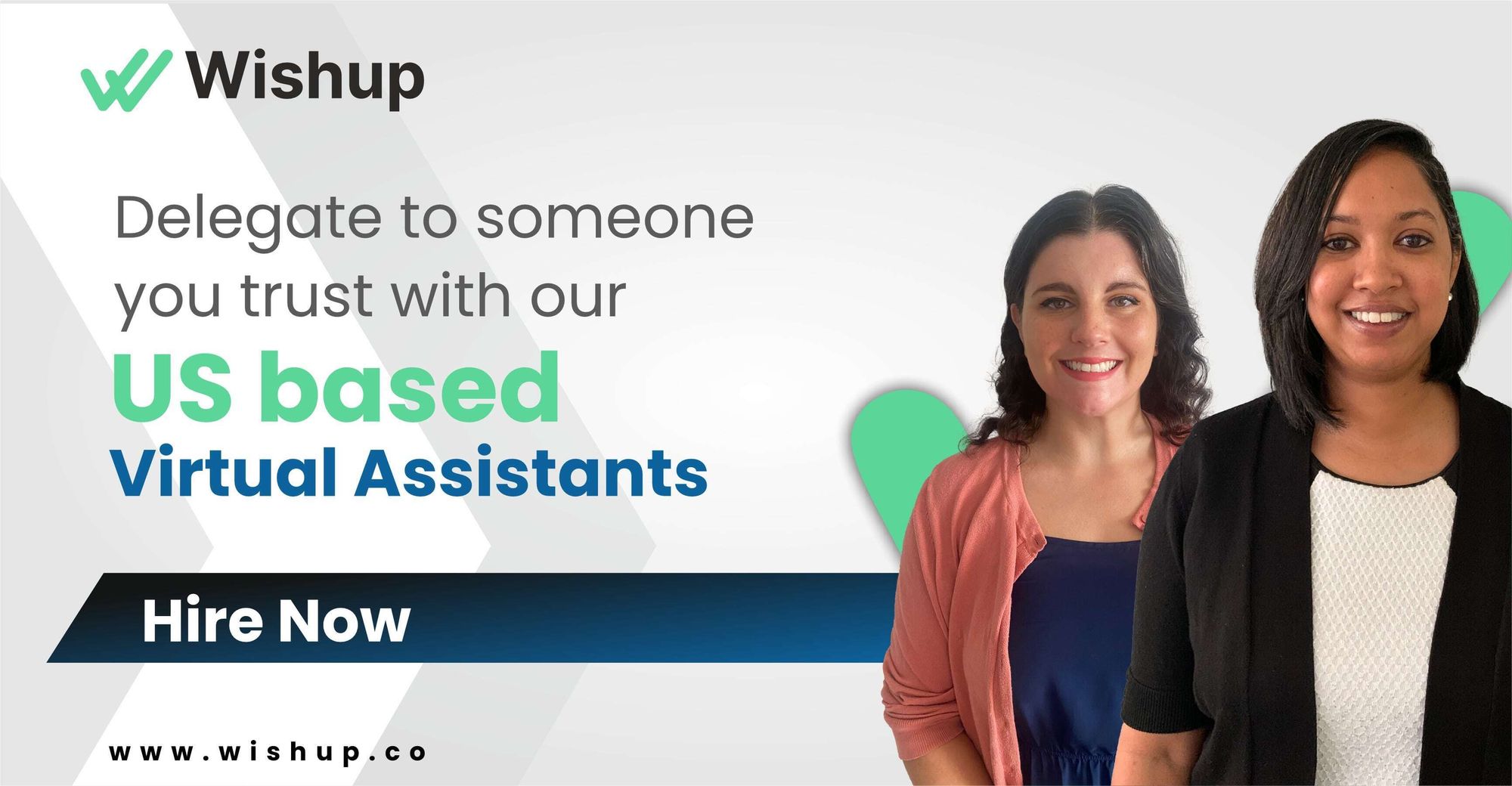 Conclusion
Hiring a real estate assistant is important to running a real estate firm. Real estate VAs will support you in several administrative tasks, freeing your time to focus on growing your firm. In addition, they can quickly become your trusted aide by performing mundane yet critical tasks like responding to clients, setting up meetings, overseeing marketing efforts, and generating leads.

If you are looking for a VA to help you grow your business but have a limited budget, Wishup can help you connect with the best professionals out there. Our team consists of top-notch VAs who are experts in their field and can perform the day-to-day tasks of your real estate firm efficiently.

Job Description For Real Estate Assistant Frequently Asked Questions

What is the work of a real estate assistant?
The realtor assistant job duties include numerous responsibilities like assisting agents in closing deals, drafting correspondence, answering calls, preparing documents, taking customer feedback, and maintaining the company database.
What is a real estate virtual assistant?
A real estate virtual assistant is someone to whom you can delegate tasks like managing your inbox, scheduling meetings, managing your calendar, handling social media, and handling customers. They do all this remotely, thereby eliminating the need for office space and additional infrastructure, saving money.

How do I write a resume for a real estate assistant?
When writing a resume for a real estate assistant job, highlight your educational qualifications, skills, and years of relevant experience. Be concise and include important keywords necessary to the industry, like time management, database management, client support, etc.