Virtual Assistant Outsourcing: An Ultimate Guide for 2023
The modern-day business world is ever-changing, so the workload for business owners and entrepreneurs can get intense. In this guide, we will look into the perks of outsourcing virtual assistants, the best way to find a great one, and some handy advice for working with them.
The modern-day business world is ever-changing, so the workload for business owners and entrepreneurs can get intense. Juggling all the day-to-day duties can take up a lot of energy and leave little room for business growth.
This is where virtual assistant outsourcing comes into play! Virtual assistants are professionals who offer remote support to businesses and individuals. They offer various services to help business owners manage their workload, boost productivity, and focus on growing their businesses.
In this guide, we will look into the perks of outsourcing virtual assistants, the best way to find a great one, and some handy advice for working with them.
So, let's get started!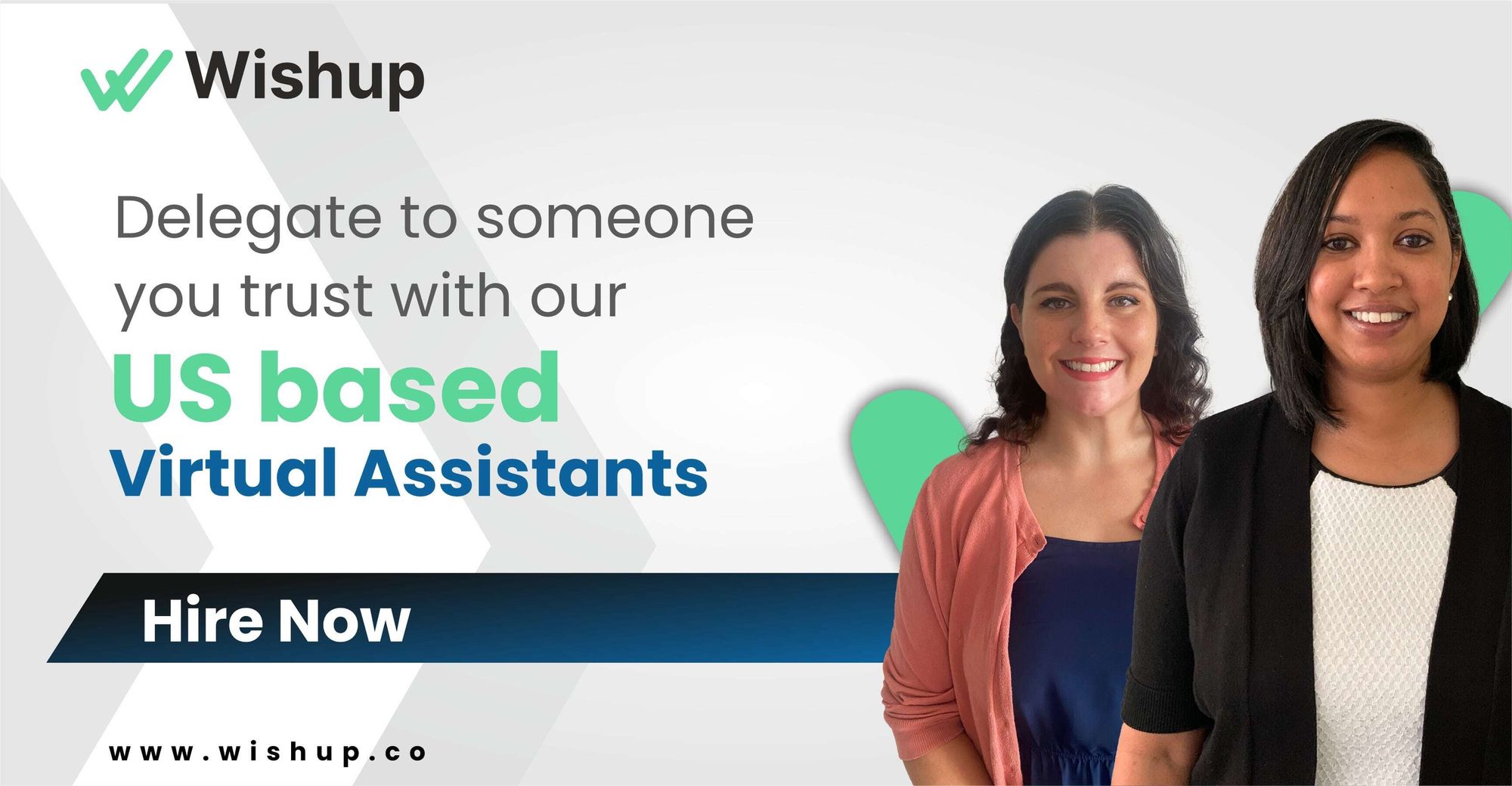 Who's A Virtual Assistant?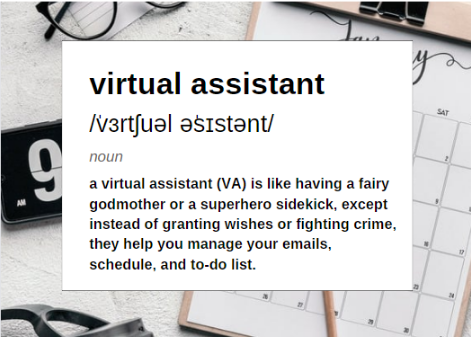 Virtual assistants are skilled professionals who provide various services from remote locations. Their most popular services include social media management, email marketing, bookkeeping, customer service, and project management. They have expertise and years of experience in their field.
They usually offer an incredible amount of flexibility and other benefits. If you're looking for someone to take care of the little things in your business so that you can focus on the big picture, a VA might be the perfect solution. Outsourcing virtual assistant can be a great way to increase productivity and manage your workload.
Top 10 Tasks of a Virtual Assistant
1. Social media management
Social media marketing has become a must-have for businesses these days. Virtual assistants can take care of your social media pages, crafting interesting content, scheduling posts, and tracking how it performs.
2. Email marketing
Email marketing can be an excellent way for businesses to connect with customers. You can outsource a virtual personal assistant to take your email campaigns to the next level. They can help you set up an email list, create newsletters and email templates, and even set up automated sequences.
3. Inbox and Travel management
Business owners can use virtual assistants to help manage their travel arrangements, saving them time and energy. For example, virtual assistants can book flights, hotels, and rental cars. In addition, they can plan and manage your entire travel itinerary to ensure everything goes smoothly.
4. Bookkeeping
Managing business finances is a breeze when you have a virtual bookkeeper on your side! They can help create invoices, track expenses, reconcile bank statements and prepare financial reports.
5. Customer service
You can outsource virtual assistants to improve your company's customer service. Virtual assistants can take over responding to customer queries, troubleshooting problems, and keeping customer relationships solid. Not only this, but they can help with crafting customer service scripts, handling customer service tickets, and addressing reviews.
6. Calendar management
Navigating a hectic calendar can be a daunting task for business owners. Fortunately, virtual assistants are here to help! They can handle all the scheduling for you, from making appointments and setting reminders to coordinating meetings - even dealing with scheduling conflicts. In addition, they will make sure everyone's on the same page and help you stay organized.
7. Lead Generation
Generating leads is another crucial task you can outsource to a virtual assistant. Virtual assistants can lend a helping hand in this area by conducting market research, developing lead magnets, and forming connections with potential customers. Moreover, they can handle lead lists and put together follow-up sequences.
8. Project Management
Project management can be tricky, but virtual assistants can make it much easier! They can create timelines, assign tasks, and track progress while keeping everyone in the loop. That way, projects get done on time and within the budget.
9. Data Entry
Delegating data entry to a virtual assistant can help you save time and help your business stay organized. They can input and collect important information, like customer data, product details, financial records, etc., so you can access them easily.
10. Event Planning
Planning events can be stressful for business owners, but don't worry - virtual assistants can make it a breeze! They can help you plan and organize conferences, seminars, and workshops, from selecting the venue to managing vendors, creating agendas, and coordinating event logistics.
When to Outsource?
1. If you have work that doesn't need a full-time employee
Outsourcing a virtual assistant in place of a full-time employee can be a great choice if you have some jobs that don't necessarily fit your primary line of work. VAs work on a "per-project" basis. So, you only pay for the services you need and don't have to worry about providing office space or equipment. In the long run, this could result in some serious savings.
2. If there are repetitive and non-core tasks
Outsourcing tedious and non-essential tasks such as scheduling, data entry, social media management, etc., can save you much time. By entrusting a virtual assistant to take care of these tasks, you can focus on handling more crucial business tasks and improve your bottom line.
3. If you don't possess the skills for a specific task
If you don't have the necessary skills for particular tasks, such as website design or creating marketing materials, it may be worth outsourcing the job to a virtual assistant.
Outsourcing assistants with the proper expertise can save time and money compared to training an employee. Plus, virtual assistants often have experience working with various clients and industries so that they can offer new perspectives and creative solutions.
4. If you find yourself turning down clients
As a business grows, you can quickly become overwhelmed by the demand for your services. You can even end up unable to take on new clients due to a lack of resources or time. The solution? Outsource to a virtual assistant! This way, you can expand your business operations without worrying about additional office space or equipment.
Benefits Of Outsourcing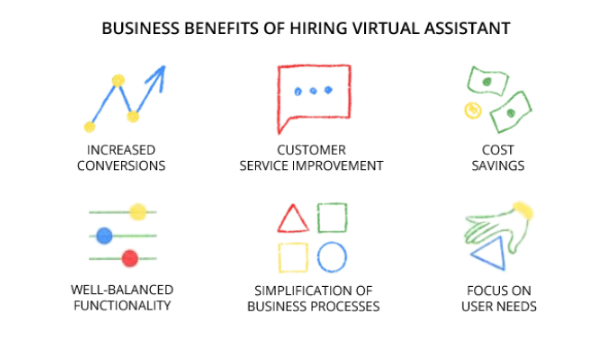 Working with a VA and outsourcing your business-related tasks to them offers multiple benefits. Let's have a look at some of the major ones:
1. Cost Savings
Hiring a full-time employee can get pricey for businesses, especially if their budget or resources can't cover it. But if you're looking for a cost-effective alternative, why not outsource a virtual assistant? You only pay for the needed services and don't have to worry about office space, utilities, or supplies.
2. Efficient time management
Outsourcing repetitive tasks of your business to a virtual assistant can free up your schedule and let you use that time for more productive activities. That way, you can do what you do best and get more done quickly. Delegating tasks to a virtual assistant will help you maximize your valuable time.
3. Improved organizational productivity
Virtual assistants can be a huge help to businesses in terms of boosting organizational productivity. They can take care of tasks quickly and efficiently, leading to smoother operations, improved communication, and better decision-making. Plus, having a virtual assistant allows businesses to stay agile and adjust to the ever-evolving market and customer needs.
4. Reduced stress and increased leisure time
Balancing your business and personal life can be tough, but outsourcing non-core tasks can help lighten the load. That way, you can free up more time to enjoy life outside work and find a better balance.
5. Increased scale of operations
Opting for a virtual assistant outsourcing can be a great way to scale your operations without investing in office space and equipment. This can help you take on more clients and projects without breaking the bank.
6. Improved customer service
Virtual assistants are great for improving customer service - they respond quickly to inquiries and work fast to resolve any issues. This can increase customer satisfaction and loyalty and provide businesses with round-the-clock support, even during off-hours.
7. Enhanced emotional well-being
Running a business can be a source of stress, which can seriously impact your emotional health. By outsourcing non-essential tasks to a VA, you can lighten the load and take some pressure off your shoulders. This can help you to feel better mentally and be more content.
8. Improved work-life balance
With the help of a VA, you can achieve a healthier work-life balance. By handing off some tasks, busy entrepreneurs like you can make more time for their loved ones, pick up new hobbies, or take a much-needed break.
9. A renewed focus on core business services
Outsourcing non-essential tasks can help you focus on the core services that need your personal attention and expertise. This can result in better decision-making, more efficiency, and improved outcomes for the business.
10. Gain access to specialized services
Virtual assistants have a wealth of experience and expertise, so you don't have to worry about additional training or hiring new employees. Plus, they can offer valuable insights, innovative ideas, and fresh perspectives, giving your business a competitive edge.
How to Hire a Virtual Assistant?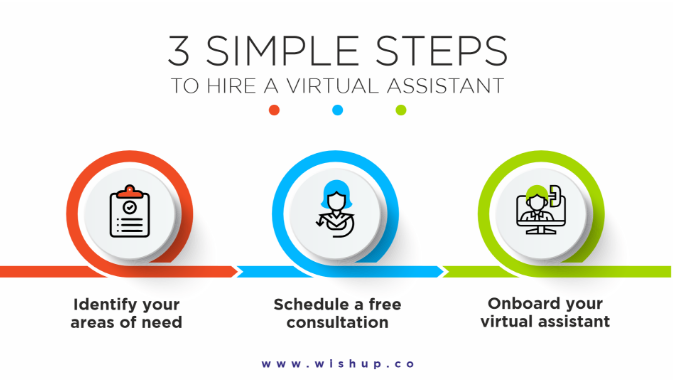 Are you looking to get an extra helping hand for your business? Then, hiring a virtual assistant can be a great choice. Here's the step-by-step process to hire a virtual assistant from Wishup:
Step 1: Identify areas where you need assistance
Start by figuring out which tasks you want to hand off. It could be anything from admin work, customer service, marketing, and beyond. Make a list of these tasks before moving to the next step.
Step 2: Sign up for a free consultation
Once you have identified the tasks you want to outsource, sign up for our free consultation! During the consultation, you can chat about your business's needs, and our team can suggest the right virtual assistant for you.
Step 3: Onboard your virtual assistant
Once you select your virtual assistant, it's time to onboard them! The process involves setting up communication, giving access to the right tools and resources, talking through the scope of the job, etc.
Why Hire Virtual Assistants from Wishup?
If you're looking to hire an experienced virtual assistant, we at Wishup can help! We are a fast-growing and reliable virtual assistant service provider and offer plenty of benefits to businesses and entrepreneurs.
Let's look at some of the benefits you can expect to get from us:
1. Top 1% of applicants
At Wishup, we have a strict hiring process to select the most qualified virtual assistants. So while we get tons of applications every month, we only hire the top 1% of applicants, ensuring our customers get the best of the best!
2. 24-hour onboarding
At Wishup, we know businesses don't have much time to waste. So, to make things easy, we offer 24-hour onboarding. So, when you choose a VA from us, you can get them onboarded within 24 hours!
3. Instant replacement
Wishup, a virtual assistant company, makes it easy for businesses to switch to a different virtual assistant if they're unhappy with their current one. We offer an instant replacement with a no-questions-asked policy to ensure you work with the professional who needs your requirements to a T!
4. Dedicated account manager
Every client that works with Wishup is assigned a dedicated account manager who looks out for them. Our dedicated account manager will make sure to take care of all your requirements and that any problems you have are solved quickly.
5. 7-day risk-free trial
Try Wishup's virtual assistant services risk-free for 7 days! You can test out our virtual assistant services immediately without choosing a long-term contract.
6. In-house training in 70+ no-code tools and 200+ skillsets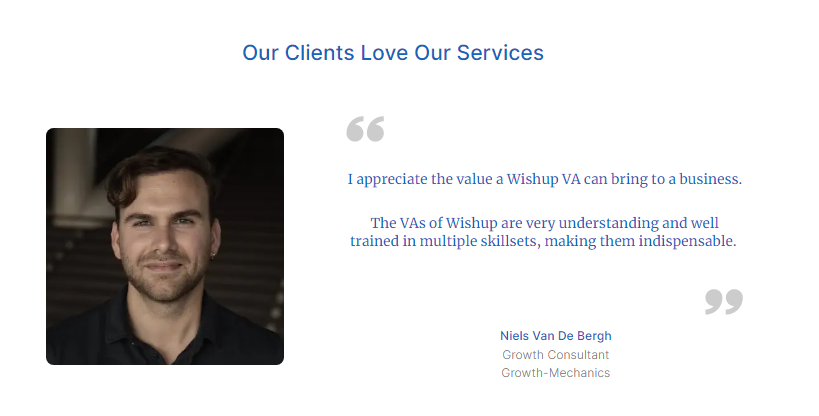 At Wishup, our virtual assistants receive in-house training in over 70 no-code tools and over 200 skill sets. So, rest assured; you will get professionals with all the necessary skills and up-to-date with the latest tech in their industry.
Conclusion
In conclusion, if you're looking to save time, focus on core business activities, and see your business grow, virtual assistant outsourcing might be the way to go! With a skilled and experienced VA, you can benefit from cost savings, efficient time management, improved organizational productivity, and reduced stress.
At Wishup, we provide highly skilled virtual assistants with access to over 70 no-code tools and 200+ skill sets. Plus, with our 24-hour onboarding, instant replacement, and 7-day risk-free trial, you will surely get the best possible service. So, what are you waiting for? Schedule a free consultation with Wishup today or email us at [email protected] to get started!
Frequently Asked Questions
What is virtual assistant outsourcing?
Virtual assistant outsourcing is hiring a remote assistant to do tasks or provide services for your business.
How much is an outsourced virtual assistant?
The cost of an outsourced virtual assistant depends on the service provider, the tasks you need, and the virtual assistant's expertise and experience.
At Wishup, we have two pricing plans:
$999/month for the 4-hour package (4 hours a day, 5 days a week)
$1799/month for the 8-hour package (8 hours a day, 5 days a week)