If you're an entrepreneur, you probably have a million things going on simultaneously.
There's always something that needs to be done or something that needs your attention. But, you only have two hands and 24 hours in a day, and you can't be everywhere at once.
The majority of small company owners and entrepreneurs do not employ an assistant. Indeed, many believe that hiring an administrative assistant is a waste of money. "Why spend money on an office administrative assistant when I know how to operate a computer and can handle these tasks myself?"
However, if you get too caught up in the minute tasks that take up most of your day, you'll never be able to scale your business. A virtual personal assistant can take on some of your responsibilities, so you can focus on growing your company.
In this article, we'll discuss in-depth the role of personal assistants and how they can be an incredible asset to your business.

Who Is A Virtual Personal Assistant?

A virtual personal assistant helps a person or a business manage their daily operations so they may focus on higher-level duties at home or work. They are recruited to relieve you of responsibilities so that you may boost your productivity. Unlike administrative assistants, the help of personal assistants extends beyond work.

A virtual personal assistant should have many outstanding skills - such as time management abilities, be impeccably organized, and be a master of communication and multi-tasking, as they will be working on multiple projects simultaneously. They must also maintain discretion at all times, as they will be dealing with sensitive information, both work-related and personal.

How Do You Know If You Need a Personal Assistant?

If a massive chunk of your day goes into answering emails, scheduling meetings, or replying to customer queries, and you don't get enough time to focus on business strategy, it's probably a sign you need assistance.
If you're having trouble "getting it all done yourself," it might be time to consider employing a virtual personal assistant to help you manage your professional and personal duties. Personal assistants are highly accessible and can help you with various responsibilities.
The best part is that you can hire a remote assistant, and they can still help you tick tasks off your list from a distance. In addition, you may tailor your personal assistant's responsibilities to meet your specific requirements, as they are qualified to cater to professional and personal needs.

For example, a personal assistant can help you plan your next work event, book a reservation for a client meeting at the most happening restaurant in town, or make sure you never run out of milk or other groceries at home.
If you find yourself feeling physically and mentally drained out at the end of the day without actually feeling like you've achieved anything, hiring a personal assistant might just be the thing that makes your life more efficient and productive.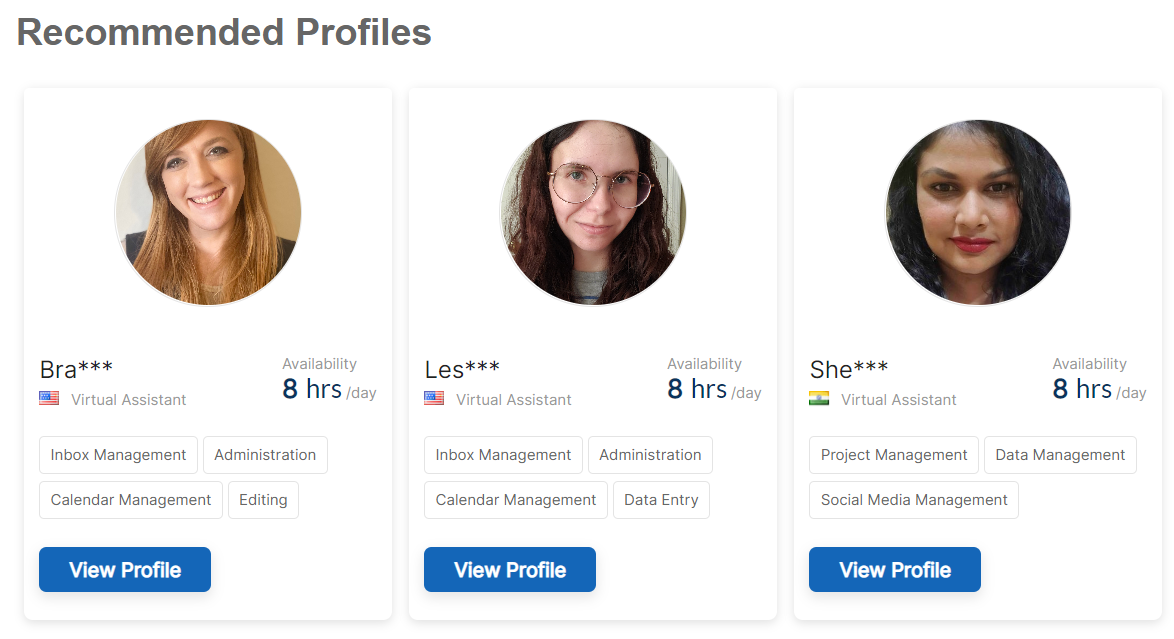 5 Reasons You Should Hire a Virtual Personal Assistant

Personal Assistants Help Maximize Productivity
We've said it before, and we'll repeat it: by hiring a virtual assistant to handle your day-to-day responsibilities, you'll have more free time to focus on your business goals.
Too many company executives become engrossed in activities that are undoubtedly important but do not contribute to the growth of their companies.
You only have 24 hours in the day, but outsourcing effectively can help you free up some of them.

Source: Unsplash

Just because you're the boss and it's your business doesn't mean that you should let go of any semblance of a personal life.
Yes, it's crucial to put in the hours to scale your company, but if you exhaust yourself physically and mentally, you will not be able to give your best at work. Working all day long also keeps you away from spending time with your loved ones or having any hobbies outside the office.
Hiring a personal assistant will solve both issues for you - they can free up your time in the office to focus on essential tasks and take care of things at home to make sure you can spend quality time with your family.

Virtual Assistants Are Cost-Effective
For many entrepreneurs, the primary concern for getting assistance is the cost. They might not be able to afford to hire a qualified, experienced assistant if they're just starting. So, if you are a startup, your best option is to hire a virtual assistant.
A remote personal assistant offers a multitude of skills and years of experience without putting a sent in your wallet.
The advantages of having a virtual personal assistant are well-known and valued across industries. However, you'll have to contribute to many additional benefits like pensions, bonuses, insurance, and other things besides just their salary.
One of the significant advantages of hiring a virtual assistant instead of a full-time salaried employee is that you may pay a monthly fee rather than an annual wage.
This is beneficial in so many ways - you'll have a lower long-term commitment and, as a result, a lower risk.

Virtual Assistants Provide Expertise

While we like to think that we know the best way to do everything - that might not always be the case.
Knowledge and expertise can only come from experience - and sometimes, we might be taking too much time on tasks because we might not be as good at them as we think we are.
A personal assistant has knowledge and experience working with administrative tasks and has the best possible expertise in efficiently organizing your information, data, and documents. They also know the best tools and devices to help make your work and personal life more manageable.
Therefore, when you hire a personal assistant, you're not just hiring help but also onboarding a knowledgeable, experienced, and qualified person to your team.

Personal Assistants Can Help You Learn To Delegate

The exciting thing is that many people don't know how to successfully delegate tasks to people on their team and perform most of their administrative tasks themselves.
Having a virtual assistant on your team can help you understand how to delegate tasks and divide responsibilities among individuals. That will make you more productive and give you training for when you are hiring and working with many different teams and departments in the future.

Tasks You Can Outsource To a Virtual Personal Assistant

Now that we've covered the many benefits of hiring personal assistants let's look at what tasks you can assign to your PA. Some of the many personal assistant services are as follows -

Administrative Tasks
Most personal assistants come with previous office experience and are excellent with their administrative skills. They can help you with a variety of office-related tasks such as -
Handling communication with different departments
Organizing email inbox
Scheduling calendar
Write down minutes of meetings
Organizing documents and files
Hotel reservations
Travel arrangements, etc.
Your personal assistant will ensure you never miss an important meeting or lose out on a client because you haven't responded to their email on time.

Source: Unsplash

Managing Payrolls
Payroll management is one of the most time-consuming and labor-intensive operations in business administration, irrespective of the size of the business.
Payroll includes financial information concerning employee payments, taxes, incentives, bonuses, reimbursement, and other items in terms of salaries.
Allow your virtual assistant to manage your payroll system, ensuring that all employee paychecks and compensations are paid on time.
There are a lot of cloud-based software and tools that allow you to safely share sensitive financial details with your remote assistant without the risk of cyber fraud.
Keeping Tabs on Paid Advertising
Using Google Ads or Meta Ads to reach out to more prospective consumers, produce more leads, and generate more conversions is every company's end goal.
A skilled personal assistant improves awareness and achieves corporate goals by planning and running campaigns from the ground up or taking over existing accounts.
Paid Media Specialists build and execute ad campaigns that achieve a company's KPIs across several channels.
Customer Support
As technology keeps advancing, customers have been increasingly demanding quicker service, better flexibility, and more timely resolution of customer or technical support concerns. Leading companies understand the value of prompt customer service in developing brand equity.
While AI chatbots can respond to frequently asked questions and doubts, they are not yet equipped to handle real-time inquiries or replace human talent.
With 45 percent of customers leaving online shopping transactions if their complaints aren't answered swiftly, having a live chat function on your website requires running an online retail business or providing services over the internet.
They can also help you with customer service surveys that will eventually help you improve the quality of the user experience.

Community Engagement on Social Media
These days businesses have no choice but to utilize social media to acquire new clients, retain old ones, respond to inquiries, and increase sales.
On social media, this tactic is called community engagement. Your personal assistant can help boost your social media community engagement by doing many activities on many social platforms, ranging from liking posts of other accounts and comments to direct messaging clients and responding to their questions.
Businesses can be negatively impacted when their social media involvement is non-existent since social media platforms are the #1 option for customer service and brand connection. In addition, many customers choose to interact with companies through social media rather than the traditional ways like emails and phones.
With a personal assistant, you can be rest assured your social media accounts are constantly engaging with customers and other brands online.

Personal Tasks
As we mentioned before, a personal assistant does more than just manage your office-related tasks. They are highly skilled in handling tasks around your home, like ordering groceries, arranging for repairs, and even planning your kid's birthday party.
Even though they are working from a remote location, technology has come a long way, and most things can be arranged without your PA being in the same physical place as you.
How To Hire a Virtual Personal Assistant?
There are a few different ways to hire a personal assistant, and they each have their set of pros and cons. The three most common methods of hiring personal assistants remotely are -
Through Gig Platforms
Because remote assistants are contract-based employees, they often post their profiles on various gig platforms like Upwork and Fiverr. How these platforms work is simple - you can browse through multiple profiles and select the candidate you feel suits your company the best. Then, once you choose your VA, you can communicate with them outside the platform.
Pros - The company does shortlist the candidates; you don't have to go through the interview process, which can save time.
Cons - you can't properly interact with the assistants until you've made the payment and hired them.

Source: Unsplash

By Posting Job Listings
If you want to have more freedom in the hiring process and have a say in the roles and responsibilities listed in their job description, you might want to post a job listing on sites like Craigslist and LinkedIn.
You can list your exact requirements, and there are higher chances of finding the perfect candidate. However, there are also risks involved with this kind of hiring.
Pros - You get to be precise with the list of skills and requirements and interview the candidates.
Cons - It can be time-consuming to interview every applicant, and since they are not verified, there is no guarantee that these employees won't ghost you amid a critical project.

Hire Through Outsourcing Agencies

While people think that virtual assistants are a new profession, they've been around long enough for there to be outsourcing agencies, like Wishup, specializing in remote assistants. They have a smooth, straightforward approach to hiring, and since they are experienced in the field, they can help you find the ideal candidate for the job.
Pros - You get access to a pre-trained and pre-vetted talent pool by the outsourcing agency.
Cons - You don't get to interact with the personal assistant until they've been assigned to you.
Don't Hesitate To Delegate.

When you choose to delegate responsibilities, you're making a better decision for yourself and the growth of your business. A smart business move would be knowing when to share responsibility instead of thinking you can do everything yourself. We hope you enjoyed this article and that it helped you understand the potential of hiring a personal assistant for your company.


Subscribe to Wishup Blog | Remote Teams | Remote Employees
Get the latest posts delivered right to your inbox