Answering client calls correctly and promptly is essential for your business's success. While it may be easily manageable in your early days, as your business grows, you may find yourself unable to manage them by yourself, prompting you to seek professional services.

Hiring a virtual receptionist or telephone service professional to answer business calls is a good option for entrepreneurs but may be prohibitively expensive. In such a scenario, hiring a virtual assistant is the best option to consider to answer your calls.

That brings us to some key questions.

How can a virtual assistant for answering calls add value to your business?
How to find one who is an ideal fit for your business?
How much do virtual assistants or virtual receptionists charge?
Does your business even need a virtual assistant?

If these questions are lingering in your brain and keep you from focusing on your business, this blog will help you.  

These businesses can benefit most from a virtual assistant
Before putting in hiring costs, every business owner would want to know if their business needs a virtual assistant to answer calls or not. If your business belongs to the categories mentioned below, you should hire a virtual assistant.
Startups And Small Businesses
Startups and small businesses need to answer customer queries instantly in their growing phase. If they have high call volumes, they may need to consider using professional call answering services, but being a start-up, they may not be able to afford the same. Hence, a virtual assistant for call answering is a viable option for them. It is also a professional and smart way to build customer relationships for small businesses.

Small businesses are typically privately held and operate remotely. Due to the smaller staff sizes of these businesses, customers may develop a rapport with the call takers or representatives. As a result, these companies worry that outsourcing this function will negatively affect their customers.

However, small businesses can hire a phone answering service assistant who comes onboard to offer clients superior customer care. Let someone who can handle the phone answering service manage it when you and your team handle everything independently. Virtual assistants who answer phones can be a more cost-effective alternative to hiring office workers. Your company can benefit from a virtual assistant who answers calls in these ways.

Manage inbound call flow.
Handle all recurring tasks.
Compile the data of customer calls. Then, you can use it to make your sales process more efficient.
They can help you build an all-time available customer support system.

Ecommerce company
Working with a virtual phone assistant is a wise decision if your company is an online eCommerce company with no physical location. Why?

Many clients can call an e-commerce company with questions about a new launch or sale. You can serve more consumers if a virtual assistant handles incoming calls and emails.

Due to excessive customer calls, eCommerce business owners cannot attend to some calls. It can lead to losing customers. Virtual receptionists can help you avoid that.

If your product sells in all Geographic Locations
If your product is globally relevant or you operate nationwide, it is highly likely to receive hundreds of query calls regularly. Unfortunately, startup founders cannot answer each call. Therefore, having a virtual business answering service is a necessity for them.

A bonus is that virtual assistants can help you operate your business in different time zones as they are usually located in different geographical locations.

Service-based businesses
Managing a service-based business means you have to always be on the run, providing clients services. Taking long calls and gathering information given during a call can be challenging. A call answering service that suits your work requirements can work for you, no matter what service you offer to your clients. Due to the rapid mobility in this market, you require a detailed yet straightforward message from your consumers to reduce your workload. A service company should decide on the following factors when selecting a virtual assistant for call answering service:

Setting a script for calls
Get a mechanism in place for customers with emergency
Message delivery method customization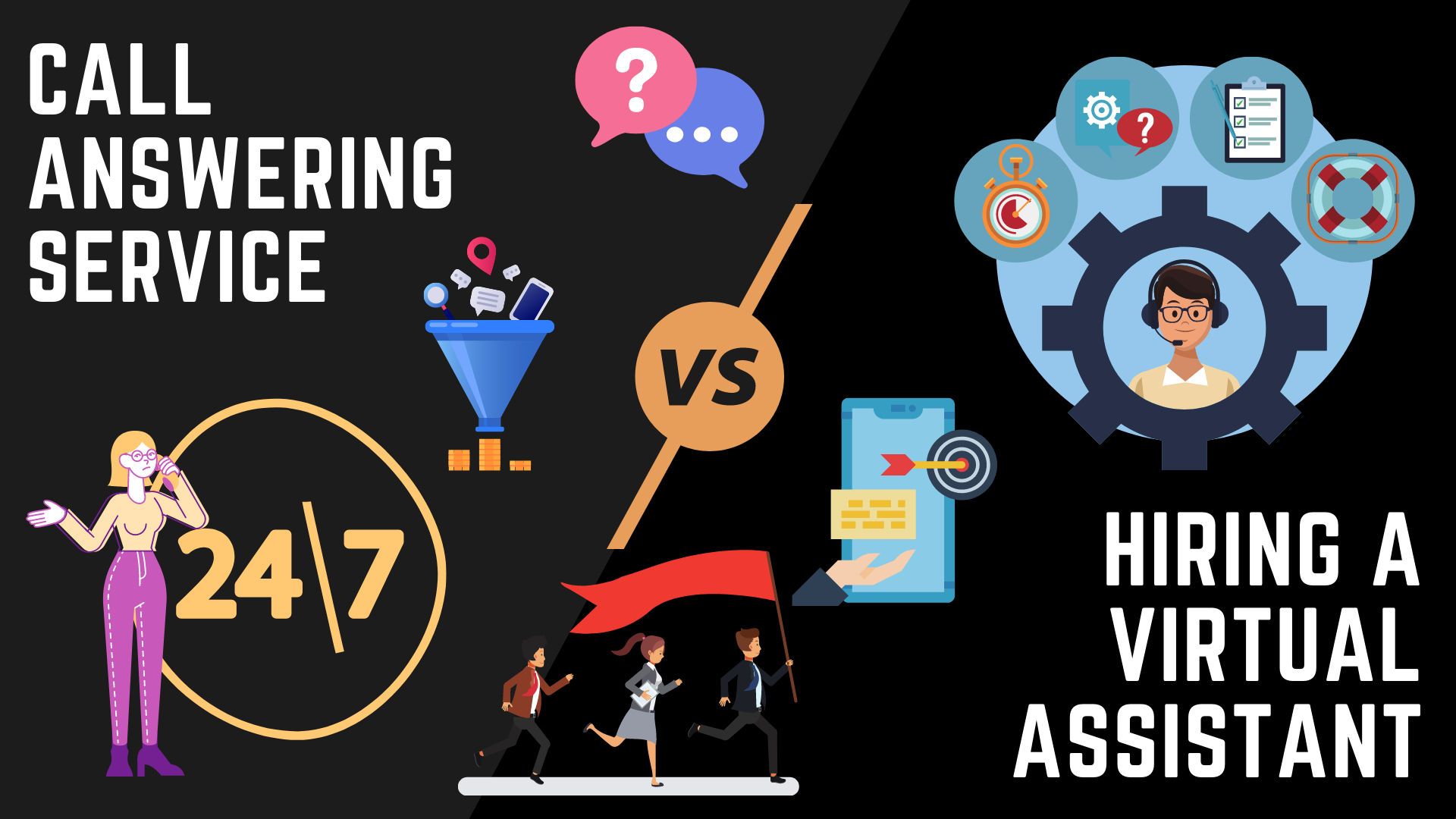 Call Answering Service v/s Hiring a Virtual Assistant

You might wonder what the difference is between a call answering service and a virtual assistant to answer calls. They both are poles apart.

A phone answering service is dedicated to providing you with client call attending services only. On the other hand, a virtual assistant can do more for your business than just picking up client calls.

They can help you with

Generating business leads
Networking with potential clients
Manage & coordinate sales orders
Provide industry-specific assistance
Provide help-desk support and more

Virtual assistants can relate to your business better than answering services who will only attend calls. Also, be mindful that a virtual assistant can execute a package of tasks, including answering calls, but vice versa can't happen.

So, start with analyzing your business requirements to know what you truly require at the moment and how your business can best streamline its operations.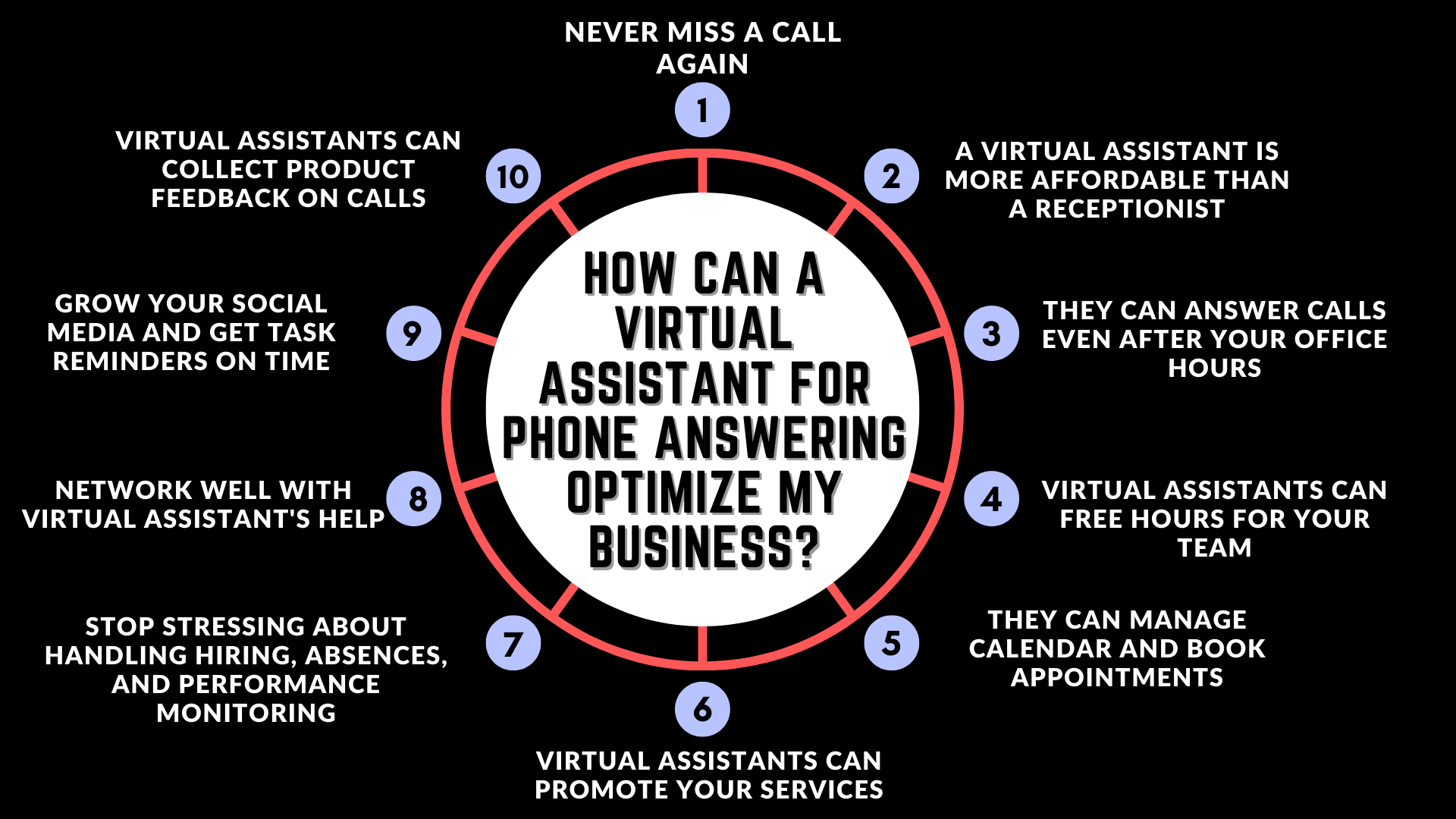 How can a virtual assistant for phone answering optimize my business?
Your customers may find a virtual assistant for phone answering useful when they contact your company. It can significantly impact whether you attract new customers to your company or lose them to your rivals. In addition, employing a virtual assistant may concentrate on other facets of your company while ensuring no potential client is overlooked. A virtual assistant for phone answering is necessary for your company for the following reasons:

A business relies on its sales calls to survive. Spending a lot of money on marketing or other opportunities is useless if you can't make yourself approachable to potential clients. Although the majority of sales and commerce are now conducted online, many customers still choose to call to finally make the purchase. That is when using virtual call answering services might be advantageous. Your virtual assistant can never miss a sales call. It is an intelligent way to increase the calls that result in sales without spending your valuable time.

A virtual assistant is more affordable than a Receptionist.
Small businesses find hiring full-time employees or receptionists incredibly expensive, and your company may not receive enough calls to justify this expense. Even if you ask the people on your current team to answer calls, this will divert their attention from the work they now do. Therefore, it is only going to cost you more. Hiring a virtual assistant saves you both time and money than asking the internal team to attend calls.

You can reduce paying heavy salaries and avoid excessive office expenses when hiring a virtual assistant. For example, a company in the US can save $11,000 per employee per year by adopting remote work. Who would not want to save and use that money to scale their business?

Answer Calls even when your business is closed
If your business caters to an entire nation or you want to launch your services on global platforms, it is essential to grow a team that can efficiently fulfill the requirements of a global business. A team of virtual assistants can make it happen. A real person will handle your calls, answer questions, and offer any necessary customer support even while you are away from the office or when your clients contact you after business hours.

Business growth and revenue generation should be the only tasks for your team
Managing the call traffic during working hours might be time-consuming and divert you from other crucial activities. Likewise, delegating call answering to your in-house staff is not smart. Everyday phone calls and routine questions can drain their energy.

A virtual assistant can answer calls and forward to you only the ones that materialize into business. Even when you're busy or need to concentrate on other elements of your business without being distracted, you can choose to screen calls.

Manage Calendar and Book Appointments
A virtual assistant can do multiple tasks, including making a schedule, booking meetings, preparing workflow, managing your to-do list, and whatnot!

Virtual assistants are trained to execute various tasks. Not only do they bring that training and experience with them, but you can further train them to do particular tasks relevant to your business.

Virtual assistants can promote your services
Virtual assistants for phone answering can make a message focusing on your business's most in-demand service or product. Then, they can pass on that message on a general query or client calls and take down any important message for you. This way, they can help you filter all the unwanted calls at the basic level. Simultaneously, they popularize your best services by mentioning them on calls.

You can also provide your virtual assistant with a customized briefing, FAQs, and product description that you can update as and when required. They can use these resources during calls.

Hence, when your customers call, they will be greeted politely, informingly, and in a friendly way.
Stop stressing about Handling Hiring, Absences, and Performance Monitoring
When recruiting permanent employees, you invest more than simply money in their salaries; you invest time, money, and effort in finding candidates who can perform effectively and work efficiently. Using a virtual assistant to answer your calls can also relieve you of the stress and duties of hiring an in-house workforce.

You do not have to follow the typical hiring procedure when you hire a virtual assistant from a company like Wishup. Instead, start filling out the free consultation form, discuss your business needs with our professionals and hire a virtual assistant in less than 24 hours. Keep reading for more benefits of hiring from Wishup.

Network Well with virtual assistant's help
Networking with potential clients is the best way to leverage calling virtual assistant's services. There are days when general calling activities are not in full swing. A virtual assistant can take out time to help you with networking by identifying contacts who may need your services.

Virtual assistants can also connect you with vendors with more profitable deals.

Social media is the growth pilot for every brand - new or established. A virtual assistant can lead your social media handles to growth. Whether paid search or organic growth, you can hire a virtual assistant specializing in social media.

These professionals are experts in creating a posting schedule and researching content for social media posts.

Virtual assistants can even assist with producing informative and visually appealing content. Digital content that is attractive and adds value to your readers can grow your brand by 10x.
Interestingly, 47% of clients voice product complaints using social media. A virtual assistant can ensure that customers are satisfied and that all their complaints are heard.

Get task reminders on time
Leaders in any industry have so much on their plate to process. It is easy to forget even the most important things when your day is full of tasks. A virtual assistant can help you with multiple task reminders so you never forget the next client meeting or other commitments.
Virtual assistants can collect product feedback on calls
Receiving customer feedback is quite a challenge for business owners. But, it is required to make a product that fits the market well. Virtual assistants can reach out to your clients and collect feedback personally. It is a part of serving customers well. According to Bain and Company, business owners can experience 4 - 8% growth above their markets if they keep better customer service on priority.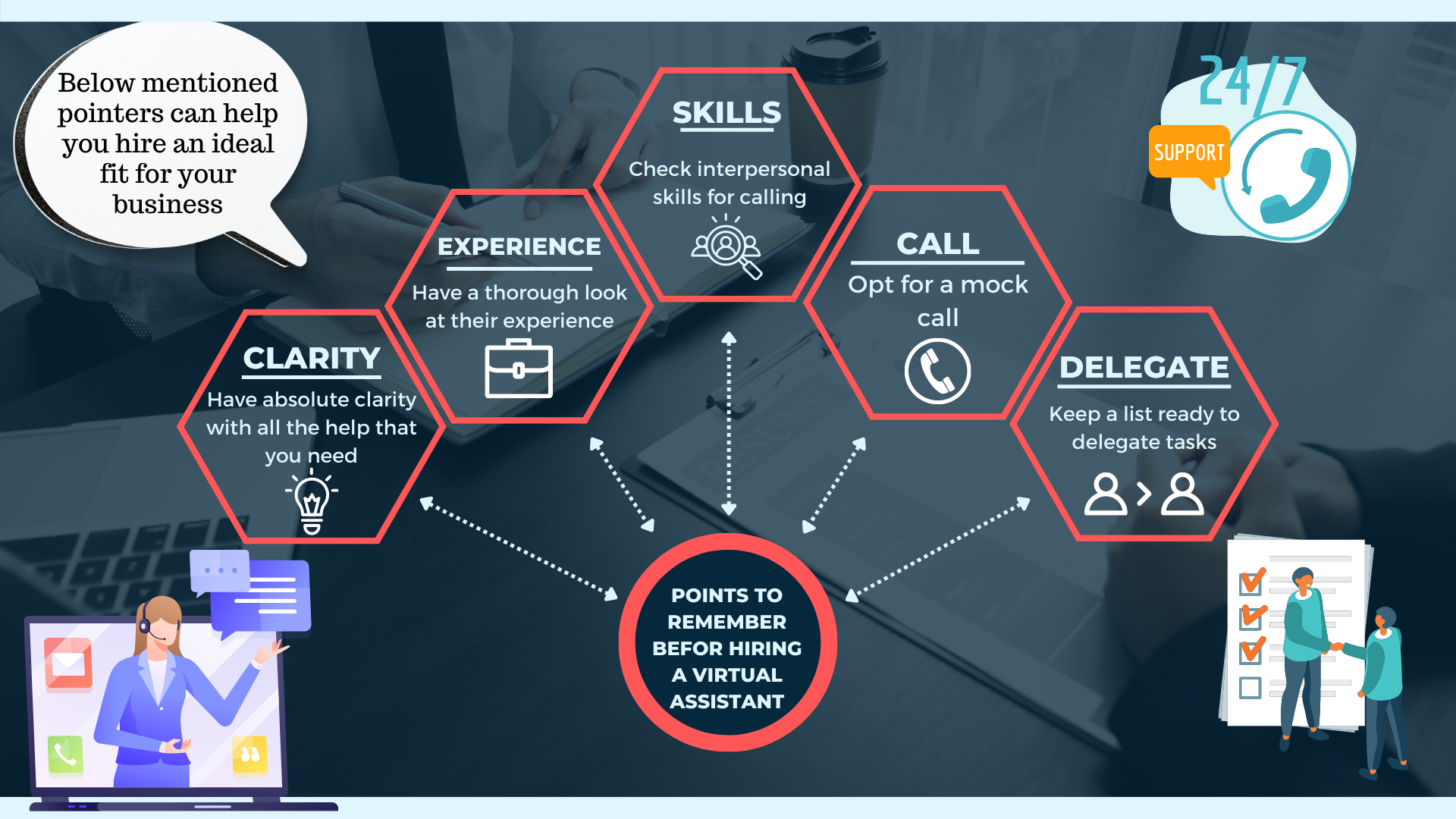 Points to remember before you hire a virtual assistant
Bringing the best fit on board to help you grow your business is never simple. On top of that, there are budget constraints. Hence, business owners can never adopt a casual approach to hiring a virtual assistant for call answering. Below mentioned pointers can help you to hire an ideal fit for your business.

Have absolute clarity with all the help that you need
Often business owners do not correctly assess their business requirements. Instead, they hire a virtual assistant hastily and regret the decision later. It should never be the case.
Prepare a list of tasks you would like your virtual assistant to do regardless of their importance in the business cycle. Ask yourself - are you hiring a virtual assistant only for client calls? Do you want your virtual assistant to have expertise in a particular tool?
You can hire a better professional when you have clarity about the tasks you expect them to perform.

Have a thorough look at their experience
No matter how urgent it is, you should never hire a professional in the first interview. Take time to check their experience and then ask questions based on that.
Checking their experience may also inform you of their abilities and achievements - how did they help a business owner expand? How did they tackle a challenging situation?
Check interpersonal skills for calling
Good interpersonal skills can give your business a significant push. Impeccable interpersonal skills should be the first hiring requirement if your business heavily depends on call interaction. You should ensure that your virtual assistant can pull in the clients so they are comfortable with the call and ready to listen to any new launches or offers.
Do not forget that you are primarily hiring a call answering virtual assistant. Therefore, knowing how well a professional can handle calls is essential. Check if they can answer tricky questions through a mock call.
Keep a list ready to delegate tasks
You should always have a list of tasks ready for your virtual assistant. Some days they may not have as many customer calls as other days. On those days, you should have other tasks for delegation.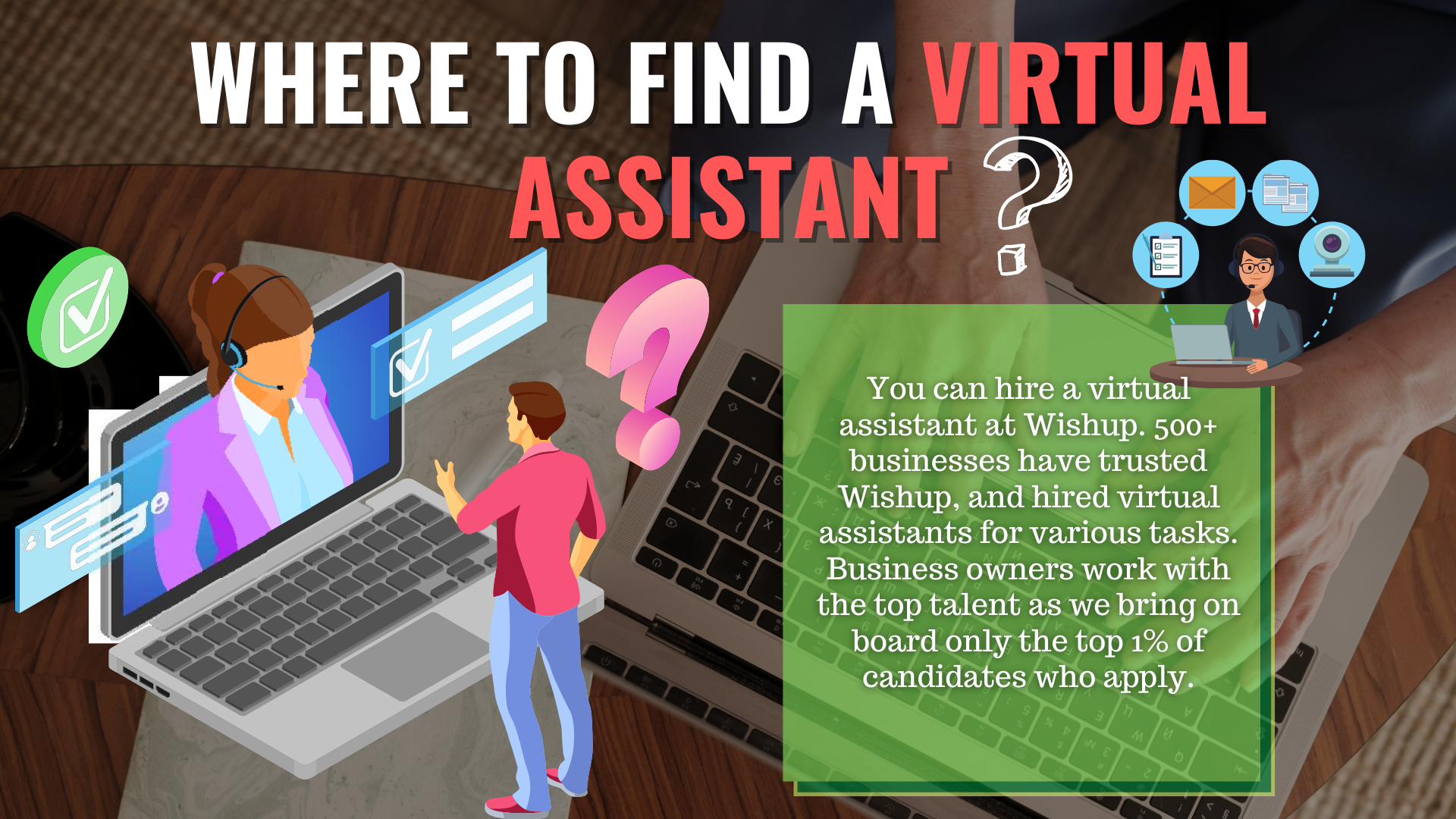 Where to find a virtual assistant?
You can hire a virtual assistant at Wishup. More than 500+ businesses have trusted Wishup, and hired virtual assistants for various tasks.

Business owners work with the top talent as we bring on board only the top 1% of candidates who apply.

With Wishup's customer-oriented vision, be sure you will grow your business with virtual assistants trained for more than 70 tasks, including invoice management, dropbox organization, handling yearly renewals and IPR, etc.

You can hire a virtual assistant at Wishup in less than 24 hours and save up to 78% on operational costs.

In the final note

We have come to the end of our blog, hoping you will take away some valuable insights before hiring a virtual assistant for call answering.

As a business owner, you must pursue everything with a growth mindset. However, to manifest that growth, you need a strong team. Simultaneously, you must figure out which tasks to delegate and how to delegate them effectively.

Call answering is a task that you can easily delegate to a virtual assistant and pay all your attention to business scaling. Click here to hire a virtual assistant or mail us at [email protected] to book a free consultation.
Subscribe to Wishup Blog | Remote Teams | Remote Employees
Get the latest posts delivered right to your inbox