Can A Virtual Assistant Help Optimize Calendar Management?
There has been a significant rise in virtual meetings post-pandemic. Due to this, it's now possible to schedule back-to-back meetings and fit in more appointments in a day than ever before. Sometimes, you can have as many as five to six meetings daily, making it possible to get a lot done quickly.
However, the downside of having so many meetings is that scheduling them can be a nightmare. You may spend hours trying to coordinate with people, and cancellations or time zone differences can make things even more complicated.
But don't worry. There's a solution! If you're overwhelmed by the endless stream of tasks and meetings, a virtual assistant with calendar management skills can help.
A virtual assistant is a professional who works from a home office and can help you with various tasks, including calendar management. These professionals work in sync with your email and calendar software, handling every detail from scheduling and rescheduling to conflicts and communications.
Plus, they shield your calendar from non-essential meetings and ensure that you have enough time for tasks directly affecting your productivity and business goals.
Are you still dicey about hiring a virtual assistant for calendar management?
If so, then continue reading. This article explores why you should hire a virtual assistant and what tasks they perform to ease your life. So let's dive right in!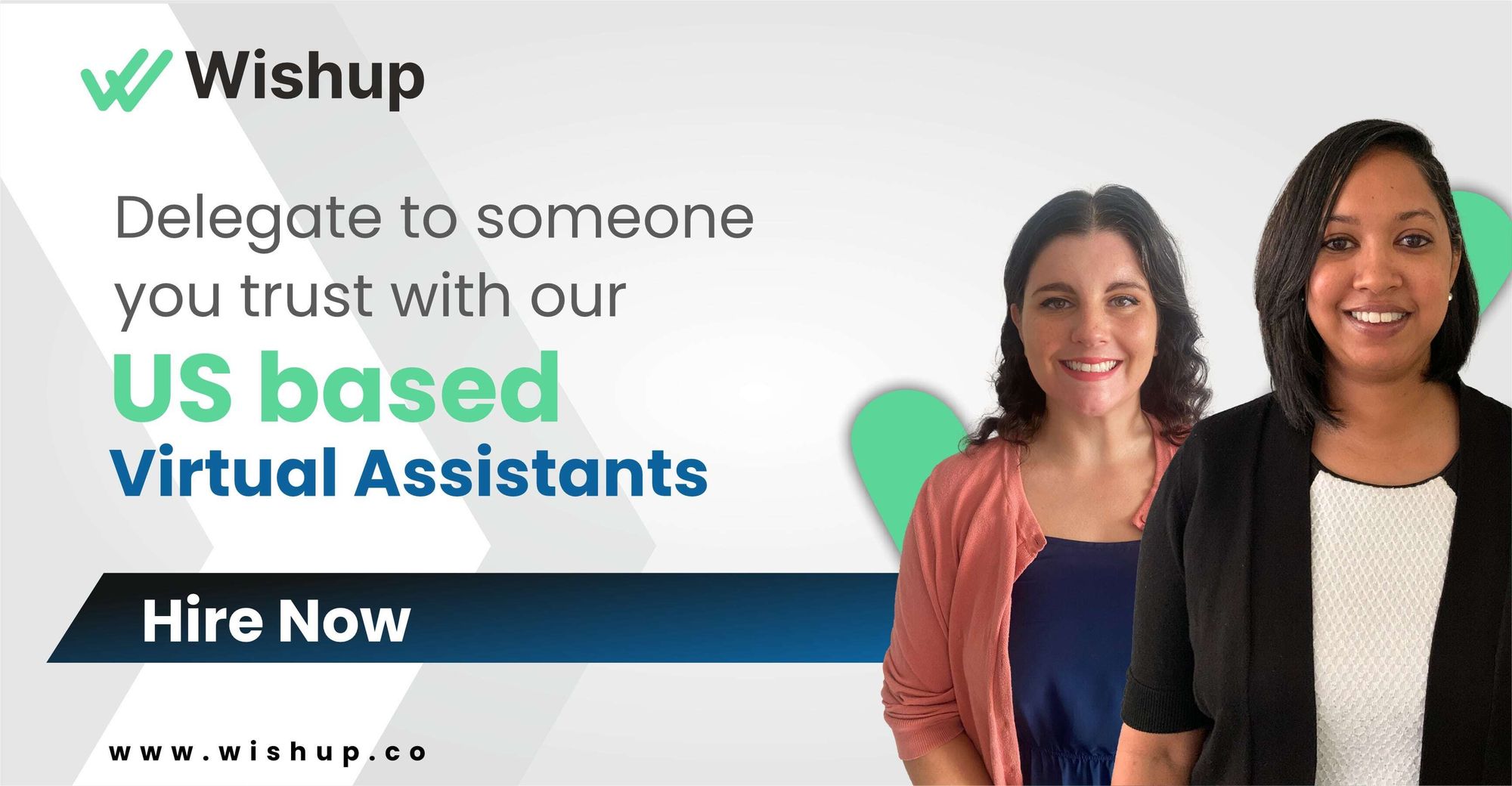 Four telltale signs you aren't managing your calendar effectively
You may be pondering if you need a virtual assistant for calendar management, so here are a few signs to help you decide.
You're doing things last minute
Business travel can be stressful, but poor calendar management can worsen it. If you find yourself rushing to book flights and accommodation at the last minute, it's a sign that you need to improve your travel planning skills.
You are saying 'yes' to every invite
You receive an alert saying, "Meesha scheduled a meeting to discuss vendor contracts at 5 pm," and you say yes. A few hours later, another alert says, "Andy scheduled a meeting to discuss a new product at 5 pm," and you hit yes, again.
But when the time comes, you're in a fix. After all, you can't be in two places at once unless you have Hermoine's Time Turner necklace! If you frequently find yourself in such situations, you need better calendar management.
You're constantly rushing
Do you find yourself frantically running out the door every morning? Are you jumping from one meeting to the next? Are you just bulldozing your way through your to-do list?
If you find yourself nodding, take it as a sign! Efficient calendar management helps you better prepare for the day by helping you manage your time. Knowing your commitments for the day or week allow you to prioritize tasks and address business goals more systematically.
Your calendar is bursting at the seams
Take a quick look at your calendar. Are there days when you have back-to-back meetings and others when your schedule is wide open? This is a sign of calendar mismanagement. What you need is a well-distributed week. Where you're not jumping from one meeting to another and stretching yourself thin but have the mental and physical capacity to discuss important issues of a growing business.
Remember, managing your calendar effectively reduces stress, improves productivity, and improves work-life balance.
And a virtual assistant specializing in calendar management is a godsend for anyone looking to streamline their work-life balance. Moreover, numerous business owners have already outsourced such duties to virtual assistants, recognizing that it helps them save money, time, and effort.
By having a virtual assistant, you can be confident that everything is taken care of, giving you peace of mind and allowing you to excel in your business endeavors.
How can a virtual calendar manager make your life easier?
Travel bookings
Business travel can be stressful and time-consuming, especially when organizing each trip. Virtual assistants for calendar management can help make your travel experience more enjoyable by taking care of everything from finding the best travel deals to booking tickets and reserving accommodations.
And if you need recommendations for the best local restaurants or attractions, they can help with that too!
Managing time zone differences
If you have been facing problems with people working in different time zones, a virtual assistant can help coordinate meeting times. They can track different time zones and find a suitable time for everyone.
This can be especially helpful if you have a busy schedule and need to fit in meetings at odd hours.
Scheduling appointments
One of the primary tasks of a virtual assistant is to schedule appointments and meetings for you. This can include sending out invitations, finding mutually convenient times, and coordinating with all parties involved.
This way, you can focus on the more important aspects of your business while your assistant manages the logistics.
Reschedule appointments
Maybe your meeting ran late, the person you were supposed to meet feels under the weather, or the meeting room was suddenly unavailable.
Don't worry; a calendar assistant has got your back. They can call the next person on your schedule to let them know you're running late and even reschedule the meeting if required.
Also, a calendar assistant can review your calendar, alert you when too many appointments are scheduled, and work with you to reschedule and cancel meetings as needed.
Setting up reminders
They can send invitations and reminders to meeting attendees, keep track of who's coming and who has declined, and update your CRM system with meeting notes, information on the attendees, or any other valuable data that comes up during the meeting.
They can also take some tasks off your plate, giving you more time to prepare for important meetings and events.
Synchronize Your Calendar
When traveling for business, you already have a lot on your plate, such as preparing presentations or speeches. Therefore, coordinating your travel plans with other commitments can be challenging, leaving you little time to spare. A calendar manager can take care of this for you.
They will synchronize your travel plans with your calendar and update them so others can stay informed about your availability. They can also share your itinerary with your spouse, keeping everyone in the loop.
A calendar assistant can color-code your appointments based on their type, categorize them, or create and even manage multiple calendars for different projects or clients. This gives you a bird's eye view of your commitments and helps you track appointments easily.
A disorganized calendar can lead to missed appointments and scheduling conflicts, ultimately hurting your business. That's why it's important to trust a reliable virtual assistant agency like Wishup to provide you with a skilled virtual assistant for calendar management.

Five reasons to hire a virtual calendar manager through Wishup
Let Wishup take the load off with our calendar management virtual assistants! Listed below are five reasons you should give it a shot:
Well-trained assistants
With our in-house trained calendar assistants, you don't have to spend money on training them. Our assistants are already well-trained and ready to get to work, saving you time and money on operational expenses.
Risk-free trial
Hiring the right fit for your business is crucial. This is why we offer a risk-free 7-day trial period. If you're not satisfied, we'll provide a full refund.
Data security
Your data is our top priority. Therefore, to protect your privacy, we ensure our virtual assistants undergo rigorous background checks and sign Non-Disclosure Agreements before they start working for you.
Access to a global pool of talent
Talent is everywhere - you just need to find the right person. At Wishup, we have a global pool of talented calendar management virtual assistants.
Hassle-free replacement
We strive to ensure your satisfaction even after the trial period. If you're ever dissatisfied with your virtual assistant, we'll provide a hassle-free replacement.
Hiring a virtual assistant from Wishup is as easy as pie! You can have a highly skilled and trained virtual assistant managing your calendar with just three simple steps.
Three steps to hiring a virtual assistant at Wishup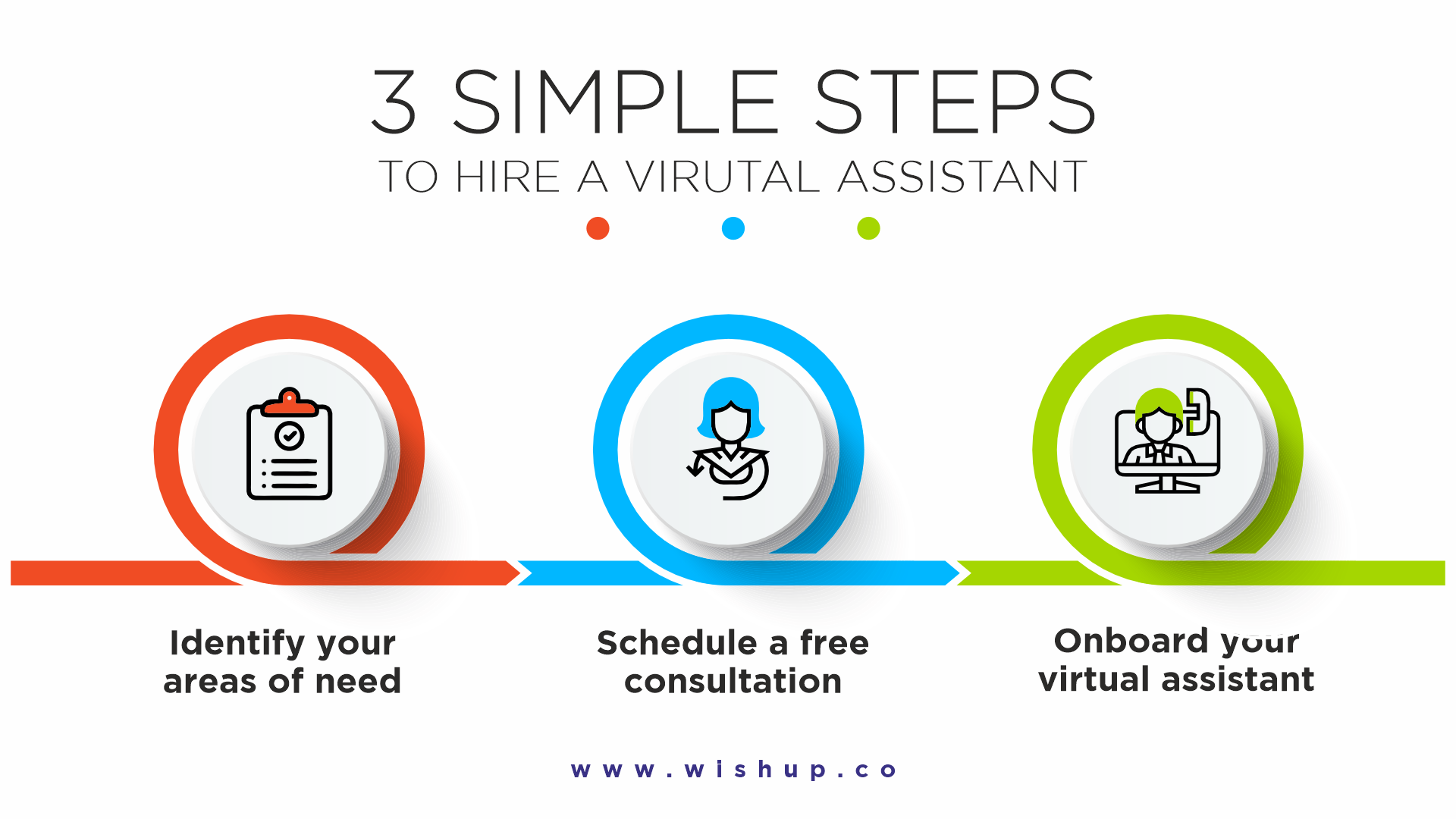 Step 1: Define your needs
Every business is unique, and every task requires a unique skill set. That is why we have a wide range of virtual assistants with various expertise to match your specific needs and budget. So the first step is to identify your needs and why you need to hire a virtual assistant.
Step 2: Schedule a free consultation
Once you know what you're looking for, you can schedule a free consultation with our friendly sales team. They'll understand your needs and will assist you in choosing the perfect virtual assistant per your business requirements and goals.
Step 3: Onboard your virtual assistant
We know that paperwork and legal formalities can be overwhelming. That's why we take care of your onboarding processes and contracts. With Wishup, you can onboard your VA hassle-free and emphasize what matters most to your business.
Don't let overwhelming tasks get in the way of your success. Instead, let Wishup take the load off with our talented virtual assistants!
Make calendar management easier - hire a virtual assistant today!
When time is on your side, life just feels better, doesn't it? So, don't let the frustration of managing your calendar take over your life. Instead, delegate the task to a skilled virtual assistant from Wishup and enjoy more time for the things you love.
We understand that time is precious, so our calendar management assistants are dedicated to helping you make the most of it. With their expertise, you can streamline your schedule, stay organized, and boost your productivity.
Say goodbye to the stress of calendar management and hello to a happier, more fulfilled life!
To test our virtual assistance services, schedule a free consultation or mail at [email protected].