How Can A Virtual Assistant Help You Manage Your Finances?
Financial management is crucial to maintaining the smooth operation of your business, whether it is just getting started or has been operating for some time. Budgeting enables you to keep track of your earnings and outgoing costs to see where your money is going and make necessary adjustments.

Business owners eventually run into issues when they don't have or follow a budget. According to a U.S. Bank study cited by Fundera, Inc., 82% of businesses fail due to poor money management. However, financial management can be tedious and take up much of your time.

So, how do you overcome this issue?

Hire a virtual assistant.

As a business owner, you can effectively delegate financial tasks to a virtual assistant with years of experience managing a business's finances, saving time and money, and ensuring the smooth operation of businesses.

This blog will discuss how a virtual assistant can help you manage your business finances efficiently. But first, let's discuss what a virtual assistant is and what their role entails.

Who are virtual assistants?

A virtual assistant is a self-employed independent worker who works remotely to provide administrative or technical services to the client.

They typically offer assistance with recurring and time-consuming tasks like setting up meetings and appointments. Virtual assistants possess various abilities and specializations. Their role can also vary depending on the industry. Some businesses may even hire virtual assistants to handle multiple responsibilities simultaneously.

What tasks can a virtual assistant do to manage your business finances?

Using a virtual assistant can make handling your finances much simpler. They offer:

Online bookkeeping services help to maintain your financial records
Invoicing to ensure you receive payments on time
Budgeting to ensure you stay on top of your expenses
Other customized financial services made to meet your specific needs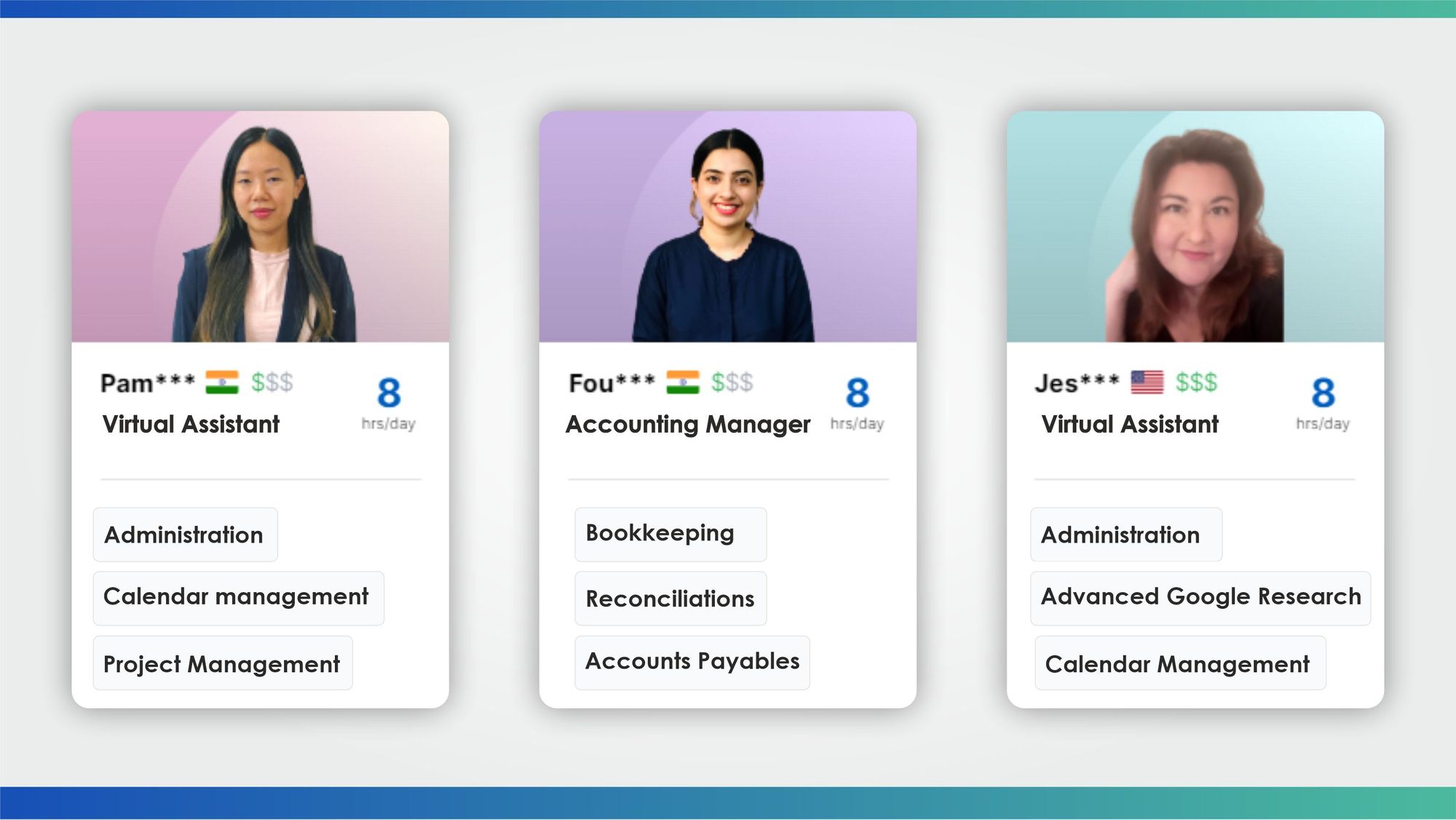 Benefits of hiring a virtual assistant to manage your finances

They reconcile your bank and credit card statements

Monthly reconciliations are among the most frustrating aspects of handling business finances. First, you need the financial qualification to delve into the details and analyze the data. Furthermore, the potential for errors is high, and the process takes much time.

Virtual assistants will diligently handle it all. They can perform the reconciliation in your accounting system as long as they have access to your bank and credit card statements.

They ensure prompt payments

Your virtual assistant can keep track of all your bills and ensure you pay them on time. They can enter them into your accounting software, set reminders for payments and due dates, and check that the billing data is accurate. In addition, they can assist you in going paperless, so you won't have to be concerned about getting lost in paper bills.

They can perform basic accounting tasks

While a virtual assistant cannot replace an accountant, they can collaborate to keep track of daily expenses, issued payments, and account receivables. This even includes assistance with creating your year-end accounting reports.

Your virtual bookkeeping assistants can also place online orders on your behalf, as they are already compiling online receipts and records of all your outgoing transactions. They can also update your financial books, so you are aware of your budget and take note of any upcoming payments, such as refunds, debt repayments, or payments from contracts.

They make you more efficient and organized and ensure that your money is correctly accounted for and directed.

They complete business transactions and get quotes on your behalf

Do you have a last-minute need? Then, you can ask your virtual assistant to browse online and purchase it for you.

Virtual assistants can handle authorized purchases. Everything from placing a purchase order for supplies to planning and making travel and lodging arrangements is included. Allowing a VA to obtain contractor quotes, price materials, and look for new deals on flights, training, and other services will allow you to reduce waste and put your company's funds to better use.

They can handle the entire process, from selection to checkout.

It is important to note that your VA can also manage your business account, which should be kept separate from your personal one. This is a sound financial practice for any business owner to follow because it keeps things more secure and organized in the long run.

After the purchase, your VA can produce financial statements and reports that align with each purchase you've made using a different account.

They can verify any outstanding debts

In a perfect world, you receive payments on time. However, in the real world, unexpected delays do sometimes occur. Your VA can keep an eye on these unpaid balances and follow up on unpaid invoices and bills to avoid financial setbacks.

Any company, regardless of size, needs to have clear checks and balances, and having a committed assistant can help you do that.

They can manage tax paperwork

Who even enjoys filling out tax paperwork?

It is often challenging to keep up with deadlines and requirements – particularly if you're a solopreneur and need to use your time managing your business elsewhere. Nonetheless, you can complete all the paperwork with the assistance of your VA. This way, you can rest assured that you file your taxes on time without having to work up a sweat.

They assist you in creating a budget

Use your assistant to help you set and stick to a budget. Then, when you go over or under budget, they can alert you and, if necessary, redistribute funds. Most accounting software has reports that track your cash flow to assist you in staying within your budget, and your VAs know how to utilize these applications optimally.

They find the discrepancies and fix them

It's easier to prevent errors and oversights when you have a virtual assistant to manage your finances. Errors might go unnoticed if you don't regularly review your finances. Nevertheless, your assistant likely will. For instance, they can find suspicious activity and notify you of it and any fraudulent credit card charges, duplicate transactions, and incorrect charges.


Is hiring a virtual Assistant to manage your finances a good Idea?


A virtual assistant can handle your company's regular financial tasks, freeing up your time so you can concentrate on its expansion.

Having a virtual finance assistant, especially one who works virtually, helps you save money over time. In addition, they can assist you in keeping track of your spending, avoiding overspending, and identifying cost-cutting opportunities to increase your savings.

Simply put, a virtual assistant plays a crucial role in managing small business finances. Now is the time to consider using one if you haven't already!

How to hire a reliable virtual assistant for finance?

When choosing a virtual financial assistant, ensure that you:

Choose someone trustworthy and reliable.
Before hiring a virtual assistant, do your homework. First, check credentials, read reviews, and ask for referrals. Then, consider the qualifications you value in a financial assistant and carefully evaluate all applicants.
When communicating with the candidate, think about how comfortable you feel with them and how well they understand your particular requirements.

Wishup – The best solution to hire a virtual assistant

Wishup's virtual assistant services come with a host of advantages. Listed below are some of the most significant ones:

Onboarding in less than a day

Wishup guarantees that the entire process, from initial consultation to onboarding your virtual office assistant, will take no more than 24 hours.

Collaborate with the top 1% of talent

Wishup only accepts the top 1% of applicants. Moreover, to help you become more proficient and meet client expectations, the selected virtual assistants are trained in over 200 skill sets.

Work with thoroughly vetted and screened professionals

Wishup's virtual assistants have undergone thorough background checks, verifications, and rigorous screening procedures. Furthermore, you won't have to spend as much time on laborious onboarding procedures because they have already been interviewed and vetted.

There are no recruitment costs

Wishup does away with the need for additional hiring expenses and the time needed to look into virtual staffing agencies. Instead, Wishup assembles software testers, developers, virtual bookkeepers, and virtual assistants – all under one roof – for your convenience.

Wishup offers a seven-day trial with a money-back guarantee

To determine whether Wishup virtual assistants are a good fit for you and your company, you can test them out for a week. You can ask for a replacement if you are unhappy with the services.

Get to know more about the seven-day trial and how to use it in the best possible ways in this blog.

Hiring a virtual assistant from Wishup is seamless!

With Wishup, the hiring process is simple. You can hire our virtual assistants for as little as a few months or weeks, making it simple to scale up or down your team as necessary.

A virtual assistant can be hired from Wishup in three easy steps:

The first step is scheduling a free consultation with the Wishup experts.

Second, communicate your company's needs and goals to our team.

Third, wait for our experts to pair you with a profile that closely matches your company's needs.

You can start working with one of our virtual assistants in just 24 hours.

Make your financial management seamless with a virtual assistant!

A virtual assistant can help you manage your company's finances more efficiently and accurately. After all, if you want your business to flourish and grow, your capital and resources should be managed well.

Wishup has got you covered if you're trying to find a reliable virtual assistant. Onboard your virtual assistant within a day with Wishup by sending a mail to [email protected] or booking a free consultation with our team.