Top 10 Skills For Executive Assistants in 2023
An executive virtual assistant takes care of all the backend work so busy executives like you can focus on primary tasks and running their business. They are like the backbone of your business. This blog post will walk you through the top 12 executive assistant skills you should look for in 2023!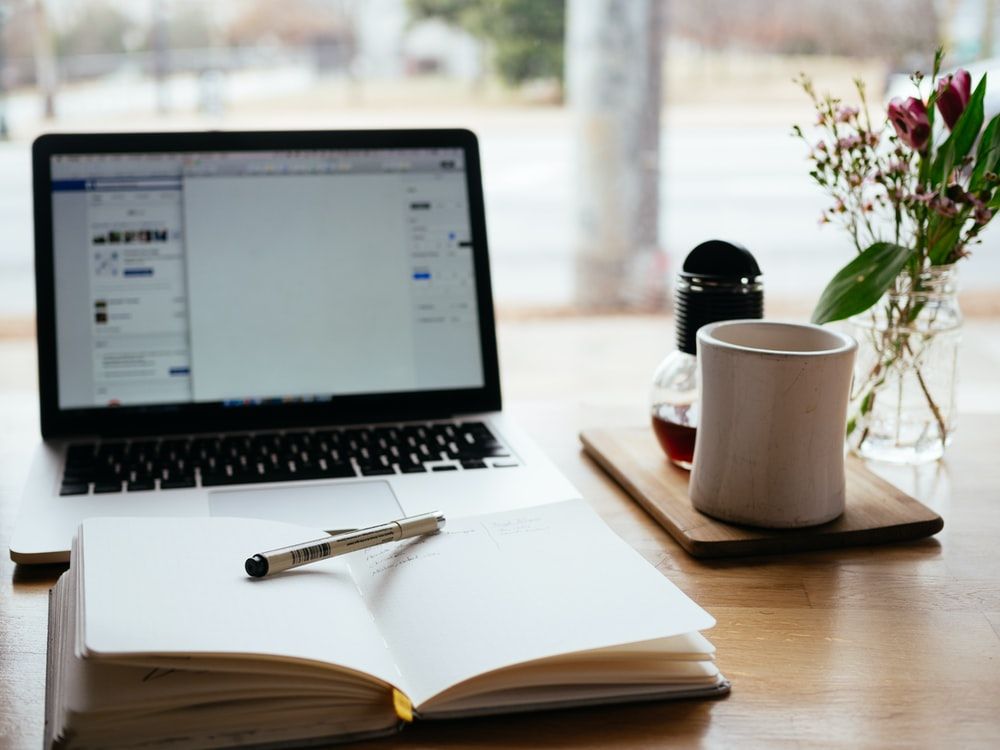 Trustworthy. Reliable. Efficient.
These are probably some of the words that come to mind when you think of an executive assistant. No matter what some people might believe, the role of an executive assistant is as important today as it was years ago.
An executive virtual assistant doesn't only take notes and answer emails, they do so much more. They take care of all the backend work so busy executives like you can focus on primary tasks and running their business. They are like the backbone of your business.
This blog post will walk you through the top 12 executive assistant skills you should look for in 2023. Read on!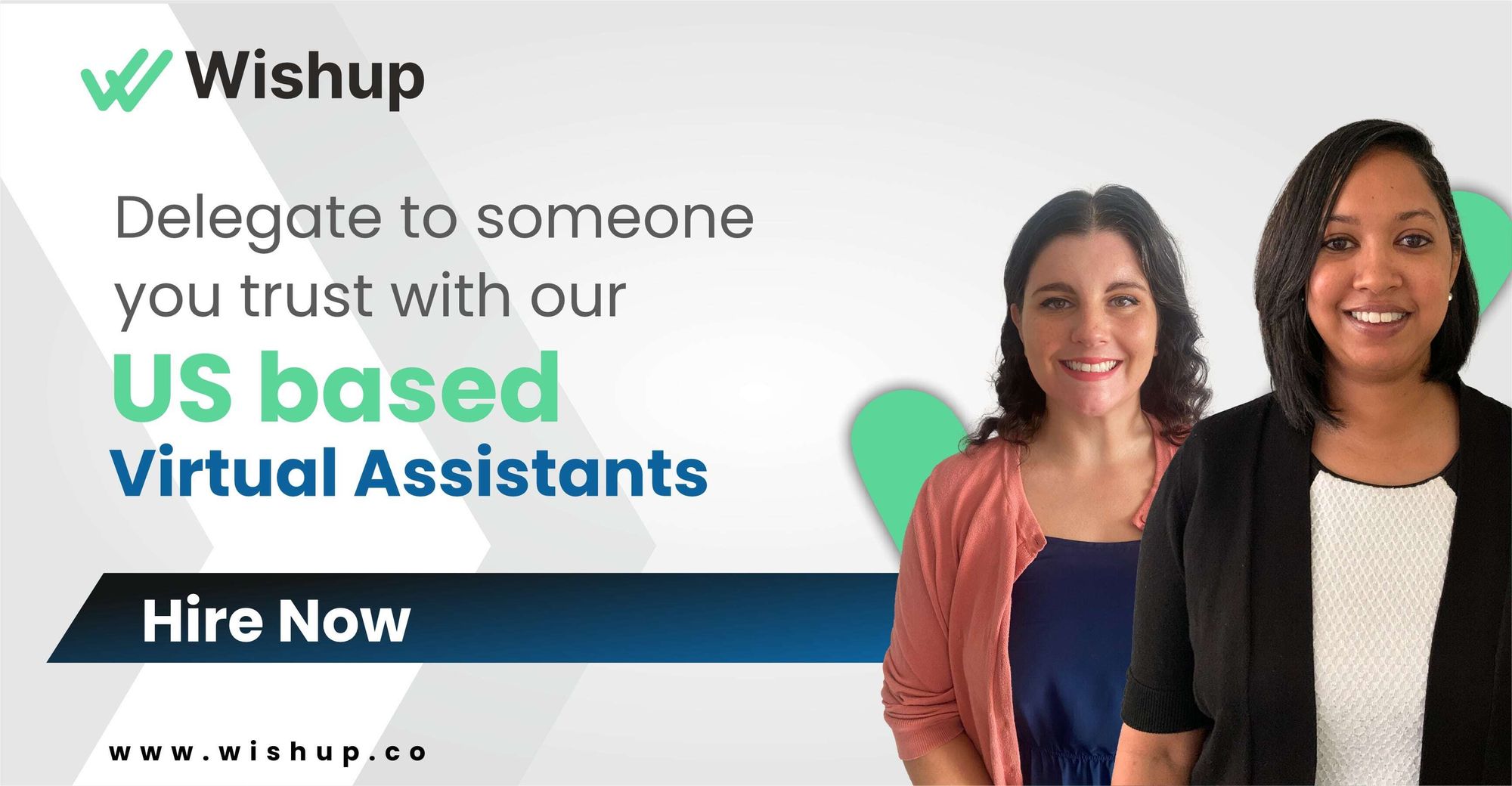 Who is an Executive Assistant?
An executive virtual assistant is a professional who supports and assists business owners, entrepreneurs, and high-level executives. The skills of executive assistant come in handy in a variety of business-related tasks.
From managing the daily tasks in the office to taking care of communication, scheduling, and overseeing projects, these professionals make sure everything runs smoothly.
Tasks done by an Executive Assistant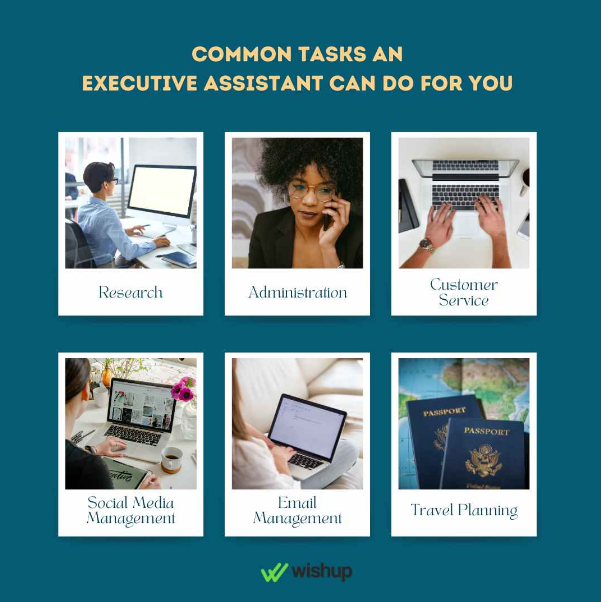 Some major tasks performed by an executive assistant include the following:
Coordinating schedules and meetings, and appointments
Making your travel arrangements
Organizing important documents and files and making sure everything works smoothly
Preparing and editing reports and presentations
Conducting research on various topics
Preparing and editing reports and presentations
Providing general administrative support to executives and teams
Who should use Executive Assistants?
Hiring an executive assistant can be a great help to anyone who needs a bit of administrative support. It is not limited to high-level executives or other bigwigs alone. From solopreneurs and small business owners to entrepreneurs with teams of 50 to 100 people, everyone can benefit from the services of an executive assistant.
Hiring a skilled and experienced executive assistant can free up so much time, giving them the opportunity to focus on growing their business.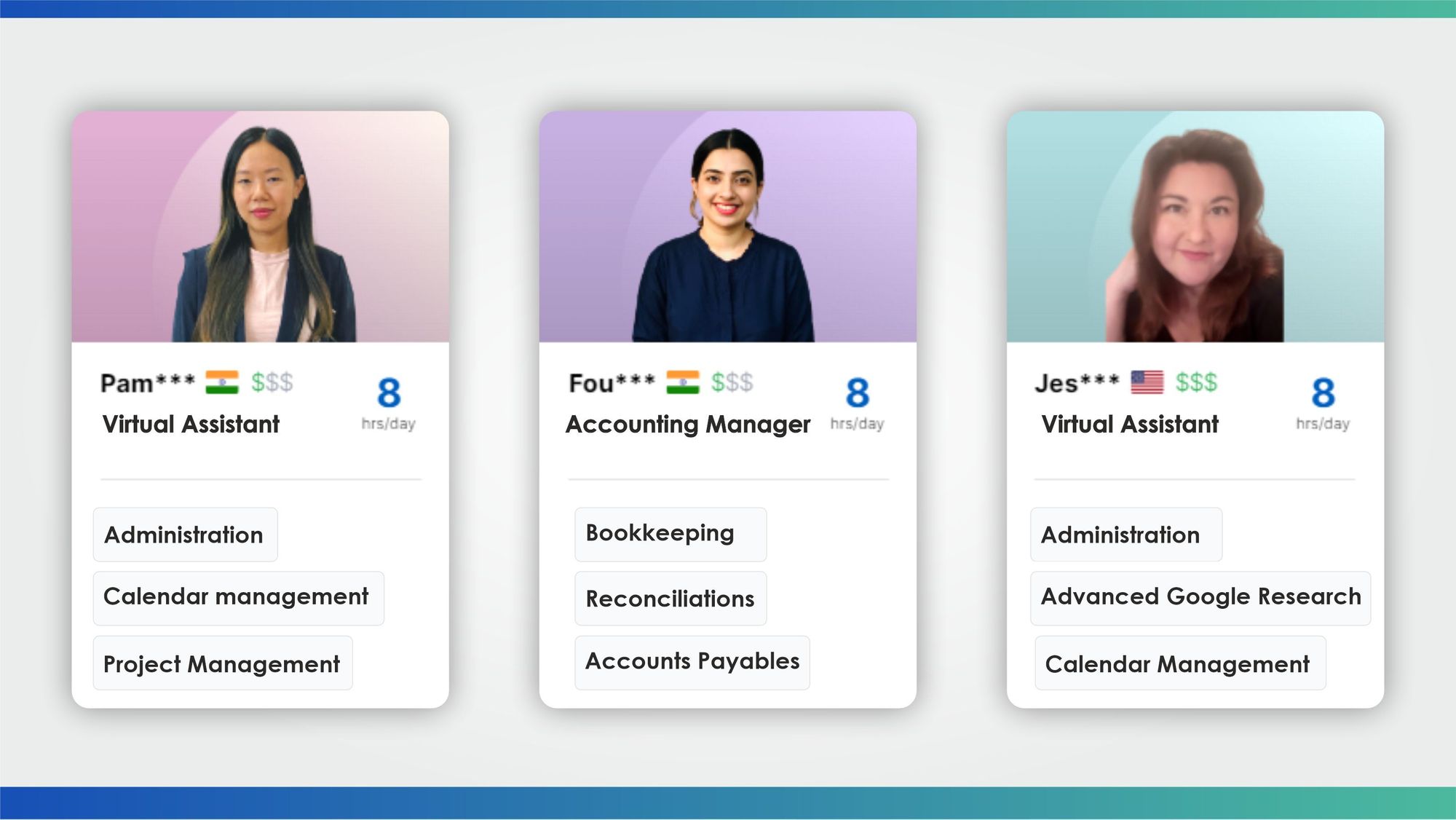 Why Are Executive Assistants Important?
Some people believe that the services of executive assistants are no longer required with the plethora of apps and digital tools available in the market. But the amount of time, money, and energy needed to operate the multitude of these organizational tools will leave you feeling drained, with no time to focus on your primary tasks.
That is where a self-sufficient, organized remote executive assistant becomes an asset to your team. Apart from their excellent organizational and administrative skills, they act as strategic counsel and critical consultants for your business.
They handle many tasks like reception, event planning, project management, and internal and external communication with various teams. These are qualities that cannot be replaced by a machine anytime soon.
Additionally, with the influx of companies switching to remote working models and the number of small businesses founded in recent years, a remote assistant is just a fitting addition to your company.
Top 12 Executive Assistant Skills in 2023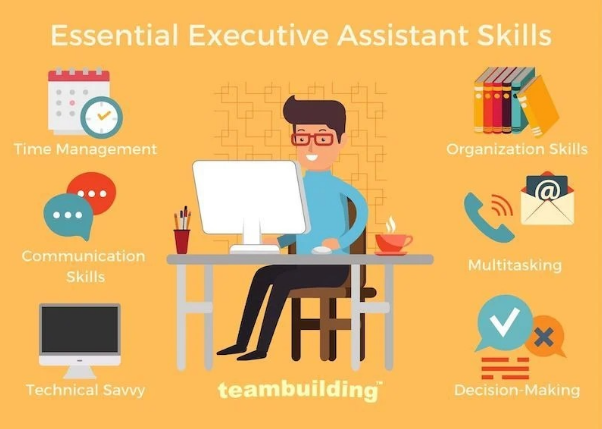 Executive Assistant Skills: Hard
1. Organizing tasks (Take content from the published article)
One of the most important and key skills executive assistant should have is organizing. It is a fast-paced job that simultaneously juggles many different tasks and responsibilities.
An excellent executive assistant needs to stay on top of these tasks to ensure projects are running smoothly and no critical deadlines are missed.
Executive assistants should have the knack to develop their organizational systems to keep track of tasks.
2. Multi-Tasking
A good remote executive assistant needs to handle multiple projects without letting the pressure get them. For example, they can utilize the waiting time to respond to calls and other messages while making hotel reservations and other bookings.
Prioritizing is also an important quality to have for executive assistants. They must understand which tasks require immediate attention and attend to those first.
3. Email Management
One of the most necessary skills for an executive assistant is to be good at email writing and management.
In this day and age, email is an absolute must for effective communication. Executive assistants need to master the art of managing emails. This includes filtering and prioritizing emails, writing professional and succinct replies, and staying on top of the inbox organization.
4. Project Management
Executive assistants play a vital role in managing projects. This includes organizing important information, monitoring progress, and keeping everyone in the loop. Keeping a project on schedule and within budget takes great organizational skills and the ability to handle many tasks simultaneously.
Thus, project management is one of the necessary executive assistant key skills every virtual assistant should have.
5. Systems and Process Management
Executive assistants need to know the ins and outs of their organization's systems and processes, like databases, software, and other tools. It's their job to keep these systems running like a well-oiled machine so that everything runs smoothly and efficiently.
6. Written Communication
Good written communication is one of the most critical executive assistant key strengths. They should be able to craft emails, reports, and other documents that are concise and easy to understand.
Plus, they should have the flexibility to adjust their writing based on who they're addressing. Finally, they must be experts in grammar, spelling, and punctuation.
Executive Assistant Skills: Soft
7. Emotional Intelligence
One of the most necessary key skills for executive assistant needs is strong emotional intelligence. Executive assistants must be emotionally intelligent, pick up on nonverbal cues, and understand others' needs and feelings.
They must also be able to manage their own emotions, especially when things get stressful. They need to be able to build relationships, handle conflicts, and offer empathy and support.
8. Communication
Essentially, an executive assistant represents and acts as a spokesperson for their executive. They are the ''gatekeepers.'' All communications to and from their boss often happen through them.
Therefore, professional communication skills and excellent grammar, phone, and email etiquette are necessary if you want to succeed as an executive assistant.
Additionally, you must have some business and persuasive skills and must communicate strategically on your boss's behalf.
The executive assistant must also communicate their thoughts and ideas clearly. Often, they act as a confidant to their executive. So, they must advise them on when good or bad decisions are being made. What separates a good EA from a great one is their ability to have individual thoughts and opinions and be more than just a yes-person.
9. Resourcefulness
A good executive assistant should be able to make the impossible possible. They need to have a knack for building relationships, improving their networking skills, and thinking on their feet to deliver results when needed the most.
For example, business people have many important meetings and travel as a part of their day-to-day job. These meetings often happen in restaurants, and getting a good reservation can sometimes be hard. That is where a good executive assistant should cash in on the relationship they've built with restaurateurs over time and pull some strings to get the reservation.
Good negotiating skills are hard to come by. Yet, it's something that should come naturally to an executive assistant.
10. Discretion
Senior executives deal with a lot of sensitive, confidential information daily. These can be news about acquisitions, finance reports, or even Human Resource matters.
Naturally, this means their executive assistants are also aware of this information.
However, for any executive to be fully transparent with their executive assistants, they must trust them and know this information is safe. Trust is the foundation of the relationship between an EA and their boss.
This goes for any profession. It's imperative that executive assistants do not reveal company secrets and stay out of corporate gossip and rumors.
11. Proactiveness
When working for a high-level executive, there is no time for anyone to spoon-feed an executive assistant. Instead, they need to be proactive and show initiative to stand out on the job.
A good EA should learn about their industry and educate themselves on the ins and outs of the company to provide their boss with strategic advice.
As we said before, a good assistant is more than just a yes-person. They should provide their employer with helpful opinions and a fresh perspective.
12. Composure
There are no two ways about it - being an executive assistant is a very demanding and high-pressure job. But, most of the time, executives pass their stress on to their assistants.
One always needs to remain calm to ground the other person among two people. For example, if an executive is stressed, their assistant must step up, reassure their boss and take the reins if needed.
The ability to stay calm under pressure is one of the top skills people look for when hiring executive assistants.
Is Hiring a Full-Time Executive Assistant a good idea?
Hiring an in-house executive assistant may seem like a good idea, but it can end up costing you a lot. You've got to consider the cost of recruitment, onboarding, and training, plus the salary, benefits, and other overhead.
That's why hiring a virtual executive assistant can be such a great option. Since these professionals work remotely, you can get top-notch services and make the most of executive assistant strengths without the extra expense.
How are Virtual Executive Assistants different from in-house assistants?
Virtual executive assistants are professionals who work remotely, They can handle a variety of jobs, like managing calendars, scheduling meetings, organizing trips, and dealing with emails. The best thing about hiring a virtual executive assistant is that you only pay for what you need, unlike an in-house assistant.
Here are the major benefits of hiring virtual executive assistants:
1. Significant financial savings
Hiring a virtual executive assistant can be much more economical than getting an in-house one. You only pay for the services you require, and you don't have to worry about any extra costs.
2. Help you concentrate on your core competencies
Delegating administrative tasks to a virtual assistant can free up some of your time. This lets you focus on your core competencies and help your business grow!
3. Promote a healthy work-life balance
Getting a virtual assistant to take on some of your tasks can help take the pressure off and encourage you to achieve a better work-life balance.
You will have more time to spend with your family and loved ones, indulge in hobbies, and be more relaxed.
4. Expertise at your fingertips
By hiring a virtual assistant, you can access numerous executive administrative assistant skills that can help your business thrive. These professionals can help you with a bunch of different tasks. They're knowledgeable and experienced, so you can trust them to do the job.
5. Much more flexibility to scale up
As your business expands, you can quickly scale up your virtual assistant services to accommodate your requirements without having to incur the costs of finding, onboarding, and training an in-house assistant.
Wishup for world-class executive assistance
Now that you know what does an executive assistant do and the benefits of hiring, you might be interested in hiring one, right? This is where Wishup comes into the picture!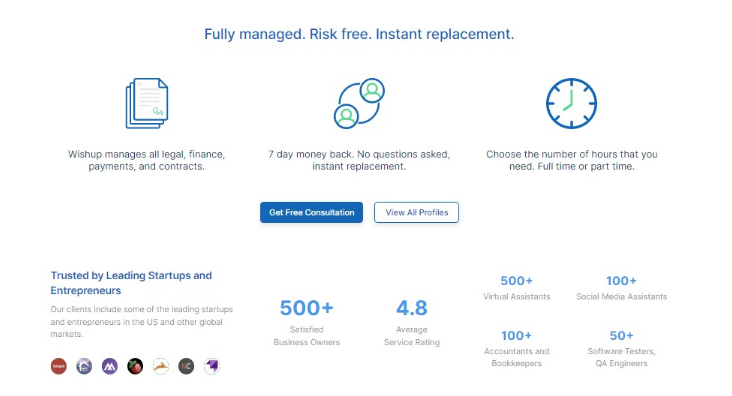 At Wishup, we offer executive assistant services to simplify businesses' and entrepreneurs' lives. From coordinating and communicating to organizing your schedule and handling client questions, our world-class assistants can help you stay on top of everything and focus on what you do best.
Here are some of the benefits of choosing us:
1. Fast 24-hour hiring process
Wishup makes it easy to get an executive assistant fast. We have a great selection of highly-skilled assistants ready to go, so you can get the help you need quickly! Once you choose your VA, we allow you to onboard them within 24 hours!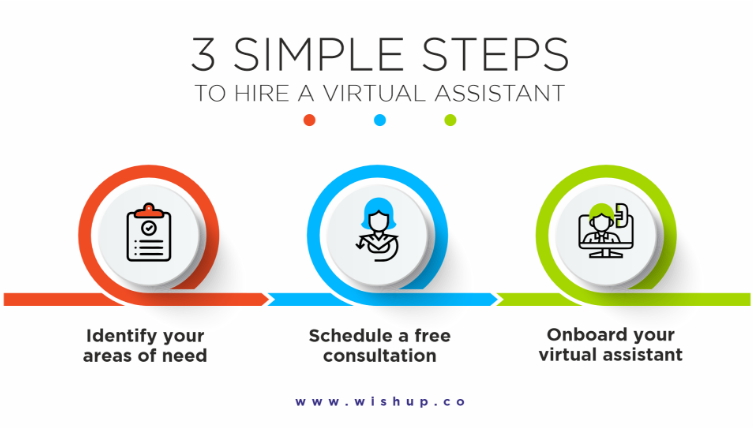 2. No additional training is required
When you choose Wishup, you won't have to worry about investing time or resources in training your executive assistant. Our VAs come fully trained on 70+ no-code tools and have over 200 skills.
3. Ensured security
At Wishup, we take your data security seriously and have taken steps to ensure your confidential information is kept safe. Rest assured that your data is secure when working with a Wishup executive assistant.
4. Instant replacement with no inquiries (if you're dissatisfied)
If you are ever unhappy with the services of your VA, Wishup's got you covered. Our instant replacement service ensures you don't miss a beat and can continue to get the support you need. No questions asked.
5. A 7-Day Risk-free Trial
Try our services risk-free with our 7-day trial! This will allow you to decide if our services fit you right before signing up for a longer-term deal.
Executive assistant services offered by Wishup
1. Coordinating and communicating
Wishup's executive assistants can make your life easier by taking care of your day-to-day communication and coordination. They can take care of everything from sorting and prioritizing emails to managing your calendar, booking appointments, and creating and sharing documents.
2. Making travel plans
Need help planning your travels? Wishup's executive assistants have you covered! They'll book flights, arrange transportation, book accommodation, help you plan your itinerary, and track expenses.
3. Planning your schedule
Wishup's executive assistants can make your daily routine smoother by setting reminders, scheduling meetings, and keeping your workflow organized. They can help you stay on top of your tasks to stay productive all day.
4. Addressing client concerns
Finally, Wishup's executive assistants are here to help you ensure your clients are cared for. They address any problems that come up quickly and take care of onboarding and retention. Our VAs can also help out with customer service, like handling complaints, answering questions, and dealing with feedback.

Conclusion
In today's competitive business world, the role of an executive assistant is more vital than ever. From email management to emotional intelligence and adaptability, possessing the top 12 skills discussed in this blog is crucial for any successful executive assistant.
Luckily, services like Wishup make finding a highly capable executive assistant simpler than ever. In case you're looking to take your business to the next level, you can find an excellent executive assistant at Wishup. Book a free consultation today or drop us a mail at [email protected].
FAQs about Executive Assistant Skills
1. What are the top 3 skills of an executive assistant?
The three top skills for executive assistant include the following:
Good communication and coordination skills
Time management
Interpersonal skills like teamwork, quick decision-making, and more.
2. What does an executive assistant need to know?
To be a successful executive assistant need a wide range of skills and knowledge. They should be skilled in programs like Microsoft Office, Google Suite, and project management software. On top of that, they should be great at juggling tasks, keeping everyone in the loop, and staying organized.