Hire Your QuickBooks Virtual Assistant with Wishup
Hiring a virtual bookkeeper for QuickBooks is a great way to lighten your workload and have an experienced bookkeeper manage your money. Let's discuss the role a virtual bookkeeper can play in assisting you with QuickBooks Management and the benefits of hiring a Wishup virtual bookkeeping assistant.
Are you a business owner trying to grow your company and maintain your finances in order?
It can be challenging when you're just one person trying to run the show. However, when it comes to finances, especially unless you have previous accounting or bookkeeping experience, you might be trying to bite off more than you chew.
While entrepreneurship or salesmanship comes naturally to some, bookkeeping and accounting are skills you need to learn. Proper financial management is the key to success when dealing with vendors, clients, and employees.
Luckily, there are many easily accessible tools like QuickBooks that make it easy to keep track of your business accounts from anywhere in the world.
Hiring a QuickBooks virtual assistant is a great way to lighten your workload and have a skilled and experienced bookkeeper to help you manage your money without putting a dent in your wallet.
In this blog, we'll discuss the role a virtual bookkeeper can play in assisting you with QuickBooks Management and the benefits of working with a Quickbooks virtual assistant from Wishup.

What is QuickBooks?
QuickBooks is the most widely used small business accounting program for keeping track of finances and managing income and expenses. With QuickBooks or Quickbooks cloud hosting, you can quickly and conveniently handle your tax responsibilities while keeping track of financial activities, including income and spending, staff costs, and inventory in real-time. In addition, you can concentrate on improving marketing business growth and income with the help of QuickBooks, as you'll be free from financial concerns.
Why does QuickBooks work for small businesses?

Effortless and seamless to use - QuickBooks is simple to install, easy to use, and has multiple useful functionalities.
Integrates easily with other software - Integrating QuickBooks with other software, say Excel, is a no-brainer, and anyone can do it. You can also export QuickBooks to your preferred tax filing platform to make filing taxes easier.
Security - Data privacy and security are probably some of the most crucial factors when choosing financial software. With QuickBooks, you don't have to worry about privacy as they take precautionary measures like multi-factor authentication and password-protected login.
Efficient client management - Customer satisfaction is directly proportional to the success of your business. With this tool, you can directly access all your client's QuickBooks accounts, send them direct messages and updates, and deliver reports. This will undoubtedly lead to a more fruitful business relationship between you and your clients.
Accessible from a remote location - You don't have to be glued to an office computer to access the software. You can do it on the go. This is incredibly convenient when you work with remote employees like Quickbook assistants who are not working in the same physical space as you.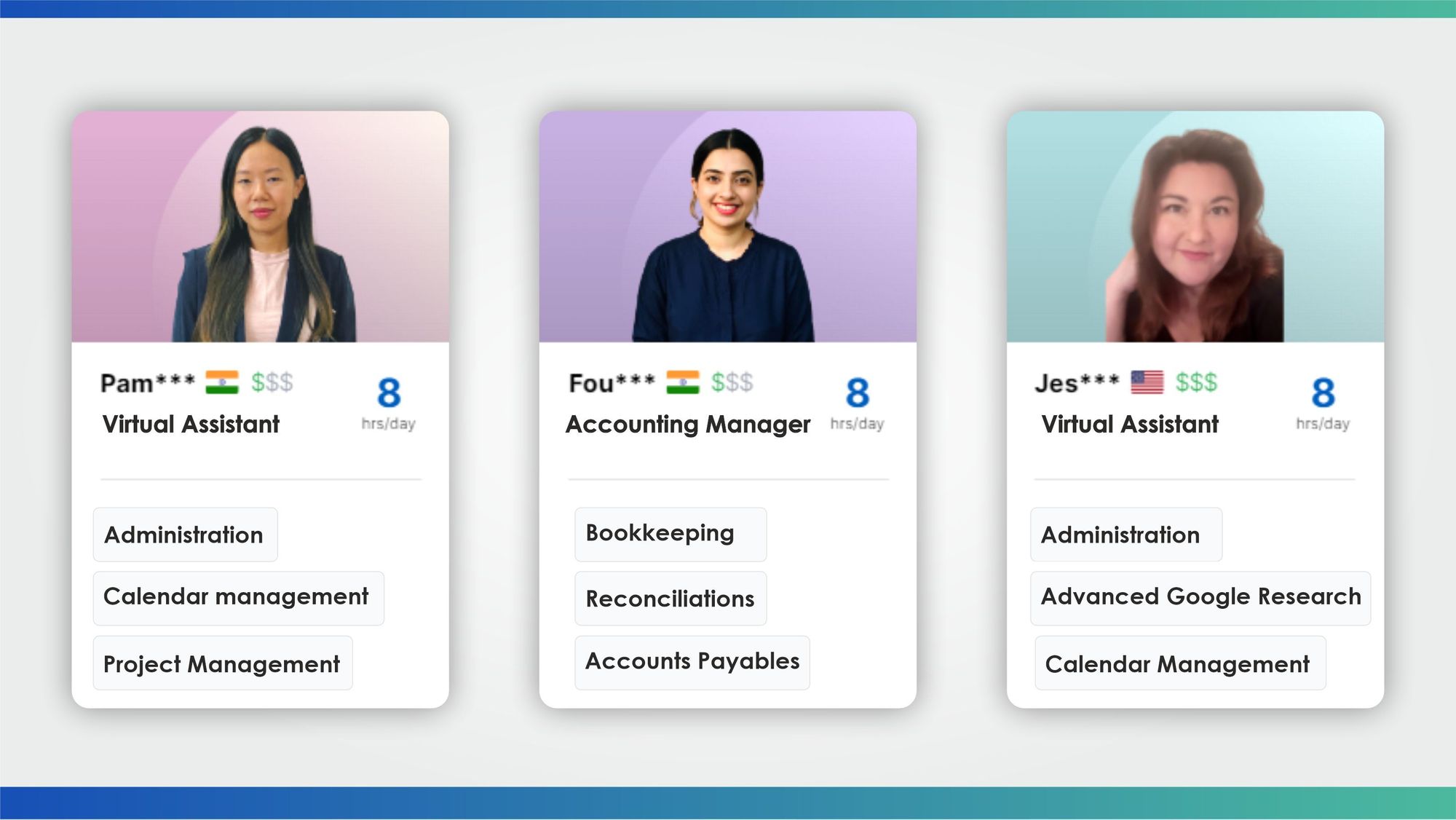 Who is a Virtual Bookkeeping Assistant?

A virtual bookkeeping assistant, or virtual bookkeeper, is a skilled professional with accounting and bookkeeping experience who offers expertise to your business. They can help with several different accounting tasks, QuickBooks management being one of their primary responsibilities.
For many reasons, virtual bookkeeping assistants have become highly in demand in the last few years. They are -
Easy to hire from an outsourcing company, such as Wishup,
Onboarded in a short period,
Significantly more affordable than a full-time bookkeeper,
Not directly on your payroll,
No health benefits,
No insurance or pension plans,
No overhead costs.
All these factors make them very popular with modern entrepreneurs looking for minimal investment and high-yielding results.
What tasks can a Bookkeeping Assistants do?
Let's discuss the tasks you can outsource to a virtual bookkeeping service.
Data entry
Data entry requires a lot of time and precision and is pretty mundane. Hiring a Quickbooks virtual assistant can save time and allocate it to more valuable tasks instead. Let your virtual assistant perform data entry tasks such as -
Recording all transactions with accuracy
Classifying the transactions under the correct ledgers
Precisely summarizing records
Maintaining proper documentation of financial transactions.
QuickBooks management
Hiring Quickbooks virtual assistant can help you with QuickBooks management tasks such as -
Keeping books of accounts up to date.
Setting up auto reminders.
Setting up auto payments.
Preparation of Financial Statements
Your Quickbooks virtual assistant can help with preparing various financial statements like -
Income statements,
Balance Sheets,
Cash flow statements
Managing Accounts Receivable
A virtual bookkeeping assistant can help with due payments, filing claims, and other basic accounts receivable tasks such as -
Debit/Credit notes
AR Ageing analysis
Maintaining customer records
Creating provisions
Tracking collections
Creating invoices
Reconciliations
Your Quickbooks assistant can help with tasks like comparing records and ensuring no errors, as long as other bookkeeping responsibilities like -
Vendor payment reconciliations
Credit card reconciliations
Bank reconciliations


Why should you hire a Quickbooks Bookkeeping Assistant?

While QuickBooks is an easy-to-use tool, bookkeeping is quite a complex process, and unless you have previous experience or knowledge in bookkeeping, you can find it challenging to keep up. Not to mention that even if you know how to operate the software, you will need to update it, cross-check numbers, or make payments constantly.
It's a full-time job, and one cannot be taken lightly. However, considering you already have a business to run and a team to lead, taking on another full-time responsibility is not feasible. If accounting consumes time, when will you manage a firm by concentrating on marketing, growth strategy, and networking?
Because of this, it makes sense to outsource to a virtual bookkeeper who will handle all of your accounting obligations while giving you more time to work on the tasks that matter and require your expertise.
But why choose a Quickbooks virtual assistant for bookkeeping from Wishup? Let's first examine the advantages of exporting your bookkeeping requirements to us instead of hiring a freelancer.
Why Outsource to Wishup?
Wishup is a virtual assistance agency that bridges the gap between quality talent and ambitious entrepreneurs. When you hire from us, you gain in many ways, such as -
Browse Quickbooks Virtual Assistant

Save money
Why spend over $55,000 a year on a full-time bookkeeper when outsourcing from us only costs $20,000 a year? Instead, get professional bookkeeping services starting at only $9/hour. Then, you can reinvest your savings into growing your business or hiring extra staff.
Save time
Hiring a virtual assistant bookkeeper can take weeks, sometimes even months. But, in the case of an emergency or sudden increase in workload, you can't wait that long. With Wishup, the hiring process takes 24 hours after you schedule your free consultation, so you'll have a quality bookkeeper on your team in no time.
Work with the top 1%
Hiring for the office significantly limits your hiring capacity. You are restricted to hiring only within your city limits. However, at Wishup, our Quickbooks virtual assistant work remotely, so location is not a barrier, and we hire based only on their skills and qualifications. After a stringent hiring process, only the top 1% make it to our team to guarantee that you only work with the best talent in the industry.
Instant replacement policy
Sometimes, you can't predict when your Quickbooks virtual assistant will have an emergency and be unavailable for work. These occurrences are natural and happen to everyone, whether you hire remotely or in-house. However, we understand that your work is essential. Therefore, in the rare case such an emergency occurs, we provide you with an instant, no-questions-asked replacement.
Virtual assistants are pre-trained and constantly upskilled
Whenever you hire a new employee, you need to spend resources on their training, be it time or money. But not with Wishup. We handle the training process as soon as the Quickbooks virtual assistants are onboarded to our company and train them in over 70 important tools they'll use on the job, QuickBooks being among the most essential tools they learn to master. Additionally, our internal team is always looking for new career-related courses or workshops to help them learn new skills and advance in their professional journey.
How to hire a virtual bookkeeping assistant from Wishup?
At this point, you're probably convinced you need a virtual bookkeeper on our team, and you're not wrong. Hiring a Quickbooks virtual assistant from Wishup is extremely simple. All you have to do is -
Identify the core tasks you want to be outsourced
As with any hiring process, it will be challenging to find the perfect employee unless you know what you're hiring for. Therefore, it will be helpful to list the tasks you need assistance with before you get on a call with our team.
2. Schedule your free consultation
At this point, you can get on a call with our team to help us better understand our requirements. Working with a Quickbooks assistant for the first time might be new territory for you, so use this opportunity to ask any questions regarding timings, shifts, payment, work schedules, holidays, and other details. You can also brief us about the nature of your business, so we can match you with a Quickbooks virtual assistant that's best suited for your business.
3. Prepare to onboard your business
Now your work is done, allow us some time to match you with a Quickbooks virtual assistant. Once you review their profile and approve, they can be onboarded to your business in 24 hours. We recommend being available for the first few days to ease them into their new role and discuss their responsibilities in detail. Doing this will ensure that they are more independent in their work and don't reach out to you with too many doubts and queries.

A Quickbooks Bookkeeping Assistant is the only asset your business needs
When your mind is free from financial responsibilities, you will have more time to focus on core business tasks, and this will reflect how your business operates. With no bookkeeping tasks holding you back, your business will grow in no time. To hire a virtual assistant today, schedule a free consultation or drop us a mail at [email protected]