Email Management Virtual Assistant: An In-depth Guide For 2023
Get your inbox under control and boost your productivity with our ultimate guide to Email Management Virtual Assistants! Say goodbye to email overwhelm and hello to streamlined communication in 2023.

Email communication is the standard in today's world. People send emails for work and personal communication. The more the number of contacts you have, the more is the number of emails you get. Email management involves handling your email and ensuring you reply to all emails. It also involves cleaning your email inbox so there is no clutter. Even though it is a simple activity, it can take up much of your time. A study by Adobe found that people check their emails for 5 hours every day on average.
If you are busy running a business, you need email management help. An email management virtual assistant is a professional who can help you manage your emails. The virtual assistant works remotely and helps you manage your emails seamlessly. In this blog, you will learn about email management and how a virtual personal assistant can help with this. You will also learn about Wishup and their virtual assistant hiring services.
What is Email Management?

Email management involves managing the inbox in your email account. The basic work involved is to declutter the inbox. With emails coming from different people, finding emails become difficult. There is also the problem of spam. Organizing the email folder helps you manage emails effectively. You can organize emails and delete the ones that are unnecessary. You must also read all emails received and reply to them. Email management involves all activities related to managing your email account.
The Role Of Email Management In Businesses
An email ID belonging to a business gets hundreds of emails. Some of them are important, and some are not. Only when you check your emails will you know which is important and which isn't. Busy executives find it difficult to check through a deluge of emails. But you cannot ignore emails since they may include an important email from a client.
Email management can help you handle your email account effectively. If you find it difficult to do it, take the help of a virtual assistant. The virtual assistant email management can handle all issues related to your email accounts. It takes the pressure off you while ensuring your emails are replied to. Apart from replying to emails, they also clean up your email inbox and take backups of important emails. They can even help you with email marketing.
Duties and Responsibilities of a Virtual Email Assistant

A virtual email assistant can help you manage your emails effectively. The duties and responsibilities of a virtual email assistant listed below will help you know what they do.
Replying to emails
The basic job of an email assistant is to handle your emails. For drafting professional emails, the expertise of a writing assistant can be invaluable. Whenever you receive any email on your official account, the email assistant will reply to it. You can train them or give guidelines on how to reply to emails. When the email has a basic query, the assistant can reply to it. If they need more information to respond, they can consult you or the department that deals with this issue. After collecting all the information, they can then reply to the email.
Answering queries
The virtual assistant can answer any queries sent through email. You can give them an FAQ to help them answer basic questions. If they find a question they can't answer, they can always consult you before sending the email. As a business owner, spending time answering queries will waste your time. Now that you have an assistant to answer the queries, you can focus on other important activities. It takes the pressure off you, leaving you with free time.
Managing internal communication
The virtual email assistant can handle all the internal communication on your behalf. You can tell them the information to be communicated, and they can take care of it. They can email all your employees, some departments, or select employees. The email assistant can also check emails sent from employees and reply to the emails.
Managing contact list
The email assistant can manage your contact list. They can screen the contact list to verify email addresses filter out contacts with incorrect information. The assistant can add new contacts and ensure the list is up-to-date. This contact list would be very important since it can be used for email marketing.
Cleaning and sorting inbox
Inboxes can get full pretty soon. The inbox of a business can fill up very soon since they get hundreds of emails daily. The email assistant must decide whether to retain the email or not. Important emails can be archived, and others can be backed up. Apart from cleaning up the inbox, the VA should neatly organize it. The assistant can create properly labeled folders, and emails can be saved under respective folders.
Email Marketing
Email marketing campaigns can produce excellent results. When the contact list is properly updated, email marketing is effective. Sending emails can be automated using tools. The email virtual assistant would have experience using tools for email marketing. They can use the tool to compose an attractive email and then send it. Once they send the emails, they can monitor the response to the campaign.
Setting auto-responders
Autoresponders send email replies automatically. The email assistant can configure auto-responders for the mail ids. It would send an automatic email to all those who send a mail. A standard template can be used informing that the email has been received and a reply will be sent within a certain period (12 hours/24 hours). If someone is on leave, then the auto-responder email mentions the same.
Tools Used by Email Management Virtual Assistants

Email management virtual assistants use technology to make their work easier. There are different tools that email assistants can use for their work. Here is an overview of the tools.
Gmail from Google is the most popular email account used worldwide. A majority of people have a Gmail account. Creating a Gmail account is easy. Gmail has many powerful features that make email management easy. Another useful tool is Outlook from Microsoft. You can install the Outlook app on your system to manage emails. Many useful features are available that help in effective email management.
YesWare offers a powerful email management tool to integrate with your Gmail or Outlook account. You can use this tool to schedule emails, track emails, find out when recipients view your emails, or click on the links. You can use it for your email marketing to get better results. It has useful features to help you track how effective your campaign is.
NordVPN is a Virtual Private Network that safeguards your privacy while you access websites and apps. You can create your own private network using NordVPN. It allows you to share files and transfer data among your team members securely. Your email assistant is well-versed in technology and can help manage the VPN to handle your needs.
LastPass is a password manager that is very useful in today's digital world. It works like an autopilot for all your logins. You may have many other accounts on different websites besides email accounts. Remembering passwords for all these questions can be a hassle. When you use LastPass, it generates strong passwords and saves them. Your email virtual assistant can configure LastPass, so you can access your email without having to log in.
Email Management Virtual Assistant in Gmail

Since Gmail is the leading email solution, you must know how to delegate emails to your email management virtual assistant. There are two ways you can do it, and they are explained below.
Use Gmail delegation
If you want your virtual assistant to manage your Gmail account, delegation is the way to do it. Your entire inbox is shared with your email assistant, who can access it. However, if they post a reply, it goes from their email ID, not yours. The recipient will know you have not sent the email. Also, delegation works only if your email assistant has the same email domain. If not, the assistant needs the Gmail Suite to use this option.
Share an entire account
In the above method, people will know you are not replying to the email. If you don't want this to happen, you can share your entire email account. It is very simple. All you need to do is share your email ID and password with your virtual assistant. The email assistant can then handle your mail account as though it is their own. While this is convenient, there are risks involved. You can use any of the inbox tool third-party apps to solve this problem.
Benefits of hiring a virtual email management assistant

It is beneficial to hire a virtual assistant for your email management. A virtual assistant works from a remote location. You do not need to pay them a salary or give them equipment or facilities to work. Just pay them whenever you use their services. You can get your work done effectively and also save money. The benefits listed below explain why you should seriously consider appointing a virtual email assistant.
Be more productive
Using an email assistant helps you be more productive. The email assistant can manage your emails, freeing you from this cumbersome task. With more free time, you can focus on growing your business. Your overall productivity will improve if you hire an email assistant.
Email Marketing Campaigns
Running an email marketing campaign is beneficial. But it takes a lot of time. With a virtual assistant, you can assign this job to them. The assistant would use tools to manage the campaign. It is a key activity; you can trust the virtual assistant to do it effectively. The virtual assistant is trained in using tools. They would use the best tool to create well-designed emails to get you the best results. They would send emails and also help you monitor the campaign's effectiveness.
Customize Emails
An email assistant is thorough with all aspects related to email management. They can customize your email by adding a layout. You can use your brand logos and colors in the email. You can even add a button in your email that works like a CTA (call to action). Customizing email helps in brand building, and your virtual email assistant can do this.
Save Money
Appointing a virtual assistant for your email management can help you save money. It saves time, and for a busy executive, time is money. You may want to appoint a personal assistant for this work, which involves many expenses. Using a virtual assistant for this work will help you finish the work while saving money. Another significant benefit of hiring a virtual email assistant is that you do not have to pay them a fixed monthly salary but only for hours worked.
Grow Your Business
If you want to grow your business, you need to work professionally. An email assistant will help you manage your emails professionally. They would ensure all emails, especially from clients, get an immediate response. Since you are free from the routine task of email management, you can focus on growing the business. The email virtual assistant will also help you in email marketing, allowing you to get more leads for your business. According to studies, taking more than 48 hours to respond to an email can result in losing potential customers and their dissatisfaction. Over 70% of people, according to a survey, expect a response within four hours.
How to Work with a Virtual Email Assistant

If you're new to task delegation, here are some videos that will really help you understand how to setup up work with a virtual email assistant and make the process extremely efficient and rewarding.
Why Hire an Email Management Virtual Assistant from Wishup?

Wishup is a leader in offering virtual assistant services. Hiring a virtual assistant from Wishup for your email management offers many benefits.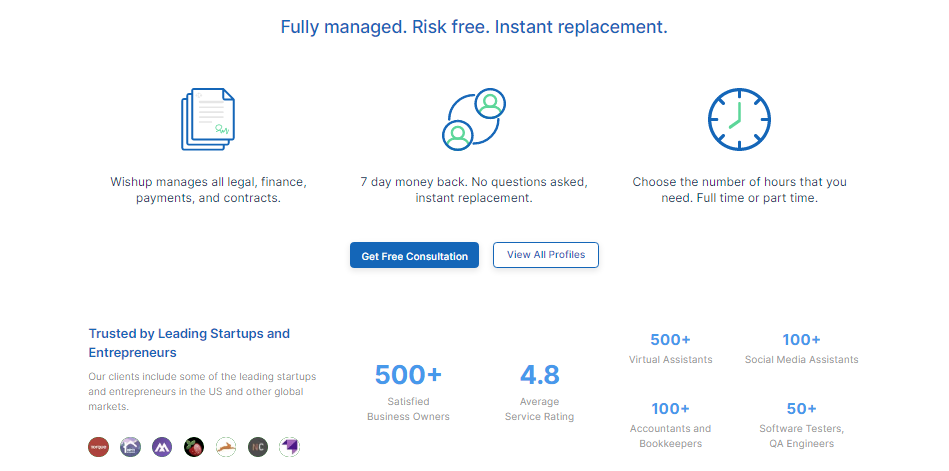 Top 1% of applicants
When you hire a virtual assistant for your email management, you will want the best resources. When you work with Wishup, you are assured of the best quality. Wishup vets all virtual assistants before hire. Their stringent screening process ensures only the top 1% of applicants are selected. Since they have the best talent on their platform, you can be assured of quality services.
24-hour onboarding
Once you select a virtual assistant, the onboarding process will commence. Wishup has well-defined and streamlined processes for onboarding. They ensure the onboarding is done within 24 hours. It would allow the email assistant to start working immediately without spending too much time on formalities.
Instant replacement
In case you are not satisfied with the virtual assistant's work, don't worry. Just contact Wishup and let them know. They will immediately replace the virtual assistant. Thanks to the large number of virtual assistants enrolled on their platform, they can offer an instant replacement. The replacement they offer will be someone competent and experienced.
Dedicated account manager
When you start working with Wishup, you will have a dedicated account manager working for you. The account manager is a single point of contact for you. You can get in touch with the account manager for all issues related to your work. They will handle all complaints or feedback and take prompt action.
7-day risk-free trial
Before hiring a virtual assistant, you will want first to find out if they are capable. You can evaluate the email virtual assistant by choosing the 7-day trial. The virtual assistant will work 7 days for you. During this period, you can find out if their work is satisfactory. If you are unsatisfied, you will get a refund of your money without questions.
In-house training in 70+ no-code tools and 200+ skillsets
All the virtual assistants on the Wishup platform receive training. There are more than 70 different no-code tools they learn. They also are trained in more than 200 skill areas. The training ensures they are well-equipped to do their work.
Conclusion
Managing emails is tough, but it is a necessary task. If you find it challenging to manage emails on your own, get professional help. You can hire a virtual assistant who will manage your emails. The virtual assistant works remotely and can handle all aspects of email management. If you are worried about the risks involved, the solution is to work with professionals. A professional virtual assistant company like Wishup helps you get a VA to manage your emails reliably and efficiently.
From replying to emails and email marketing, they can help you with all your work. Wishup's services are helpful if you are considering hiring a virtual assistant for email management. You can schedule a free consultation with them today. Or send a mail to [email protected] to get more information.
Frequently Asked Questions
How do I organize my email as a virtual assistant?
Create folders to organize the emails properly.
You can use email rules so emails go to the right folder automatically.
Check emails regularly and reply to them or delete if not needed.
Ensure backup is taken where needed.
Use templates to send emails quickly.
Use tools to get rid of spam that clutters inboxes.
What is email management services?
Professionals provide email management services. Also known as email assistants, these professionals work virtually and help you manage your emails efficiently. Using their services frees you from the time-consuming task of email management.
Can I hire someone to manage my emails?
Yes, you can hire a VA to manage your emails. The virtual assistant is given access to your email account and can manage all your emails remotely.