Virtual Marketing Assistant: Benefits, Tasks, and How to Hire
Imagine your client as the interviewer for your dream job. Yes, the dedication you need to impress the former is just as much. Which is why marketing is no mean feat. It is the backbone of your revenue generation. Make the most of your marketing team by hiring a Virtual Marketing Assistant.

If your business has to succeed in today's competitive world, you must focus on marketing. As an entrepreneur, you need to look after your business' technical side while also marketing. However, it can become stressful and can reduce your efficiency. Further, marketing is not everyone's cup of tea. If you wish to focus more on your technical work, then you can take the help of a marketing virtual assistant.

The VMA is a professional with experience in marketing. If you hire a VMA, you can get your marketing done professionally. Since the VMA works virtually, you will also save money. If the idea interests you, read on. We will tell you about virtual marketing assistants and what they do. You will also learn how to hire a VMA and why Wishup should be your first choice.
What is a Virtual Marketing Assistant?
A virtual marketing assistant is a marketing professional who works remotely, helping businesses with their marketing activities. If you want your marketing activities to be carried out in a structured way, then working with a VMA can help. The VMA will help you make strategies for marketing and plan your marketing activities. They would also help you with online marketing activities like email marketing, content marketing, and social media marketing. Taking their help assures you that marketing happens effectively. As a result, you can be free to focus on other aspects of your business.
What does a Virtual Assistant do in Marketing?
A virtual assistant marketing does all that a marketing professional does. While a marketing executive works full-time from your office, the VMA works remotely. A VMA can help you with all your marketing activities except fieldwork. An overview of all that they do is described below.
Managing social media accounts
Social media marketing is an incredible way to boost your business. With millions of people using social media, reaching out to your target audience is easy. Virtual assistant outsourcing for marketing can help you manage your social media on platforms like Facebook, Instagram, and Twitter. They can post regularly on social media to help you reach your target audience. They can also engage with people who like your posts, share them, and follow you. In addition, a VMA can reply to comments and handle any queries. They can also run marketing campaigns to help you boost your business.
Email marketing campaigns
There is a belief that email marketing is outdated, but this is not true. Email marketing helps you with your business even today. All you need is a database of email addresses. Your VMA can use professional tools to create email campaigns. They can then send emails to all your contact or selected contacts. The marketing va can track the progress of your email marketing campaign and provide you with reports. It helps you fine-tune your campaign.
Content creation and management
Content marketing is crucial for the success of a business. You need content for your website, social media posts, and other marketing material. A marketing virtual assistant can help you create engaging content that adds value to readers. They can help you prepare original content that helps you with your marketing. Apart from written content, they can also help create images, infographics, and video content. Once they create the content, they can use the content for marketing. It includes posting the content on social media or your website.
SEO optimization
To ensure online success, you must get a higher search engine ranking. Search engine optimization (SEO) can help you with this. Marketing virtual assistants are well-versed in SEO techniques. They can optimize your website for a higher ranking by Google and other search engines. In addition, they can do keyword research so your content uses the right keywords. VMAs can also optimize your website, giving users a better experience. All these measures will help boost your website traffic, increasing your business leads.
Data analysis and reporting
Your VMA will carry out marketing campaigns for you and also monitor the campaigns. They would collect data using various tools to evaluate the marketing campaign's performance. Metrics like the number of views, clicks, and website visits can help the tracking. The marketing va will analyze all this data and report the findings. Finally, they would summarize the analysis and tell you how well the campaign is doing.
Conducting market research and analysis
Market research is the first step you need to take before starting with marketing. You can get comprehensive market research done using marketing virtual assistant services. As a part of marketing research, the VMA will do the following for you:
Understand who your competitors are and know their strategies.
Identify your target audience and find out how to reach them.
Understand market requirements, so you can create or position products to suit these requirements.
Finding out new opportunities to explore in the market.
Collect data and analyze the data to help you create strategies.
Creating and managing marketing campaigns on social media platforms
Social media marketing campaigns can help you increase your reach. Your VMA can create and execute marketing campaigns on different social media platforms. The campaigns can help you increase your followers and get more engagement. It helps in brand building and can also be used to increase sales.
Managing email marketing campaigns and newsletters
An email marketing campaign involves sending emails to customers for product promotion. It also involves sending newsletters with regular updates. A newsletter can contain valuable content along with promotional content. In addition, sending newsletters regularly allows you to engage with customers. Your virtual assistant marketing can manage such campaigns for you.
Creating and managing online ads
Advertisements can help you reach more people. It is an excellent way to drive sales and achieve your marketing goals. Your VMA can help you create online ads and manage the ad campaign. You can run ads on Google and also on social media platforms. The VMA can design attractive ads and monitor the results from the ads.
Tracking website traffic and user behavior
Your VMA can monitor your website and analyze its traffic. For example, it would help you determine your website's popularity. You can also get insights into user behavior. For example, Analytics will tell you which pages users visit more and the links they click. The VMA can compile this data, which can be used to prepare marketing strategies.
Collaborating with other team members on marketing projects
Your virtual personal assistant can collaborate with your other team members for marketing. They can work with other departments to create a marketing plan and ensure its success. Your VMA can drive marketing activities for your business to help you achieve your goals.
What are the benefits of a Virtual Marketing Assistant?
When you use marketing virtual assistant services, you will have access to a marketing professional to help you with marketing. A VMA can help you carry out marketing to achieve your goals. You can go through the benefits of a virtual assistant to understand how they can help you.
Cost savings compared to hiring an in-house employee
If you hire a full-time marketing assistant, you must pay a monthly salary. In addition, other office expenses are involved, like providing office space and equipment. Hiring a virtual assistant will help you save all these costs. You only need to pay them for the number of hours they work, which is cost-effective.
Increased productivity and efficiency
A VMA is experienced and has the expertise needed for marketing. They can ensure your marketing activities are done systematically to help you achieve goals. They can carry out marketing efficiently. Since you will get assistance for your marketing, your workload will reduce. It would help you focus on other areas allowing for greater productivity.
Access to specialized skills and expertise
Marketing virtual assistants have specialized skills in marketing. Apart from traditional marketing, they can also help with digital marketing. Their expertise adds value to your marketing operations and helps you achieve more.
Flexibility and scalability
Flexibility is the main benefit of working with a VMA. Since they work virtually, they are available whenever you need them. They are not restricted to office hours and can even work late. Scalability is another benefit you get. You can use less of their services when not much marketing work is required. When you need more work, you can hire more than one virtual assistant to help you with marketing.
Reduced administrative burden
With a full-time marketing person, there are many administrative tasks involved. You must add them to the payroll and give them all the benefits employees should get. The administrative burden increases when you hire full-time staff. A virtual assistant works on a per-hour basis, reducing your administrative workload.
Ability to focus on high-level strategy and creative tasks
A marketing virtual assistant has specialized skills. They use their skills and experience to help you make marketing strategies at a high level. They are also creative and can use their creativity in marketing activities. A creative VMA can help you create engaging content that engages your target audience.
How to hire a Virtual Marketing Assistant?
If you have decided to hire a virtual assistant to help you in marketing, a question you may have is where to hire. There are three sources from where you can hire a VMA.
Working with a virtual assistance agency like Wishup
The best way to hire a VMA is to work with an agency that offers virtual assistants on hire. Wishup is a company that specializes in offering virtual assistants for hire. You can easily find a virtual marketing assistant from Wishup's platform. You can schedule a free consultation; they will help you find the best person. Working with Wishup allows you flexibility and assures you of quality work.
Referrals and networking
Your known persons may have worked with a virtual assistant for marketing. Get feedback about the assistant. If the feedback is good, you can consider hiring them. Tap into your network and get referrals to find a virtual marketing assistant.
Posting job listings
Create a job listing with details of the VMA job and the work you expect. Don't forget to mention that you want a virtual assistant. Post this listing on websites that offer a job board. You can also post on your social media accounts. People who see the post would share it and allow you to get many applications. For instance, LinkedIn is a social media platform for professionals. You can post your job here to get a better response.
Wishup: The ideal solution for a Virtual Marketing Assistant

Wishup is an agency that offers virtual assistants for hire. With a mission to create a million new remote jobs, the company has worked with 500+ businesses. Their platform has skilled virtual assistants in various areas of work. So if you want to hire a VMA, Wishup offers you the best talent.
Cost efficient
Hiring a VMA is a cost-efficient option. You only need to pay the VMA for the work done based on an hourly payment. You can use their services only when you need them. When you hire a VMA from Wishup, you save the salary paid to a full-time marketing assistant. Wishup has competitive packages that are very cost-efficient. Their virtual assistant cost 999 per month for 4-hour package, and the 8-hour package costs 1799 per month.
Easy 24-hour onboarding
Wishup will find you a virtual marketing assistant who suits your needs. Once the person is selected, onboarding can be done within 24 hours. It ensures the VMA can finish their work quickly without wasting time on formalities.
Top 1% of applicants
Wishup's USP is providing quality talent. They ensure quality by following a stringent process for vetting virtual assistants. Only the top 1% of applicants make it through the screening process. It is an assurance that you will get the best virtual assistants to work for you.
Data security
A virtual marketing assistant will need access to your data. It includes customer data, which is essential. So naturally, you may be concerned about data security. Wishup assures you of the integrity of the virtual assistant. You can also sign a non-disclosure agreement with the VMA before you start working with them.
Upscale and downscale with ease
Wishup offers flexible services allowing you to upscale and downscale easily. You can use the virtual marketing assistant's services depending on your need. You can get more work done or an additional marketing assistant if the workload is heavy. You are not obligated to use their services if there is no work.
Dedicated account manager
Wishup designates a dedicated account manager for every client. You can work with this account manager for all your requirements. They are the single point of accountability, allowing you to get all your problems resolved. Inform the dedicated account manager if you are unhappy with the virtual assistant's work. You will get a replacement instantly.
7-Day trial with a money-back guarantee
Before using a virtual assistant for your business, you can evaluate their abilities. You can do this by opting for the 7-day trial option. Work with the VMA for seven days, and you will be able to assess how good they are. If you like their services, you can continue with them. If you are unhappy with their work, you can request a refund. You will get your money back without any questions.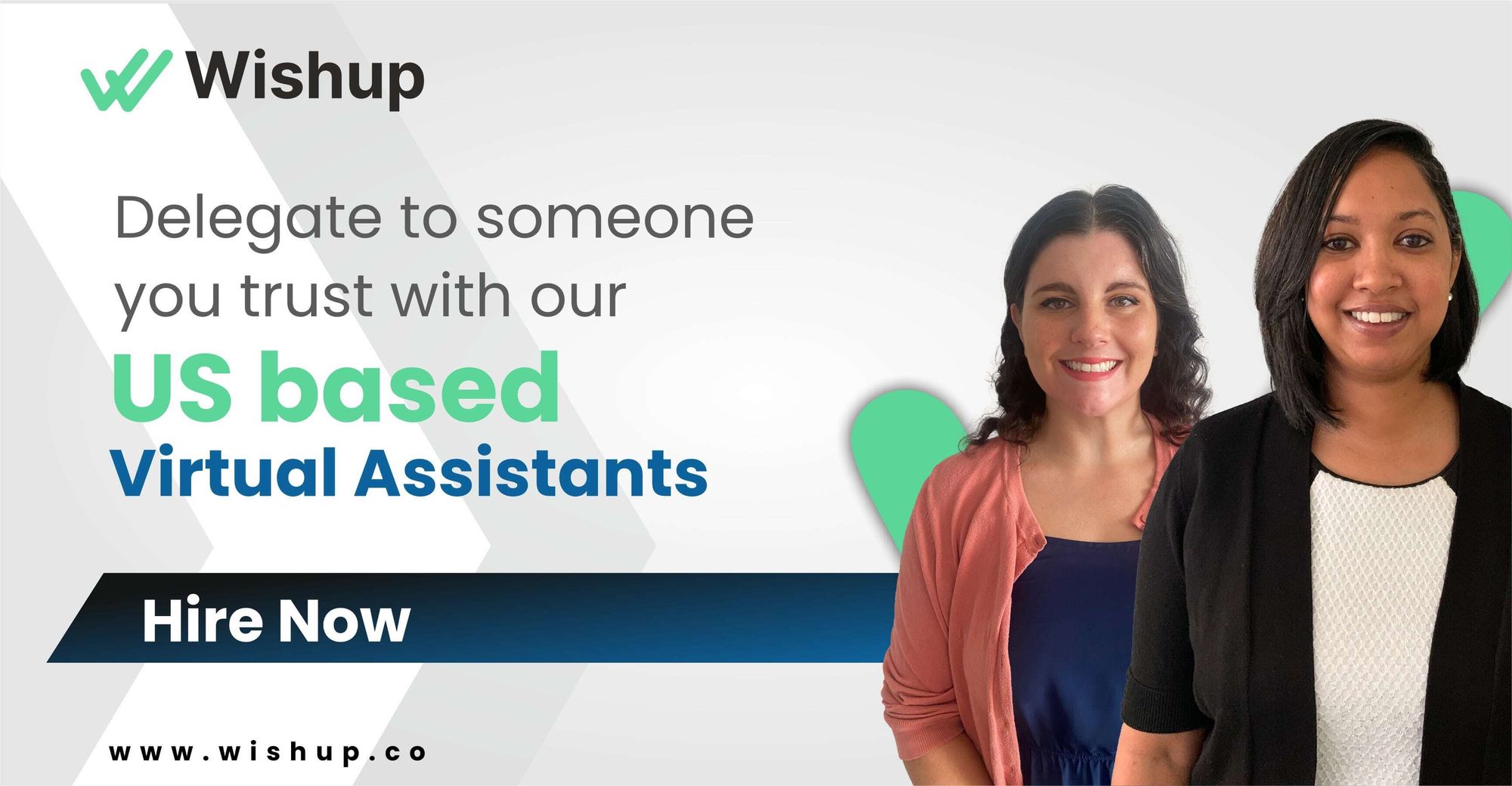 Conclusion
Marketing is a significant activity, and specialists best do it. A virtual marketing assistant is a specialist in marketing who can help your business do marketing effectively. Since they work remotely and are flexible, using their services is cost-effective. In addition, the range of services they provide will help you market your business comprehensively. Hiring a VMA is a good idea and can help you achieve your marketing goals.
Hiring a VMA is easy when you work with a virtual assistant company like Wishup. You can get the best talent from Wishup and be assured of their quality. To start, schedule a free consultation with Wishup today. You can also email [email protected]
Virtual Marketing Assistant Frequently Asked Questions
Why hire a Virtual Marketing Assistant?
A virtual marketing assistant can help you with all your marketing activities. They can help you devise a marketing strategy and implement it. They are skilled in digital marketing and can help with social media management, SEO, email marketing, and market research.
What are 3 important skills to look for in a virtual assistant?
The three important skills that a virtual assistant should have are:
Ability to manage time effectively
Working in an organized way.
Proficiency in the use of computers.