Business owners understand the importance of the saying "Customer is King," but they are often too busy to offer 24/7 service and support to their customers. Moreover, phone ringing can be a significant distraction when concentrating on a critical aspect of their business.
This is where a virtual assistant receptionist can benefit entrepreneurs.

Virtual receptionists can handle most tasks that typically bog down business owners. This can free up your time, allowing you to focus on growing your business.
As 2023 approaches, consider the benefits a virtual receptionist can offer your business and take the first steps toward a more efficient, productive operation.
Let's dive in.
What is a Virtual Receptionist?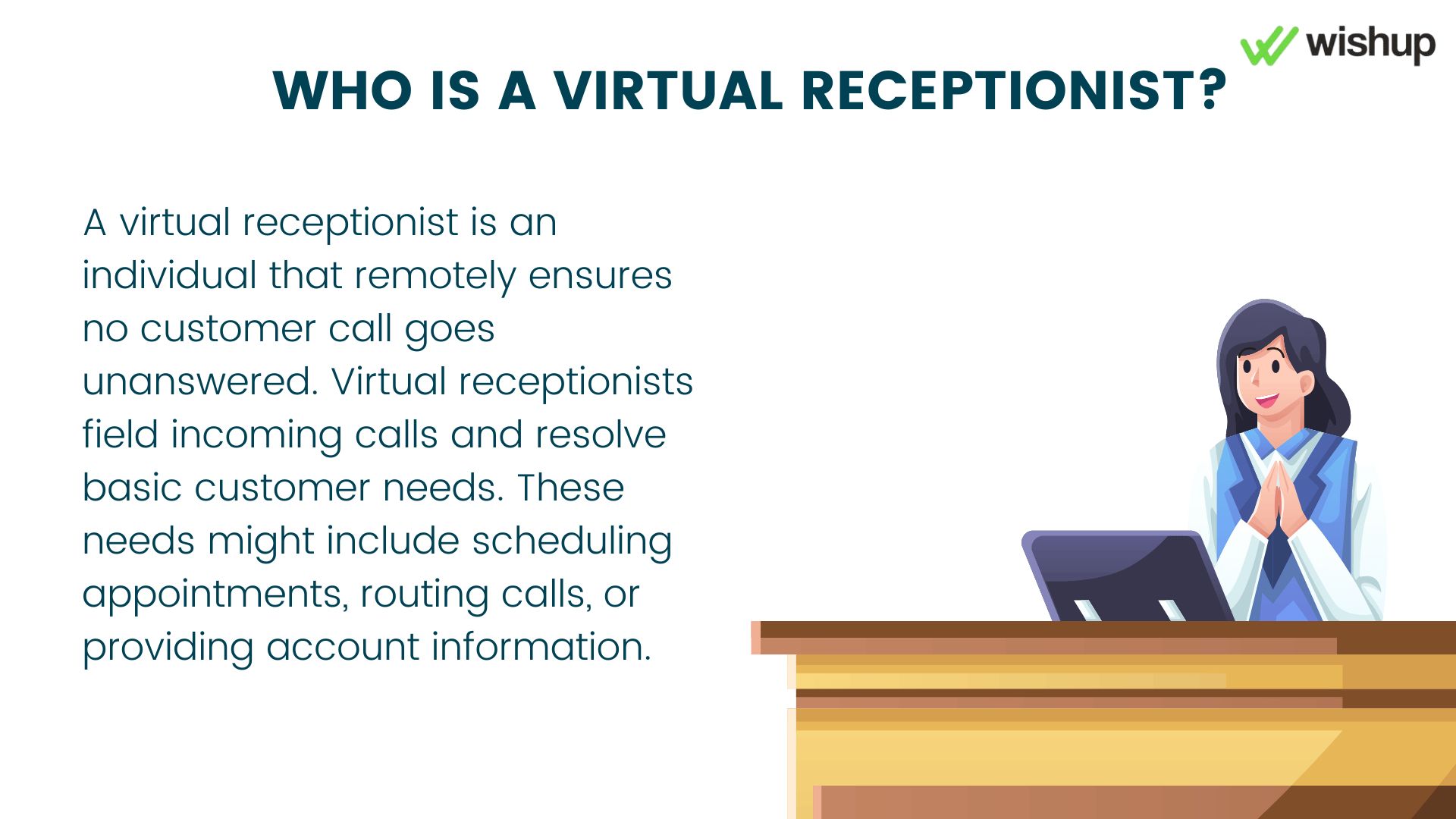 A virtual receptionist operates remotely, typically through technology such as advanced phone systems and messaging platforms, and can provide various services. These include handling incoming calls, screening callers, taking messages, and setting appointments.
Why should businesses have a Virtual Receptionist?
According to recent studies, incorporating virtual assistants in business operations can reduce operating costs by up to 78%. In addition, virtual receptionists can make a difference in keeping your company's image up to par.
With a virtual receptionist, you can rest assured that all calls are handled professionally and directed to the appropriate staff members. Investing in a virtual receptionist is an intelligent move for any business wanting to improve customer service and streamline operations.
What are the reasons for hiring a Virtual Receptionist?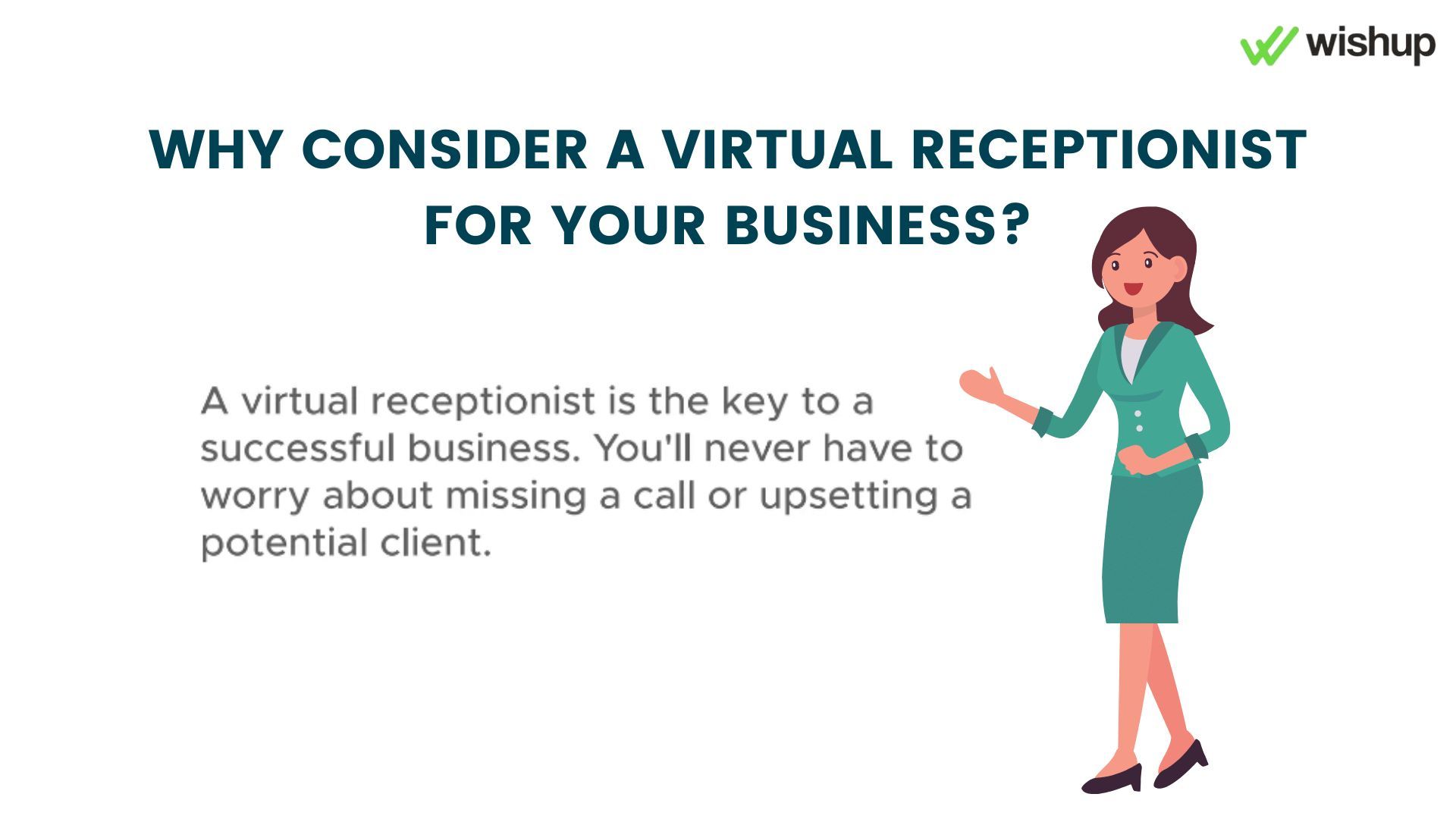 As a business owner, you know the countless responsibilities of running a successful organization. A virtual receptionist can help you deal with a lot of them. Below are the reasons why:
Managing time
With a virtual office receptionist, you can ensure that your calls are answered promptly and professionally. This allows you and your staff to focus on other vital tasks, ultimately streamlining your workflow and increasing productivity.
No training requirements
Unlike a full-time receptionist, there are no extensive training requirements for a virtual receptionist. They have the skills and expertise to provide exceptional customer service.
Reducing workload
A virtual receptionist not only answers and directs calls but can also assist with scheduling appointments, managing emails, and processing orders. It frees up your time to do core business tasks.
Saving office space
You can save on office space and associated costs by eliminating needing a physical receptionist. This is especially important for small businesses or those operating in expensive urban areas.
What are the tasks that a Virtual Receptionist can perform?
A Virtual assistant is an individual that can help businesses and organizations in a variety of ways. Some of the tasks they can provide include:
Phone Answering
A virtual assistant phone answering service includes
answering incoming calls and directing them to the right person,
taking messages
providing basic customer service
completing orders or bookings
Taking messages
They can record and relay messages to the appropriate parties. They can also forward voicemails to designated personnel, ensuring that important messages don't get lost.
Routing calls to the correct department/person
These professionals can route calls to the correct department or person, ensuring that calls are answered quickly and efficiently.
Scheduling appointments
When a client needs to schedule an appointment with your business, a receptionist can be invaluable in quickly setting up meetings, confirming the date and time, sending reminders, and more.
Resolving customer queries
They can provide basic customer service, answer simple questions, and help customers find the necessary information. This helps streamline the customer service process, freeing up time for other tasks.
Offering 24*7 customer support
A receptionist can provide around-the-clock customer service, ensuring that businesses are always available to their customers. This has become an increasingly important service, as customers now expect businesses to be available 24*7.
Managing your mailbox
A receptionist can also manage incoming emails and answer basic customer queries, ensuring all communications are handled quickly and professionally.
Following up with clients
They can help follow up with clients and customers, checking in on them to ensure that everything is going smoothly. This can be a great way to build customer relationships and keep them engaged.
Running errands
Finally, a virtual assistant can also help with running errands. This might involve booking travel arrangements, arranging deliveries, and scheduling meetings and events. Again, this can streamline administrative tasks and make them easier for businesses to manage.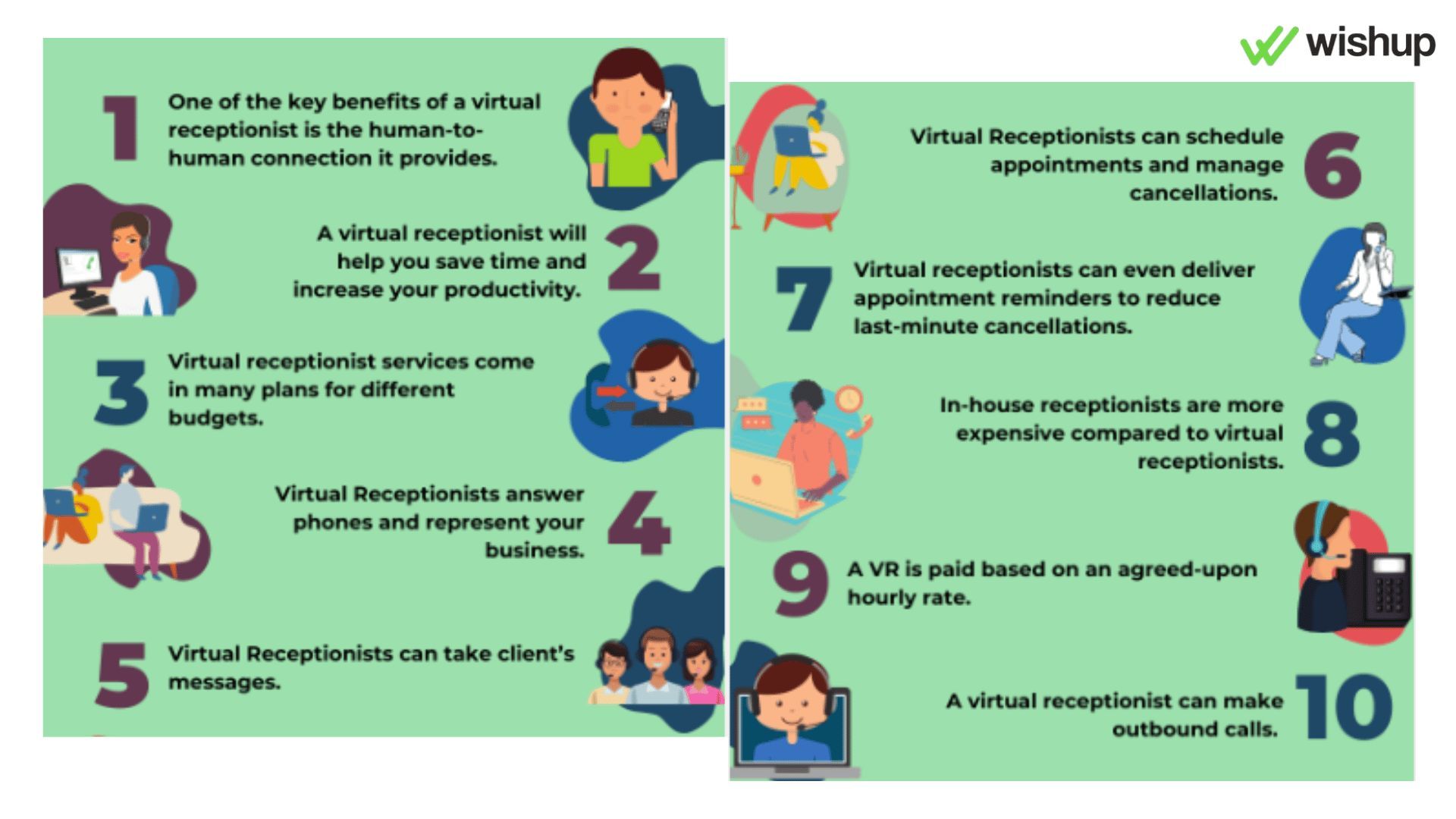 How many calls does a receptionist handle each day?
The number of calls a receptionist handles daily can vary depending on the size of the company they work for. Some receptionists may find themselves fielding many calls per hour, while others may take on no more than 20 calls in an entire day.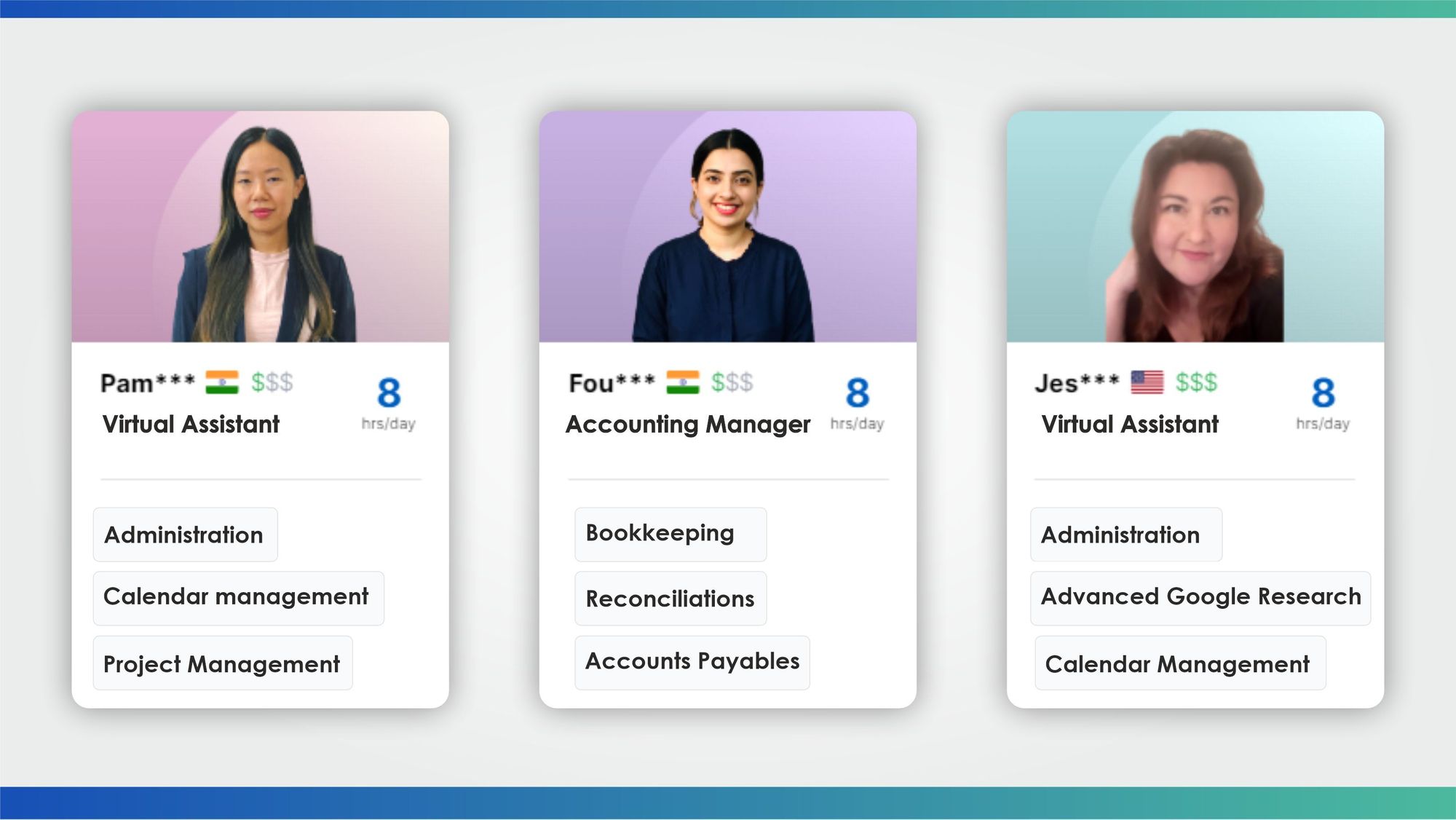 What are the benefits of hiring a Virtual Receptionist?
An online receptionist can provide many benefits for businesses. Let's take a look at them in detail: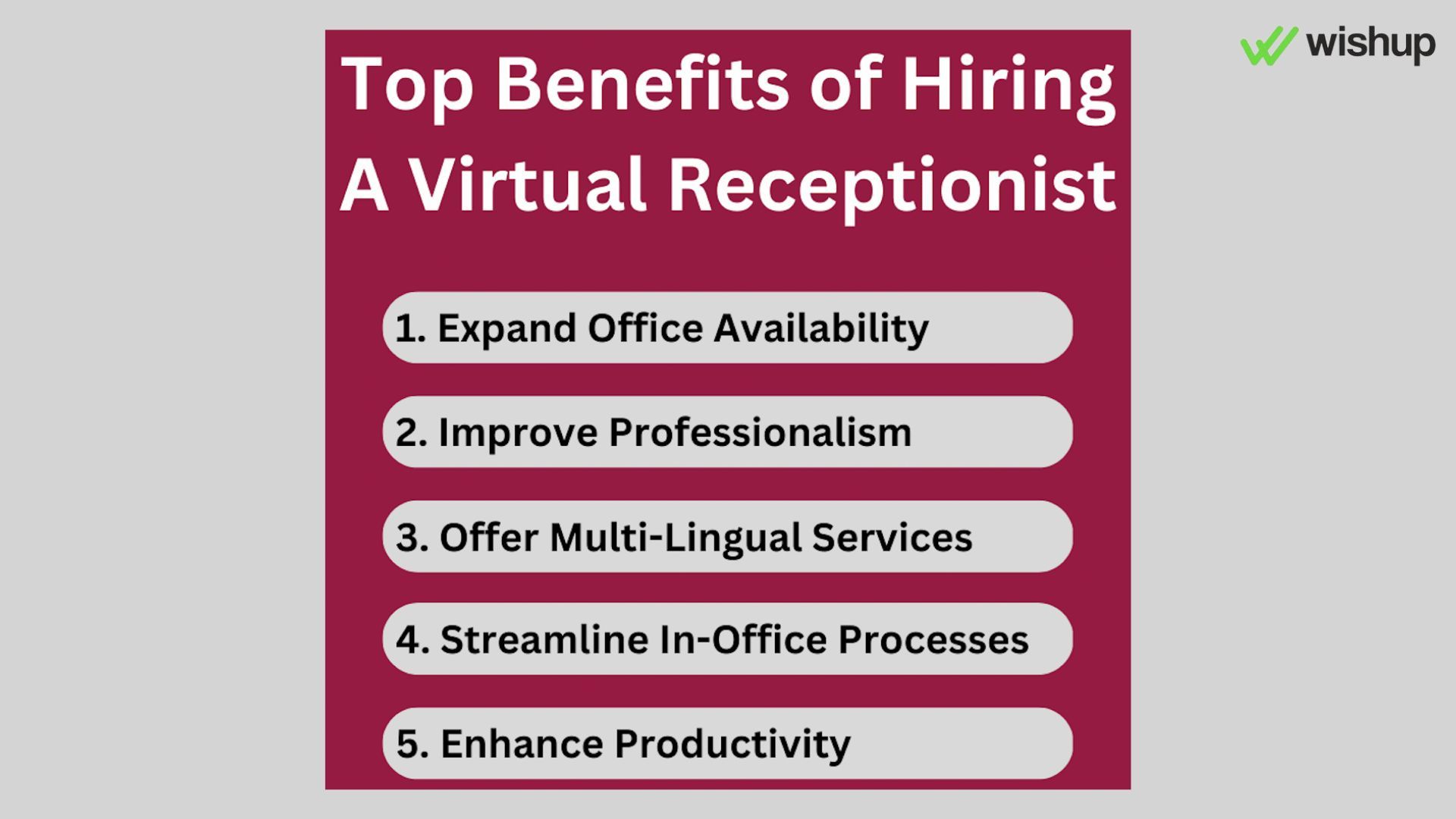 Enhanced customer support
A customer services virtual assistant can provide customer support 24/7, 365 days a year. This is especially helpful if you have customers who need assistance outside regular business hours or are in a different time zone.
Bilingual services
If your business serves customers in different countries or regions, you can hire a bilingual remote receptionist service to provide customer service in two languages. This can be a great way to ensure all customers feel comfortable and well-served.
No cultural differences
With a virtual assistant, you don't have to worry about cultural differences between employees and customers. In addition, since the virtual receptionist works remotely, they don't have to physically be in the same room or country as your customers.
Prompt call answering service
A virtual receptionist for small business provides prompt call-answering services. As a result, customers don't have to wait long periods for their calls to be answered and can get their questions answered quickly and efficiently. This can help improve customer satisfaction and reduce wait times.
Quick resolution of queries
They can quickly resolve customer queries and provide accurate responses. This helps to reduce the amount of time spent on resolving issues, which reduces overall costs.
Happy customers
Customers will receive prompt, accurate, and friendly responses to their queries; they are more likely to be satisfied with your business. Hiring the best virtual receptionist can provide your customers the service they deserve and help improve customer loyalty.
Experienced professionals
Virtual assistants are highly experienced professionals who can handle customer inquiries and provide tailored responses. This helps ensure that customers get the help they need promptly and accurately.
Better tackling
They can easily handle large amounts of customer inquiries during peak business hours. This helps to reduce wait times, which makes customers feel more valued and respected. It also reduces the time spent on resolving issues, saving businesses money in the long run.
Knowledgeable about the niche
Virtual receptionists are knowledgeable about the niche in which they work. As a result, they can provide specialized responses and advice tailored to your business's needs.
Trained in online customer service
Remote reception services come trained in online customer service techniques. This means that they can provide personalized and helpful responses to customer inquiries without compromising the quality of their service. In addition, they can assist with e-commerce transactions, social media interactions, and more.
Scheduled appointments
Online receptionists can schedule appointments, bookings, and other services for customers. This helps to eliminate any confusion between customers and businesses as well as reduce the amount of time spent on manual scheduling tasks.
Organized tasks
Virtual assistants can organize tasks for customers and employees. For example, they can keep track of customer inquiries, bookings, appointments, and more. This helps to streamline processes, reduce manual labor and save time in the long run.
Affordable services
Virtual assistants are a cost-effective way to improve customer service. By using virtual reception services, businesses can save money on staffing costs and other overhead expenses associated with hiring full-time employees.
Save on infrastructure
They help to eliminate the need for physical infrastructure such as call centers or offices. This reduces overhead costs associated with running a business, allowing companies to focus their resources on other areas of their operations.
No missed business opportunities
Finally, virtual receptionists help ensure businesses never miss out on new opportunities. With a virtual receptionist, customers can contact your business anytime and be assured that someone will answer their query or take the necessary action. This helps build customer loyalty and trust, essential for long-term success.
International reach
These professionals can provide international customer service, eliminating the need to open physical offices in different countries. This allows businesses to expand operations without investing in extensive infrastructure or staffing costs.
No distractions
They enable businesses to focus on their core operations without worrying about mundane administrative tasks. By outsourcing customer service and support functions to a virtual assistant, businesses can concentrate on other business areas, such as marketing and product development.
More breaks for you
They can also help give businesses more time for breaks and rest. For example, business owners can take the necessary time off for relaxation or personal development by delegating customer service duties to a virtual receptionist.
Always around
They are always available and ready to help, even when businesses are closed or unavailable. This ensures that customers never have to wait too long for a response, helping to improve customer satisfaction and loyalty in the process.
Boosted customer loyalty
They help to boost customer loyalty by providing quick and efficient service. This helps to ensure that customers remain happy with your services, which is essential for long-term success. In addition, with a virtual receptionist, businesses can rest assured that their customers are cared for, allowing them to focus on others.
Give time to family
Finally, virtual receptionists allow business owners more time with their families and take care of personal tasks. Business owners can ensure their customers are cared for without sacrificing quality family time by outsourcing customer service duties.
What are the factors to consider before hiring a Virtual Receptionist?
Before hiring a Virtual Receptionist, some factors must be considered to ensure you get the best service possible. Here they are:
Consider Timezone
One crucial factor to remember when hiring a Virtual Receptionist is the time zone difference. Ensuring the receptionist's working hours match your business hours is essential. This factor is particularly critical if your business receives calls or emails 24/7.
Determine if it is for long-term or short-term
Determine whether it's for the long-term or the short-term. For example, hiring a virtual assistant part-time or on contract would be more convenient if you require short-term support. In contrast, a full-time virtual receptionist would be more beneficial for long-term support.
Ask for reviews
One of the best ways to know the effectiveness of a virtual receptionist is by asking for reviews from their previous clients. Look for reviews on various platforms such as social media, Google, and the Virtual Receptionist's website.
Ask for test trials
Requesting a test trial is vital to know how efficiently they handle customer inquiries. In addition, you may want to discover the Virtual Receptionist's multitasking ability and customer service skills. A successful test trial will show you whether the Virtual Receptionist is the right fit for your business.
Check about cost-effectiveness
Compare the cost of hiring a virtual assistant to a full-time receptionist, and determine if remote support could be more cost-effective. You could also compare the cost of different Virtual Receptionist services to choose the one that best suits your business's budget.
Check for top virtual receptionist services in the market
You can compare top virtual receptionist services in the market, their reviews, and their pricing. A well-researched comparison will help you hire the best service that meets your business needs.
Where can you hire a Virtual Receptionist?
Hiring a virtual receptionist can help alleviate many issues and free up time to focus on more critical aspects of your business. But where can you find a reliable virtual receptionist?
Freelancer platform
One option is to use freelancer platforms such as Upwork, Fiverr, or Freelancer. These platforms offer a pool of virtual receptionists with experience managing calls, scheduling appointments, and providing administrative support. You can browse through the profiles of candidates and hire the one that best fits your business's needs.
In-house receptionist
This can be beneficial if you have a bigger business or prefer having someone on your team who is solely focused on managing calls and administrative tasks. However, the downside of hiring an in-house virtual receptionist is that they may require more time and money.
Virtual assistant agency
Alternatively, consider using a virtual assistant agency like Wishup that provides administrative support. These agencies usually have a team of virtual receptionists trained and experienced in handling various tasks.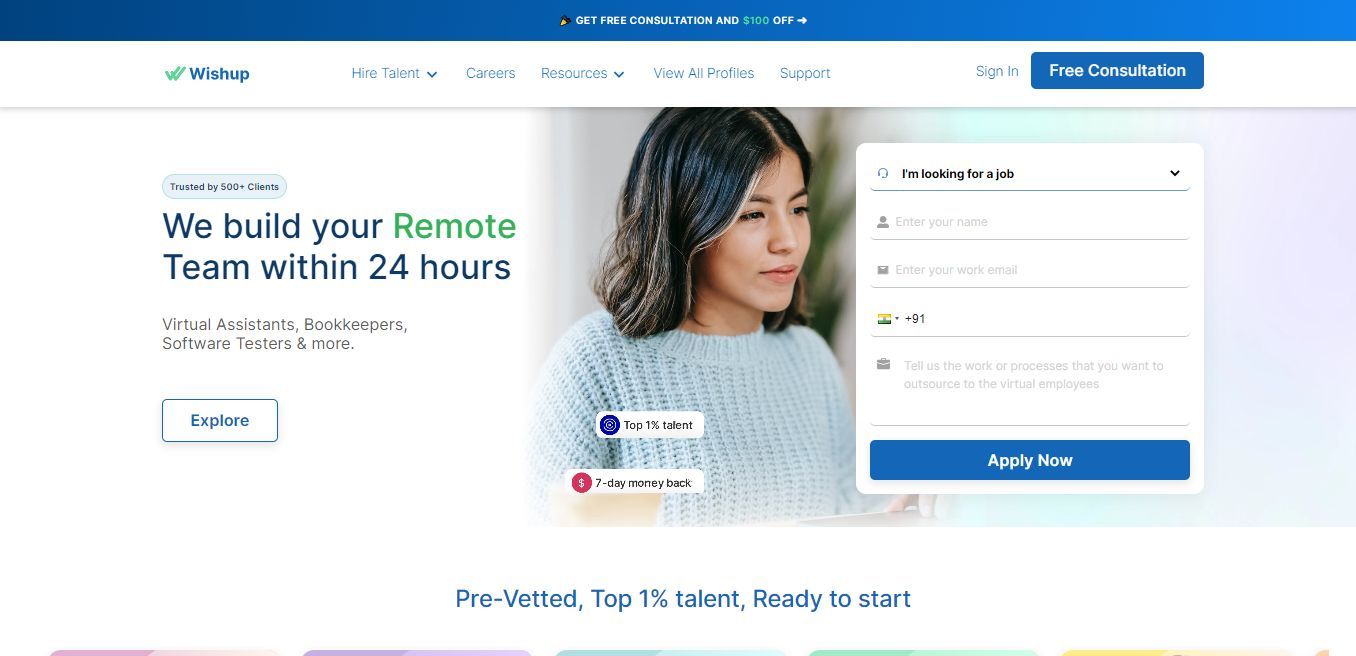 Wishup: The best solution for all your receptionist requirements
Wishup is a virtual assistanat website where you can hire a virtual personal assistant for various tasks such as research, scheduling, travel arrangements, social media management, expense management, communication, and other miscellaneous activities.
Pocket-friendly services
Wishup offers several packages at various prices to fit your budget. You can choose from hourly, daily, weekly, and even monthly packages that suit your needs.
Start immediately
Wishup allows you to start using the services of your virtual assistant immediately. There's no need for lengthy onboarding processes; you can begin delegating tasks to your virtual assistant immediately.
Talented professionals
At Wishup, our talented professionals work tirelessly to ensure you get the best possible virtual assistant experience. Our professionals are highly trained in their roles, so you can rest assured that your tasks will be handled promptly and efficiently.
Customer satisfaction
At Wishup, our top priority is providing the best customer service experience possible. We strive to make sure that all of our customers are satisfied with the services they receive. Our customer service team is always available to answer any questions and address any issues.
Confidentiality
Wishup strictly adheres to all confidentiality laws and regulations to protect your information.
No training issues
At Wishup, we provide our virtual assistants with all the necessary training to perform their duties to the best of their abilities.
Outstanding results
With Wishup, you can get outstanding results from your virtual assistant. We guarantee the timely and efficient completion of all tasks while maintaining high-quality standards.
Customer satisfaction
At Wishup, we take customer satisfaction seriously. We have a dedicated team of customer service representatives who are always ready to answer any queries.
Immediate replacement policy
If you are ever dissatisfied with the performance of your virtual assistant, we offer an immediate replacement policy so that you can get a new assistant quickly.
7-Day free trial with a money-back guarantee
We offer a 7-day free trial period with a money-back guarantee so that you can test out our services before committing to them.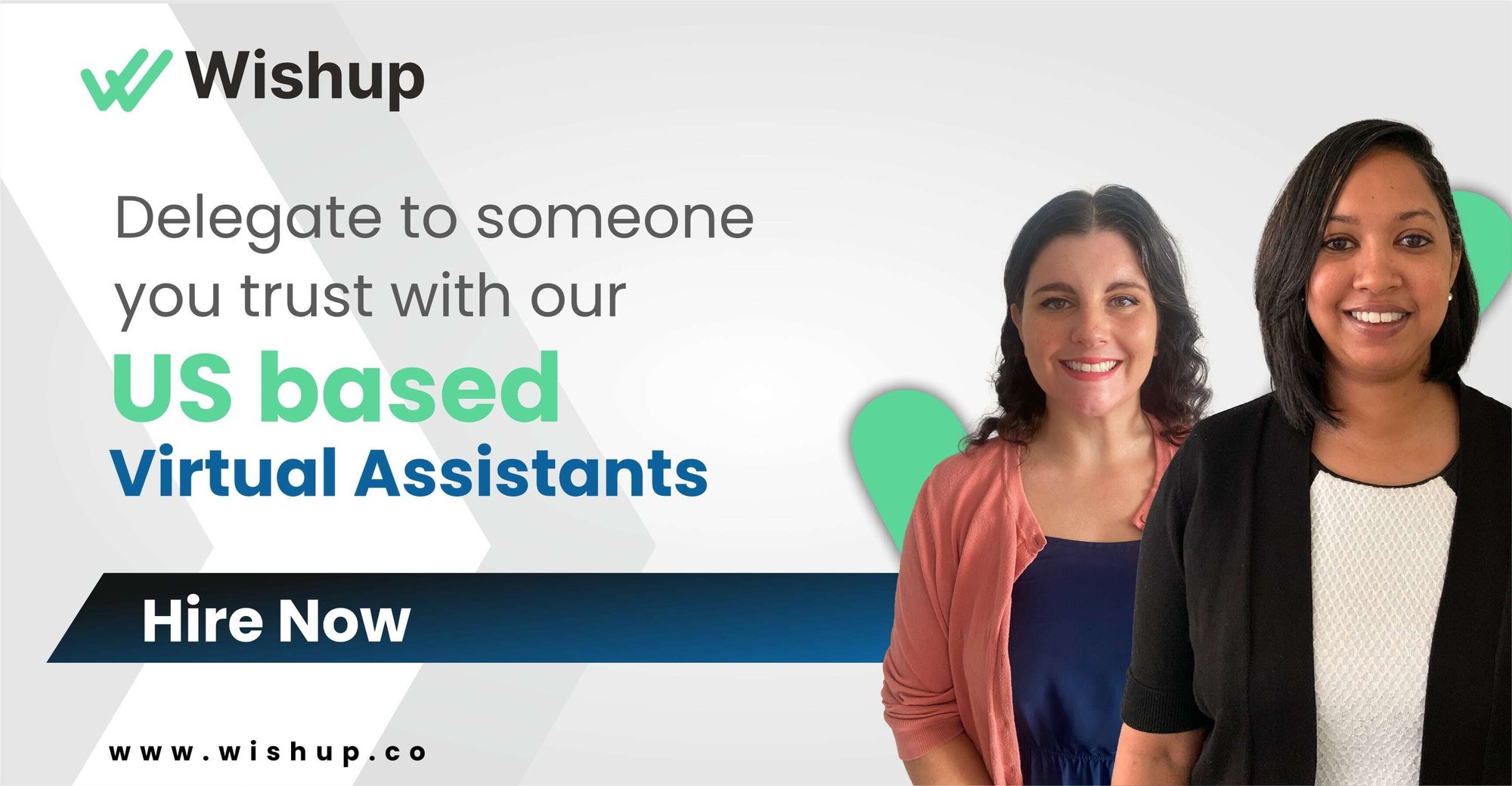 Conclusion
Now, you have all the information to help you make the right decision. However, to get the most from the service, you must choose a virtual receptionist from a company that understands your business well.
Wishup is just the company you need to tap into the power of virtual receptionists for your business in 2023. With our extensive experience, we are convinced to enable you with innovative solutions and support for scaling up your organization in this ever-changing environment.
So don't wait any longer; schedule a free consultation with our experts or email us at [email protected] and start taking advantage of receptionists before it's too late!
Virtual Receptionist Frequently Asked Questions
What is a virtual receptionist vs a live receptionist?
They perform the same duties as an in-house receptionist, including answering calls, taking messages, and scheduling appointments. The only distinction is that a virtual receptionist works remotely, such as in a call center facility.
What are the two disadvantages of acquiring a virtual receptionist?
Not enough information was provided to the receptionist, which reduced productivity because of language and cultural differences.

Subscribe to Wishup Blog | Remote Teams | Remote Employees
Get the latest posts delivered right to your inbox