Get an Excel Virtual Assistant to Manage Your Excel Sheets
As a growing business, you cannot afford to waste this time. After all, you need to keep up with the demands of your clients while managing internal tasks with limited staff and resources. But what's the cost-effective solution to this problem? Hiring an Excel virtual assistant.
If you're a small business and have an employee managing your Excel sheets, you should know they're most likely Googling their way through it. The kicker? Although effective, this is costing you more time than you think.
Research suggests most employees use Excel 38% of the time. Combine this with the time spent googling for information, and you'll notice the time consumed is much higher.

As a growing business, you cannot afford to waste this time. After all, you need to keep up with the demands of your clients while managing internal tasks with limited staff and resources.
But what's the cost-effective solution to this problem?
Hiring an Excel virtual assistant.
An Excel virtual assistant allows businesses to avoid the costs associated with hiring and maintaining full-time staff. All of this while still having access to the resources they require to meet the demands of their clients

With the flexibility to work on a project-by-project or ongoing basis, virtual assistants offer businesses the option to scale their resources up or down, depending on their current needs.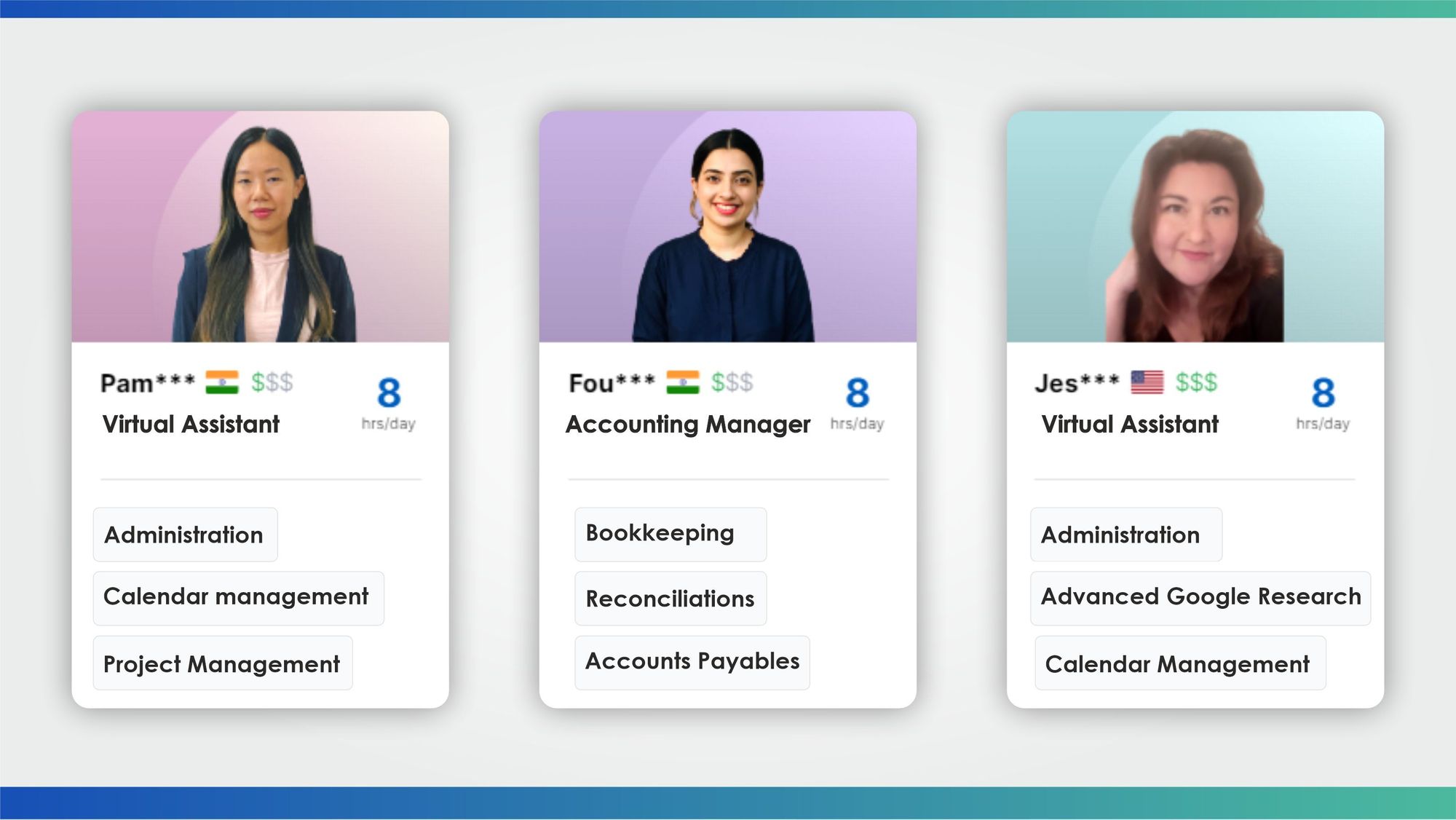 What are the challenges faced by businesses while using Excel?
From flexibility concerns to complexity - you and other business owners may run into various hurdles when using Excel. Here are some of them.
1. Data integrity issues
Excel sheets can be prone to data entry errors, duplication, or inconsistent formatting, especially when multiple employees work on the same sheet. This results in inaccurate or incomplete data.
2. Difficulty in managing large datasets
For many business owners, excel sheets can become unwieldy and difficult to manage when dealing with large amounts of data. This leads to slow performance, data corruption, and version control problems.
3. Labyrinth of features
MS Excel has a vast array of features that can be difficult for business owners to keep up with, especially as the software is constantly updated. Staying up-to-date with the latest updates and features can be challenging. Plus, business owners may need to invest time and resources into ongoing training and education to utilize the software's capabilities fully.
Furthermore, without the experts on board, businesses struggle to manage data properly, leading to errors or inconsistencies that further impact the accuracy of reports generated from that data.
Many businesses have turned towards outsourcing a virtual assistant to solve this problem.
Who are Microsoft Excel virtual assistants?
Excel Virtual Assistants provide administrative and technical support to businesses, particularly those in need of assistance with Excel-related tasks.
They work remotely, providing their services outside the client's physical office. This allows businesses to save on overhead costs, such as office space, equipment, and utilities, which can be redirected toward other essential business activities.
Additionally, Microsoft virtual assistants are highly flexible, offering their services part-time or full-time, depending on the client's needs. They can work on a project-by-project basis or provide ongoing support, making them an ideal solution for small and medium-sized businesses.
What does Microsoft Excel virtual assistant do?
1. Data entry
Whether or not you're using Excel sheets to manage customer or SEO data, you need to ensure your data is entered correctly so that it can be used for analyses. Unfortunately, taking the time to check data entry is out of the question, especially when you're responsible for multiple activities in a small team.
This is where a Microsoft Excel virtual assistant comes in.
A trained Excel virtual assistant uses data entry's best practices to ensure all the data is accurate and in place. They also flag missing data or incorrect fields, making it easier for you to cross-check records. Not just that. They go the extra mile to ensure that the data is presented in an organized manner. This reduces the time spent searching records when looking for information.
2. Create in-depth reports
A virtual assistant can help you create customized reports that provide valuable insights into your business operations. They not only analyze your data but also compile insights in an easy-to-understand format.  
They can create graphs, charts, and pivot tables to help you make informed business decisions. Thus, a virtual assistant can help you save time and focus on more critical tasks that require your attention.
3. Create complex formulae
If your team is learning Excel on the fly to manage company data, they're most likely not using advanced excel functions to perform tasks quickly.
An Excel virtual assistant can help you create complex formulae to automate your business processes. These formulae can be used to perform various tasks, such as data analysis, financial modeling, and forecasting. Besides, an expert assistant can also help you troubleshoot any formula errors, ensuring that your data is accurate.
How can an Excel virtual assistant help you boost your business?
1. Saving time and reducing workload
An Excel virtual assistant can take on various tasks, including data entry, report creation, and analysis. Since they are trained, they do these tasks more quickly and efficiently than other employees, who may not have the same level of Excel expertise.
This helps in increasing efficiency and allows your full-time employees to focus on other important tasks.

2. Begin to grow your business to scale
When you hire a virtual assistant, you get to scale your business with less risk and at a lower cost than hiring in-office employees. That's because virtual assistants typically work on an hourly basis or a project basis, according to their contracts. Simply put, you can hire a virtual assistant to help with an important project or streamline Excel tasks and let them go when you've achieved your project goals.
This cost-effectiveness allows businesses to reduce their overall expenses and reinvest those savings into the business, providing more capital for growth and expansion.
3. Enabling faster and more detailed reporting
Reporting is essential to many businesses, enabling managers to make informed decisions. An Excel virtual assistant can help to generate reports more quickly and in greater detail than other employees.
This can help to provide better insights into business operations, which can inform decision-making and help drive growth.
Where can you hire a seasoned virtual assistant?
You now understand how an Excel virtual assistant can make your life easier and boost your business. So, let's get to the last but most significant piece of the puzzle: where you can hire a virtual assistant.
Method 1: Connect with Freelancers
The first option is to look for freelancers to assist you with your tasks. They may reach out to you via their freelance network or job portals, but browsing innumerable freelancer profiles can be time-consuming.
But remember, since they have no fixed rates, they can cost you more.
Method 2: Use LinkedIn
LinkedIn is a great platform for networking and finding potential candidates for a job. If you have a LinkedIn account, post your job opening there, and through your network, you can get in contact with some candidates who can fit the bill quite well. To make the process more effective, you can include your work expectations with your virtual assistant and the nature of your business.
However, this recruiting process can take a lot of time and effort to sort through the various referrals you receive.
Method 3: Virtual assistant services
If you want efficiency, accuracy, and precision, this is the best method out there.
The third method to hire a virtual assistant is through virtual assistant services like Wishup. These companies have a set of skilled and in-house trained virtual assistants who are a perfect fit for businesses. You just have to share your requirements and the task that you want them to do, and you can get a virtual assistant on board within 24 hours.
Moreover, if you hire a virtual assistant from Wishup, you don't have to spend any buck training them because they are already trained.
Isn't it great? Just imagine how much money you can save!
Choosing the right method to hire a virtual assistant depends on your specific needs, budget, and time constraints. But if you're looking for a cost-effective and efficient option, virtual assistant services are the best choice.
What makes Wishup the best platform to hire an Excel virtual assistant?
Wishup can help you find your perfect fit as a virtual assistant at $9/hour. But there are more reasons why you should hire a virtual assistant from Wishup.
1. Top-notch talent
Our virtual assistants are selected from the top 1% of all applicants. We have a rigorous selection process to ensure that we only hire the most qualified and experienced candidates.
With top-notch talent working for you, you can trust that experts are handling your tasks.
2. Happy and satisfied clients
We have a 4.8 average service rating, and numerous client testimonials attest to our excellent services to over 500 business owners.
Our virtual assistants are dedicated to delivering high-quality work and ensuring that our clients are satisfied with the results.
3. Efficient delegation

Our virtual assistants are trained in over 70 tasks, 200+ skill sets, and are proficient in multiple tools like Asana, Trello, Monday.com, Mailchimp, Zoho CRM, Freshbooks, Wrike, and Todoist. Therefore, you can delegate your tasks directly to them without wasting time explaining how to use a specific tool.
With their expertise, they can handle your tasks efficiently and effectively.
4. Time is money
Our virtual assistants are pre-vetted and pre-interviewed, meaning you can get to business quickly. This saves you time that you can use to focus on the growth of your business.
With our virtual assistants handling your day-to-day tasks, you can concentrate on more critical aspects of your business.
5. Data security
We understand the importance of privacy and confidentiality, and we take all necessary precautions to ensure the security of your data. This is because our virtual assistants undergo thorough background checks, and we require them to sign NDAs before working with clients.
We do this so that your sensitive information is in safe hands.
Keep your data organized with a Virtual Assistant
Microsoft Excel virtual assistants are an indispensable resource for businesses looking to optimize their operations and take advantage of the latest technological advances. If you're seeking one, look no further than Wishup!
Our virtual assistants' expertise, flexibility, and cost-effectiveness offer a comprehensive and tailored solution to the Excel-related challenges faced by businesses like yours today.
To test our virtual assistance services, schedule a free consultation or drop a mail at [email protected]  today.