Do you forget important tasks and meetings frequently? Are you missing crucial deadlines often?

These are the signs you need to hire a virtual assistant!

But, how can a virtual assistant help you?
Also, are they equally efficient and valuable as in-person assistants?
Where to find a virtual assistant?
How much do they charge?

It won't be surprising if these questions pop up in your mind every time someone tells you to hire a virtual assistant.

Well, we've got the answers right here.

This blog focuses on why virtual assistants are a high value-add for your business and how you can hire a virtual assistant for task reminders.

Why should you hire a virtual assistant for task reminders?

First, entrepreneurs always want to save or cut down their budgets from one place to allocate them to other essential things. And in this effort, they often prefer not to hire a virtual assistant, especially for a micro-task like task reminders. Secondly, many tools and apps like Google Calendar allow users to set reminders for free.

So, what could be the reasons to hire a virtual assistant?

Not missing out on important meetings
Have you been in a scenario wherein you took time out to remember all the tasks and meetings you have and set reminders for them diligently, only to realize later that you forgot to put a reminder for an extremely important event?

It happens to all of us at some point due to the multiple thoughts zooming through our minds on any given day. To avoid such scenarios, you can hire a virtual assistant to set all your reminders and follow up with you on the important ones.

Avoid recurring tasks
Recurring tasks can take up a significant part of your day, leaving you with very little time for meetings and other essential tasks. Would you rather spend time on a recurring task when you already have a tight schedule to deal with?

According to a report by the Asana Anatomy of Work index, individuals spend 60% of their time on recurring and unproductive tasks. You can use the time you save to grow your business, while your virtual assistant can take responsibility for everything that is important but does not require your attention.
Missing a client interaction = loss of client
Forgetting about a client meeting can cost you more than you think:
It leaves a wrong impression, regardless of how long you serve the client.
Most clients find this offensive, and you may lose them if you miss a meeting.
It is not uncommon for entrepreneurs to have multiple engagements at a particular time slot.
When a virtual assistant makes your daily schedule and sets reminders for you, they keep the most critical engagements on top. That way, you won't miss out on all your important meetings.

Big help managing your hectic schedules
Managing time is the biggest challenge for small business owners. There are weeks when they can't find time to set a proper schedule and reminders for important tasks they need to attend to. Things can get complicated for entrepreneurs as their schedules can go haywire. Virtual assistants can help you avoid such situations on hectic and regular days.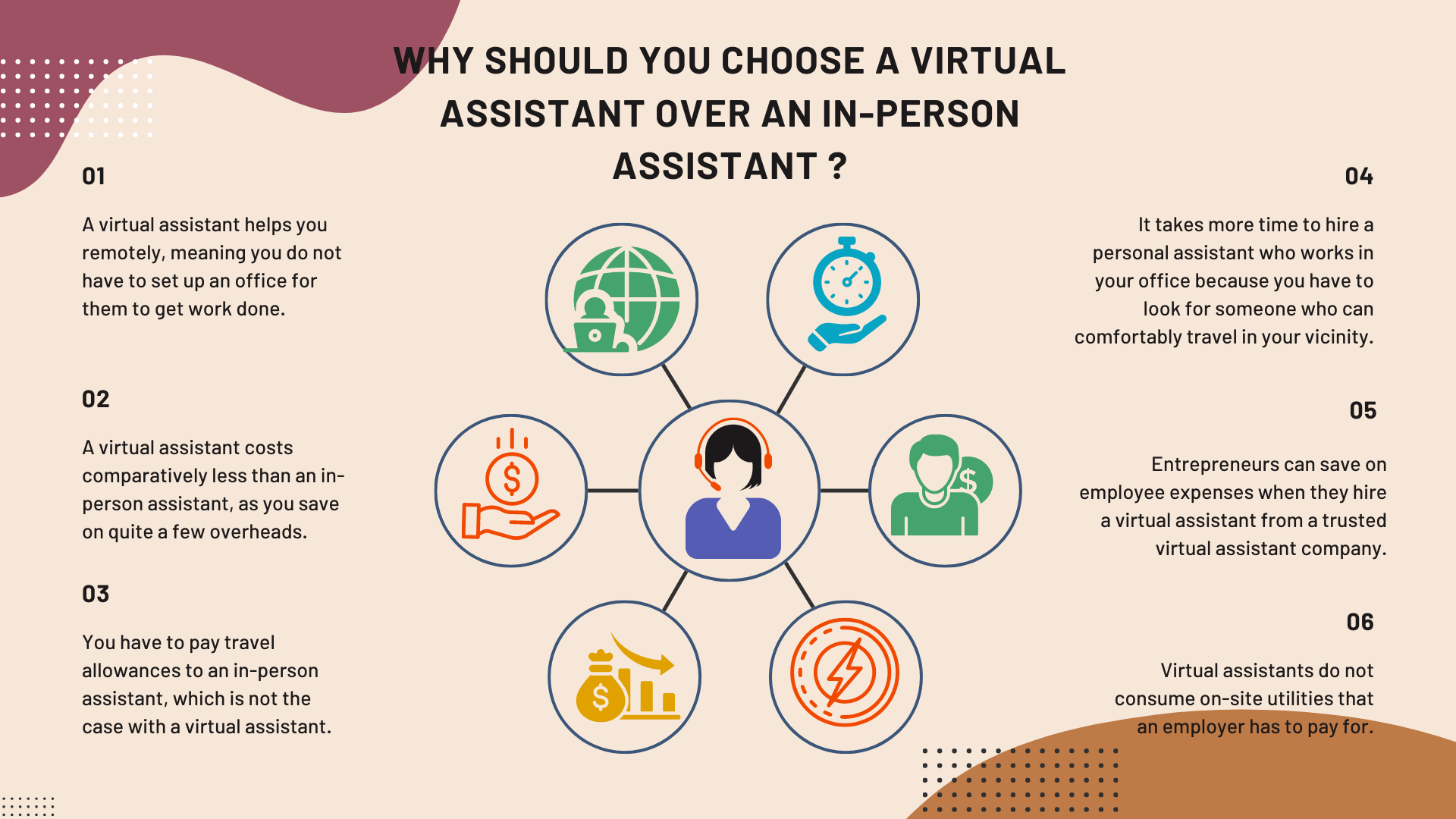 Credit: Canva
Why should you choose a virtual assistant over an in-person assistant?
Many startup founders feel that an in-person assistant is better than a virtual assistant. That is not true.
An in-person assistant requires complete infrastructure to work. A virtual assistant helps you remotely, meaning you do not have to set up an office for them to get work done.
A virtual assistant costs comparatively less than an in-person assistant, as you save on quite a few overheads.
You have to pay travel allowances to an in-person assistant, which is not the case with a virtual assistant.
It takes more time to hire a personal assistant who works in your office because you have to look for someone who can comfortably travel in your vicinity.
Entrepreneurs can save on employee expenses like insurance costs, rent allowances, etc., when they hire a virtual assistant from a trusted virtual assistant company.
Virtual assistants do not consume on-site utilities that an employer has to pay for. Plus, they use their device and network connection, making working more convenient for entrepreneurs.

You can notice that when it comes to saving your resources and funds, a virtual assistant aces the job. For those wondering about the productivity of a virtual assistant or remote workers, in general - studies show that professionals are more productive during remote work than in the office.

A second consideration is how comfortable you are working with a virtual assistant. Now that can be a real problem. Some individuals feel more comfortable with in-office assistants than virtual ones. The reason can be communication. You have to delegate tasks to your virtual assistant through phone, slack, text, mail, or call, while an in-office assistant can directly connect with you when needed.
However, this also means that in-office assistants can disturb you anytime they want, while virtual assistants usually keep a standing meeting for a fixed time when they start the day. They ensure to keep all the questions ready that they need to be answered to work for the day smoothly. It is the efficient use of time for both parties involved.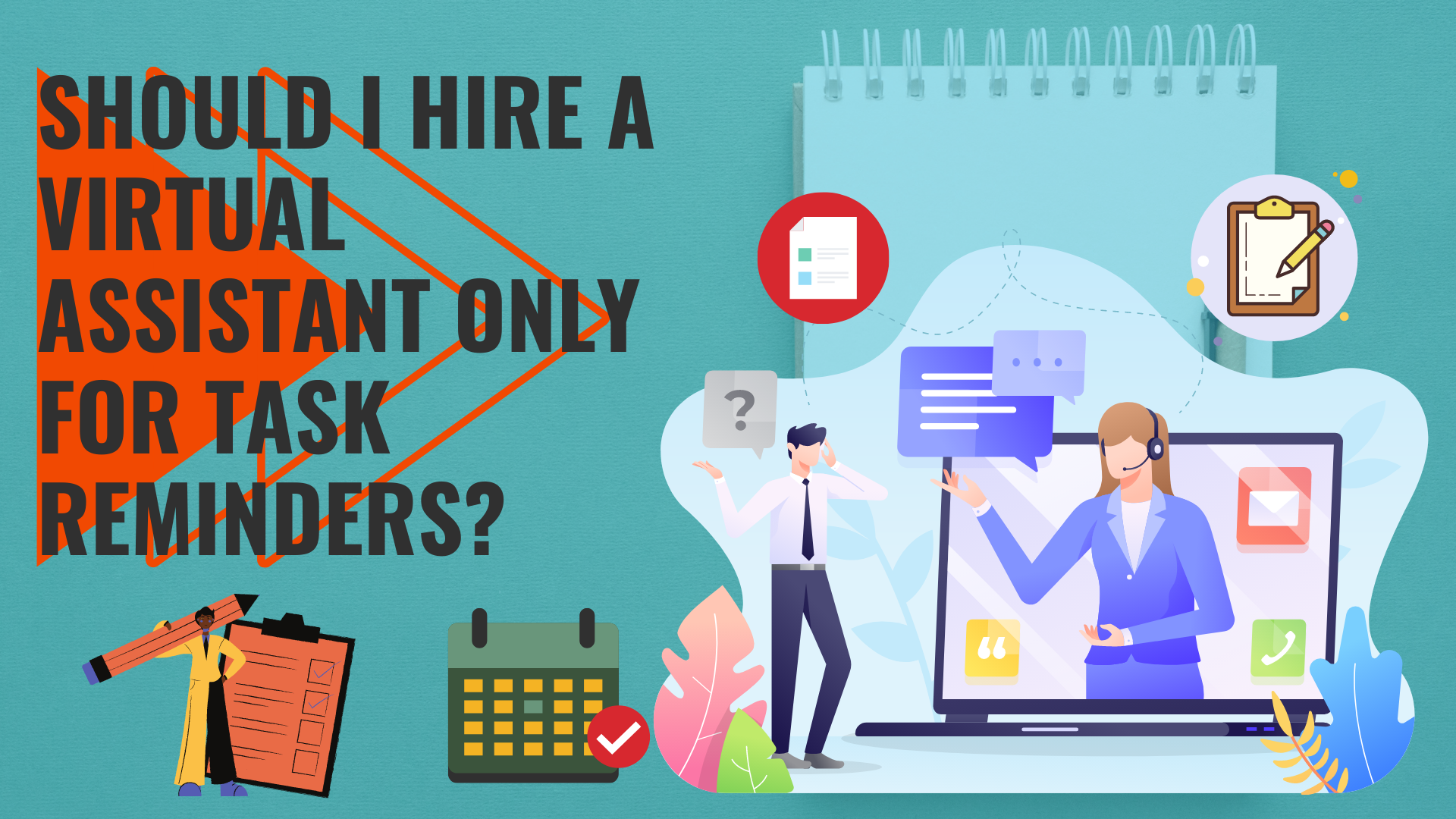 Credit: Canva
Should I hire a virtual assistant only for task reminders?
Every entrepreneur will ask this question because it seems incorrect to hire a virtual assistant only for one task, and that too task reminders. But, here are some other benefits of hiring a virtual assistant or task manager.

Virtual assistants can handle multiple tasks: Be it inbox management, preparing a daily to-do list, or task reminders, you can trust a virtual assistant to manage it all. They can even do complicated tasks like yearly renewals and managing intellectual property rights.

Virtual task managers are quick to solve problems: There are situations when entrepreneurs have to rush to attend to something immediately. In these cases, they need someone to handle their other daily tasks. Who better than a virtual assistant who knows your business and can smoothly handle the responsibilities for the day.

They save you from burnout: One in three small business owners have to deal with depression in America. There are no fixed working hours for small business owners. Sometimes the pressure to grow the business gets excessive, especially when other investors are involved. Hiring a virtual assistant is an intelligent way to reduce your workload and consequent burnout.

Task managers can instantly take charge of ad-hoc tasks: Ad-hoc or temporary tasks can get tiresome because you do not always see them coming, and they disturb your routine. Things like preparing the lists for a particular thing, coordinating with a professional for a project, etc., are tasks that come up once in a while. Task managers can do them for you while getting your input whenever required.

Virtual assistants can free up your bandwidth: virtual assistants take hold of recurring tasks that include setting up meetings, taking notes, preparing reports, planning events, and more. When so many tasks are off your plate, you can focus on growing the business better. Also, as mentioned above, recurring tasks can take a majority of your time, leaving less time to invest in key business areas.

Get help with lead generation: not generating sufficient leads is a challenge that almost every entrepreneur faces. An experienced virtual assistant can help you generate more qualified leads and increase your conversion rate.

They can handle customer relationships: Early-stage startups and small businesses must have a solid bond with their clients. Client retention is more economical than client acquisition. And according to Hubspot, "businesses can grow revenues between 4% and 8% above their market when they prioritize better customer service experiences."

Virtual assistants can take customer queries, help proceed with a complaint call, take feed from customers, etc. They can even assist with detail-oriented tasks like making a list of potential clients and sending them emailers about new products or services. These things can push your business growth and improve brand reach.

Build social media with a virtual assistant: Unless you live under a rock, you must be aware of the importance of social media, especially in industries such as real estate or FMCG.

A virtual assistant can boost your social media presence multifold. They can pitch in new ideas, research the content, make a posting schedule, reply to comments, handle DMs, make creatives, and do much more. Social media recently scored better than paid search as an advertising medium, showing a 25% year-on-year increase. These numbers suggest how vital a social media virtual assistant is for small businesses.

Grow with a dedicated Online research assistant: Starting a new business is easy but expanding it without top-grade research is impossible. But, business research takes hours and can be a struggle for busy business owners. That is where a virtual assistant can help you with your sharp online research skills.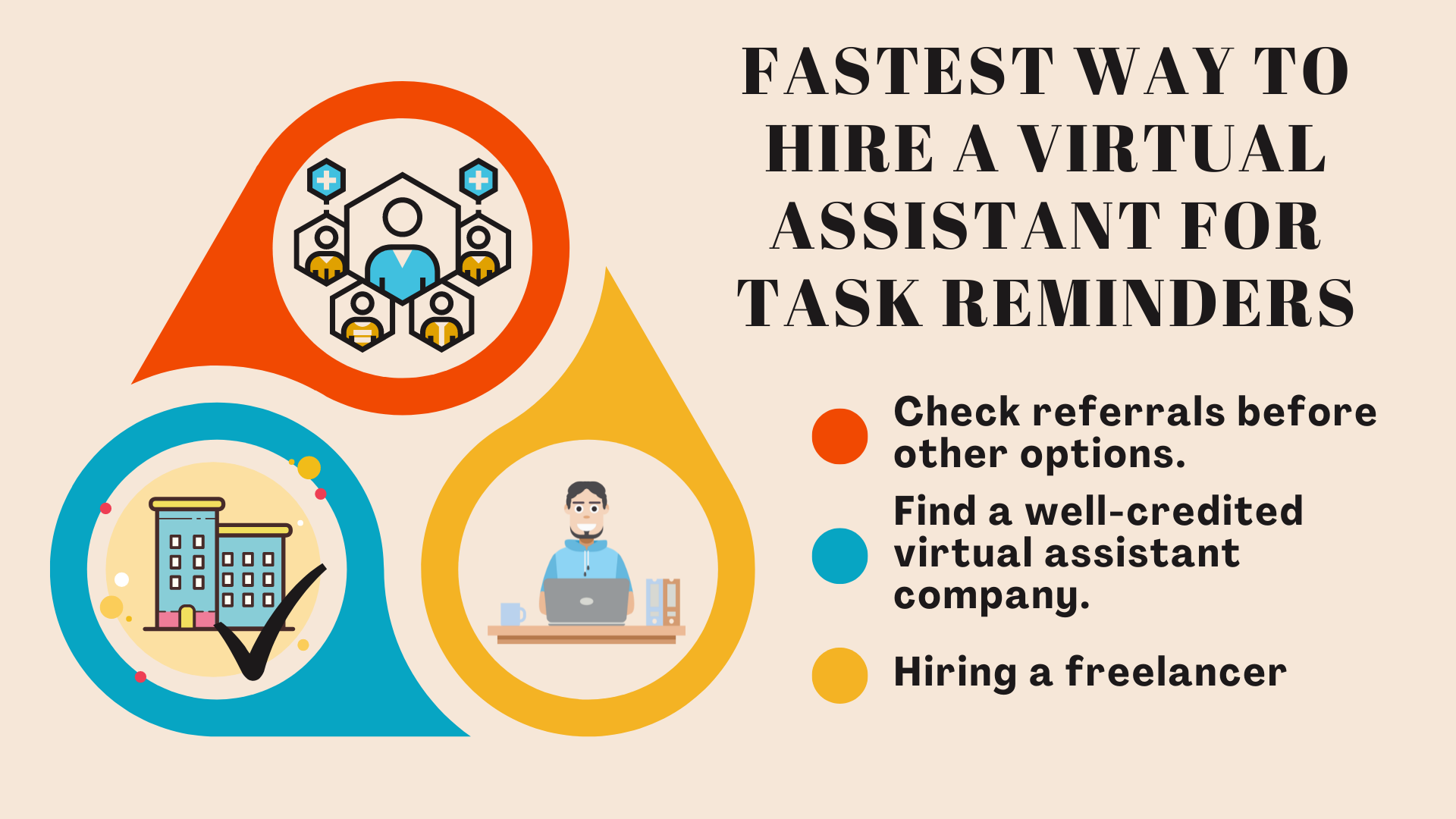 Credit: Canva
What is the fastest way to hire a virtual assistant for task reminders?
There is no one answer to this question. If we talk about recruiters, they have different channels to hire a professional. And you can try what full-time recruiters do if you do not have a dedicated hiring manager in your company. Here are some options.

Check referrals before other options.
For many recruiters, using the current network to find an assistant is effective. For example, you can advertise a position on LinkedIn, use Facebook groups, or even manually search for applicants based on the necessary skills. You can also approach other business owners or former coworkers for recommendations.

If you are more precise, people will understand what you require and send better referrals. You can include your business's nature and your job expectations with your virtual assistant. Also, be aware that this hiring procedure typically requires time.

Find a well-credited virtual assistant company.
Approaching an established virtual assistant company is one of the fastest ways to hire a virtual assistant. Virtual assistant companies such as Wishup make hiring easy for business owners. You can book a free consultation here or mail us at [email protected] to hire a virtual assistant in less than 24 hours.

Virtual assistant organizations understand the business requirements of entrepreneurs. Therefore, they provide effective and quick hiring solutions.

Independent contractors and freelancers choose their working conditions and compensation. The prices are calculated per hour or project. Through freelance marketplaces, contractors can present you with their work. Then, in response to your job posting, people will respond with information and rates. You might come across many qualified freelancers, but it might take a while to look through every profile and select the best candidates.

You might not even be able to find a freelancer within your price range with the desired skill set. But, there is no set standard price, so this could cost you more.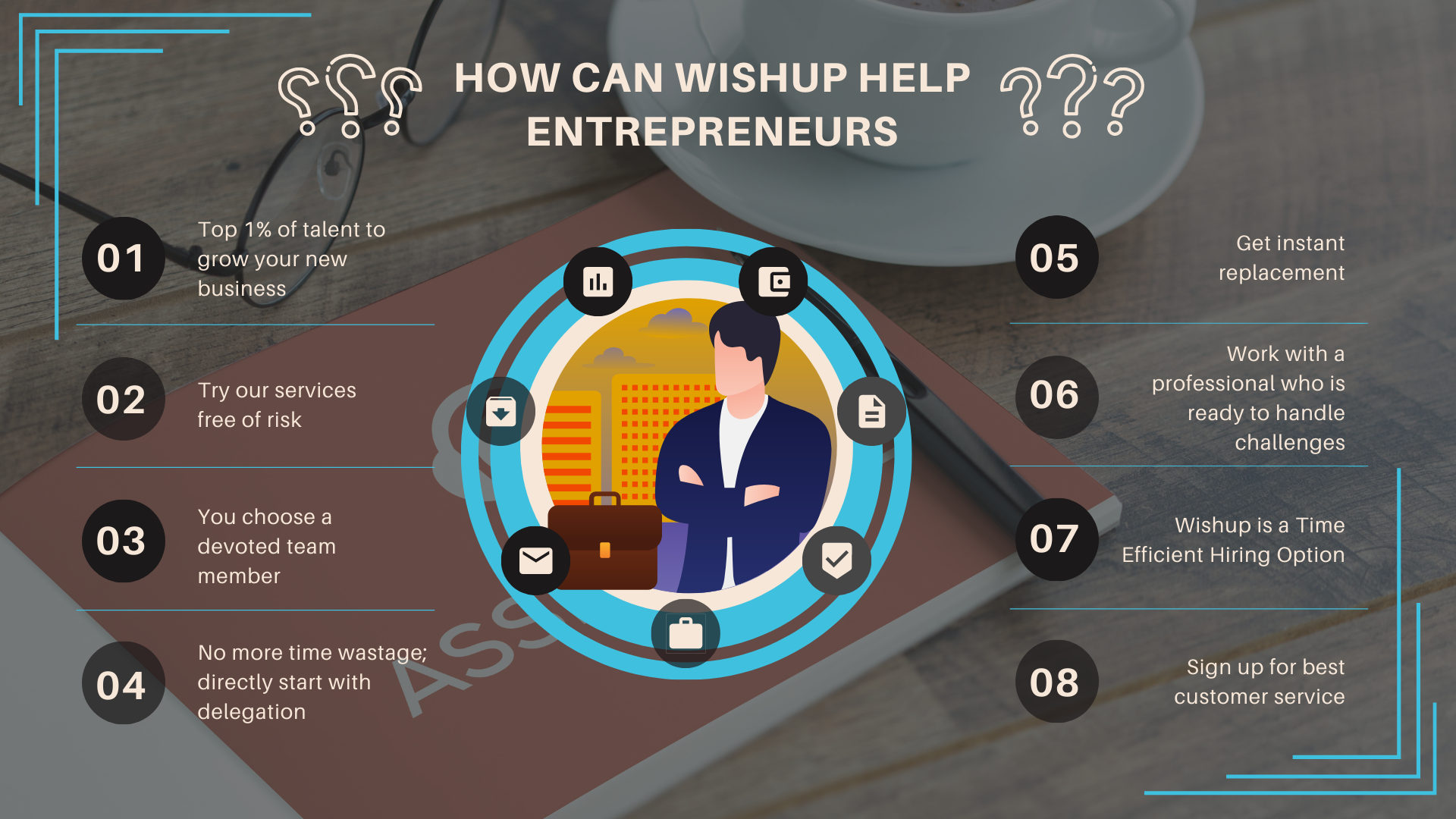 Credit: Canva
How can Wishup help entrepreneurs?
For starters, you can hire a virtual assistant from Wishup starting at $1800 a month. That is a reasonable deal for all business owners who cannot afford to hire an expensive full-time employee. But is that the only reason why you should choose Wishup? Apparently, not. Below are some advantages of hiring from Wishup.
Top 1% of talent to grow your new business: Out of all candidates, Wishup only chooses the top 1% to work as virtual assistants. It means you can be sure you are working with top-tier talent.

Not sure about us? Try our services free of risk: An important benefit of working with Wishup is the company's risk-free trial period, which includes a 15-day money-back guarantee with no questions asked. Virtual assistant businesses typically concentrate on selling their services, but we put our clients first.

You choose a devoted team member: Our devoted virtual assistants collaborate with you as part of a team. That sets Wishup virtual assistants apart from other virtual assistants; they go above and beyond to give clients the best support.

No more time wastage; directly start with delegation: You must give a regular virtual assistant enough time to learn the necessary tools and skills when you hire them. However, our virtual assistants are skilled in more than 200 tasks and a variety of software programs, including Zoho CRM, Asana, Mailchimp, Trello, Wrike, Monday.com, Freshbooks, and Todoist. So when you hire our virtual assistants, you can skip the waiting around and get right to the delegation.  

Get instant replacement: It goes beyond a trial that carries no risk. If you want to upgrade your virtual assistant, you can request a replacement. We will do that gladly.

Work with a professional who is ready to handle challenges: Developing a startup is difficult, but our virtual assistants are ready to face any difficulties and help your business advance. For managing real estate lead generation, financial reporting, accounting, etc., as just a few examples, you can hire a virtual assistant.

More than 1000 happy clients: With the trust of over 1000 satisfied customers, our work does the talking, so we do not have to. Client testimonials and case studies demonstrate our development as we serve more than 1000 clients.

Wishup is a Time Efficient Hiring Option: Wishup's fast onboarding, pre-vetted, and pre-interviewed virtual assistants can save you enough time to concentrate on the important areas of business expansion.

Sign up for best customer service: From the first consultation to onboarding a virtual assistant, Wishup managers stay with you to keep you updated. We ensure that communication is maintained and clients do not have to go through any difficulties at any step.

The way to scale a business goes through many crucial business-related decisions and processes. Hiring a virtual assistant is one such decision. The earlier you take it, the earlier you can start growing your business.

Wishup can channel your growth by providing ace virtual assistant services. So whether you are looking for a task manager, virtual calling assistant, scheduling assistant, or calendar assistant, we are happy to help!

Mail us at [email protected] to schedule a free consultation, or click here to hire a virtual assistant!
Subscribe to Wishup Blog | Remote Teams | Remote Employees
Get the latest posts delivered right to your inbox