Are you a small business looking for help to streamline operations, manage tasks and admin duties, or provide assistance with marketing?

For entrepreneurs, managing a small business can be pretty daunting. There is much to do – dealing with customers, paperwork, and finances to staying up-to-date with the latest trends and technologies. As per the latest stats, 30% of consumers rely on influencer recommendations in their purchasing decisions, much more than the 27% of people who rely on their friends and family.
Influencers frequently have a ton of work to do. For example, to keep engagement rates high, they frequently need to produce a video or other content after the ideation stage, edit it, and then respond to user feedback. It's almost impossible for one person alone to juggle all these tasks simultaneously.
Due to its increasing popularity and incredible capability, the AI model is set to make a whopping $200 million in 2023 and around $1 billion in 2024! Virtual Assistants are often mistaken to be same as AI, lets learn more about it.

A small business virtual assistant may be the perfect solution.
In this article, let's explore the benefits of hiring a virtual assistant for small businesses and the list of best platforms.
Who is a Virtual Assistant?
Virtual assistants work remotely from their home office and can offer valuable services, such as managing calendars, scheduling appointments, and responding to emails. However, the role has expanded beyond simple administrative tasks, and today's online personal assistants often possess various skills, from social media management to graphic design. But you can't do everything yourself!
You need an expert to manage your leads efficiently so that you can focus on the bigger picture. It works much like nurturing leads with a Sales CRM. 80% of consumers are more likely to purchase when a hyper-personalized campaign has been created. So yes, you are more likely to receive a response from your leads when you send them personalized emails.

With years of experience as administrative executive assistants or office managers, executive virtual assistants can launch their careers in new directions by taking advantage of emerging opportunities.
Here are the tasks performed by virtual assistant small business:
Manage and organize the owner's email inbox, responding promptly to important messages and forwarding non-critical ones to a designated folder.
Schedule appointments and meetings on behalf of the owner, sending out invites and reminders as needed.
Conduct basic research on industry trends and competitors, providing insights and recommendations to the owner.
Monitor and update the business website, ensuring all information is accurate and up-to-date.
Process and manage the owner's expenses, regularly tracking receipts and submitting expense reports.
Coordinate travel arrangements for the owner, including booking flights, hotels, and rental cars.
Assist with basic administrative tasks such as preparing documents, organizing files, and completing paperwork.
Manage the owner's task list and reminders, prioritizing all deadlines and important tasks.

The growing demand for virtual assistants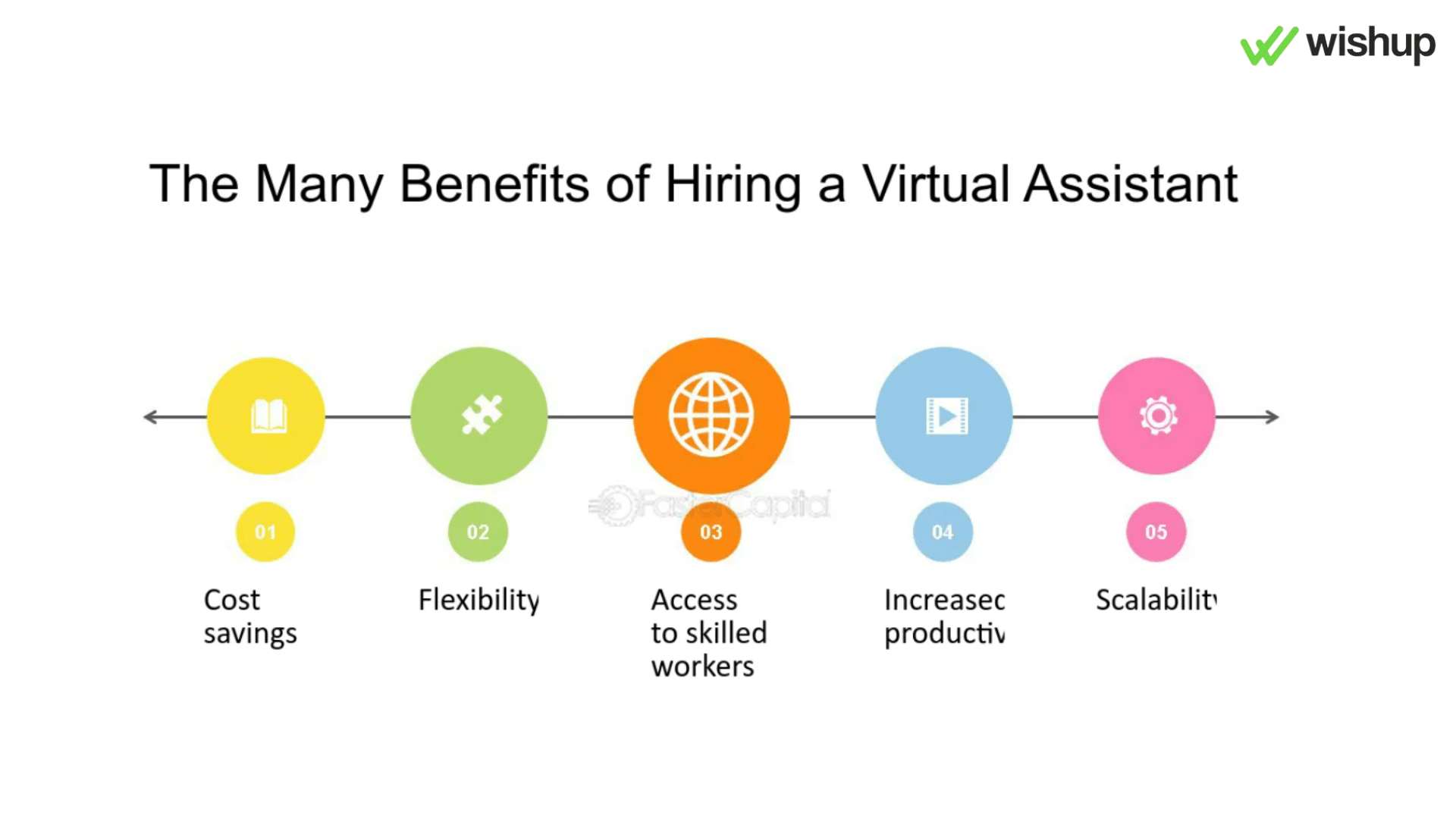 According to some of the recruiting and staffing firms based in the US, most of the business inquiries they receive nowadays are for part-time remote assistants who can work from home.
That is in keeping with the growing trend among small businesses to lower overhead costs to be competitive while still offering their full range of services.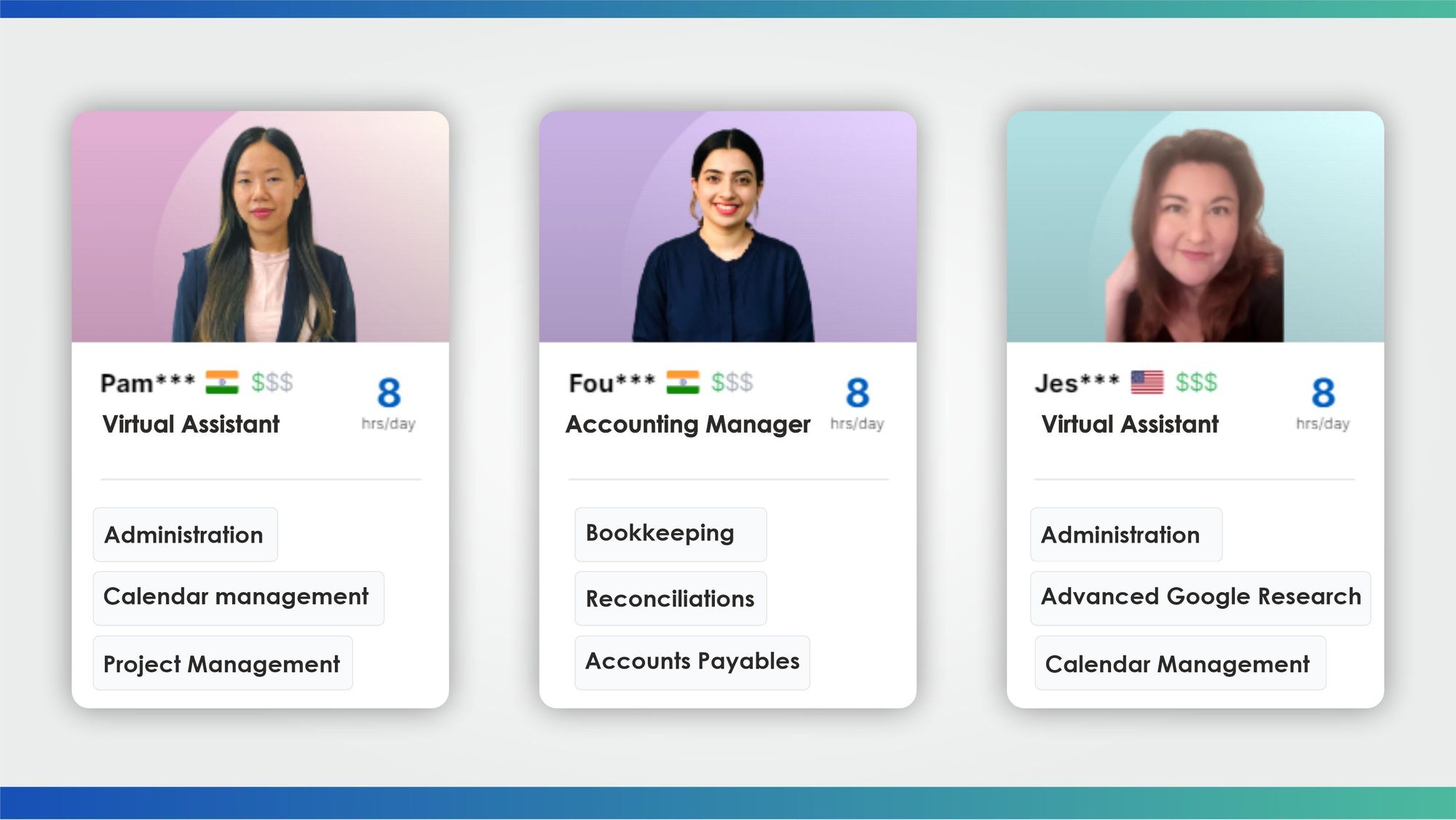 How virtual assistants help a home business

Some of the ways virtual assistants can contribute to the growth of your business are;
Answering calls and replying to emails
According to a survey conducted by Adobe, Americans spend almost 3 ½ hours checking their work emails daily. That is time you can use constructively and for growing your business.
When it comes to calls, they, too, can take up a significant part of your workday. From general inquiries to telemarketers selling a new product, your entire workday can be flooded with calls, leaving you with no time to handle anything else.
Delegating both these tasks to a virtual assistant can be a huge time saver and help you run your business more efficiently.
Monitor your social media profiles
Delegating the management and monitoring of your social media profiles to a virtual assistant is a great way to stay connected with your business. You can also monitor the competition and know what customers say about you.
Manage your schedules
As a growing business owner, there is a limit to how much you can achieve in the time available daily. Having a virtual assistant manage your work timelines, confirm and decline appointments and keep you updated on the latest meeting schedules will help you be more organized.
Professional and efficient virtual assistants for small businesses will ensure that you attend only key meetings and avoid those that may not be important to your business.
Maintain your book of accounts
Knowing how the business is doing, accounting for all expenses, and preparing future projections can help you be focused and keep the business in line with your expectations.
Luckily, this is one of the tasks that can be delegated to your virtual assistant, provided he has some basic knowledge and expertise in bookkeeping.
Create social media marketing campaigns
Home-based business owners can consider hiring a virtual assistant with the skills and experience in creating marketing campaigns on different social media platforms.
Virtual assistants can create content and social media posts related to your products and special offers and even share news updates about your company.
By using social media tools and scheduling calendars, virtual assistants can ensure a constant presence for your brand on social media. This can increase awareness about your brands and the products you offer.
Some virtual assistants are also experts in generating business leads, which can boost your business's revenue.
Providing customer support
In the initial days of a home business, it is necessary to reply to customer queries and resolve customer doubts about your products at the earliest.
Sometimes no matter how good the service or product you provide, there may still be complaints from a customer that could escalate into an issue if not handled quickly and sensitively.
In both these scenarios, a virtual assistant can play a significant role in providing timely customer support and ensuring satisfaction.
Thanks to the training they receive from their agencies, they can respond efficiently, within the guidelines provided, and ensure the resolution of the query or problem at the earliest.
Virtual assistants can also coordinate and monitor shipment deliveries to ensure product shipments reach customers within the delivery timelines.
Factors to consider while hiring a virtual assistant for small business and home businesses
Given all the diverse reasons why hiring a virtual assistant for your home business makes immense business sense, we are sure you'd like to know more about the factors you should consider while hiring one.
Freelancer v/s agency hire
Home businesses usually have one of the questions when hiring a virtual assistant whether they should opt for a freelancer or hire one through a virtual assistant agency.
Hiring a freelancer may seem less expensive, but it could be more costly in the long run. That is due to freelancers needing to be more reliable in some cases and being prone to changing assignments in favor of whoever pays the top dollar.
On the other hand, Agencies are more reliable and consistent in their services as they have a reputation and brand image to maintain.
Some professional virtual assistant agencies, such as Wishup, also ensure that the virtual assistants are well-trained and equipped with the latest VA tools & skills. This way, they can manage their tasks more efficiently than freelancers.
Hiring one virtual assistant for all tasks v/s hiring specialized virtual assistants for different tasks
Virtual assistants provided by agencies can handle and manage various tasks. Hiring a single virtual assistant should be good enough for a small home business.
However, regarding tasks related to bookkeeping and social media management, or if you have a large business, hiring virtual assistants with specialized skills in those fields makes more sense.
Five best sites to hire a virtual assistant for small business
Wishup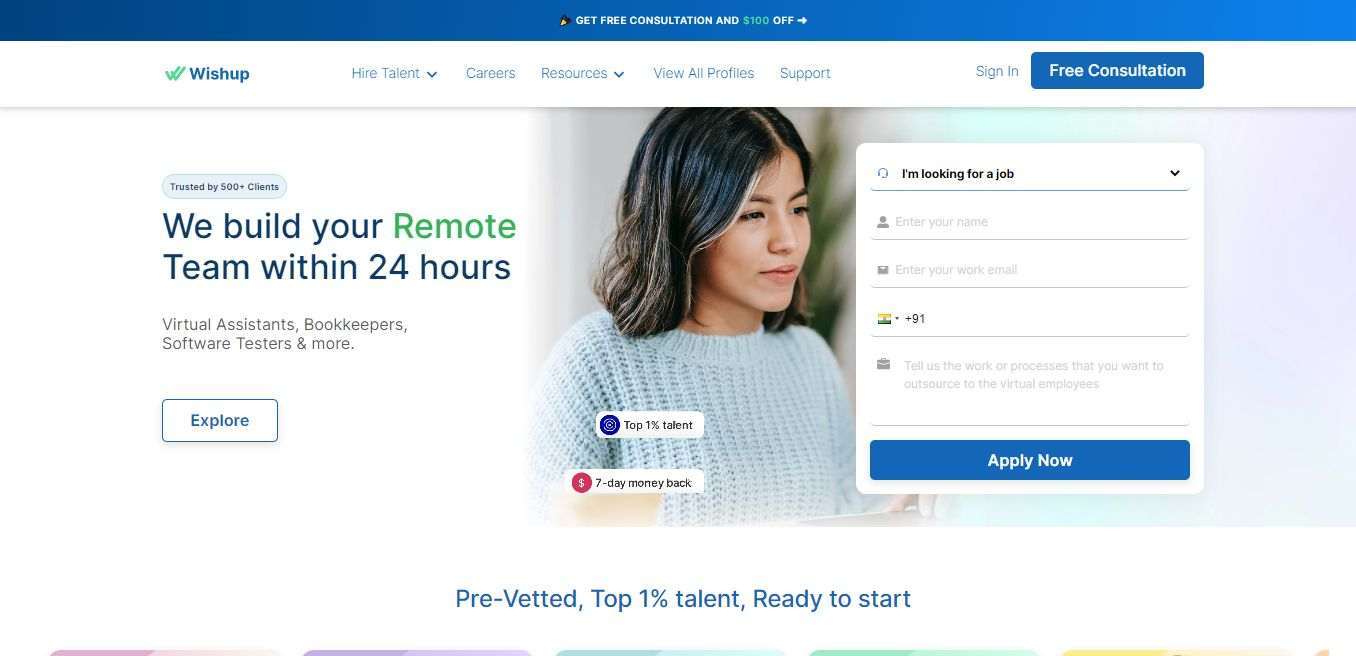 Wishup is a rising star in the world of virtual assistants for small businesses. Established in 2015 in India, our team of skilled assistants is dedicated to helping entrepreneurs and businesses of all sizes tackle daily administrative tasks efficiently.
By taking care of these essential but time-consuming duties, Wishup enables clients to focus their energy and resources on expanding their businesses. While our target customers are entrepreneurs and businesses, we work with clients from all over the world. With Wishup, you can trust that your business will receive the professional support it needs to thrive.
Pros & Cons
Wishup's virtual assistants will be invaluable assets in your remote workflow, from completing simple tasks to executing complex tasks.
Stay up-to-date with the progress of your duties and communicate directly to your virtual assistant through mobile app chat and feedback or ratings on their work, all from the convenience of your phone!
What makes Wishup stand apart from its competition is the convenience of its app, which provides customers with added utility and an additional channel for communication.
Services Offered
Research: All online investigations, such as contrasting products and costs with opponents, can be done. It also includes readying business sector reports and discovering new potential customers or purchasers, you name it.
Scheduling: Streamlining the process of scheduling meetings, keeping you apprised of important dates. It also includes collaborating with other colleagues and customers on your behalf and tracking leads for potential opportunities.
Travel: If you frequently travel, you understand how taxing it can be to find the lowest prices and most convenient times for your trip. That's where Wishup steps in! Their assistants are ready to manage your journey preparations, so you don't need to worry about anything.
Social Media: Establishing social media profiles, responding to inquiries, posting consistent updates, connecting with relevant accounts, and moderating user comments - all essential elements of successful online engagement.
Expenses: Streamlining expenses processes, updating reimbursements on a timely basis, compiling reports and invoices regularly, and issuing reminders when required - all of this can be easily achieved.
Inbox: Streamline your email inbox by creating rules, responding to emails automatically, and following up with recipients for maximum efficiency.
Pricing
1 Week Trial – $99 for 8 hours (approx $12.40 per hour).
Mini Assistant – $359 monthly for 30 hours (approx $12 per hour).
Quarter Assistant – $499 monthly for 45 hours (approx $11 per hour).
Half Assistant – $899 monthly for 90 hours (approx $10 per hour).
Full Assistant – $1,699 monthly for 180 hours (approx $9.40 per hour).
Zirtual

Zirtual is a premier virtual assistant company based in the USA that only employs college-educated US citizens as assistants. Whether you need regular help or support with specific projects, they have dedicated professionals ready to serve busy business owners like yourself.
Pros
Of the countless applicants, Zirtual only selects a mere 3%, who undergo an extensive four-week training process until they are ready to work with their first client.
There are no startup or initiation fees or long or short-term contracts - just a monthly subscription.
Cons
You'd need multiple customers to make a substantial income since they take 50% of the customer's payment.
Only used hours of purchase carry over to the following month.
Customer Service's sluggish responses to customer grievances are causing dissatisfaction.
Services Offered
Administrative tasks
Data entry
Market research
Cost comparisons
Scheduling social media
Website upkeep
Travel planning
Time Etc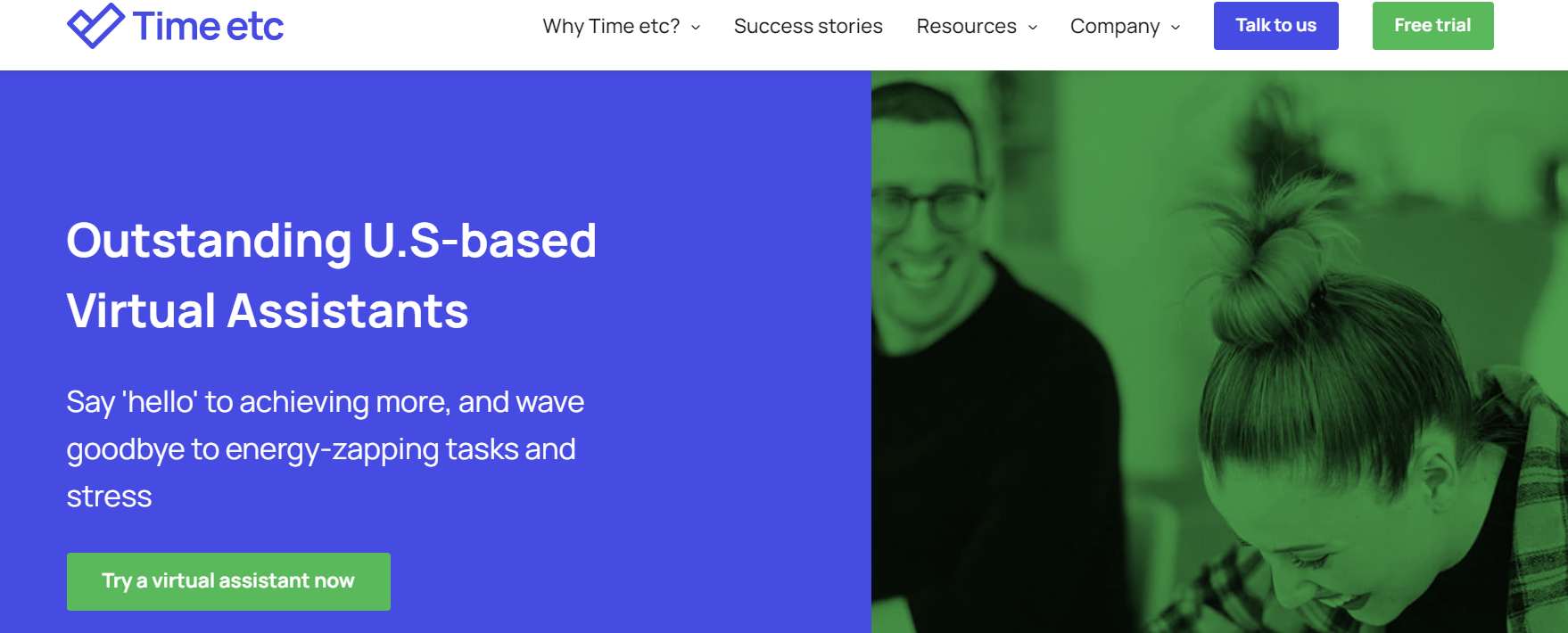 Time Etc isn't simply any virtual assistant company; it's the one that has been trusted since 2007. Not only is it based in the US and UK, but with over 1 million hours saved for its clients, Time Etc is one of the most dependable VA companies!
Pros and Cons
One of its main advantages is that they offer an incredibly personalized service with its highly trained employees. In addition, they also offer various services, from administrative assistance to marketing support.
The downside with Time Etc is that it only offers a little flexibility regarding the services you can choose from. It's also quite expensive, with most packages costing over $35 per hour.
Services Offered
Schedule
Email
Content marketing
Social media
Research
Social Media
Writing and blog posts
Sort your expenses
Prialto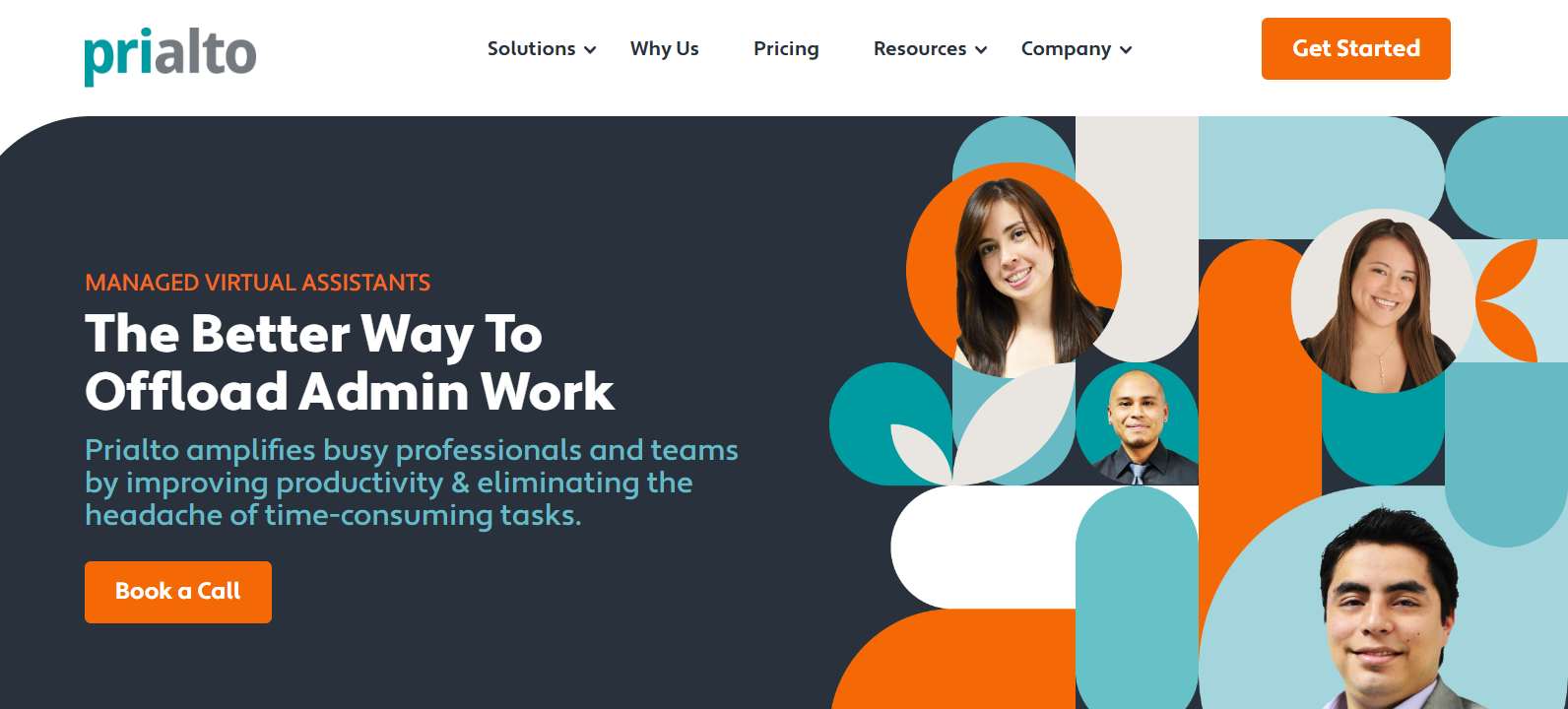 Prialto is based in Portland, Oregon, but with a global reach through our staff across Asia and Central America, we provide remote administrators to entrepreneurs, executives, and businesses. Their virtual executive assistant services are expertly compiled and overseen from headquarters.
Pros
Experienced and qualified staff based in the US, UK, and Australia
Variety of virtual assistant services to choose from
Flexible pricing structure to fit any budget
Cons
Service availability can be limited in countries outside the US and the UK.
Limited ability to customize VA packages.
Services Offered
Calendar management and scheduling
Website maintenance and updates
Document production and management
Back-office operations
CRM data management and cleanup
Fancy Hands

Founded in 2010, Fancy Hands is an esteemed virtual assistant company in New York City. Many people have personally attested to their superior service - they exclusively employ native-English speaking US-based assistants sets them apart from other low-priced outsourcing companies and makes them truly remarkable.
Pros
Utilizing Google Calendar to schedule events is free, and you can set up a credit card for your assistant to make purchases on your behalf.
To help you manage your large team, Fancy Hands TeamWork platform offers access to a distributed army of assistants.
Cons
The premium plans can be expensive, depending on the number of tasks you need to outsource.
Fancy Hands doesn't offer other services like web design which can be found in some lower-priced competitors.
Services Offered
Scheduling
Data entry
Finding hotels
Phone calls
Wishup for all your small business tasks!
With Wishup virtual assistants for small businesses, you won't have to. Instead, our multi-tasking experts can efficiently handle all your daily recurring tasks, allowing you to focus on what matters - growing your business.
From scheduling appointments to managing your inbox, our virtual assistants are skilled at efficiently handling all your admin tasks. And because they keep you updated on the progress of each task, you can rest assured knowing that everything is under control.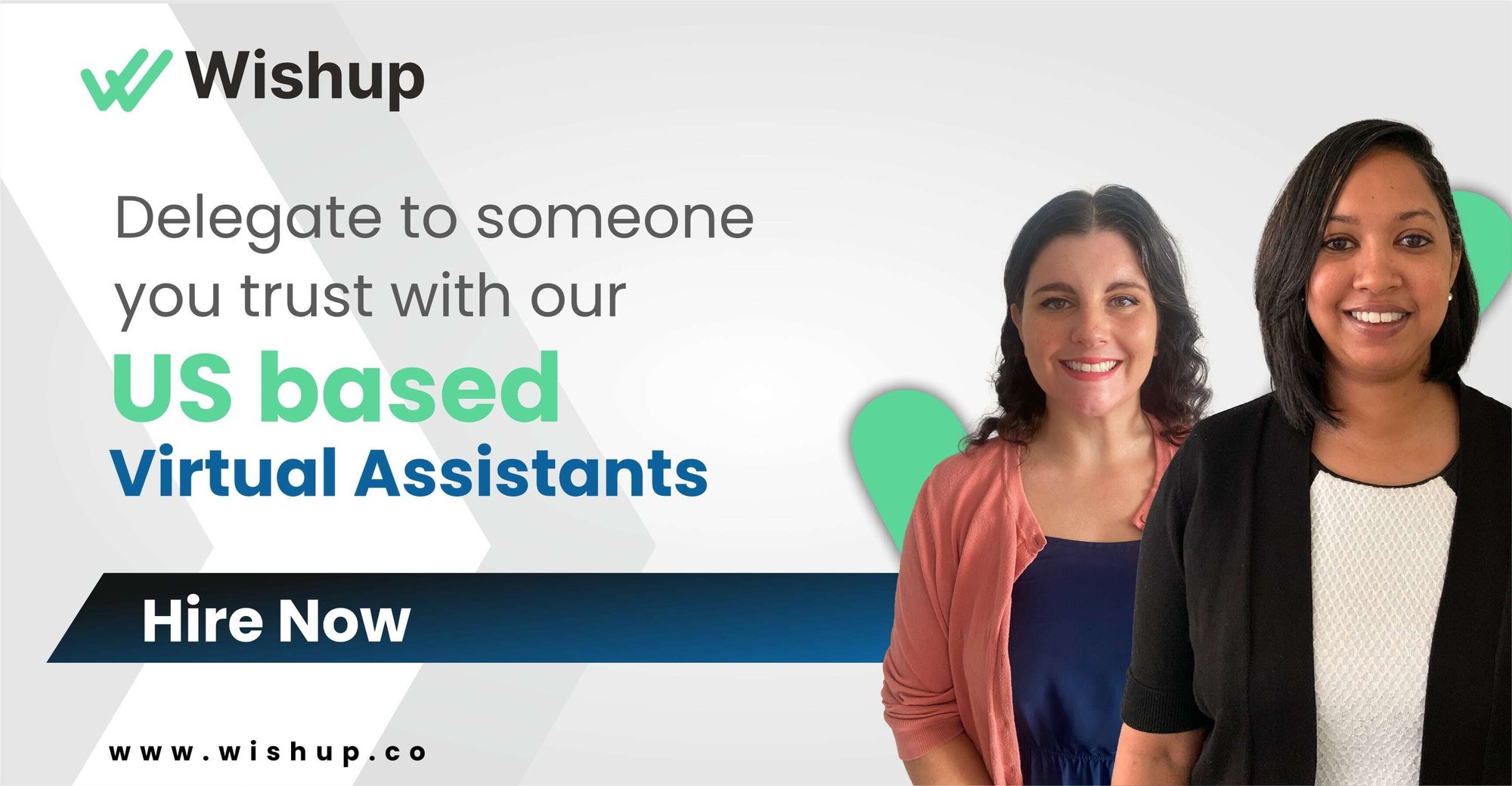 Conclusion
The possibilities for hiring a virtual assistant small business are endless. So don't be afraid of jumping right in! With the help of Wishup, you can find the ideal VA for your needs which can bring your business up to new heights.
Our team is here to make this easier for you, so don't hesitate to get the help you need by scheduling a free consultation with us today!
Every hour you waste is another hour your business could be succeeding. So let us make life a little easier for you; contact Wishup now or email [email protected]!
Virtual Assistant For Small Business FAQs
What does a virtual assistant do for a small business?
Virtual assistants can help with various tasks, such as answering customer calls, managing client projects, and responding to emails. However, their services may need to be improved if you need specialized or complex work done regularly.
How much does a virtual assistant cost for a business?
The cost of a virtual assistant for a business can vary significantly depending on the services needed and the workload. Generally, companies can expect to pay an hourly rate of $15-$30 per hour for basic administrative tasks such as scheduling appointments or making phone calls.
First, determine what tasks you need help with and what skills are necessary for the role.
You can post a job description on relevant job boards or websites.
Take the time to review resumes and conduct interviews to ensure you find the right fit for your business.
Remember to set clear expectations and establish communication channels to keep everyone on the same page.

Subscribe to Wishup Blog | Remote Teams | Remote Employees
Get the latest posts delivered right to your inbox