Virtual Assistant For Entrepreneurs: A Detailed Guide 2023
With the increasing number of startups emerging, entrepreneurs are on the constant lookout for good talent. This article explores the rise of the gig economy and virtual assistants.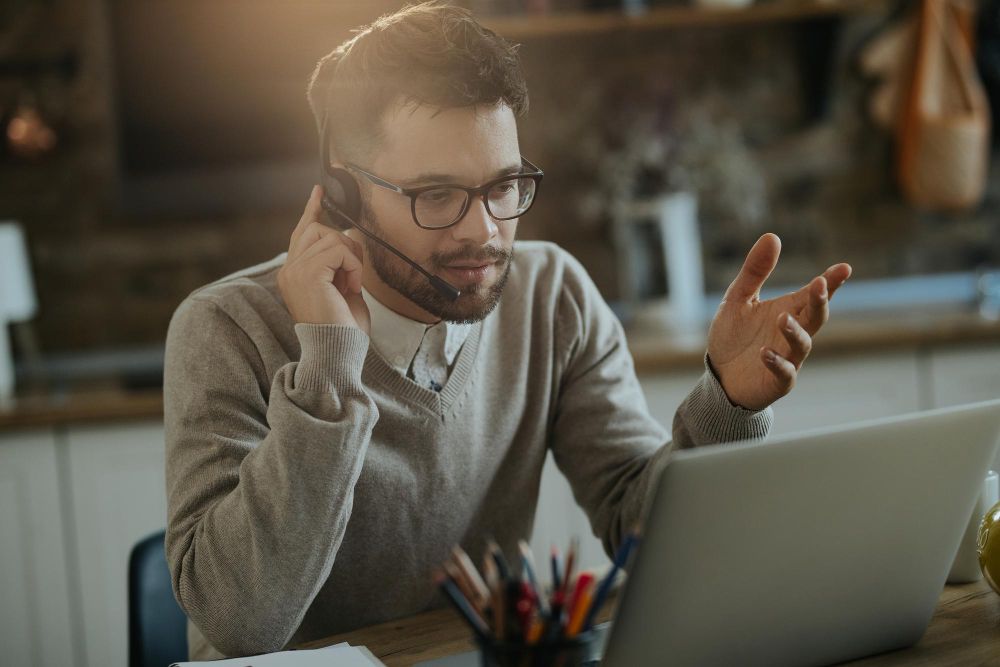 As a modern-day entrepreneur, you understand the importance of saving time while achieving success. With this in mind, hiring a virtual assistant has become widespread. It allows businesses to access professional help without spending more money or too much time.
Virtual assistant for entrepreneurs is an invaluable asset. They help them increase their productivity and efficiency without burnout from mundane tasks. In addition, you don't need to pay the high cost of hiring a full-time assistant.
This blog will provide entrepreneurs with information on what a virtual assistant is. It will also inform you about their tasks and how you can hire the best one for your business.
Let's dive in.
Virtual Assistant for Entrepreneurs Job Titles
Here are the most popular job titles for virtual assistants working with entrepreneurs:
Online Personal Assistant
Virtual assistants provide professional support to entrepreneurs. It includes managing their emails, scheduling meetings, arranging travel, and other tasks that can help save time.
Executive Assistant
It requires administrative and organizational services for entrepreneurs. It will include managing calendars, booking meetings, maintaining databases, and preparing reports.
Administrative Assistant
The role requires managing front desk operations and handling customer inquiries. It can also include coordinating with vendors and providing administrative support to the team.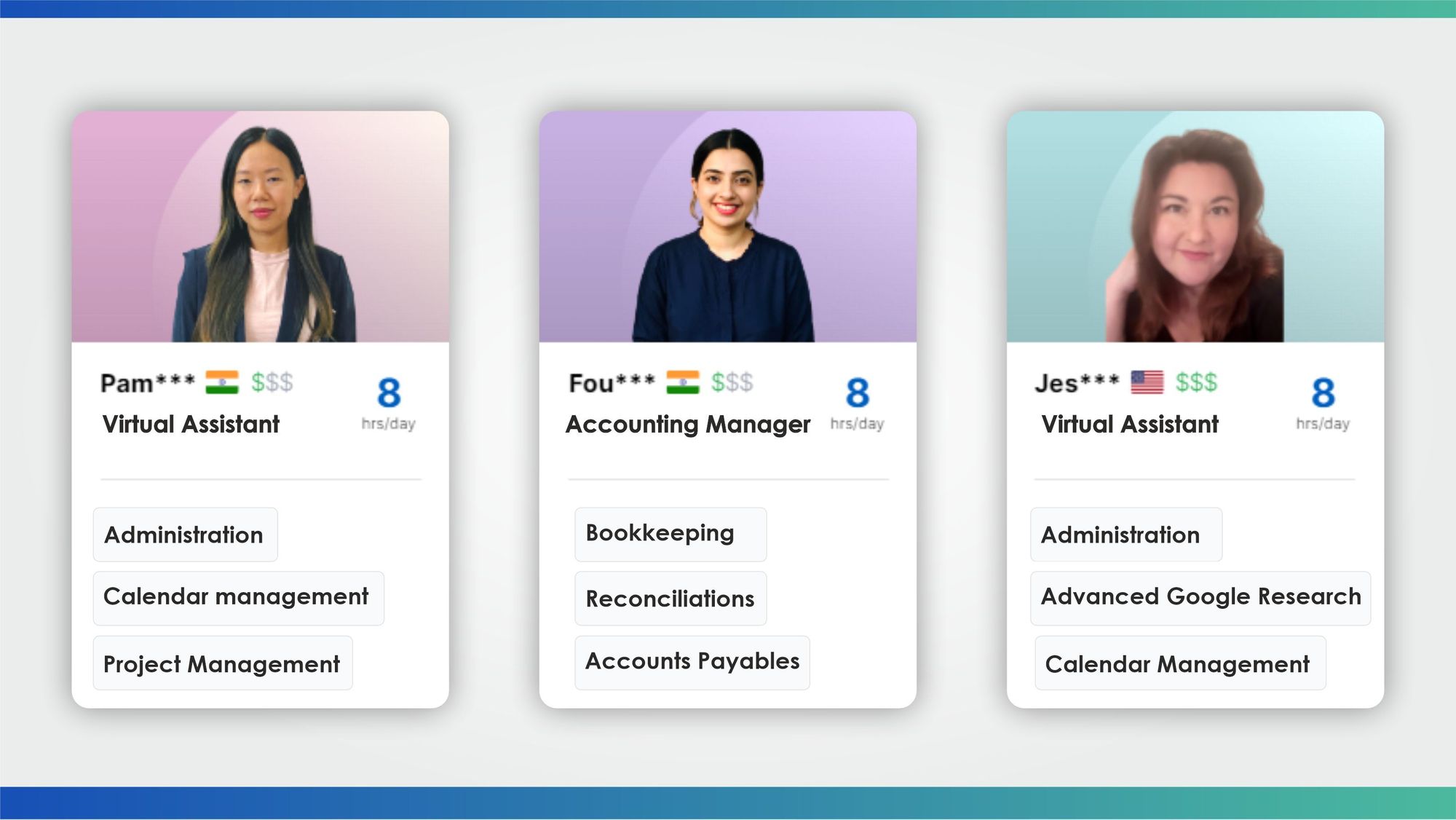 Virtual Assistant Needed for Busy Entrepreneurs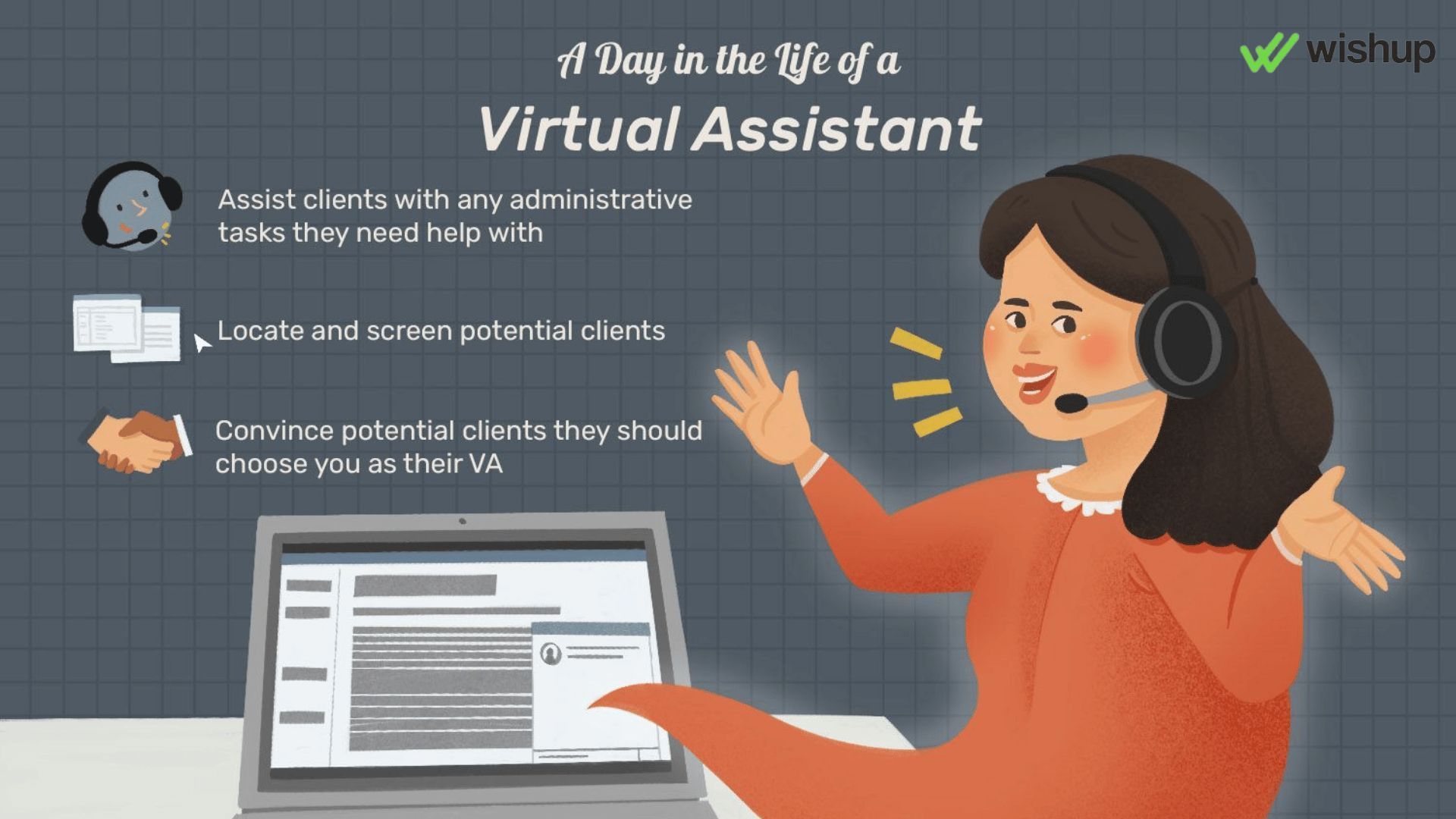 This role requires assistance from entrepreneurs who need help managing their business tasks. This may include ensuring the entrepreneur's emails are organized. They will also schedule meetings and provide reminders.
Real Estate Virtual Assistant
It requires providing administrative support to real estate brokers. It includes researching properties, preparing documents, and keeping track of listings.
It requires assisting in marketing activities, such as creating content for websites and social media. They can also prepare promotional materials and help to develop sales strategies.
Virtual Assistant Duties and Responsibilities
VAs provide various support services to businesses, from managing emails and scheduling appointments to creating marketing materials, researching information, and more. Let's see them with details:
Social Media Management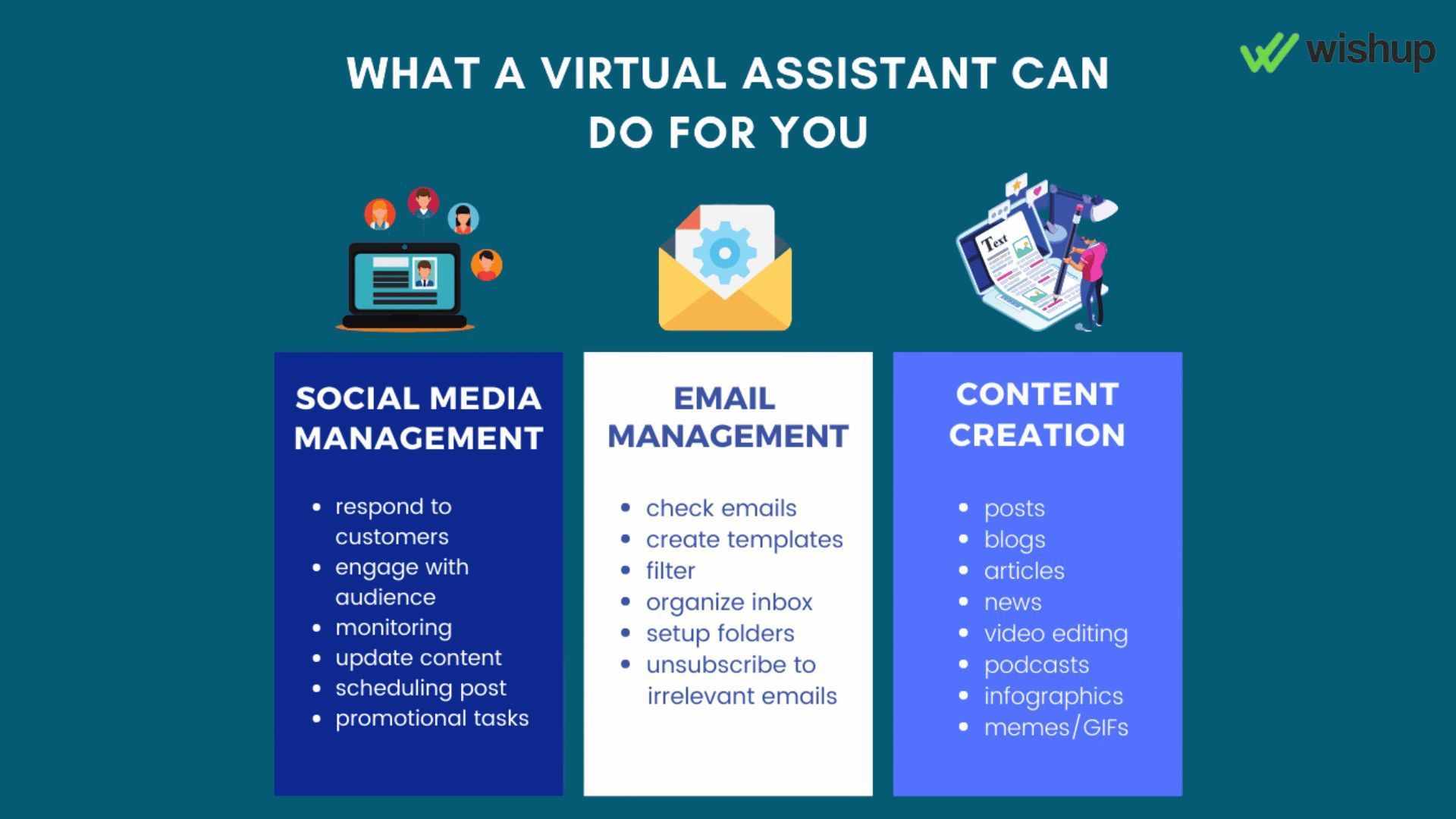 Va for business owners helps business manage their presence across various social media platforms. This can include creating posts, scheduling them, responding to comments and messages, increasing followers, and more.
Email Assistant
This includes sorting through emails to prioritize which ones need immediate attention, responding to customer inquiries, and more.
E-commerce
VA for startup can manage the customers of an online store. This could also involve writing product descriptions, processing payments, and communicating with customers.
Travel Management
Virtual assistants can help businesses with all aspects of travel management. This could include booking flights, hotels, and rental cars and arranging car services and restaurant reservations.
Organizing meetings and events
Virtual assistants help businesses organize meetings, conferences, and other events by researching and booking venues, coordinating with vendors, and arranging travel accommodations.
Managing schedules and appointments
Virtual assistants can manage appointments, including scheduling them, sending calendar reminders, and rescheduling as needed.
Research
This includes researching competitors to gather information on potential clients and partners.
Customer service
Virtual assistants can provide customer service support, including answering inquiries and complaints via email or phone. They may also be responsible for setting up accounts.
Virtual Assistant For Entrepreneurs Skills List

Here are some of the most important skills needed to become a practical virtual assistant for entrepreneurs: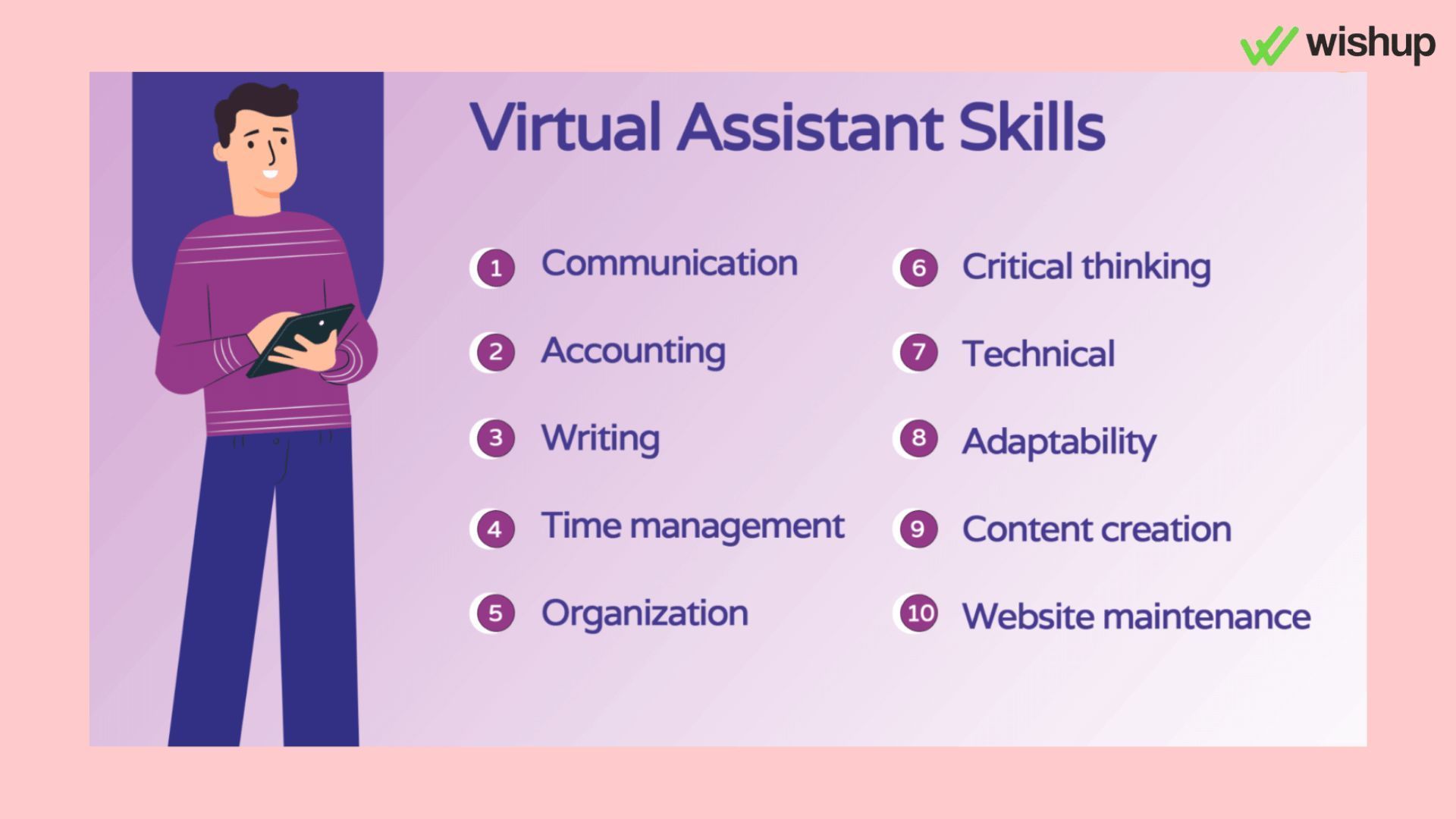 Strong organizational skills
Ability to prioritize tasks and manage multiple assignments simultaneously
Excellent time management skills
Ability to implement systems for tracking and managing tasks.
Multitasking and prioritization skills
Ability to juggle multiple tasks and prioritize them according to importance and urgency
Proficiency in task-oriented systems such as Trello, Asana, and other project management tools
Ability to switch from one task to another quickly and easily.
Attention to detail
Ability to pay attention to small details and spot errors quickly
Aptitude for accurate data entry and information management
Proven ability to manage a flexible schedule
Ability to work independently and adhere to deadlines
Knowledgeable of various scheduling methods, such as calendar blocking and scheduling in advance
Flexibility to accommodate changes in schedule and priorities.
Always available
Reliable access to a computer, phone, and internet connection
Ability to work autonomously and proactively
Exemplary planning and time management skills
Ability to plan and manage projects efficiently
Expertise in creating and managing task lists, timelines, budgets, and schedules
Knowledgeable in project management tools like Trello, Asana, and other software.
Impeccable verbal and written communication skills
Proven ability to communicate effectively in writing, via email, and over the phone
Professional etiquette when dealing with clients and customers
Experience with remote communication tools like Zoom, Skype, and other video conferencing platforms.
Proficiency in computer applications (MS Office and G-Suite)
Advanced knowledge of productivity tools such as Microsoft Office Suite, Google G-Suite, and other software
Ability to quickly learn and utilize new applications.
Knowledge of office management systems and procedures
Understanding of office management procedures and systems
Proficiency in bookkeeping principles, data entry, and other clerical tasks.
Problem-Solving Ability
Ability to identify problems and develop solutions quickly and efficiently.
Strong problem-solving ability and ability to think on their feet.
Essential Character and Behavioral Traits
A virtual assistant should also possess essential character and behavioral traits to help them succeed. These include being organized, detail-oriented, self-motivated, reliable, and having a solid work ethic.
Communication Ability
Good communication skills are essential for a virtual assistant. They must be able to communicate clearly and efficiently with clients and colleagues, both verbally and in writing. They must also be able to take instructions and provide feedback.
Tech Savvy-ness
A virtual assistant should also be tech-savvy and able to navigate various software programs and websites. In addition, they should be comfortable using computers, smartphones, and other types of technology.

Benefits of Hiring a Virtual Assistant for Entrepreneurs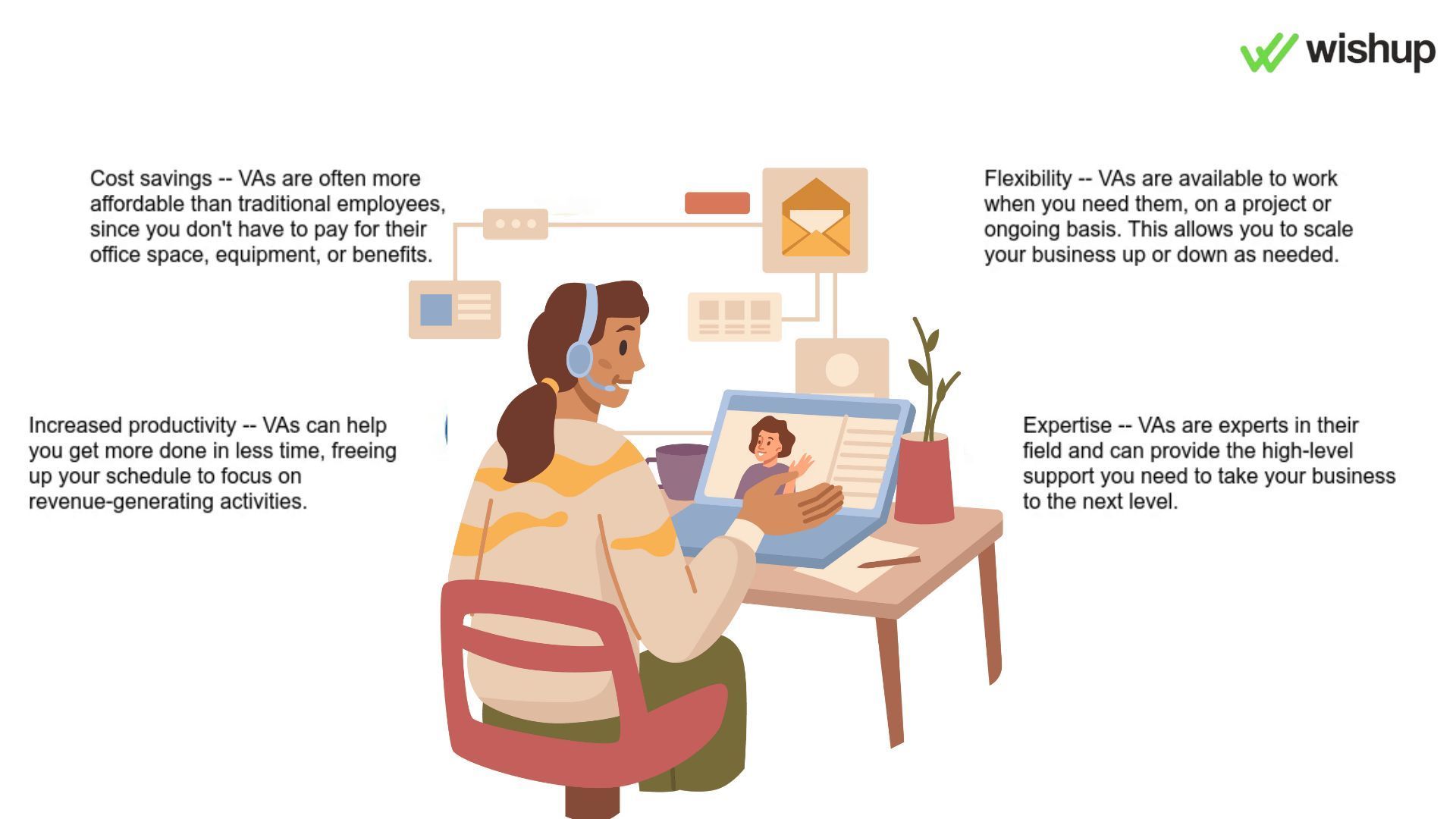 Hiring a virtual assistant is much more budget-friendly than hiring a full-time or part-time employee. Let's see the benefits in detail:
Efficient time management
Hiring a VA is an incredible way to streamline your workload and maximize your time. When you outsource repetitive or time-consuming tasks, you can free up valuable hours to focus on the more critical aspects of your work, like strategy development or business development.
Also, virtual assistants often work independently, meaning they require minimal supervision and can contribute to your business even when you're unavailable.
Improved organizational productivity
Technological advancements have changed the structure of the business world, allowing offices to have a virtual assistant for female entrepreneurs available whenever and wherever they need assistance. A virtual assistant can handle everything from answering emails, organizing calendars, scheduling meetings, and even reminders.
With a virtual assistant, the business can focus on core activities while delegating mundane tasks to the VA, increasing productivity. In addition, the ease of accessing a virtual assistant has saved time and money and helped business operations with minimal disruptions. In conclusion, virtual assistance not only eases workload but also increases productivity, making it necessary for every organization.
Reduced stress and increased leisure time
When relying on virtual assistants, people no longer have time to organize their to-do lists or figure out the best route to a destination. Instead, they have more time to enjoy their favorite hobbies and spend with loved ones.
Reducing stress levels by not worrying about mundane tasks can improve overall well-being. With the help of virtual assistants, people can free up their time and focus on what truly matters in life.

How Virtual Assistants Can Help Entrepreneurs Manage and Grow Their Business

Enhanced social media
Entrepreneurs must manage multiple social media accounts, and creating content for these platforms can require significant time. Virtual assistants can help manage these, creating content and responding to comments, freeing up the entrepreneur's time.
Better email outreach
Virtual assistants can help entrepreneurs manage email lists and create effective email campaigns. They can also help with sequencing emails to ensure customers receive right messages at right times and assist with setting up automated email sequences.
Easy travel planning
Virtual assistants can also assist with travel planning, booking flights and hotels, and finding the best deals.
Organized finances
Bookkeeping can be time-consuming, but it is essential for any business. Virtual assistants can help entrepreneurs with their bookkeeping needs, including invoicing and payments.
Improved customer support
Virtual assistants can help entrepreneurs manage customer service inquiries, responding quickly and efficiently to customer needs. They can also assist with follow-up calls to ensure customers are satisfied with the service they receive.
Improved time management
Time is a precious resource, and virtual assistants can help entrepreneurs manage their time effectively. For example, they can manage the entrepreneur's calendar, schedule meetings and appointments, and remind them of important dates.
Why Hire Virtual Assistants from Wishup?

Wishup provides virtual assistants that are highly experienced and skilled professionals who deliver high-quality services. So let's see how we can help you:
Top 1% of applicants
At Wishup, we offer only the best possible virtual assistants. We provide access to a vetted pool of the top 1% of talents so employers can quickly find the most suitable assistant for their business needs.
24-hour onboarding
We understand the need for speed, so we onboard your virtual assistant within 24 hours of hiring. As a result, your assistant can work on your projects immediately, saving you time and money.
Instant replacement
Wishup provides an instant replacement for your virtual assistant in case of any issues. We make sure to provide a qualified professional who is suited to your project so you can keep working with minimal disruption.
Dedicated account manager
Each Wishup employer is paired with a dedicated account manager who will help guide you through hiring and onboarding virtual assistants. They are available to provide customized advice, answer questions, and ensure the best possible experience.
7-day risk-free trial
We believe in the quality of our services, which is why we offer a 7-day risk-free trial. Then, if unsatisfied with the results, you can cancel and get a full refund. So you have nothing to lose when trying out Wishup!
In-house training in 70+ no-code tools and 200+ skillsets
At Wishup, our virtual assistants undergo an in-house training program covering 70+ no-code tools and 200+ skill sets. This ensures that they have the necessary skills to provide high-quality service.
Conclusion
In today's fast-paced environment, time is money. Therefore, every minute saved can be utilized to grow the business. Hiring a skilled Virtual Assistant has proven to be an effective way of achieving this. Increased productivity, efficient use of resources, and better time management are benefits of having a Virtual Assistant.
And that's where Wishup comes in. Our team of dedicated and experienced Virtual Assistants will help you streamline your business operations, allowing you to focus on expanding your business.
Our services include schedule management, email management, social media management, and so much more. Don't hesitate to contact us for a free consultation or email us at [email protected]. Let Wishup help you elevate your business to new heights.
Frequently Asked Questions
What is a virtual assistant entrepreneur?
A virtual assistant entrepreneur is an individual who has decided to start a business offering virtual assistant services. Virtual assistants offer support and assistance virtually or remotely, online or over the phone.
Why do entrepreneurs need virtual assistants?
With the rise of e-commerce and online business, entrepreneurs often need help managing their day-to-day operations. As a result, having a virtual assistant can help entrepreneurs manage their workload, freeing time to focus on more critical tasks such as developing strategy and expanding the business.
How to hire a virtual assistant for a small business?

You can hire a virtual assistant for your SMB from a reputable virtual assistant service provider like Wishup. Hiring virtual assistants from Wishup will save you time, increase productivity, and free up resources.