The world's present condition has made us aware that life is unpredictable, and we can never know what is next. Therefore, health is the primary asset that needs care and nourishment without fail, irrespective of the circumstances.
As a doctor, you are responsible for your and your patient's medical needs. Unfortunately, no matter how passionate you may be about your job, it can also be tiring and frustrating. Fortunately, hiring a virtual assistant for your healthcare business is one way to regain control of your day-to-day operations.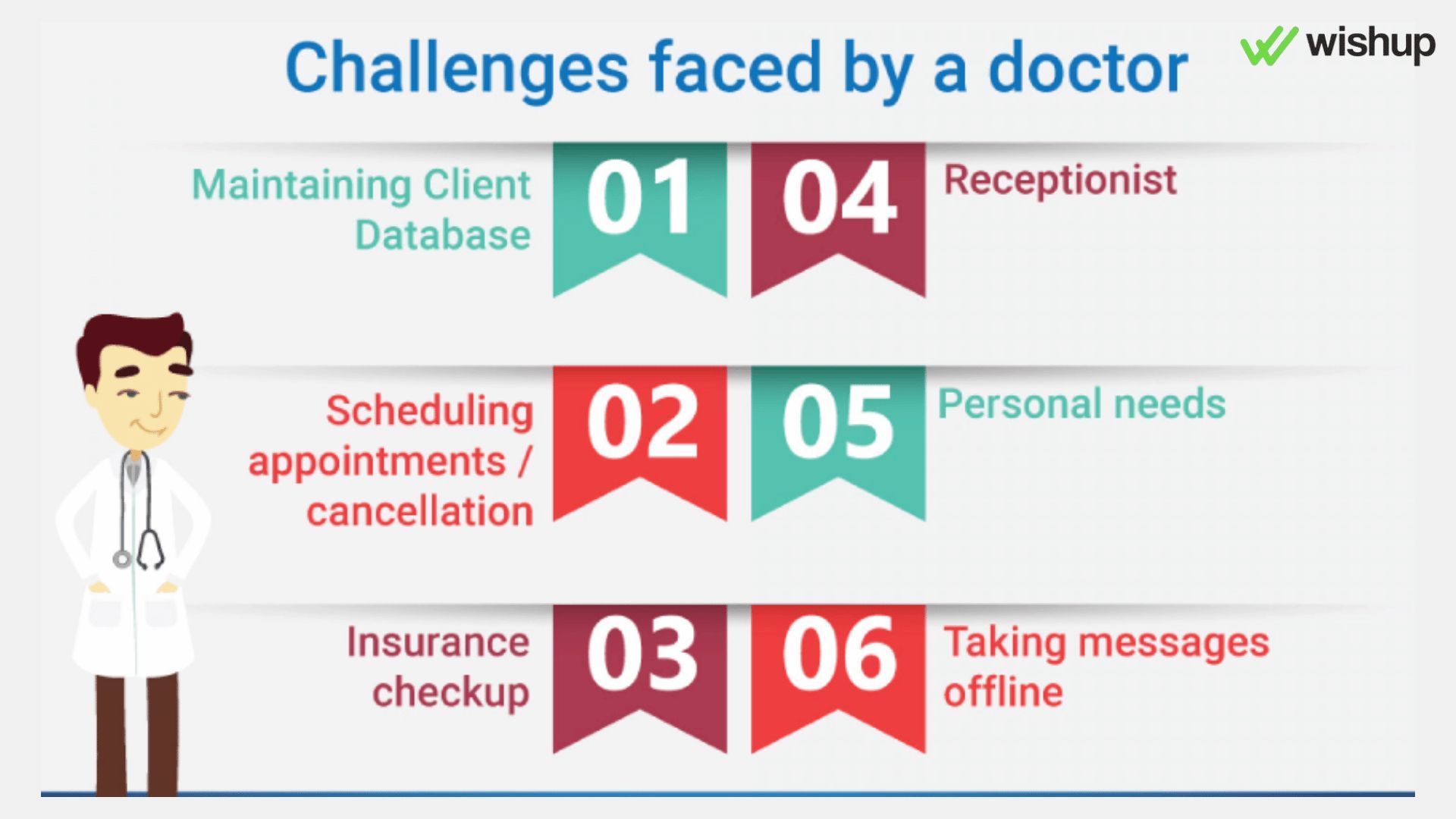 A sign that you are the best in your field and that your patients are satisfied with your care is one of the primary reasons you may be reading this article. With technology evolving and the growth of online healthcare professionals, visiting hospitals in person is still preferred. This lets us conclude that patients prefer seeing a doctor in person and maintaining their health in the right way possible rather than having online health appointments.
Although this is the best way, it can get tiring for doctors forcing them to need an assistant to manage their secondary responsibilities. Increased demand is equal to increased pressure and responsibilities for a doctor. To solve this problem, virtual assistant for healthcare is a feasible option.
Let's dive in…

Who is a Virtual Assistant For Healthcare?
A virtual assistant is a person who supports you online by managing most of your paper works, schedules, and digital-based activities. They allow you to manage your profession while they handle all the simple work. To define them, a virtual assistant for healthcare is a self-employed person who helps clients with specific skills and projects.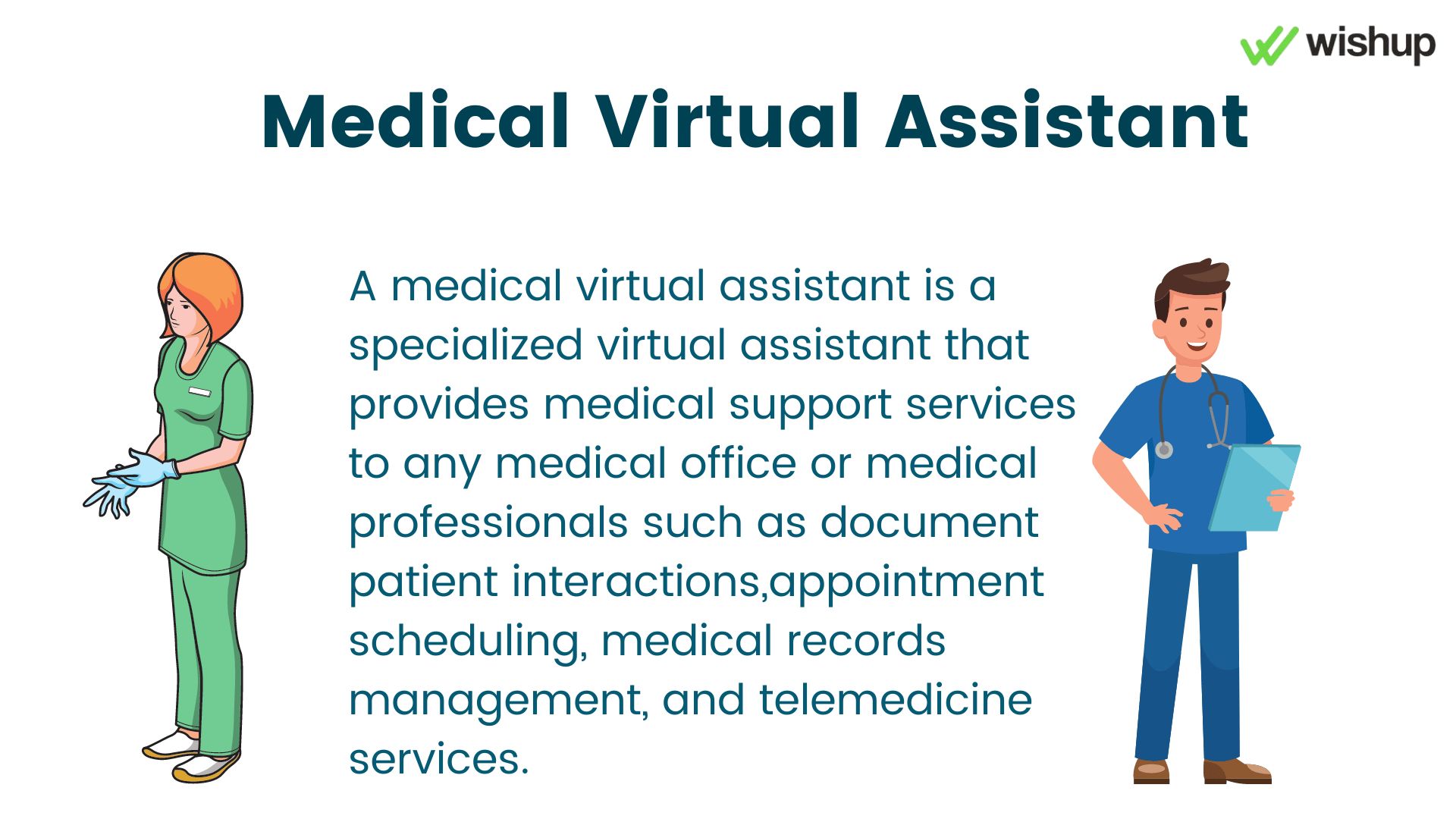 Experienced virtual assistants work with various clients of other fields and ensure their work is done quickly within deadlines.
Virtual assistants help doctors and medical professionals stay organized and increase productivity. With the help of virtual assistants, healthcare professionals can focus on what's important. And that is to provide patients with the care they need.
For example, a virtual assistant can help book appointments, respond to emails, provide administrative support, and create reports. They are also well-versed in medical billing software, electronic health records, and online forms.
What does a Virtual Assistant do?
These virtual assistants assist healthcare professionals with online and technology-based tasks like phone calls. They also check emails, sort inboxes, manage patient databases, estimate billing, and more. As a result, Hiring a VA can offer their services to clients globally, making it an incredibly convenient choice for those who seek flexibility and efficiency.
To have an elaborate idea of their responsibilities, read further.
Administration: This work includes fixing, scheduling, and canceling a patient's appointments, intaking referrals, calendar management for meetings and events, organizing files and documents, digitalizing all your paper forms and files, patient follow-up, and prescription refills. Can you imagine you had to do all that by yourself while taking care of your patients? Big pat on your back for that.
Medical Help: They can also help you with Electronic Medical Records (EMR) and Electronic Health Records (EHR). The virtual assistant may not be physically present but can be present through video conferencing software to take notes on patients, record your dictations, and transcribe essential information to the patient's chart. This can help streamline the healthcare process and allow healthcare professionals to focus on providing high-quality care to their patients.
Expansion: Virtual Assistance can increase your fame and bring in more patients by managing your social media accounts, collaborating with organizations, handling your feedback, and updating your websites. You can expand your resources with more time for your patients and understand them better with less pressure on your hand. With a virtual assistant, you can eliminate the waiting queues and spend more time with your patients.
Money: Talking money, virtual assistants can manage your finances, check your cash flow, and provide a report. They take care of your invoices, pay your bills, and do all the accounting on your behalf. The payment for a virtual assistant is much lower than having a physical assistant manage all your needs. That makes it convenient for both you and your virtual employee.
Online: Virtual Assistants also ensure that all your reports, database, files, and documents are saved on the cloud for easy reference. They can also help coordinate and manage your virtual appointments with patients. In addition, these virtual assistants can help set up everything before your online conferences or patient consultations.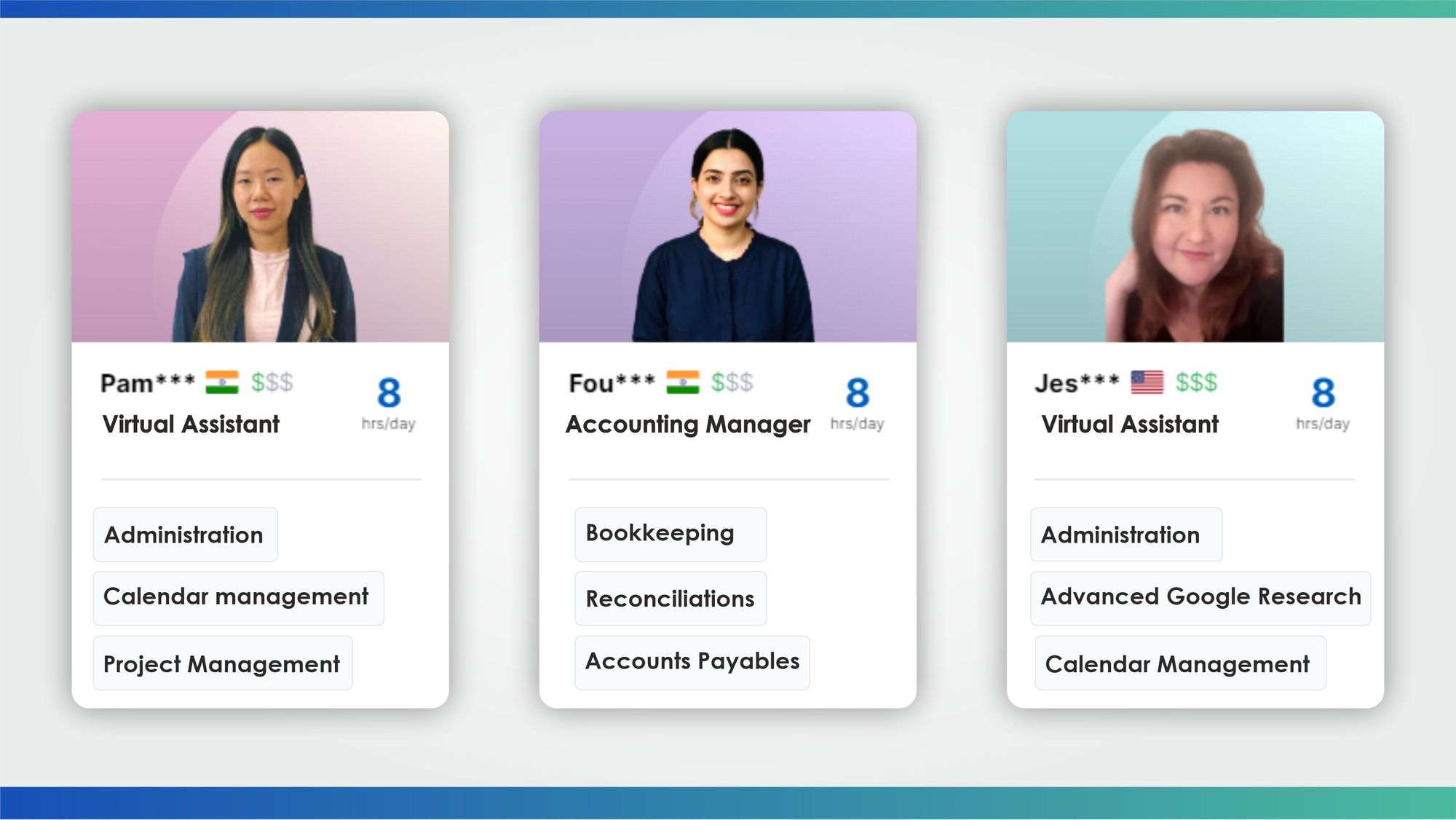 Benefits of having a Virtual Health Care Assistant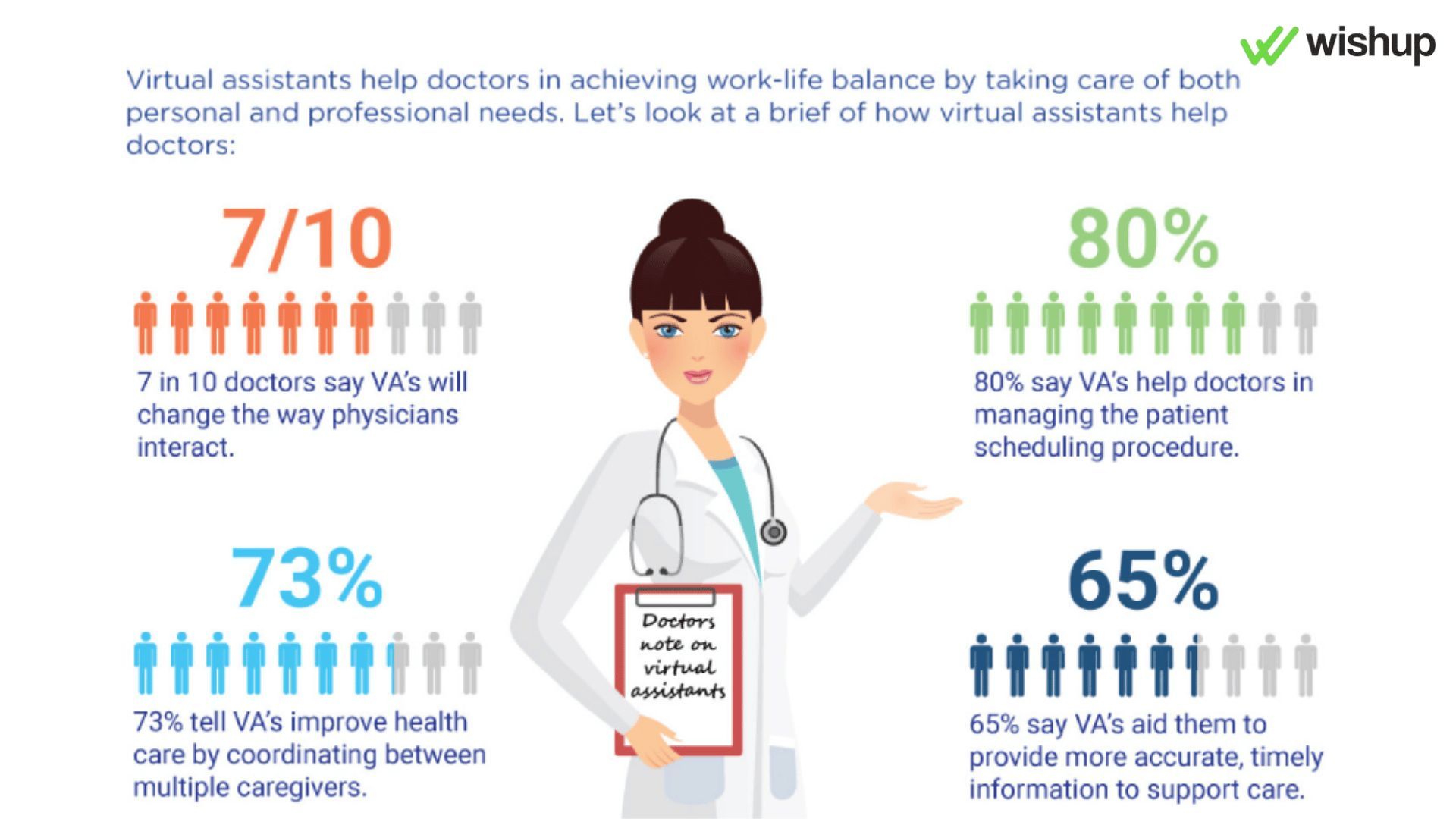 Increased Access to Healthcare
Among the key benefits of having a virtual healthcare assistant is that it can help increase healthcare access. This benefits people who live in remote areas or cannot visit a doctor's office. You don't need to visit rural areas to treat the patients as a doctor. With a virtual assistant, patients can receive the care they need without leaving home.
Lower Costs
Hiring a virtual health assistant is a cost-effective solution that offers flexibility in terms of payments for their contributions. Unlike traditional employees with fixed salaries, virtual assistants are paid based on their work hours.
This pay scale structure allows businesses to save money and avoid the financial burden of having a full-time employee on their payroll. Additionally, a virtual assistant eliminates the need for additional space, equipment, and resources as they work remotely. By hiring a virtual assistant, companies can focus on their core operations and reallocate resources where they are most needed.
Improved Patient Outcomes
In today's busy world, patients don't want to waste their time sitting in long queues and overcrowded waiting rooms at the doctor's office. Virtual assistants can help manage patient bookings and appointments, ensuring patients are on time for their scheduled visits.
Additionally, they can help the physician understand the patient's conditions better by following up with them, keeping track of any inconveniences or mishaps, and maintaining a one-on-one conversation with the patient. Ultimately, leveraging virtual assistants for patient management can improve patient satisfaction while minimizing clinic inefficiencies.
Enhanced Communication
Virtual healthcare assistants can act as a conduit between patients and their doctors, providing updates on test results, medications, and appointments. Moreover, they can help answer any patients' questions about their healthcare.
Increased Efficiency
Virtual healthcare assistants offer an efficient and flexible solution that saves money, time, and space and ensures that work is completed without delays or workspace issues. In addition, they are highly productive, responsible, and accountable, making them the perfect solution to work lag and incompletion. With virtual assistants, you can be assured that you are getting the most efficient service possible, and the convenience of remote working makes this all the more manageable.
Factors to consider while hiring a virtual assistant for healthcare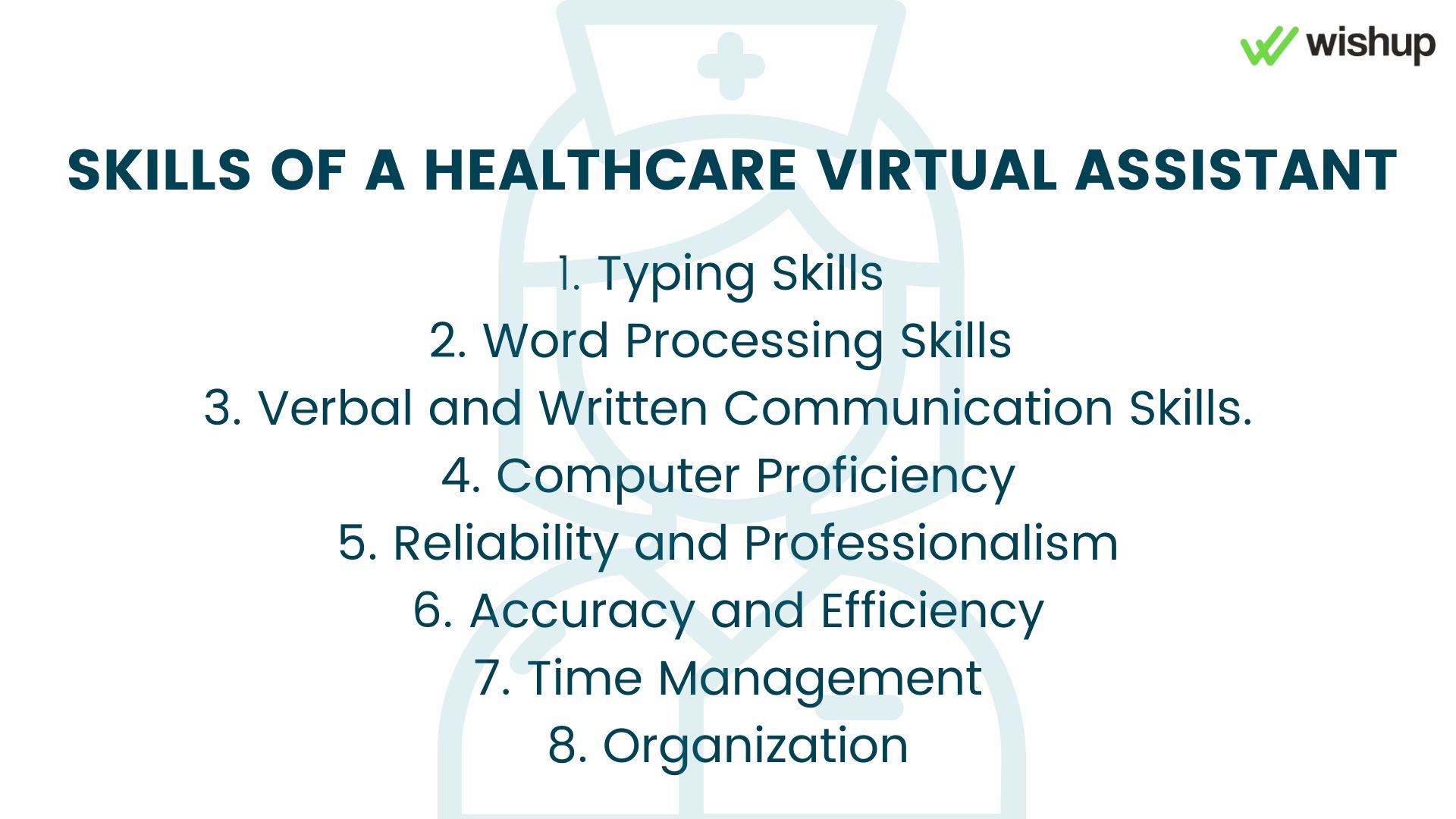 As the demand for virtual assistants continues to rise, healthcare providers are considering hiring them for their practices. However, finding the right virtual assistant can be challenging. Below are ten factors to consider when hiring a virtual assistant for healthcare.
Professionalism: Look for a healthcare virtual assistant with experience working in a professional setting, courteous, and strong communication skills.
Technical knowledge: Ensure your virtual assistant is comfortable with standard software and online tools used in the healthcare industry—for example - electronic medical records.
HIPAA compliance: Ensure the virtual assistant is familiar with and adheres to HIPAA regulations. This is to maintain patient privacy and confidentiality.
Flexibility: Seek a virtual assistant willing to work flexible hours. Medical offices often require staff to work outside regular business hours.
Attention to detail: An excellent virtual assistant should have a keen eye for detail. This is useful, especially when managing patient records or billing.
Multitasking ability: Managing multiple tasks simultaneously is crucial in the healthcare industry. This is because emergencies and unexpected events can occur anytime.
Training and experience: Consider hiring a virtual assistant with experience working in the healthcare industry. They should have received the relevant training and hold certifications.
Communication skills: Remote communication is the norm when working with a virtual assistant. Hence, ensuring they have strong communication skills is essential.
Reliability: The virtual assistant you hire should be reliable and maintain high productivity and accuracy when completing tasks.
Time Management: Virtual assistants are often juggling multiple tasks. Hiring someone adept at managing their time and meeting deadlines is essential.
Cost-effectiveness: The cost of hiring a virtual assistant can vary. Finding one who offers good value for money while still providing quality services is crucial.
Considering these factors when hiring a virtual assistant can help you find the right person for your practice. In addition, working with a skilled virtual assistant familiar with the healthcare industry can improve efficiency, productivity, and patient care.
Hire your healthcare virtual assistant from Wishup

As a healthcare professional, you know the importance of being able to manage a multitude of tasks at once. But with so much on your plate, staying on top of everything can be challenging without feeling overwhelmed. This is where Wishup comes in.
Our virtual assistants are experts at multitasking. They can juggle multiple projects for you and deliver them on time, every time. Whether it's scheduling appointments, responding to emails, or managing your social media presence, our virtual assistants are up to the task.
Also, our virtual assistants are incredibly efficient. They can handle all your recurring admin tasks, freeing your time to focus on more pressing matters. They can even help you with research and data analysis, providing valuable insights to help you make better-informed decisions.
But perhaps the most significant advantage of working with a Wishup virtual assistant is the time you will save. With our help, you can spend more time growing your business, meeting with patients, and pursuing your passions. In addition, you won't have to worry about getting bogged down in administrative tasks that take too much time.
In short, if you're looking for a reliable, efficient, and skilled healthcare virtual assistant to help you manage your healthcare practice, look no further than Wishup. We're here to help you succeed, one task at a time.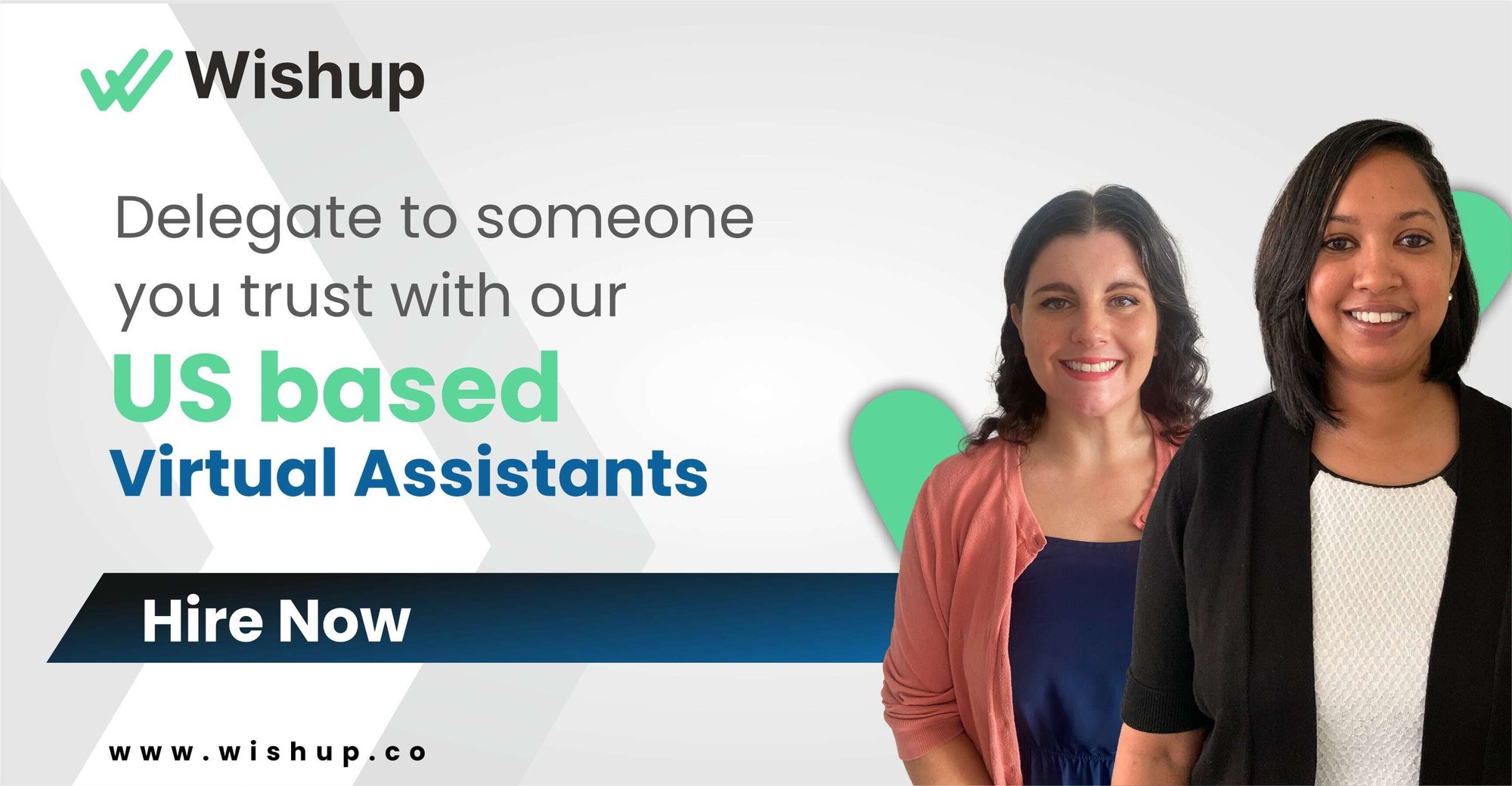 Conclusion
As a busy healthcare business owner, your focus should always be on the core functions of your business. With so much to handle, juggling administrative tasks and other non-core activities can be overwhelming. But what if you could free up your time and energy by hiring a virtual healthcare assistant from Wishup? Think about the game-changing impact this could have on your business.

You could finally focus on what truly matters - taking care of your patients and clients. Partnering with Wishup means you get access to highly skilled virtual assistants who can help you scale your business. So don't waste more time; schedule a free consultation with our team today by visiting Wishup or emailing [email protected]. You won't believe how much easier your workday could be.
Virtual Assistant For Healthcare FAQs
What is the role of a virtual assistant in healthcare?
Virtual assistants are becoming increasingly important in the healthcare sector. They can help to improve patient care by providing 24/7 access to information and services.
Who is eligible for a virtual assistant?
Anyone can benefit from hiring a virtual assistant. Virtual assistants can provide immense value, whether an entrepreneur, a busy professional, or someone who needs help with day-to-day tasks.
What is the medical term for a virtual assistant?
The medical term for a virtual assistant is Virtual Medical Assistant. Virtual Medical Assistants provide healthcare services such as scheduling appointments, prescription refills, and medical advice.


Subscribe to Wishup Blog | Remote Teams | Remote Employees
Get the latest posts delivered right to your inbox