Why & how to hire a Virtual Assistant to manage your To-Do lists
Small business owners have an unending list and no time to deal with it. It's time you considered hiring a virtual assistant. In this blog, we'll discuss how a virtual assistant can manage your schedule, take care of tasks and help you stay more organized.
When you started your business, you used to wait for gigs and clients and might have had the time to bear most of the business responsibilities yourself.
Now that you're more established and have a decent clientele, you want to grow your business, but there is no time - as you have multiple tasks on-hand, such as replying to emails, coordinating with vendors, planning marketing campaigns, and more.
Small business owners have an unending list and no time to deal with it. It's time you considered hiring a virtual assistant.
In this blog, we'll discuss how an online personal assistant can manage your schedule, take care of tasks and help you stay more organized.

Who is a Virtual Assistant?
Virtual assistants are remote workers who can help with multiple tasks. Be it odd jobs (like booking a table at a restaurant) or repetitive daily, weekly or monthly tasks.
A virtual assistant can be a jack-of-all-trades, a general administrative assistant, or do specialized duties like bookkeeping, researching a specific topic, etc.
Small business founders have to be well-informed before making a hiring decision. Hence, we have packed all the frequently asked questions like - why hire a virtual assistant, where to find one, what are the benefits of hiring a virtual assistant, and more - in one place.
Why should you hire a Virtual Assistant?
If you're wondering "Why I should hire a virtual assistant when I can reserve a table, reply to emails, and do everything independently.", you're thinking wrong. Here's why.
Your clients are slipping away because you reply late: Losing clients is never a choice for growing companies. On top of that, losing business due to overflowing mail should not be the case for founders who want to scale fast. Delegate your email assistant tasks like managing your inbox and ensuring timely replies to clients.
You burn the midnight oil more than a few nights a week: If you work long hours quite often, it is time to hire a virtual assistant. Your time and contribution are needed when a complicated decision needs to be made, or a project with a short deadline needs to be met. Give your virtual assistant tasks that don't require your personal attention, like scheduling meetings or sending our thank you notes to clients.
You feel overworked: It is high time to hire a virtual assistant if you have excessive work. Burnout can lead to depression or feelings of anxiety. Eventually, it will affect your business, and there could be irreversible damage. One in three small business owners lives with depression in the US. So make sure you stay away from burnout.
Low-value tasks take most of your time: You know your organization best. You can add value to your business in a way no one can by taking care of big-picture decisions. Similarly, you can delegate to your virtual assistant tasks like scheduling meetings and managing the calendar.
You cannot focus on growth: Recurring tasks can distract you from making critical decisions. For example, tracking the attendance and reports of each employee or managing payroll can take hours and keep you from focusing on growth. It is good to let these be virtual assistant tasks, and use your time more productively.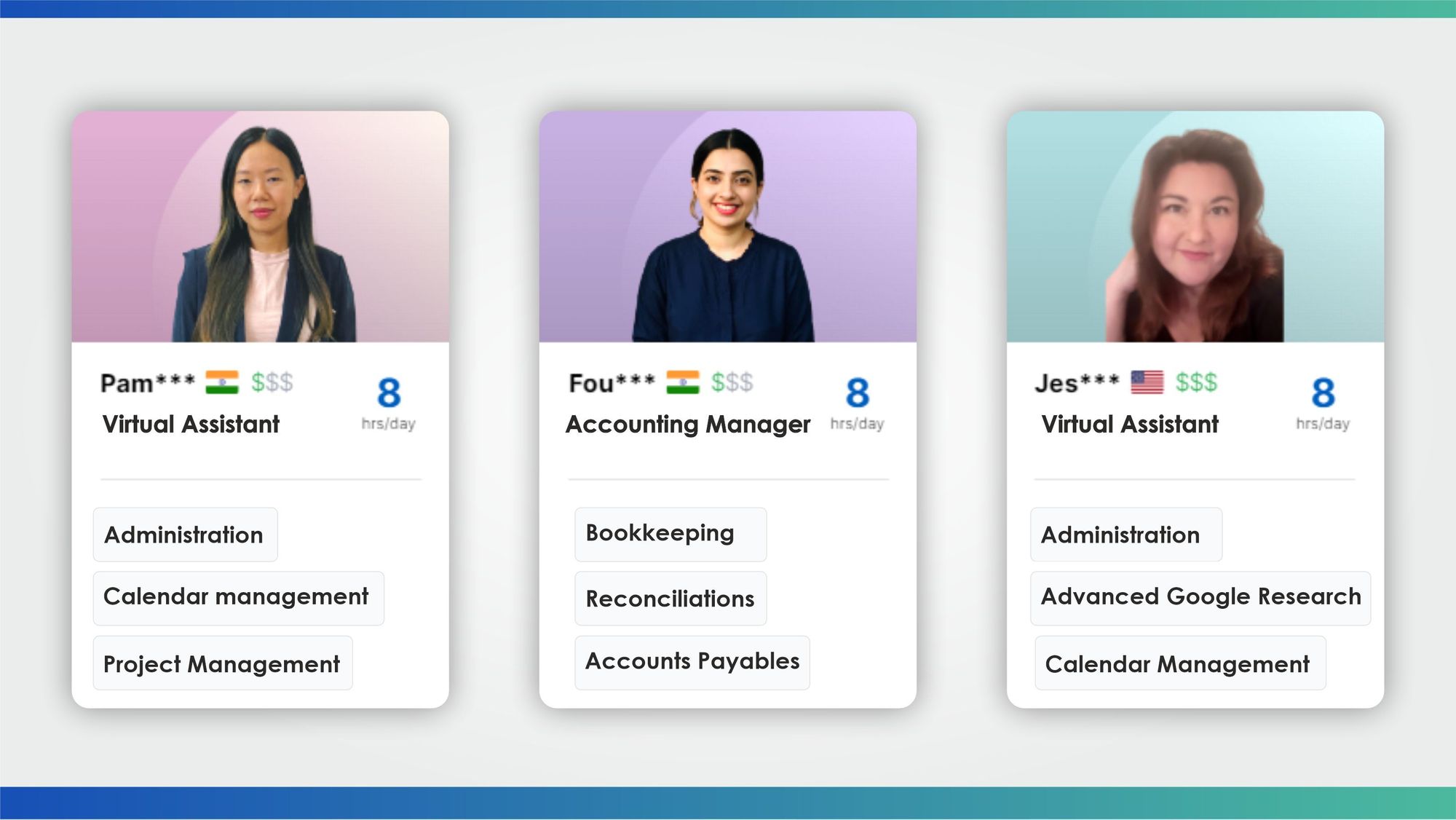 How a Virtual Assistant can help manage your To-Do lists
Every small business owner faces this challenge - a long to-do list and no time. Without a properly planned to-do list and agenda, your whole day can Enter a virtual assistant who can significantly benefit your business. Let's see how.
Virtual Assistants know about various to-do list organization tools: virtual assistant duties involve being familiar with tools like Todoist, Microsoft To-Do, and Google Tasks - virtual assistants are well-versed in different organization tools. Imagine how much time and effort you have to put in to learn a new tool. Save them to focus on more valuable tasks and decisions.
Virtual assistants can help you prioritize: Virtual assistants can shortlist the crucial tasks for you to prioritize better. You can grow your business faster if you crack the prioritization game.
Virtual assistants can send reminders: Given their busy schedules, it's normal for small business owners to forget something important. Sometimes forgetting the smallest things may lead to losing a client or a great deal. Virtual assistants can send you notifications about tasks that need your immediate attention. For instance, virtual assistant duties include reminding you to attend an urgent client call or an educational workshop. It is helpful because now you do not have to remember many things!
Hiring a virtual assistant will leave you more time for core business tasks: You can delegate all the tasks that do not require your intervention to your virtual assistant, leaving more scope for other, more value-add tasks.
Virtual Assistants can manage various things: Wondering how to use your virtual assistant? Calendar management, inbox management, scheduling appointments, noting down minutes of meetings, etc are some of the best tasks for virtual assistants. You may primarily hire a VA to deal with your to-do list, but fortunately, the virtual assistant responsibilities won't end there; they will take care of many backend operations in your business.
A Virtual Assistant can replace a full-time employee before you can afford one: Tight budgets are a constant struggle for small businesses and startups. Considering global inflation and downsizing, hiring full-time professionals is not financially viable. Instead, you can work with a virtual assistant until you can afford a full-time in-house hire. As a result, a virtual assistant can save up to 78% in operating costs.
In-person Assistant or Virtual Assistant - Which is right for you?
Small business owners have to choose before hiring talent carefully. Finances are limited in a growing business; hence entrepreneurs want to work with someone who can genuinely add value to the company.
The question of who is better, an in-person or a virtual assistant, is valid in this case. However, both offer different services, so it mainly depends on the work you want to hire help for. These points can help you.
Type of work: If your business requires handling goods or large shipment packages, you need an in-office assistant. On the other hand, if you have an eCommerce business, hiring virtually makes more sense for tasks like sorting inventory, handling websites, etc.  Preparing a precise virtual assistant task list will increase your chances of hiring the right person.
Communication preference: A virtual assistant will work if you feel completely at ease communicating online via email, text, Slack, and a weekly phone or video call. You might struggle to manage a virtual assistant if you think you function best when communicating with people in person.
Cost of talent acquisition: Money is central for a business in its developmental stage. An in-person assistant requires a travel allowance and would need basic office furniture, a device, and utilities to operate. In comparison, a virtual assistant saves you all these costs. So you need to figure out your hiring requirements keeping that in mind.
Hiring time: You may not easily find the talent with your required skill set in your area. There can be budget constraints even when you find someone on short notice. However, with a virtual assistance agency like Wishup, you can onboard a VA in just 24 hours.

Where can you hire a Virtual Assistant?
You can easily decide whether you want to hire a virtual assistant. First, knowing the tasks they can do for you, you likely want to work with a virtual assistant. The next step is to find a suitable virtual assistant. Finding, interviewing, hiring, and onboarding a virtual assistant is a detailed process. But you can start with the following suggestions.
Virtual assistant services
Online virtual assistant companies like Wishup can provide you with VA services. That means you do not have to deal with recruitment costs and efforts. Simply sign up and schedule a free consultation, share the tasks or skills you need help with, and hire a virtual assistant. Organizations like Wishup have made hiring virtual assistants that easy!
Quick Tip: This is a high-time and cost saver option. You can go for VA companies if you want to hire a virtual assistant immediately.
Use your network
Using your existing network to get an assistant works for some entrepreneurs. You can post a job on LinkedIn, use Facebook groups, or even look for candidates you think fit the bill based on the required skills. In addition, you can ask for referrals from fellow entrepreneurs or ex-colleagues.
People can send you higher-quality referrals if you are more specific. So include your work expectations with your virtual assistant and the nature of your business. However, it's important to know that this hiring process generally takes time.
Quick Tip: You must have a decent number of followers or acquaintances who can give you referrals to ensure this works. Otherwise, hiring a virtual assistant through your network may take longer.
Work with freelancers
Freelancers pitch you their work through freelance marketplaces and reply with their information and rates in response to your job post. You may find many qualified freelancers, but going through every profile and shortlisting suitable ones may take a lot of time.
Quick Tip: There is a possibility that you may not even find a freelancer with the desired skill set in your budget. Plus, there is no standard fixed pricing, so this can cost you more.
How much does a Virtual Assistant cost?
Virtual assistants charge based on work experience, advanced skill set, etc. Charges also vary depending on the industry because it affects virtual assistants' responsibilities. For instance, a virtual assistant for data reporting & analysis charges more than a virtual administrative assistant.
There are better options. You can find your perfect fit as a virtual assistant with Wishup at $9/hour. But pricing is just one aspect when considering a virtual assistant from Wishup.
Why choose Wishup to hire a Virtual Assistant?
Out of multiple virtual assistant companies that offer virtual assistant services, Wishup stands out from the rest because of these factors.
You choose from the top 1% of talent: Wishup selects only the top 1% as virtual assistants out of all the applicants. It means you are assured that you work with top-grade talent.
Prepare to onboard a dedicated team member: Our dedicated virtual assistants work with you as team members. That's the difference between Wishup virtual assistants and other VAs - they go a notch higher to provide the best support to clients.
You can enjoy a risk-free trial: A 7-day risk-free trial period with a no questions asked money-back guarantee is a significant upside of hiring from Wishup. Virtual assistant companies generally focus on selling their services, but we keep our clients above all.
Get instant replacement: It does not stop at a risk-free trial. You can ask for a replacement if you want to upgrade your virtual assistant. We will be happy to do that.
Start delegating the tasks immediately: When you onboard an ordinary virtual assistant, you need to give them time to learn different tools and required skills. But our virtual assistants are trained in 70+ tasks and multiple tools like Asana, Trello, Monday.com, Mailchimp, Zoho CRM, Freshbooks, Wrike, Todoist, etc. So you can jump to the delegation directly when you hire our virtual assistants without wasting more time.
Wishup virtual assistants are ready for challenges: Growing a small business is a big challenge, but our virtual assistants are set to take all challenges to take your company to the next level. For example, you can hire a virtual assistant for real estate lead management, accounting, financial reporting, etc.
Let our thriving client base speak for itself: Our work speaks for us. Our Client testimonials and 4.8 average service rating is proof of the excellent services we provide to 500+ business owners.
Enjoy easy onboarding: Who thought hiring a virtual assistant would only take a few clicks? But you can hire a virtual assistant with Wishup in less than 24 hours.
Save Time: Quick onboarding, pre-vetted, pre-interviewed virtual assistants can save you sufficient time to focus on the key business growth areas.

3 Easy Steps to Hire a Virtual Assistant from Wishup
Have a virtual assistant task list ready: You should have a list of a few tasks ready to help us understand your business requirements. The best tasks for a virtual assistant include managing your calendar, schedules, to-do list, booking meetings, planning travel, and data entry, to name a few. However, we understand that every business is different, and help you prepare a virtual assistant task list according to your needs.
Schedule a free consultation: Sign up and register for a free consultation. If you are unsure of the virtual assistant responsibilities and duties you can delegate, this is the best time to clear all your doubts and list your expectations. Your input will be extremely helpful in matching you with the right virtual assistant.
Onboard in 24 hours: skip the resumes, long interviews, and assessment tasks. With our roster of qualified, hand-picked talent, you can start working with your virtual assistant 24 hours after subscribing to our services.
People also ask
How much does it cost to hire a virtual assistant a month?
Virtual assistance services start at $9/hour, and you can choose between a 4-hour or 8-hour package.
What are some of the most common virtual assistant tasks?
Some of the most common virtual assistant responsibilities include organizing schedules, managing emails, data entry, and travel planning.
Is there anything my virtual assistant will not do?
Broadly speaking, a virtual assistant will not be able to perform tasks that require them to be present in person.

"If you want to do a few small things right, do them yourself. If you want to do great things and make a big impact, learn to delegate."
John C. Maxwell gives this mantra to success to every entrepreneur. Hiring a virtual assistant is an effective and intelligent way toward growth. They work like your virtual task manager, so you do not have to worry about every small thing. Instead, you can trust a virtual assistant to do them all, be it a long to-do list, a flight booking, or detail-oriented tasks. Please mail us at [email protected] or click here to set up a free consultation.