In the post-Covid and "The Great Resignation" scenario, the US is experiencing a boom in entrepreneurship, as people want to be more independent and enjoy a better work-life balance.

However, being an entrepreneur is not easy. It requires one to work on many small but essential tasks repeatedly, which could take up too much of their time and leave them with very little time to focus on their business and networking with future clients.

Apart from this, entrepreneurs also need time and energy to work on their ideas, meet with potential investors, raise funds, grow their team, etc.

In both these scenarios, the best solution is to have well-trained, experienced virtual assistants who understand your mindset, native language, and culture. i.e., a US based virtual assistant.

But before we take a closer look at how US based virtual assistants are a good choice for businesses just starting and how they can help US based companies, let's take a closer look at virtual assistants and how they add value to a business.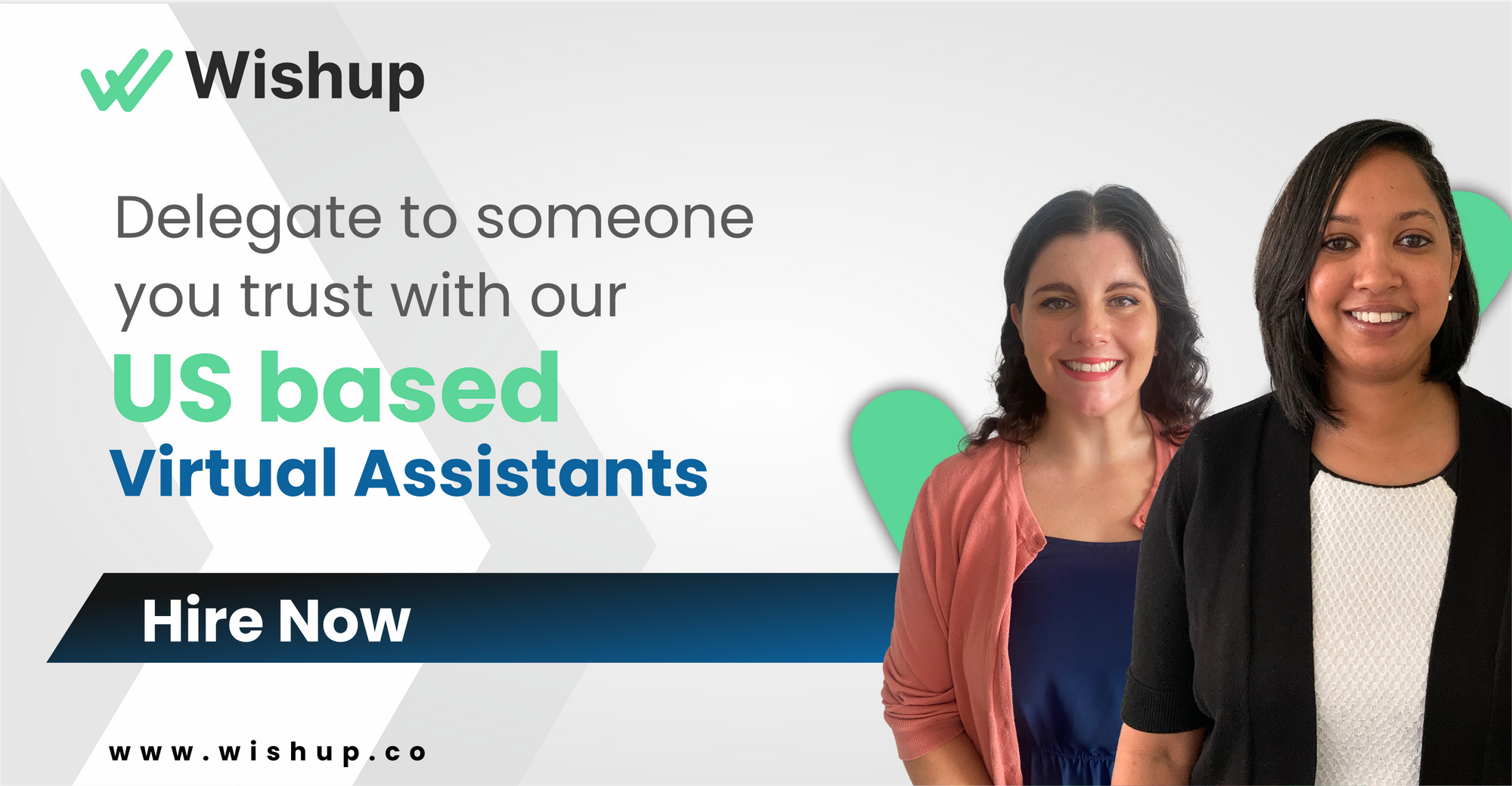 Why are Virtual Assistants important for every business?

Virtual Assistants are gradually being recognized for the diverse skillsets they bring to a business and how they support entrepreneurs worldwide in their growth. In addition, the recent emphasis on remote work and the easy accessibility and affordability of cloud-based technology has also contributed to the popularity of virtual assistants, as they can work efficiently from any location in the world.

You can now access the talent you need to expand your businesses without geographical limitations or worrying about overheads and other costs associated with in-office employees.

As your small business expands, you might also need to scale up your team rapidly, which could be time-consuming and expensive if you use the traditional approach of placing an ad, shortlisting candidates, conducting interviews, doing the paperwork, etc. With virtual assistants, on the other hand, you can scale up your team in less than 24 hours.

You can hire a professional Virtual Assistant (also known as a VA) on a contractual basis to provide you with expert administrative, artistic, or services at a fraction of the cost you would typically associate with an expert from that field.

Given all these advantages, it is easy to understand why successful business owners worldwide have a virtual assistant on their team.

The question that remains to be answered is whether you should consider a local US based virtual assistant or an international-based virtual assistant. While both virtual assistants have significant advantages, US-based virtual assistants are a good choice if you are looking for someone closer to home.


Image Source: Photo by LinkedIn Sales Solutions on Unsplash


Benefits of Hiring US based Virtual Assistants


No Time Zone differences

Last-minute tasks, having your Virtual Assistant attend a meeting to take notes, and even daily phone calls are much easier to coordinate when you have someone who works closer to you and is just a phone call away. It also helps if you are both in the same time zone, as work coordination becomes easier.

Additionally, with both of you working the same business hours, you can contact your VA during your workday and even establish more of a proactive 'Personal Assistant type' working relationship if required.


No communication barriers

Clear communication is essential when working with a Virtual Assistant because most of the information you share will be via email, text, or phone. You must be confident that your assistant can communicate effectively since you aren't working with them face-to-face.  They must also represent you professionally in communications with clients and business associates.

Here, a US-based Virtual Assistant has a significant advantage as they speak the native language and understand the finer nuances of the American language much better than their other counterparts.

Similar cultural backgrounds

Image Source: Photo by Emilio Garcia on Unsplash


US based virtual assistants come from the same cultural background as you and know local customs, nuances, and business terminology. Therefore, you need not spend time briefing them on the same and can rest assured that they understand what is expected of them quite clearly.


They are more conversant with local communication formalities

Every nation has its own unwritten "rules of engagement," legal rights, or social and professional norms. These may include everything from whether to use a person's first or last name when addressing them to how formally or informally to write organizational communications.

For example, email etiquette differs significantly from country to country. In some countries, they are structured just like a formal letter and require the appropriate title when addressing someone (such as in Germany and Japan), and the recipient's surname is used. In other places, including Africa and South America, people expect their emails to contain a personal note and may write them more like a text message to a friend.

A US based Virtual assistant is aware of local practices and knows how to speak and communicate appropriately with your customers and business partners. Efficient communication and working are greatly facilitated by being in the same time zone. During their (and your) regular business hours, they can easily call your clients or vendors and get things done as required on your behalf.

Local networking

Your Virtual Assistant in the US may work with different companies, due to which they could have a network that is beneficial to you and your business. For example, they could help you negotiate better prices with vendors, from local web design to IT support, printing needs and supplies, event planning, and your next office or home move.


Creative and Strategic Thinking Capabilities

Due to their educational system, which emphasizes leadership and the ability to think creatively and strategically, US based Virtual Assistants are quite innovative and out-of-the-box thinkers. That can be beneficial to your business and help it grow faster.

Ownership Mentality

Americans working as Virtual Assistants tend to be more ownership-driven. They collaborate with the business owners towards their success and prefer to assume full accountability for the projects they oversee to meet the business objectives as per expectations.

Why hiring US based Virtual Assistants makes immense sense

The advantages highlighted above show how US based Virtual Assistants can add value to your business and help it grow. In addition, hiring your VAs from the US is the best option to ensure that you are working with someone who is familiar with American business and culture in case the same is very important for your business or clients.

Wishup hires only the top 1% of talent in the US and other countries so that clients get to work with only the best virtual assistants. Moreover, all the VAs are trained in 200+ skill sets, which ensures that they can easily manage all the tasks, you give them.

Hiring a US based virtual assistant is a win-win situation for all entrepreneurs, as it helps them hire someone who understands US business norms. It also helps them avoid the huge overheads associated with a full-time, office-based employee while giving them the flexibility to scale up as and when required within 24 hours.

To know more about our US based virtual assistants, we recommend signing up for a free consultation or visiting our website Wishup.co

Subscribe to Wishup Blog | Remote Teams | Remote Employees
Get the latest posts delivered right to your inbox