Why hire a Data Entry Virtual Assistant?
Data entry is the collection of all the data related to a business or a business process. It is essentially the maintenance of a company's records and its databases. It is an important aspect of a company's operations as all data needs to be properly entered and maintained for all future access and processing.

A virtual data entry administrative assistant from Wishup is highly trained and experienced at managing all your data entry needs.
View All Profiles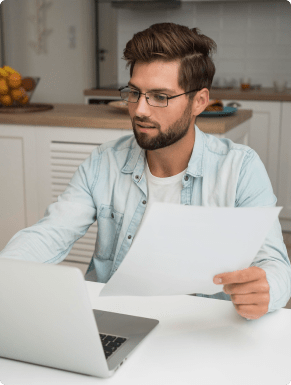 How can a Data Entry Virtual Assistant benefit you?
No more hassles for you
Data entry is a time-consuming activity, especially due to its recurring nature. That means you have to devote time to data entry activities every single day, taking your much-needed focus away from the core aspects of growing your business. Our data entry administrative assistants can easily take care of all your data entry work so you don't have to.
Save time & money
With our flexible subscription plans and a long list of expert virtual data entry assistants to choose from, you can save both time and money. It's easy to hire data entry assistants and onboard them from Wishup.
Professional assistance at your fingertips
Data entry virtual assistants at Wishup have experience working for thousands of businesses. They bring their professional skill set to your company when they work on your data entry needs. You can be worry-free as you have experts managing your data for you.
Frequently Asked Questions
Our Clients Love Our Services
I appreciate the value a Wishup VA can bring to a business.


The VAs of Wishup are very understanding and well trained in multiple skillsets, making them indispensable.
Niels Van De Bergh
Growth Consultant
Growth-Mechanics
I couldn't be more thrilled with my Wishup VA.


It took me a few weeks to get the time to organize the work to assign initially, but it's been the best business decision for me this year.
Andrew McDermott
Founder
Convia Media
Working with Wishup has given our small and rapidly growing business the ability to move faster while simultaneously freeing up many hours a week. As a result, we can now focus on our strategy.


The Wishup team will be a significant contributing factor to our future success.
Jason Gorman
Founder and Managing Partner
Jackrabbit LX
What can our Data Entry Virtual Assistant do for you?
Prepare Data
Get your data prepared and edited in the required format before it is entered into your database. All done by an experienced data entry assistant.Check accuracy
Check accuracy
Have your data checked for accuracy, make sure it is compiled and then sorted properly in your databases and records.
Clean data
Get a clean version of your data with all missing records and data points resolved before they enter your system.
Updated records
Our data entry administrative assistants will keep your database updated and make sure the old data is revised to reflect new changes.
Data management
Keep your data relevant and delete all unnecessary data that is no longer needed by the company anymore for its successful operation.
Data presentation
Get your data presented and formatted as per the requirement of each database and record so that there are no issues when entering the data into them.
Data backup
Make sure your data is regularly backed up so that it is preserved better, and can be retrieved easily when needed.