8 Best Real Estate Lead Generation Tools In 2022 (Features + Pricing)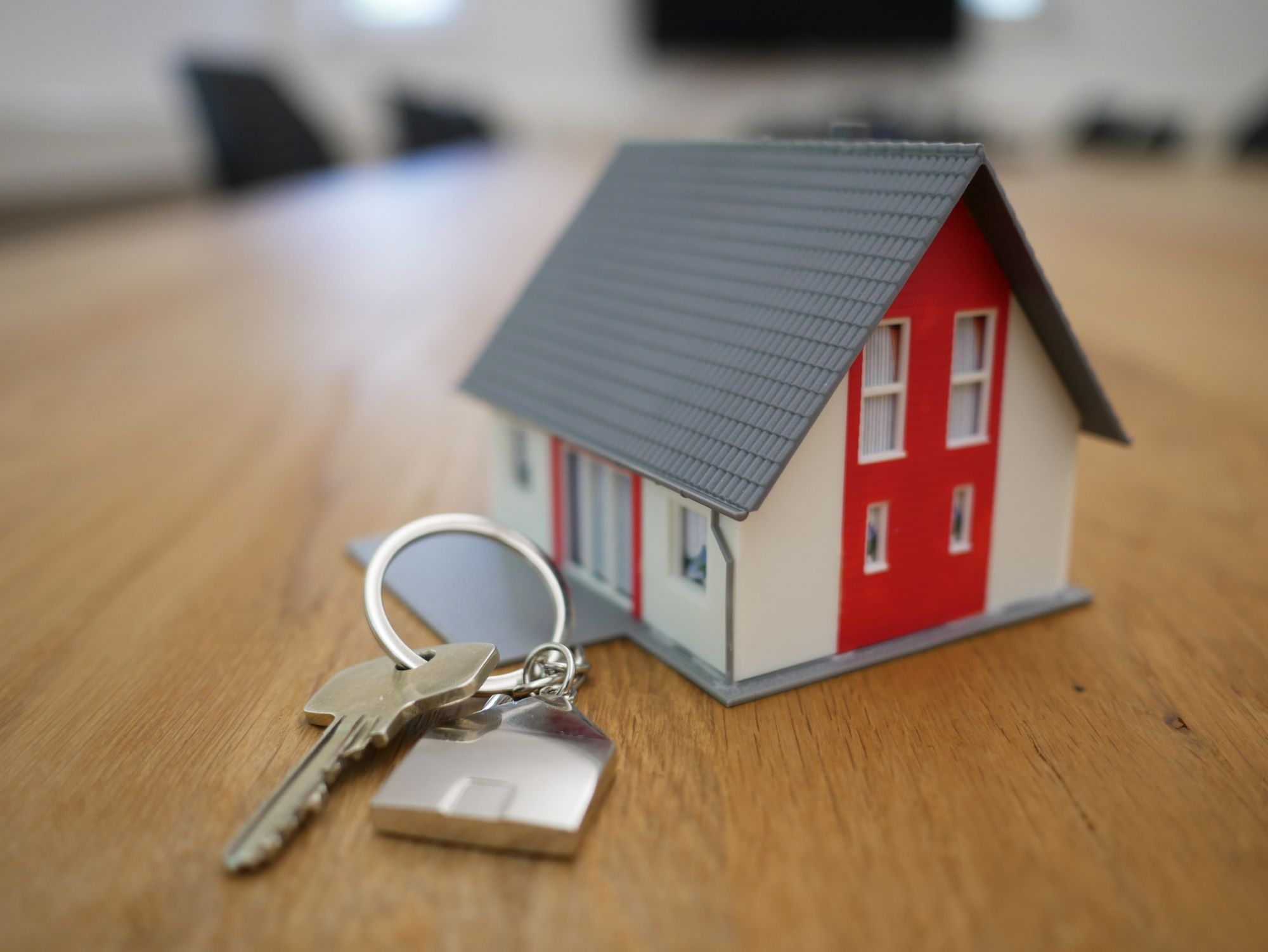 Real estate is an industry that values leads more than any other industry.

It is crucial for real estate business owners to connect with potential clients, even when they know that every lead does not mature, as every lead is significant in real estate. In addition, it may be a valuable connection for other leads.

Experienced real estate agents frequently use lead-generating tools to discover clients and seal deals. For a monthly fee, agents can advertise in their local area and get good leads. Much of this is done online, using various websites, social media platforms, and other technologies.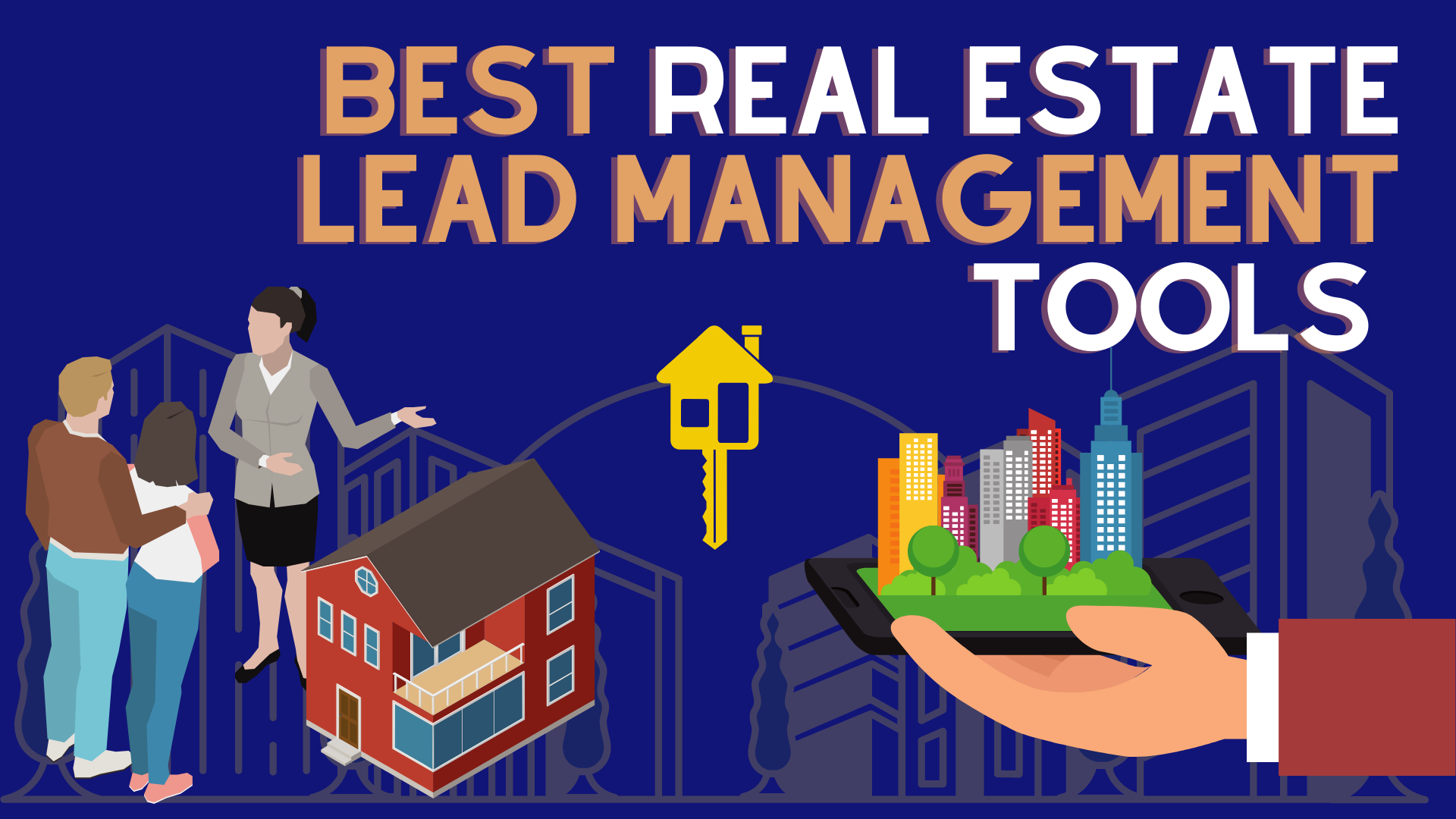 Real estate lead generation software can be a silver lining for new realtors and small business owners who run from pillar to post to get valuable leads. Whether you are a real estate manager or work with a real estate virtual assistant, you can use lead generation tools to identify buyers and sellers who live in specific locations, have particular interests, or seek particular types of homes.

However, it can be difficult for new entrepreneurs to find real estate lead management software that caters to all their requirements. Hence, we have shortlisted the best real estate lead management software of 2022, based on features offered, pricing, reviews from experienced real estate professionals, etc.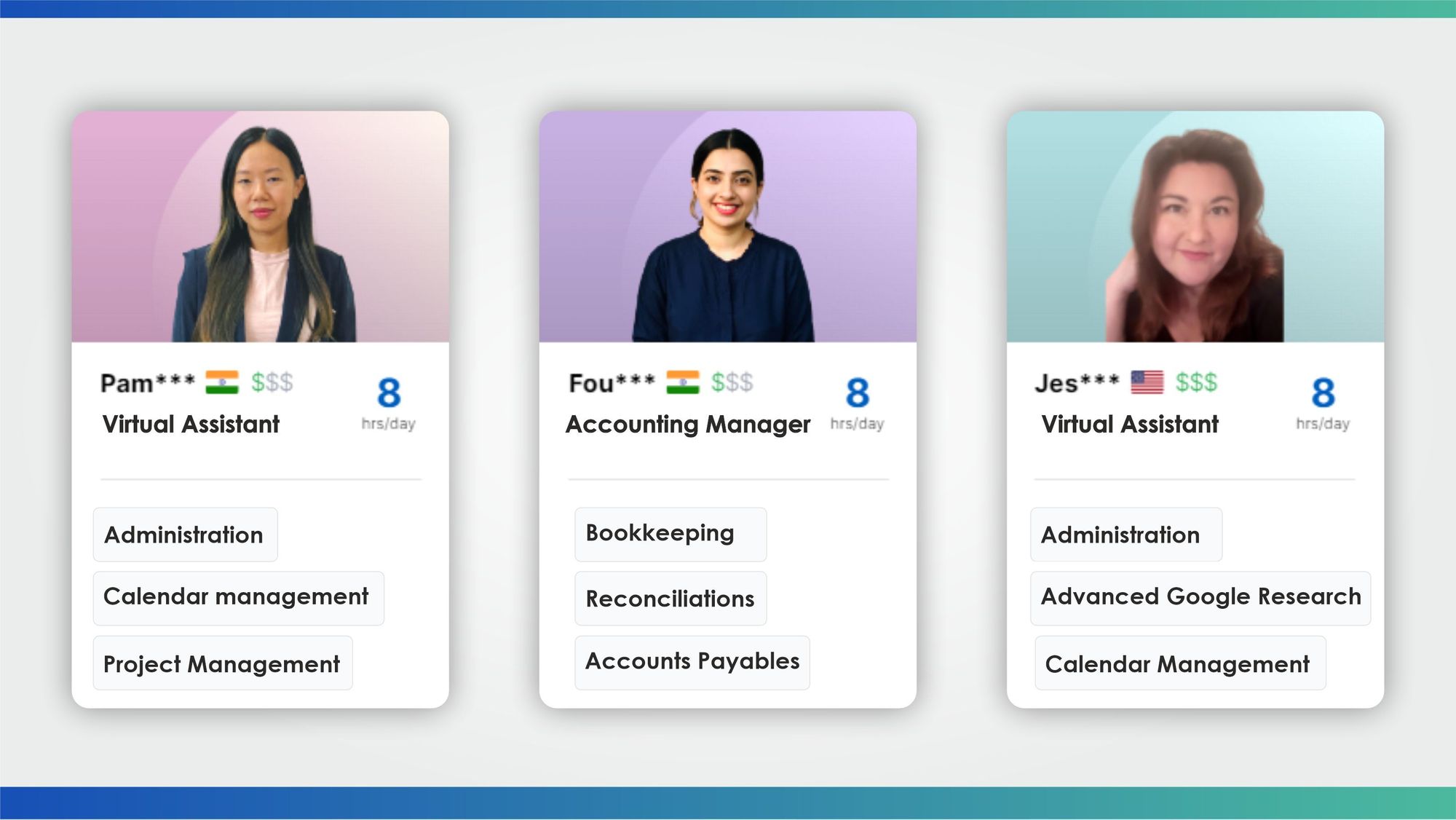 Bold Leads offers a wide variety of features to produce great buyer and seller leads. However, it only supplies agents with exclusive leads. It runs ad campaigns on platforms like Google and Facebook, directing clients who click on the advertising to specialized real estate websites. They give their contact information, which is subsequently forwarded to the agent in that area. The built-in CRM allows you to contact and organize your new leads.

Bold Lead provides customer service, training, coaching, and videos to help you get started, learn how to accept and manage leads, and become acquainted with the platform. The company provides three levels of service: Lite, Professional, and Advanced. According to the reviews, customers are generally pleased with the company and its lead system.

Bold Leads include various features like:
Software coaching, like video training
An all-in-one platform with its CRM
Buyer and seller leads
Automated follow-ups
Text concierge and email templates
Lead engagement indicator tools

Price: Starts at $399 per month and a minimum of $250 for ads.

Zurple is a full-stack real estate lead management solution that takes leads, converts them into conversations, and eventually into clients. It maximizes your marketing expenditure by targeting only your specified area, and it can even target specific sub-areas within individual zip codes. You may mix Zurple's tailored ads with your leads from sites like Zillow. In addition, Zurple utilizes your email address to send personalized emails to leads on residences they have already looked at.

Zurple is simple to get up and provides all of the tools you need, including the ability to create and customize your advertisements and website and a CRM to handle your leads. In addition, it includes a blog and success center materials to assist you in getting started.

Customers often have good things to say about the company. For example, they value the fact that leads are converted into customers. However, some individuals experienced negative interactions with customer service.

Zurple's features include:
Buyer and seller leads
Integration with Zillow, Trulia, and Realtor.com
CRM
Complete the online profile of each Lead
Automated, personalized, and data-driven emails from your email address
Lead contact alerts

Price: You can view pricing and availability in your location after entering your information.

Zoho CRM includes various features to link into your lead generation plan, such as automated emails, email marketing campaigns, website tracking statistics, Facebook and Twitter lead collection, and contact management. In addition, the package is simple to manage because it runs on a single platform, resulting in less time spent managing data.

Customers complain about being overcharged and receiving unsatisfactory customer service. On the other hand, some users prefer its marketing capabilities and connectivity with other apps & believe it is a good value.

Some of Zoho's features include:
Buyer and seller leads, as well as sales, leads for other industries
Social media and email lead capture
Predictive analytics
Customized reports
Management tools to assist with assigning leads
Real estate CRM and marketing tools

Price: The pricing range of Zoho from $14 per user month to $52 per user month when invoiced annually, depending on the package. Monthly rates are higher. Zoho offers a restricted free version, and custom plans are available too.

Zillow Premier Agent could be the ideal solution if you want to build your real estate business quickly. They provide a comprehensive, user-friendly package that includes integrated CRM and automated email campaigns. In addition, it allows agents to spend more time creating leads rather than managing data.

It is a powerful CRM tool that lets agents manage contact information by automatically importing contacts from Outlook, Gmail, and other email clients. It also allows them to keep track of important facts such as emails and phone numbers, which is far easier than manually.

The tool also provides integrated email campaigns, making it easier for agents to maintain customer data. However, more information about the cost of this function would be helpful.

Some of Zillow Premier Agent's features include:
Buyer and seller leads by zip code (mostly buyer leads)
Customer support and training
Call scripts
Personal webpage
CRM
Branding across Zillow's sites
Marketing templates

Pricing: Premier Agent pricing varies according to numerous factors, including geography, number of competing agents in the region, and average home price. Signing up is completely free.

Offrs is a beautiful tool for agents trying to increase their listing volume; the company provides lead creation via predictive analytics, lead capture, and web marketing.

It contains data analysis and management features that can reduce the amount of time you spend manually doing this task; they also offer marketing automation to help you reach out to potential clients when convenient.

Offrs has the following features:
For sale by owner leads
Expired listing leads
Seller leads (current and predicted)
CRM
Apps to access leads and location-based homeowner data
Template builder

Price: To get started with Offrs, entrepreneurs can arrange a 30-minute consultation with an expert to discover more about the company's offerings, pricing, and how to build up a lead generation system and apps. It also provides brokerages with bespoke choices for agent rollout and apps for each agent.

REDX is tailored to the real estate business, and sources leads using aggregate data from public information. It gives prospecting leads to agents. Every lead they provide includes contact information.

REDX concentrates on seller leads and includes pre-foreclosures, expired listings, for sale by owner, rent by owner (FRBO), hard-to-find contact information for homeowners, and its Power Dialer function, which allows you to contact more sellers faster. In addition, it provides online training, lessons, and free customer service.

It has cheap monthly costs and allows you to combine leads for a complete prospecting effort. Additionally, agents can start with REDX immediately by contacting customer service and watching tutorial videos.

REDX features involve:
Multiple types of real estate seller lead, including expireds
Geo-focused leads
Full range of training and support
Prospecting platform
Help with lead conversions and lead management systems
Leads are verified against active listings, and the Do Not Call list
Scripts built into the system

Price:  Pricing varies depending on the lead source. For instance, FSBO and pre-foreclosure leads cost $39.99 per month, GeoLeads cost $59.99 per month, expired leads cost $59.99 per month, and FRBOs cost $79.99 per month. The Power Dialer has a few pricing choices; however, a single line costs $99.99 a month.

BoomTown has a 5-star rating on G2 if you seek a reliable real estate agent tool. BoomTown is a SaaS real estate lead generating software for real estate agents and brokerage firms that automates the lead generation, marketing, and analytics.

You can diversify your leads with multi-channel campaigns, such as social media, paid ads, and remarketing, making it easy to follow up with prospective customers (for example, through bulk texting). However, there are various disadvantages to BoomTown. According to users, some of its follow-up options can feel impersonal. In addition, new realtors may find it expensive compared to other tools.

Here are a few features of Boomtown:
a clean design that makes it convenient to navigate.
Allows realtors to set up alerts for new leads.

Price: Pricing is not displayed on the website; therefore, clients must contact them to find out what they can provide. However, plans range from $1,000 to $1,700 per month.
Market Leader is a company that offers multiple lead generation solutions to real estate professionals. Many leading companies, EXIT Realty, Better Homes and Gardens, and Re/Max, choose Market Leader to generate business. The company caters to 250,000 customers with leads, education, and customer support.

Market Leader guarantees a certain amount of exclusive leads each month and never sells the same lead twice, so you will not be vying for the Lead with another agent. In addition, market Leader offers leads generated by its website Housevalues.com, which draws prospective sellers looking to value their properties.

The company has also launched Market Leader Professional, a fully integrated lead collection website, CRM, and marketing center, to engage and manage leads smoothly. For example, when users register on your website, you may capture important information in the CRM and use automated marketing to offer relevant listings.

Market Leader has received excellent feedback overall; agents like the platform's exclusive leads and believe that the service is simple and has helped them develop their business. However, there are some typical concerns about the organization, such as that leads aren't always reliable and customer care isn't always helpful.  

Market Leader features include:
Both buyer and seller leads
Marketing automation
Customizable website
Mobile app
Customer relationship management (CRM)
Price: There is a monthly flat fee of $99; the cost per Lead ranges from $20 to $30 per month.
Bonus tool. 123FormBuilder is a perfect online form builder that it's crucial for lead generation in real estate or other industries. Data collecting form builders like these are so easy and effective, you will be able to use that right away in your marketing campaigns when looking for real estate buyers.
So, this was the hand-picked list of some of the best real estate lead generation tools and software. Each tool possesses valuable features, along with some pros and cons. In addition, most of the tools have different pricing options - a few provide a free trial too.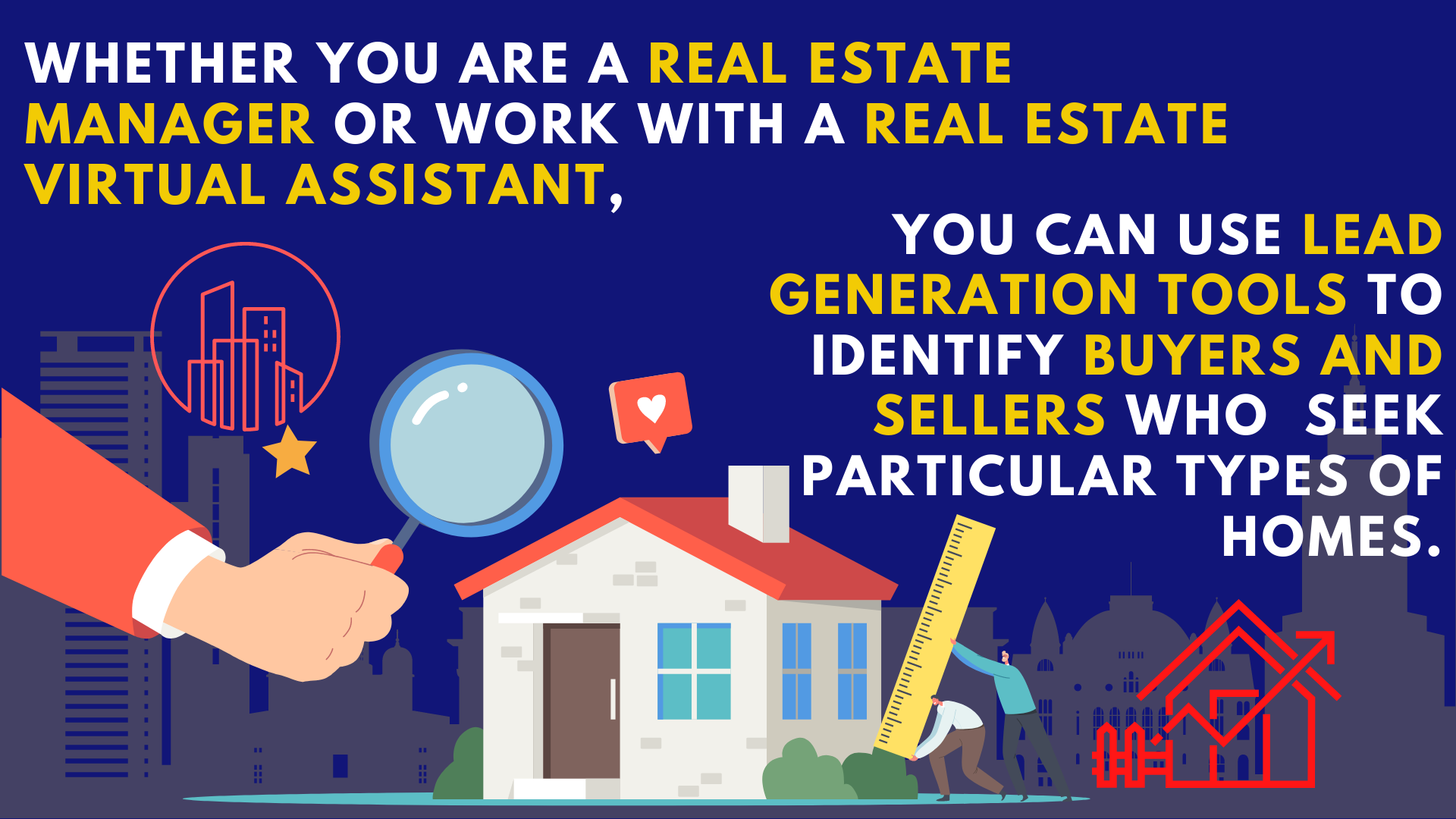 However, one thing that small business owners cannot neglect in this list is bad customer service - a point nearly common in all the real estate lead generation software. Poor customer support may land these app users in trouble because they are business owners, brokers, new realtors, etc., who consider every lead equally valuable.

The shortage of time does not allow entrepreneurs to keep chasing customer support for every glitch. To put it simply, this is not where the problem begins. It becomes a challenge for business owners to select the one tool that suits their business needs. Any startup founder will take time to finalize a lead generation app as they have a monthly price to pay for it. The question is, what if the app does not fit the business requirements well?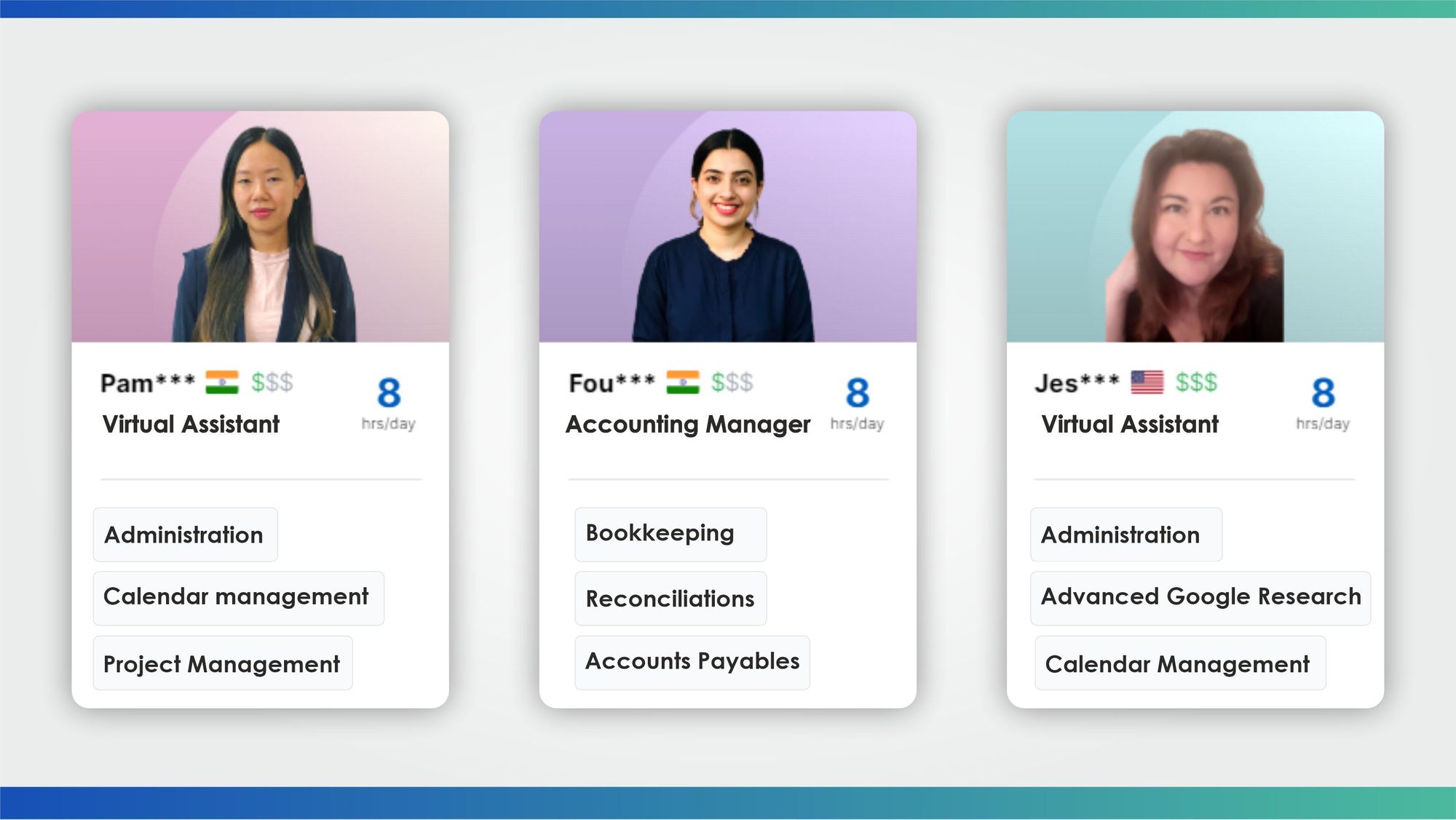 Looking at Other Solutions
Have you ever considered working with a real estate virtual assistant? If not, it is time for you to hire one!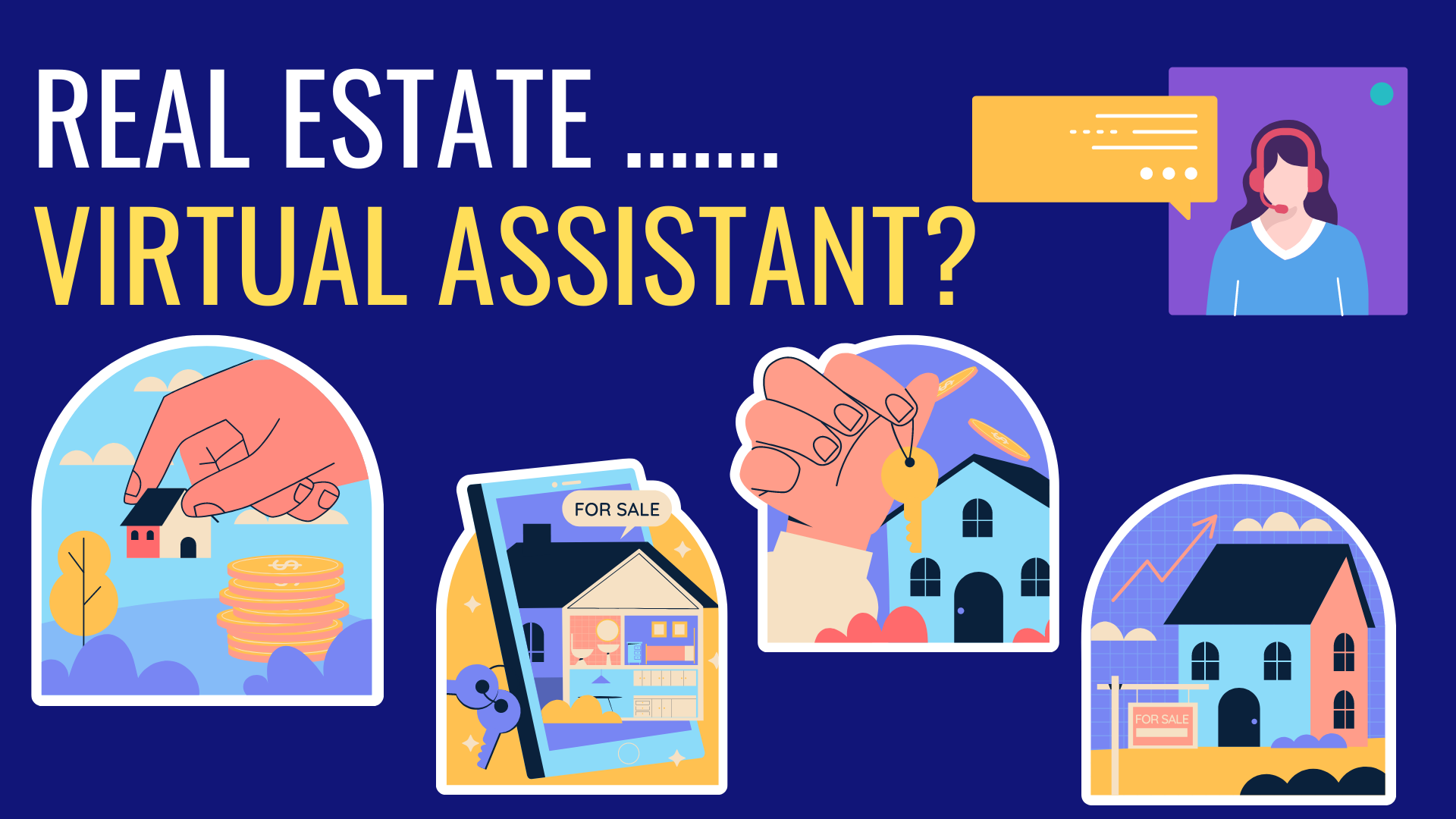 Who Is A Real Estate Virtual Assistant?
A virtual assistant for real estate can help you scale your business up by getting more leads. Experienced professionals leverage social media to get authentic leads and help you with extensive networking. They use various tools to do these tasks.
Why Should I Hire A Virtual Assistant?
The advantages of having a real estate virtual assistant are numerous. They are an invaluable resource for everything from marketing to sales and assisting with multiple responsibilities to keep your real estate firm running efficiently. The most important task done by virtual assistants for real estate is attracting leads.

Reduce costs up to 78%: Yes, that may come as a surprise for many! But, you indeed save big by hiring a real estate virtual assistant - by saving hiring, training, and office setup costs.

Build Solid Online Presence: Social media is a growing tool to get business for large and small businesses. However, it takes brands months to even years to reach a decent following, even with good quality content. It may take several days for entrepreneurs to keep researching and making new content for their social media handles. When will they have time to focus on other important business activities.

A trained real estate virtual assistant can manage their social media handles easily. In addition to researching, making, and scheduling posts, a VA can also tackle business queries and leads.  

Save On Hiring & Onboarding Costs: Most entrepreneurs choose virtual assistant companies like Wishup to hire a remote assistant. It saves time for them as the traditional hiring process involves posting a job and waiting for days for a suitable candidate. Even if you get a worthy in-house employee, the cost of training and onboarding them is often high.  

On the other hand, you can directly start delegating the tasks to virtual assistants when you hire them. Usually, virtual assistants come with hefty training and experience, which leads to early onboarding and increases your overall productivity.

Pay By The Hour: The most significant advantage of hiring a virtual assistant is that you hire them hourly. An hourly payment system reduces the burden on business owners as they no longer have to
Pay heavy full-time salaries
Bear excessive costs to run operations
Time-Efficient Solution: The most significant currency for small business owners is their time. Hence, they must know where to invest time and how much. Hiring a full-time employee is challenging, especially for the real estate industry. The professional must have interpersonal skills, networking abilities, attention to detail, a keen eye for prospects, and experience. Is it possible to find all these qualities in one person without burning a hole in your pocket and spending months on hiring platforms? Maybe not in a full-time position.

However, it is possible to find such a professional if only you are ready to hire a virtual assistant.

Help You Focus Better On Business: As said earlier, time management is a must-possess skill for every business owner, mainly if they aim to achieve 10X growth.

Business owners cannot engage in recurring tasks if they seek fast growth. But where to find a professional who can effectively manage calendars, emails, social media, appointments, etc. A real estate virtual assistant can come to save you. You can think of a virtual assistant as a jack of all trades.

Apart from the decisions that need your direct attention, you can delegate all the tasks to virtual assistants and check weekly / monthly reports to ensure that everything is fine.

Save Big On Employee Insurance Costs: full-time employees exhaust more costs than small business founders think! Employers also have to pay full-time employees' insurance costs, travel allowance, medical allowance, etc., which is not the case with virtual assistants.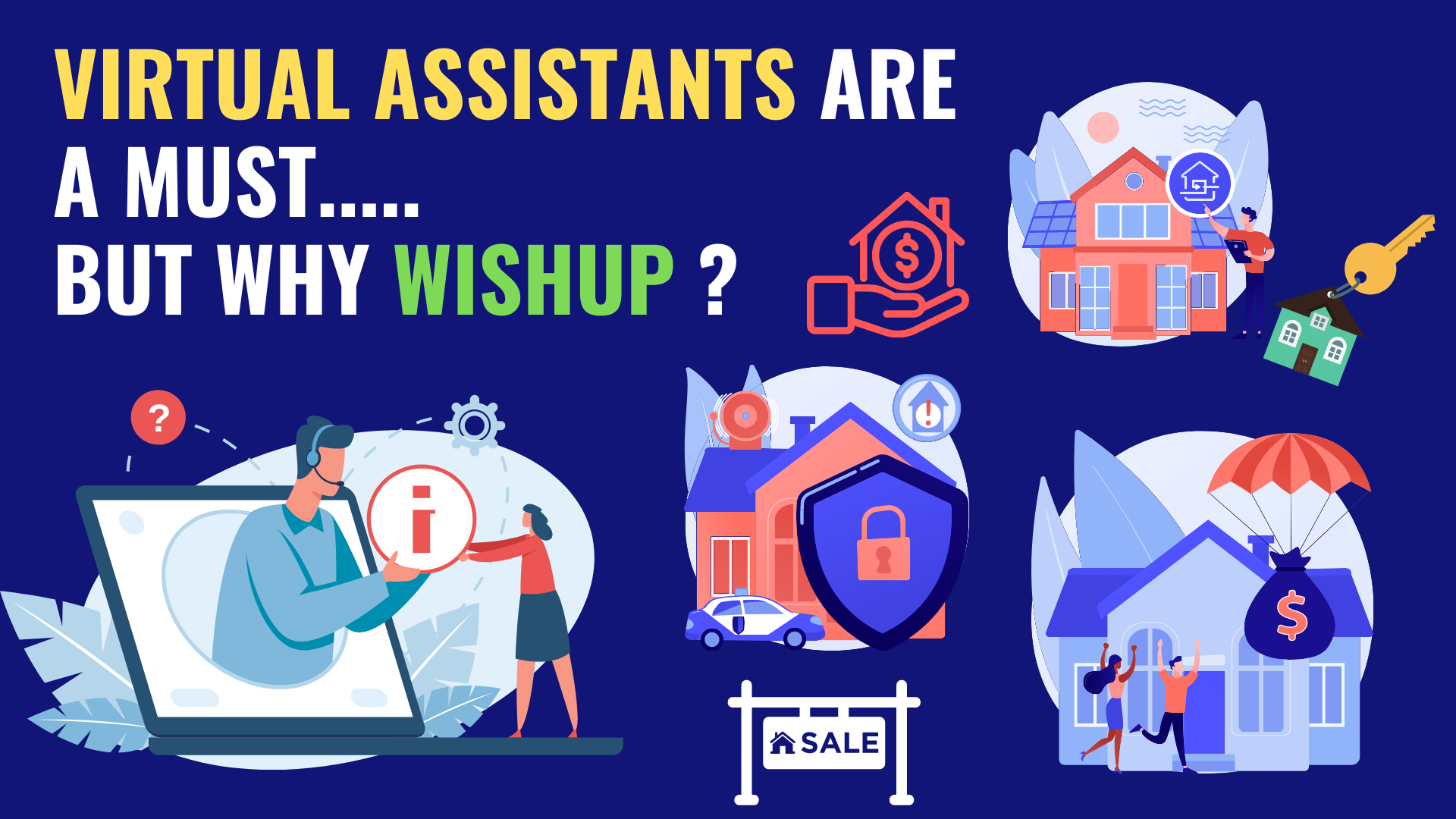 Exclusive Benefits Of Hiring A Wishup Virtual Assistant

Hire Trained Virtual Assistants: After selecting only the top 1% of candidates to become virtual assistants, Wishup provides them with excessive training for critical skills like communication, project management, etc. As a result, virtual assistants get training for 70+ tasks before working with a client.

Hire From Top 1% Talent: The recruitment process of Wishup is divided into many different rounds, with the candidate being expected to excel in all of them. This ensures that only top-tier candidates can make it to the top and provide the finest working experience to the clients.

Instant Replacement: Instant virtual assistant replacement is a quality that makes Wishup stand out because we follow a client-first approach. Ensuring that you get proper support is our priority, and to manifest it, we are happy to offer a VA replacement whenever a client asks for it.

Commendable Customer Support: Unlike some real estate lead generation tools, we provide excellent customer service, leaving no stone unturned to ensure that our clients get the best support.  

Hire A Virtual Assistant Today!
Getting real estate leads is a tough-to-get skill. But, at the same time, entrepreneurs in this industry have to understand that they may not always be the best when it comes to engaging, persuading, and capturing leads. In addition, a human cannot be productive at all hours of the day. Hence, they need to hire a virtual assistant to get started because startups and small businesses operate on limited resources.

Real estate virtual assistants can add the best value to the lives of real estate startup owners, who at times have almost zero or no clue about where to begin. The virtual assistants will help you start and work to make your vision come true. They know about various lead generation tools and most likely can help you do the job with free versions.

We hope that this blog helps you generate more leads and you can grow your real estate business. Mail us at [email protected] to set up a free consultation, or click here to know more about hiring a virtual assistant.