The importance and demand for real estate virtual assistants have risen steadily over the last few years. They are highly skilled and trained professionals who offer remote real estate management services to businesses of all sizes.
These assistants can help business owners and managers with administrative and operational tasks, leaving professionals free to focus on other important tasks. They can do various things, like lead generation, appointment scheduling, social media management, listing coordination, and database management.
Virtual real estate assistant pricing depends on several factors. This can include factors like the experience of the VA, their location, the complexity of the tasks, the number of hours worked, and more. In this blog post, we will look at pricing for virtual assistant services real estate and where you can find the best VA for your real estate business.
Let's dive in!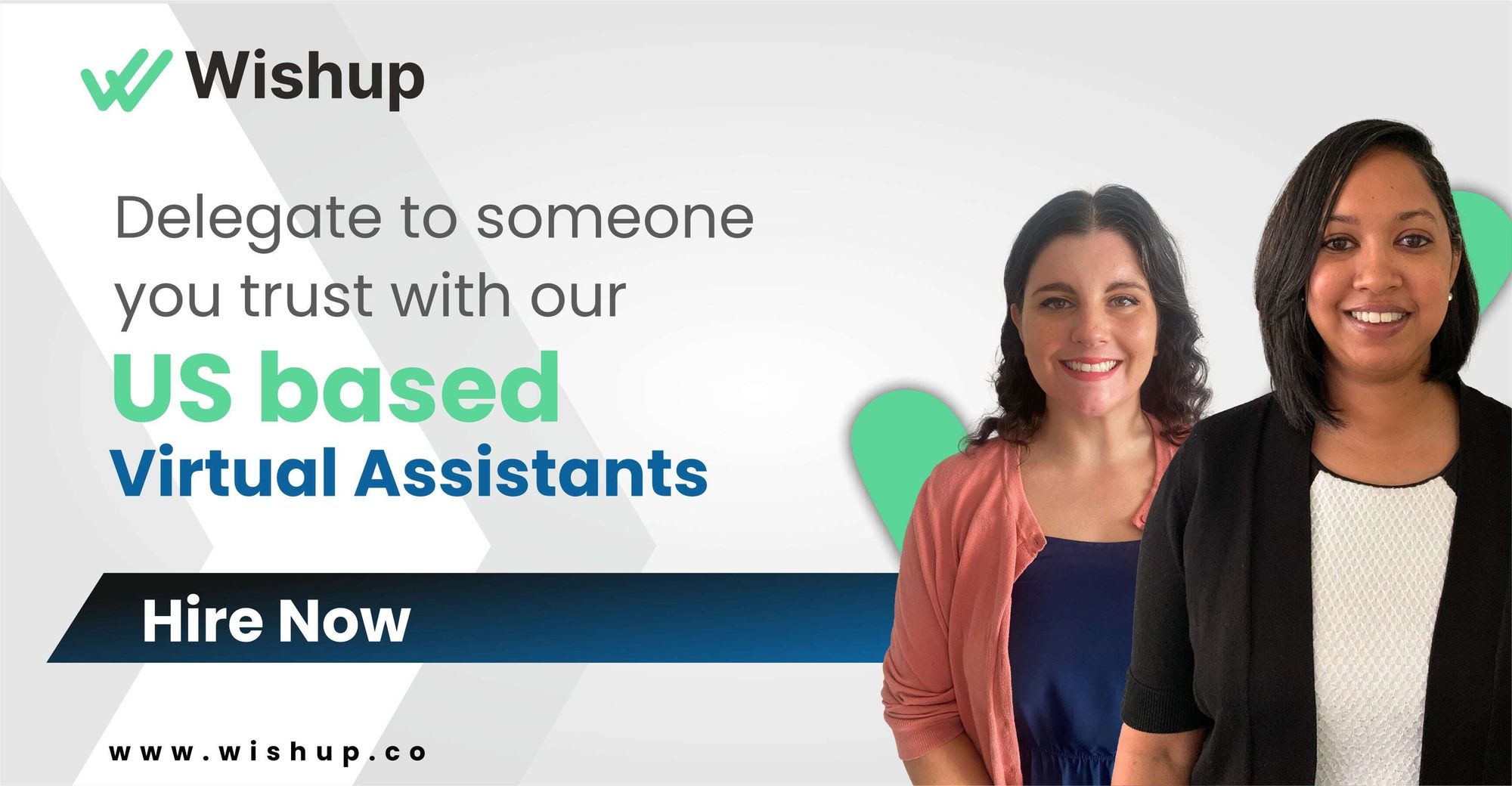 The cost of hiring a Virtual Real Estate Assistant
The cost of hiring a virtual real estate assistant can vary greatly depending on the location and experience level. If you hire a VA from a country with a lower cost of living, the charges of the VA will naturally be lower than a VA from countries like the USA. Thus, before hiring, it is critical to know about the average full-time and part-time virtual real estate assistant pricing.
That said, let's have a look at the cost of hiring a skilled real estate virtual assistant in different parts of the world:
1. The United States
Hiring a US based virtual assistant can be the most expensive, especially if you are hiring someone from cities like New York or L.A. Since the cost of living is incredibly high in such cities, the hourly or monthly rates of the VAs are also quite high.
According to ZipRecruiter, the average salary of a real estate virtual assistant in the United States is $52,625 per year as of March 2023. On the other hand, the per-hour rate can be about $25/ hour.
However, this cost can vary depending on their experience level and expertise. More experienced VAs have hourly rates as high as $50. On the other hand, you can even find an entry-level and less-experienced VA for as little as $10 per hour.
2. India
If you're looking to save money, hiring a virtual assistant in India is a great way since the cost is much lower than in the US. This means you can get the same or better quality of work at a much lower price.
According to Payscale, the average annual salary for a virtual assistant in India is around INR 330,000, which is about $4,019. And for those on a tighter budget, some virtual assistants in India offer hourly rates that are as low as $5 to $15.
3. Philippines
The Philippines is home to some of the most skilled and in-demand real estate assistants around the globe. And the best part is you can find top-notch assistants at a much lower price than in the United States or the UK.
As per the details shared by Onlinejobs.ph, the average monthly salary for a skilled real estate virtual assistant in the Philippines can be anywhere from $400 to $800. Talking about the hourly rates, you can find Philippines-based virtual assistants from $3 to $15 per hour. However, this will largely depend on their experience and the work required.
4. Vietnam
Vietnam is another country where the virtual assistant industry is booming rapidly. It has become among the most popular choices for outsourcing real estate virtual assistants. What makes Vietnam so popular is the fact that you can find many skilled professionals available at relatively low costs.
According to salaryexplorer, the average monthly salary of a Vietnam-based virtual assistant is around 9,030,000 VND. This is equivalent to around $385. Hourly rates can range from $5 to $10, depending upon the experience and skills of the VA.
Where to find the best Virtual Real Estate Assistant

Are you on the hunt for the top virtual real estate assistant? Check out Wishup! We are a top-notch provider of virtual assistant services! We have you covered with a wide selection of virtual assistant services designed especially for the real estate industry.
Benefits of Hiring From Wishup:
Here are some of the benefits of hiring a real estate VA from Wishup:
Highly skilled and experienced virtual assistants: At Wishup, we've got a stellar team of virtual assistants who know their way around the real estate industry. They're skilled at tackling various tasks, like data entry, research, social media management, appointment setting, and CRM.
Cost-effective solutions: If you're looking for a way to save money on administrative and support tasks, Wishup's real estate virtual assistant services offer a cost-effective solution. We offer flexible pricing plans tailored to fit your exact needs and budget, so you can get the help you need without breaking the bank!
A dedicated Accounts Manager: Wishup assigns an Account Manager for every client to ensure tasks get done on time and to your liking. They will keep an eye on your virtual assistant and update you on how everything's going.
Easy and quick hiring process: Getting a virtual real estate assistant from Wishup is a breeze! We also provide a free consultation to help you figure out which services will work best for you. And the best part? You can onboard your virtual assistant and start working in under 24 hours!
Fully trained and screened VAs: When you choose a real estate virtual assistant from us, you won't have to spend any extra money on their training. We take care of it all. Our VAs are trained in 70+ no-code tools and have over 200 skills. Further, we take your security seriously. Thus, all our VAs are fully screened, vetted, and signed an NDA before being assigned to a client to ensure you work with the most reliable professionals.
7-day money-back trial: To help you ensure you are hiring the right VA, we also offer a 7-day trial! In this, you can try out our services before making a long-term commitment or get your money back!
Wishup's Pricing:
At Wishup, we believe in offering world-class services at an affordable price. We have flexible pricing plans and a no-questions-asked refund policy to meet your needs and budget. Our pricing plans start from $999/a month.
Visit our website today to learn more about our prices and services!
How to Hire Your Real Estate VA from Wishup?
Here are the three steps you should follow to hire a virtual assistant from Wishup: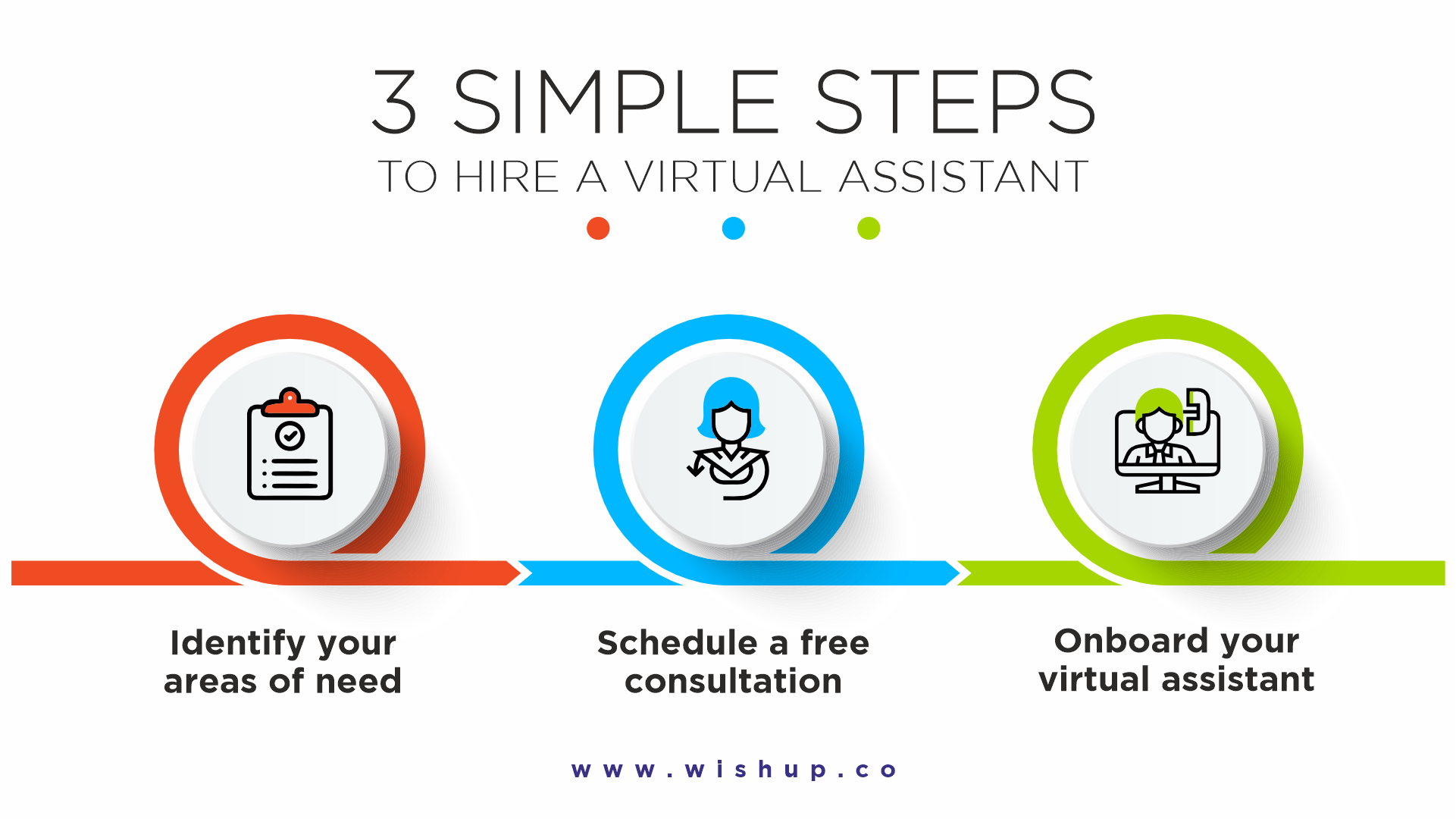 Step 1: Identify your problem area
To get started, note down the tasks for which you want the help of a real estate VA. It can include things like data entry, social media management, appointment scheduling, and more.
Step 2: Schedule a free consultation
Once you have identified your problem areas, you can get in touch with our team for a free consultation. We will discuss your requirements and determine which real estate VA is the best fit for you. You will get the opportunity to talk with the professionals, interview them, and see if they fit your business.
Step 3: Onboard your virtual assistant
Once you have chosen your desired VA, we can onboard them within 24 hours - one of the fastest in the industry!
And that's it! You are ready to get started.
What Virtual Real Estate Assistant Services Does Wishup Offer?
A real estate VA can offer a lot of benefits to you. At Wishup, we have a team of experienced virtual assistants who can provide a range of services to real estate agents and brokers like you. Whether you need help with daily administrative tasks or operational duties, Wishup is here to make your life easier.
Curious to learn more about our virtual real estate assistant services? Here's everything that we offer:
1. Web Research
Wishup's virtual assistants can do the legwork for real estate professionals, helping them gather information on properties, market trends, competitive analysis, and more. With their in-depth research skills and the information they collect, real estate professionals can make smart decisions and create strategies to give their businesses the needed edge.
2. Data Entry
Data entry can be overwhelming, but it is essential for running a successful real estate business. But don't worry, Wishup's virtual assistants can do the tedious work for you! They can update client information, record property details, and keep financial records up-to-date. That way, you can save yourself some precious time while ensuring your data is always accurate.
3. Updating Social Media Accounts
Social media can be a great asset for real estate agents to promote their businesses and connect with existing and prospective clients. However, managing your social media accounts, creating content, and engaging with your audience daily can be time-consuming.
With Wishup's virtual assistants, managing social media accounts is a breeze! They can create and schedule content, answer messages and comments, and track analytics to evaluate social media performance.
4. Schedule Management
Real estate professionals have a lot on their plate, which is why Wishup's virtual assistants are here to lend a helping hand! Our assistants can do it all when it comes to scheduling, from booking appointments and coordinating schedules to sending reminders - so you don't have to worry about a thing.
5. Inbox Management
With Wishup's virtual assistants, real estate professionals can stay on top of their emails and ensure that no important messages slip through the cracks. They can help manage your inbox by organizing emails, flagging urgent messages, and responding to routine inquiries, leaving you free to focus on more important tasks.
6. Fixing Appointments
With Wishup's virtual assistants, real estate professionals can save time and ensure their clients are always in the loop regarding appointments. They can handle all your appointments, including booking, confirming, and rescheduling, so you don't have to stress about managing your schedule!
7. Travel Planning
With Wishup's virtual assistants, real estate professionals can take the hassle out of travel planning. They can help you book flights, reserve hotels, arrange ground transportation, and provide recommendations on local activities and restaurants. Whether you're planning a business trip to check out a new property or meet new prospects, our virtual assistants can help make the process smooth and stress-free.
Hire the Best and Budget-Friendly Real Estate VAs from Wishup Today!
Are you a real estate professional overwhelmed with repetitive administrative tasks and support duties? Do you need to free up time to close more deals? Look no further than Wishup!
Our virtual assistant services are tailored to the real estate industry so that you can count on experienced help with data entry, web research, appointment scheduling, and so much more.
Wishup's assistants work remotely, and you can choose whether you want them to be full-time or part-time. Plus, we've got flexible pricing plans to ensure you get the most bang for your buck.
So, what are you waiting for? Hire a skilled real estate VA from Wishup to get your time back and start closing more deals!

Conclusion
In today's competitive business world, real estate professionals need to stay ahead of the game. That takes more than just putting in the hours - it means having effective time management, streamlined processes, and creative solutions. To make that possible, virtual real estate assistants can be a huge help by handling mundane administrative work and freeing up your time to devote to your core business.
If you are looking for world-class real estate VAs, Wishup is here to help. Our team of experienced virtual assistants can provide various services to help agents and brokers stay organized, optimize their processes, and boost their productivity. Visit our website to book a free consultation, or email us at [email protected]. We look forward to hearing from you!
Virtual Real Estate Assistant Pricing Frequently Asked Questions
1. How much should you pay for a virtual assistant?
The cost of a virtual assistant varies depending on their experience, skills, location, and the tasks they're performing. Usually, they'll charge an hourly rate or a flat fee for a certain project. Generally, you can expect to pay anywhere between $20 to $50 per hour for hiring an entry-level virtual assistant.
2. Why are virtual assistants cheaper?
Virtual assistants can be more cost-effective than in-person assistants because they don't need office space, equipment, or benefits. Since they work remotely, it opens up the possibility of hiring people from different parts of the world where the cost of living is lower. So, you can get the same quality of work for less money.
3. What is a realtor virtual assistant?
A realtor virtual assistant is a remote professional who works for real estate agents and brokers. They can handle all sorts of tasks, like lead generation, scheduling appointments, managing emails and social media, managing databases, coordinating listings, and more. This helps streamline business operations and boosting its efficiency.
Subscribe to Wishup Blog | Remote Teams | Remote Employees
Get the latest posts delivered right to your inbox