How to Hire a Good Real Estate Virtual Assistant?
This blog will give you a step-by-step guide on hiring the right Real Estate Virtual Assistant for your business.
Being a real estate agent is not an easy job - between scouting properties, dealing with clients, and closing sales, there's a lot of hustling involved.
Many real estate agents like working independently, but as your business grows, the smart option would be delegating some of your responsibilities to a skilled assistant. This is where Real Estate Virtual Assistants come in. You'll get the benefits of an assistant without feeling like you always have to supervise and micromanage another employee. But how do you find a good assistant remotely?
This blog will guide step-by-step on hiring the right Real Estate Virtual Assistant for your business.

Who is a real estate Virtual Assistant?
A Virtual Assistant is a contractor working independently or through an agency like Wishup. They are skilled across various industries and assist realtors in different business areas. What distinguishes them from a full-time employee is that you are not bound to them by a long-term contract, and they work mainly on an hourly/project basis. This makes them the better and more convenient choice for growing businesses that are not yet financially stable to hire a full-time employee.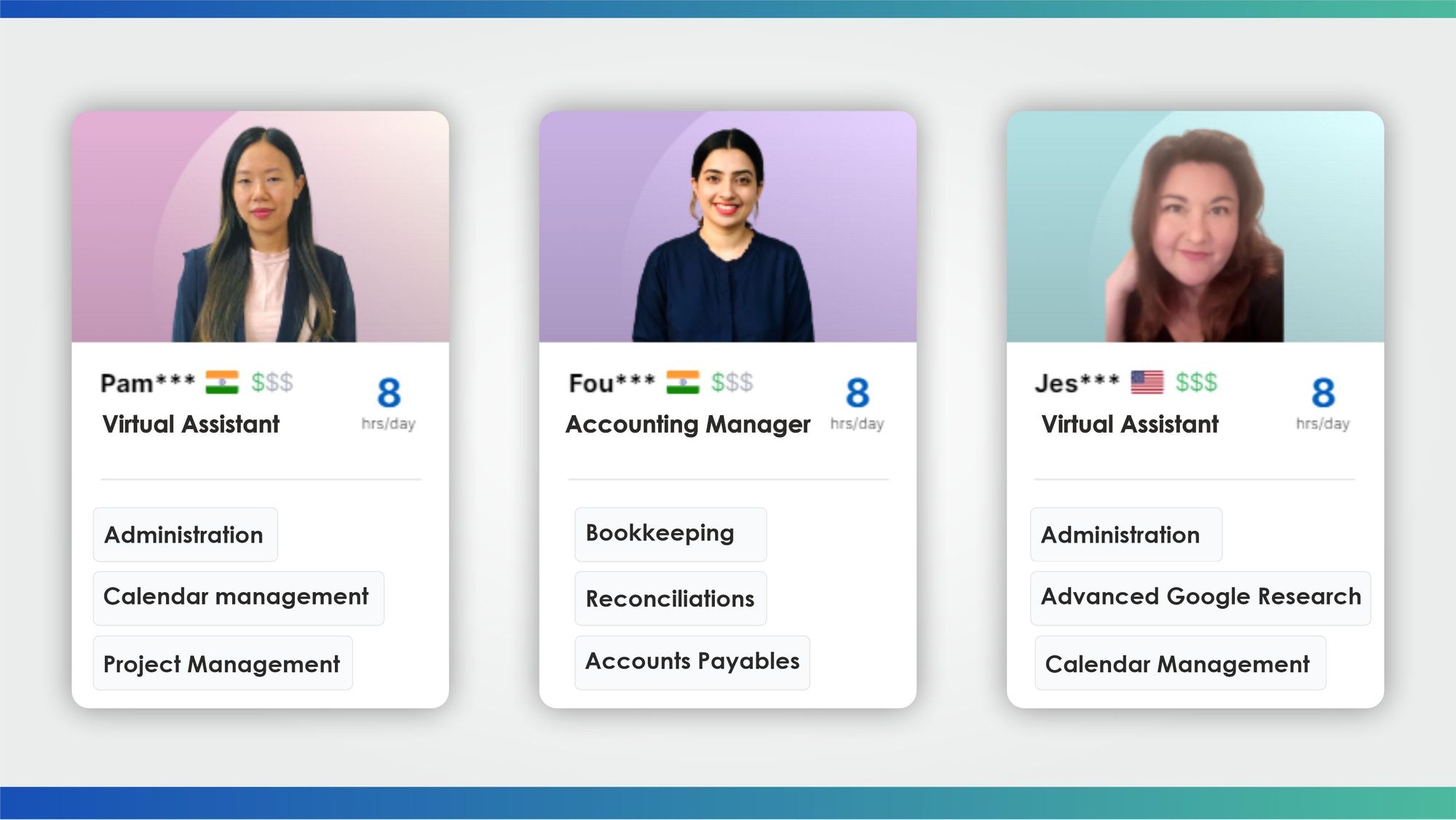 How to hire the right Virtual Assistant?
While hiring a Virtual Assistant, it's clear to take some time out and understand your requirements, which will help you find the most-suited person for the job. Here are some things to consider before you start your search for a Real Estate Virtual Assistant -
Know your requirements.
If you don't know what you're hiring for, you'll never be able to find a good assistant. Knowing what tasks you want your Virtual Assistant to do is essential before you even begin hiring. So before you start looking, ask yourself these questions -
What tasks are taking up most of my time?
What tasks are keeping me away from core-business duties?
What tasks am I fine doing myself?
What tasks am I not qualified for/experienced enough to do myself?
These questions will help you identify your strengths and weaknesses. For example, suppose you're an excellent communicator but have no design skills. In that case, you can manage client communications and have your Real Estate Virtual Assistant do the social media designs and blog posts. So now you know that you have to look for a Virtual Assistant who can write blogs, understand SEO and create social posts.
In case you feel you are lacking in areas of administration and organization, you can hire a Virtual Assistant to schedule your calendar and organize your inbox. The same goes for research-related tasks. This will also help you stay more productive and focused and give you time to focus on business-specific tasks.
Write a detailed job description.
Now that you know what you need from your Virtual Assistant, you can begin writing a detailed job description. The more detailed it is, the more you'll be able to narrow down your list of applicants and save time on interviewing the wrong candidates.
Provide a job brief, introduction to the company, their primary responsibilities, expected qualifications and skills, work timings, and any other details you might want to add. You might think this process is helpful only to you, but it is also really beneficial to the applicants as well. It will help them understand the job better and what they should bring to the table.
Whether you choose to hire independently or through an agency like Wishup, it's crucial to provide the applicants with a brief job description to get the right match.
Explore hiring options.
There are many options available when hiring a Real Estate Virtual Assistant, each with pros and cons. Depending on your preferences, and the nature of your business, you need to choose the most convenient hiring method. Let's explore some of the top Virtual Assistant hiring approaches -
Hire through an outsourcing agency like Wishup
This is the best option for those realtors who don't have time to go through the hiring process hassles. These agencies take care of the hiring process themselves. At Wishup, we screen, vet, and hire only the top 1% of applicants, and we also train them in over 70 tools to prepare them for the job.
Pros - Save time interviewing candidates, instant replacement, and pre-screened Virtual Assistants who won't flake on you and can be recruited in less than 24 hours.
Cons - You don't get to pick your Real Estate Virtual Assistant yourself; they will instead be allotted to you.
Make a job posting online.
Multiple platforms, such as LinkedIn, allow you to create a job posting and hire Virtual Assistants. The process is simple enough, and this option works best for people who like to be very involved in the hiring process and interview the candidates themselves. However, this might not be the best option if you're looking for a quick hire, as it can often take time to find quality candidates.
Pros - You can be involved in the interviewing process and hand-pick candidates.
Cons - It's time-consuming and can take months to find the right Virtual Assistant.
Freelance job platforms
Similar to job portals, there are freelancer platforms such as Fiverr and Upwork, where job profiles are already available, and you can pick the candidate most suitable for the job. This is also a quick hiring approach, but you won't have any contact with your Real Estate Virtual Assistant until you've made the payment to the platform.
Pros - You can quickly hire applicants and save time interviewing and shortlisting resumes.
Cons - It's a direct contract with no third parties involved, and there's no guarantee that the freelancer won't flake on you.
Be clear with salary expectations.

The reason why Virtual Assistants are preferred over full-time employees is that they are more affordable. How much more affordable is going to depend on you and your requirements.
It might cost less if you want a Virtual Assistant just for routine administrative tasks. However, hiring for specialized tasks like research or social media marketing will cost more. This is why it's essential to write down your requirements, as we previously mentioned, to know which areas you can compromise to cut costs. Being transparent about the compensation will also save a lot of time for you and the applicant. That way, you won't have to negotiate over the salary later.
However, the best part of Real Estate Virtual Assistants is that they work hourly. At Wishup, the packages start at 4 hours a day and go up to 8 hours a day. So, during the lighter months, you can choose the shorter package and extend your subscription during hectic periods.
Interview
This step applies more to the realtors who hire through job portals or freelance sites. Depending on the number of applications you receive, this can either be a quick or lengthy process. Multiple video meeting tools are available, such as Zoom or Google Meet, where you can conduct the interview.
We suggest having the videos on during this meeting, as this will let you gauge their body language, communication skills, and confidence. Again, this person will represent you and your business to clients, so you want someone who can convey the message clearly and confidently.
We also recommend that you come prepared with a list of questions for the interview. This will make you seem more professional. Try to be creative with the questions and present scenarios where complications will arise and see how they would solve these problems. It will help you judge how good their problem-solving skills are and how well they perform under pressure. Additionally, you could give them a task/assignment to see how well they might perform in the role.
Discuss software and communication tools.
Communication is key when working with a Remote Assistant since you will not meet them in person. Therefore, there must be a clear communication channel between you through a tool with which you can easily access them during work hours. Tools like Slack or WhatsApp are excellent for staying in touch remotely.
Your Virtual Assistant must be fluent and comfortable with the tools you use in your business. For example, if you use project management tools like Asana, you want someone with experience using it so that they can transition smoothly to your work style.
A great idea is to ask them for tools and software they have previously used that might help make operations easier in your company. Since they have years of experience working in remote roles, they might introduce you to new tools you were unaware of.
Consider the onboarding process.
Similar to how Rome was not built in a day, your Real Estate Virtual Assistant will not be able to grasp everything on the first day. Onboarding and training for any role take time, whether for a remote job or an in-office role.
Whether you hire through an agency like Wishup or through job portals, we recommend you to work closely with your Real Estate Virtual Assistant for the first few weeks after you hire them. Be available to answer their queries and guide them through different processes.
If there are other people in your organization they will be working with, you could host an introduction team call and get everyone acquainted. This will give them a sense of belonging and make working together more efficient for everyone.
Create a system of feedback.
The only way to improve is through regular feedback, which works both ways.
In the initial weeks, you must give your Virtual Assistant regular feedback on their performance and point out areas for improvement. To reassure them, you should also remember to appreciate them for tasks they perform well.
You could also ask them for their observations and feedback about what they would improve or change about the company's operations. You have hired them for a reason, and they might bring a few ideas to the table to help improve your business.
Sharing feedback will help them get acquainted with the role quicker and eliminate the need for micromanagement in the long run.
Understand when things aren't working.
Sometimes, a candidate might be perfect on paper but might simply not be a good match for your business. When things aren't working out between you and your Virtual Assistant, it might be better to let go instead of making it an unpleasant experience for both parties involved.
This is when hiring from an outsourcing agency like Wishup comes as an advantage. We have a no-questions-asked instant replacement policy. So, in the rare case that you feel you are not getting along with your Real Estate Virtual Assistant, we can provide you with a replacement in a couple of hours. This way, your work doesn't have to suffer.

"The first rule of management is delegation. Don't try and do everything yourself because you can't." - Anthea Turner
The way to grow your business is to know when the time has come to delegate. Trying to do everything yourself will hinder your productivity and is counterproductive to business growth. We hope you have found these tips helpful and will consider hiring a skilled, trained, and qualified Real Estate Virtual Assistant from Wishup with years of experience helping realtors grow their businesses.

To grow your remote team with the top 1% of Virtual Assistants, click here to schedule a free consultation with Wishup today, or drop us an email at [email protected].