Everything You Need To Know About Real Estate Investor Virtual Assistant
Are you a real estate investor struggling to juggle multiple tasks? A virtual assistant could be the solution to your productivity woes. With a real estate investor VA, you can delegate lead generation, administrative work, and other time-consuming tasks. Learn more.
Investing in real estate has always been a lucrative choice. The global real estate industry was valued at a whopping $7,063 billion in 2022, and it is expected to grow with a CAGR of 1.8% from 2023 to 2028. This presents an excellent opportunity for real estate investors to park their funds in various properties and earn good ROI.
However, real estate investing comes with a tremendous amount of responsibilities. From finding new properties to evaluating deals, coordinating transactions, to staying on top of paperwork, it can be a lot to handle. This is why a real estate investor virtual assistant can be so helpful.
In this blog post, we'll cover all the details you need to know about these assistants and how they can make your life easier. Read on!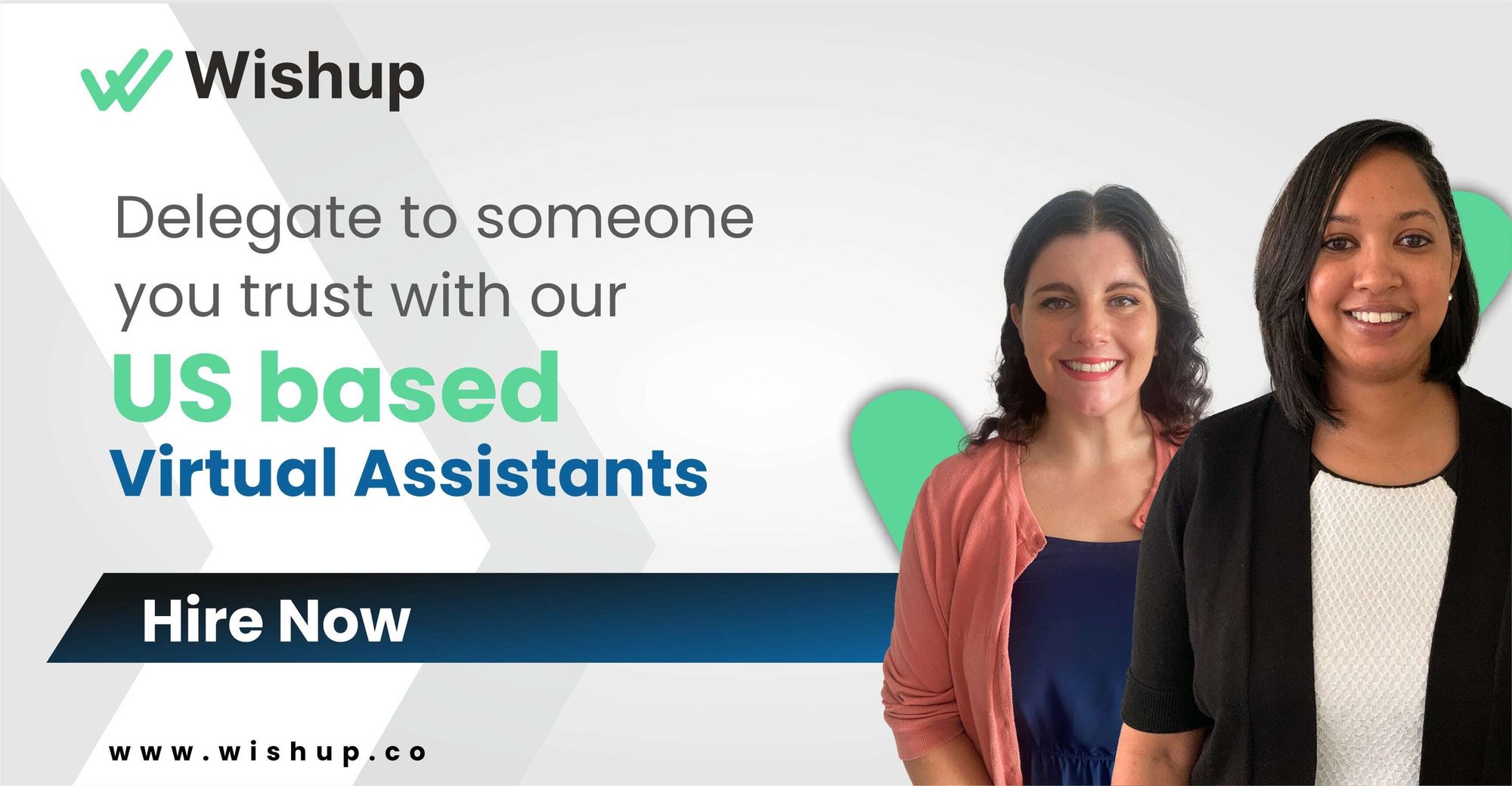 Who is a Real Estate Investor Virtual Assistant?
Real estate virtual assistants are skilled and experienced professionals who provide essential administrative support to real estate investors. Their expertise in the real estate industry allows them to take care of various tasks, including scheduling appointments, managing paperwork, researching properties, and even coordinating transactions.
Since investing in real estate requires expert knowledge and help, real estate investor assistants can be invaluable resources. By using the real estate investor virtual assistant services, investors can make more informed decisions and maximize their return on investment.
Ways a Real Estate Investor Can Leverage a Virtual Assistant
Real estate investing can be a time-consuming and complicated process. It requires careful planning, analysis, and attention to detail. As a busy entrepreneur, you may not always find the time to complete this.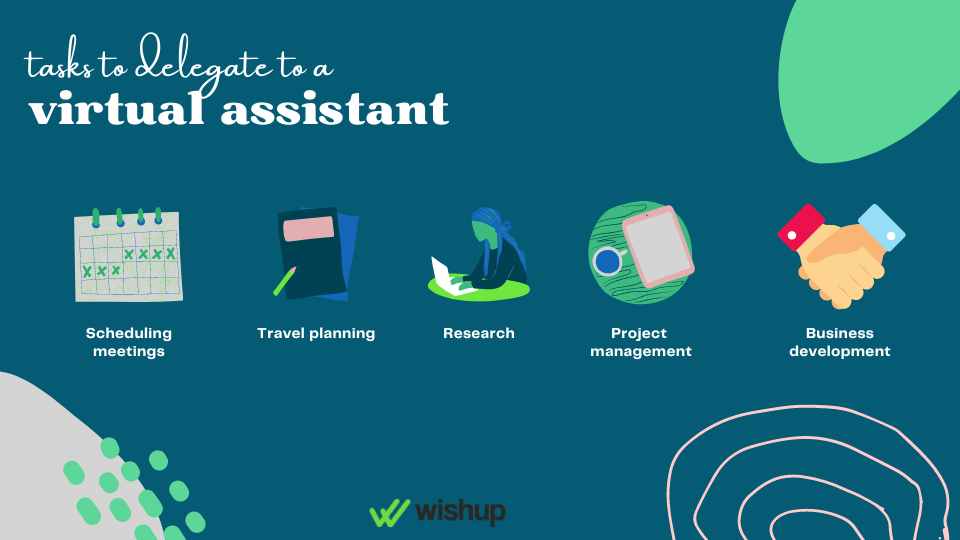 This is where the role of a real estate investor VA becomes important. They can help you make the most of your time and make sound investment decisions. With their help, you can save time and make wiser decisions. Here are some of the ways a virtual assistant can be of immense value:
1. Sort and arrange emails
By using the services of a virtual assistant real estate investor best company, you can easily sort and handle your emails. They can help you identify the most important ones and provide quick responses. The VAs can help you make the most of your time, enabling you to focus on other important tasks.
2. Managing your calendar
Staying on top of your calendar and important events is made easier with the help of a real estate investor VA. They can help you manage your schedule, book appointments, and track any deadlines you need to meet. This way, you can be sure you won't miss any important dates or an investing opportunities.
3. Results evaluation
By hiring a virtual assistant, you can gain valuable insights into your real estate investments. This can further aid you in making smarter future investment decisions. Analysis of the results from your previous and current investments can assist in making the best decisions for your investments.
4. Data entry
As a real estate investor, having a virtual assistant can be a huge time-saver when it comes to data entry. They can help you keep all your property information, rent figures, and other important data inputted into your database or spreadsheet. That way, you don't have to worry about it; you know it's always up-to-date and accurate.
5. Prepare property images for listing
One of the most important tasks for virtual assistant real estate investor is to prepare property images for listings. Having high-quality images of your properties can be a huge help in attracting more buyers or renters. A virtual assistant can make this process easier by preparing top-notch and visually appealing images, giving you more chances to close those deals.
6. Pipeline reports
Hiring a virtual assistant can make managing your real estate investments a breeze! They can set up pipeline reports to track how your investments are doing, so you can quickly spot any areas that need improvement and make changes right away.
7. Conduct data mining
Data mining is a complicated and time-consuming task. But with the help of a skilled VA, data mining can become much simpler and quicker. With their help, you can mine data to uncover new opportunities and trends, giving you a better chance to succeed.
8. Research
Research can be time-consuming, but a virtual assistant can make it easier! They can help you research potential properties, booming markets, and competitors, so you can make smart decisions and avoid costly errors.
9. Auditing and managing digital files
You can use a VA's expertise in handling your digital files and auditing them with precision. They will help you audit and manage all your digital records, ensuring everything is in its right place, secure, and easily reachable when needed.
10. Addressing renter issues
Having a virtual assistant on hand can be a real lifesaver when it comes to dealing with tenant problems, like complaints, maintenance, and repair needs. This way, you can keep your tenants happy and your properties in tip-top shape.
11. Coordinating Transactions
Finally, a real estate investor VA can also help you ensure all transactions occur seamlessly. They will handle all the tedious stuff like paperwork, closing deals, and keeping all the stakeholders in the loop. This can save you a lot of time and hassle.
Should you hire a VA for your real estate investment business?
Hiring a real estate investor virtual assistant can be a great asset for any business, regardless of size. Whether you are a solo investor or have a team of 50 - 100 people, you can benefit from their services. The increased productivity, cost savings, and access to professional knowledge that VAs bring to the table can help you take your venture to the next level.
Since these assistants work remotely, you will only have to pay for the services you use. Further, these professionals are highly trained and have expertise in their industry. This means they can offer you key insights and help you make the right investing decisions. It's a great way to maximize resources and stay ahead of competitors.
Benefits of having a Real Estate Investor Virtual Assistant
1. Significant financial savings
Hiring a real estate investor virtual assistant can be a great option if you're looking to save some money. This is because virtual VAs only charge for the services they provide, unlike traditional assistants. This way, you don't have to worry about the overhead costs like office space, equipment, and benefits that come with full-time employees.
2. Assist in focusing on your core competencies
By hiring a real estate investor VA, you can free up your time to focus on your core competencies and make important decisions for your business. The VA can handle tedious and recurrent duties, such as data entry and administrative duties.
3. Check that your transactions are up-to-date
Real estate investor assistants can also help you track your transactions and ensure they are up-to-date, accurate, and properly recorded. In this way, you can save money by avoiding costly mistakes and allowing your business to run efficiently.
4. Professional knowledge at your disposal
A huge benefit of having a specialized real estate investor VA in your team is the wealth of professional knowledge and experience they bring to your business. These professionals provide you with valuable insights and advice on real estate investment strategies and market trends to ensure you can make the most from your investments.
How to hire a virtual assistant for real estate investors?
When it comes to selecting a virtual assistant for your real estate investment business, you may be overwhelmed by the range of services available online.
But don't worry because we have you covered! We have compiled a list of the best virtual assistant real estate investor service providers to help you narrow down your choices and find the right assistant for your real estate business.
Wishup is a fast-emerging and highly reliable virtual assistant outsourcing company that offers fully-trained and vetted real estate investor VAs. You can easily find a competitive VA for your business from data entry to administrative tasks.
They also have a 7-day trial and a no-questions-asked refund policy to ensure maximum customer satisfaction.
Pros:
24-hour hiring process
Top 1% applicants are hired
In-house training
Guaranteed security
No-questions-asked replacement policy
Dedicated account manager
7-Day Trial
Both US and Indian VAs are available to hire
Cons:
VAs are not available on weekends.
Services Provided:
Appointment scheduling
Data entry
Calendar management
Expense tracking
Bookkeeping
Pricing:
Wishup offers flexible pricing plans starting at $999 a month. Schedule a free consultation to learn more about their prices.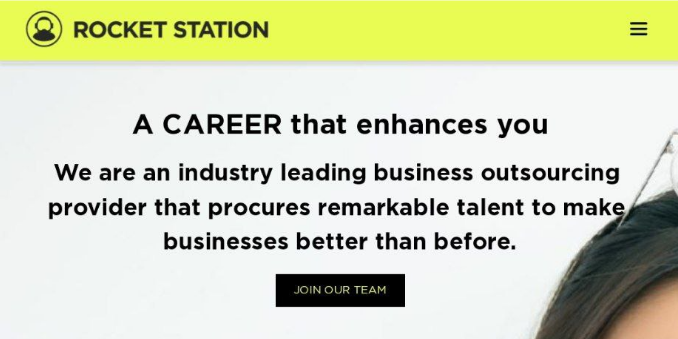 Rocket Station is a renowned staffing company providing skilled and highly trained virtual assistants. The company has a strict hiring process, only hiring 2% of its applicants. This ensures you get trusted and high-quality services at affordable prices.
Rocket Station provides lead generation, customer supper, and bookkeeping services to real estate investors.
Pros:
They offer a wide range of services to support real estate investors.
They have a team of highly trained virtual assistants with expertise in real estate investing.
The company allows you to build your remote team effortlessly.
Cons:
They are not the best fit for solopreneurs or small business owners
Services Provided:
Lead generation
Customer support
Administrative tasks
Pricing:
The company has no fixed rates, and the prices are customized according to the services you require.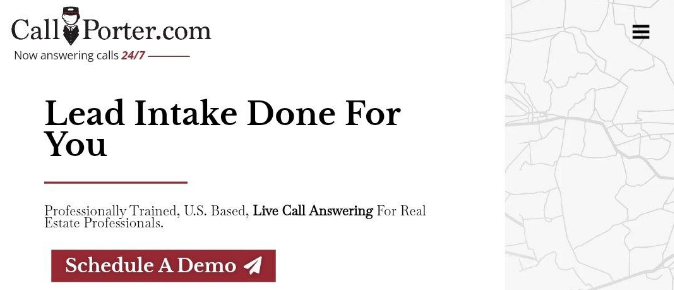 Call Porter is a virtual assistant company specializing in offering live answering services for real estate investors. Their services include live call answering, appointment scheduling, lead management, and lead nurturing.
Pros:
They offer top-notch live call answering and appointment scheduling services 24/7
Call scripts and templates that can be customized according to your needs
Free trial period of 30 days
Cons:
A limited number of services
Services Provided:
Lead generation
Live call answering
Appointment scheduling
Pricing:
Their pricing starts from $49 per month.

TaskBullet is a U.S.-based virtual assistant company specializing in providing various services to real estate investors. These services include administrative support, transaction coordination, and marketing.
Furthermore, they also offer project management and team collaboration tools to optimize workflows and boost productivity.
Pros:
User-friendly platform
24-hour effective customer support
A dedicated accounts manager
60-day money-back guarantee
Cons:
The prices can be more expensive than other similar services
Services Provided:
Administrative support
Team collaboration
Data entry
Transaction coordination
Pricing:
TaskBullet's pricing starts from $220 for 20 hours of services per month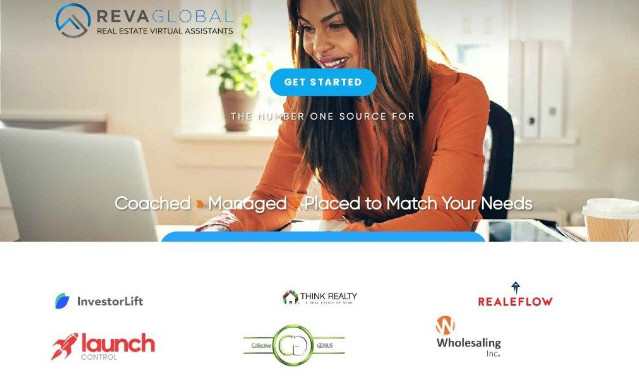 REVA Global, also known as Real Estate Virtual Assistants Global, is an excellent company that offers fully-trained VAs to real estate investors. The company focuses on automating its clients' tasks and making their business more efficient.
Pros:
Numerous real estate investor virtual assistant tasks
Quick hiring process
Excellent customer support
Cons:
No monthly plans or pricing packages
Services Provided:
Cold calling
Call answering
Lead generation
Wholesaling real estate software tools
Pricing:
The company doesn't have a fixed pricing plan. You will have to schedule a consultation to learn about the charges.
What should you look for in a virtual assistant company before hiring its VAs?
When searching for a virtual assistant company to provide VAs for your real estate investment business, it is important to take certain qualities into account. These include the following:
Experience and expertise in real estate: Make sure to opt for a company with previous experience working with real estate investors. Look for testimonials and reviews. This will ensure that the VA you finally choose understands the unique needs and challenges of the industry.
Flexibility and scalability: Find a company that offers flexible, adjustable services to fit your requirements. Consider a provider that can deliver services that are both flexible and scalable.
Cost-effectiveness: Make sure to go through the company's pricing and compare it with other similar services. Choose the company whose prices align with your budget and business needs.
Quality of assistants: Ensure the company has a rigorous hiring and training process. This guarantees that its virtual assistants are high caliber, professional, and dependable.

Conclusion
To sum it up, employing a real estate investor online assistant for your real estate investment firm can be highly advantageous. Some benefits include cost savings, enhanced productivity, and access to specialist knowledge and assistance. These assistants can help you make fully-informed investment decisions and advance your business.
When looking for an agency to hire real estate investor VAs from, consider their experience and proficiency and the quality of their VAs. We at Wishup can help you find the right VA for your business. Visit our website to schedule a free consultation, or email us at [email protected]
FAQs about Real Estate Investor Virtual Assistant
1. What is a real estate virtual assistant?
Real estate virtual assistants are highly skilled professionals who offer remote assistance to real estate investors and professionals. They provide various services, including administrative, marketing, and technical support.
2. What does an investor assistant do?
The investor assistant offers a comprehensive suite of services to real estate investors. These include managing transactions, liaising with tenants and vendors, managing administrative tasks, and conducting market research and analysis.
3. What is the #1 job of a great virtual assistant?
The #1 job of an excellent virtual assistant is to assist their clients in achieving greater efficiency and productivity. A great virtual assistant can help free up their clients' time by taking on tedious and repetitive tasks.